Wednesday, October 20, 2010
My good friend Kim was lamenting about how she wasn't able to find a cow costume for her two year old son Victor Marcus  that she liked that wasn't insanely expensive.  Since I didn't have anything at all to keep me busy every evening for the next couple of weeks (ha!), I volunteered to make him a costume.  I couldn't find a pattern for a cow, so I improvised and got one with a devil.  I also couldn't find cow print fabric in anything besides novelty cotton, so I bought black and white fleece and am adding applique'd spots.  Devil horns look remarkably similar to cow horns, don't you agree?  I just free-styled the ears, and I like how they turned out.  Arden volunteered to model VM's costume:
This is also my first post with a collage - do you like it?  I think it's pretty dandy if I do say so myself.  Totally worth upgrading on Picnik!  I still have a few embellishments to add - hooves and udders.  We got into a long text conversation between Kim, her husband Victor, my husband Dave, and me about cows and horns and udders.  Victor said that boy cows have horns and girl cows have udders and only tranny cows have both.  After I stopped laughing, I responded that most cattle of either sex have horns, so cows usually do have horns and udders, while bulls have only horns.  We all agreed that I would add the udders and they could feel free to remove them if they didn't like them or thought they looked obscene.  So, I guess I'm off to make me some udders!
Linking to: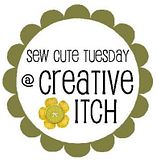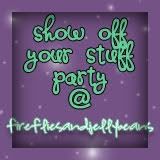 Sunday, October 17, 2010
I don't have any fun projects completed to post, so I'll just do a quick wrap up of what's been going on.
We broke ground - literally - on our garage reconstruction.  On Thursday, they took out the old slab, dug for the footings, and put in the foundation walls.  We're using a treated lumber foundation instead of block cement.  It's pretty interesting to see.  My brother Jeff is taking a class that was discussing treated lumber foundations, so he came out and took some photos.  On Friday, they backfilled and compacted the fill sand.  The framing and concrete guys are working on other jobs right now, so they're not expected for a week and a half or so.  But, great progress!
Also on Friday, Arden dissapeared into the breakfast nook and was awfully quiet for a minute, so I went to go find her.  We've learned that when things get quiet, somethings up!  Arden had taken all her soft toys out of one of the Tub Trugs we use to store her toys in and dragged it into the kitchen and climbed in.  Of course I grabbed the camera instead of helping her out!
Saturday was CMU's homecoming, so I took Arden.  I got there just at the right time to get a tour of my sorority house and a cup of coffee before the parade started.  Arden's favorites were the horse drawn carriages and floats with dogs.  That's my girl!  I took some photos of her at the house - can I brag a bit about the shirt I made for her, and the sweater I knitted when I was pregnant?  That sweater has fit her (okay, it's a little small now) for about a year - totally worth the time it took to knit!
After we got home from the parade, I got started on the chairs I showed you from the ReStore.  I got the seat off one and sanded it down.  I probably got a bit ambitious with the sander since I'm going to prime and paint them, but oh well.  I've also been working a bit each day on a cow costume for a friend's son.  I'm pretty excited about how it's turning out.  I had to use a devil costume pattern since I couldn't find a toddler cow pattern, and I'm appliquéing (is there actually a verb for appliqué?) on the cow spots since the only cow fabric I found was novelty cotton and not thick enough to keep him warm.  So, I'm using fleece and getting creative with my scissors while watching chick flicks - my husband had started watching Step Up, it wasn't my idea!  Yes, my husband has -- um -- varied taste in entertainment!  I guess it's all fair, since I like to craft, sew, quilt, and knit and also am into marathons, adventure races, and Muay Thai kickboxing.
Tuesday, October 12, 2010
Here's a peek at a future project - four dining chairs I found at the ReStore.  Arden has a thing for chairs, so she joined the photo shoot:

[gallery columns="5"]

We have Dave's Great-grandparents' table and chairs from their Oregon homestead that are just for show.  We rarely sit on them, and hold our breath when we do.  They're over 100 years old and have smoke and fire damage from vandals.   These chairs are pretty sturdy, though at least one of them will need a new piece of plywood for the seat.  They've had a really sloppy refinish at some point, but I think they'll look great with some paint and glaze.  I'm pondering a nice grass green.  I like the robin's egg blue that's really popular, but it wouldn't really go with the rest of our decor.  If the chairs turn out nice, I might try painting the table legs to match, and then refinish the top.  I want to have these done in time for Thanksgiving when my parents will be visiting so we can have dinner and not fear falling into a heap during dessert!
Monday, October 11, 2010
Here's a new meatless meal that has won an entry into my recipe book:
Slow-cooker Squash Lasagna
Source: Real Simple
Ingredients


2

10- to 12-ounce packages frozen winter squash puree, thawed



1/8 teaspoon ground nutmeg


1 32-ounce container ricotta


1 5-ounce package baby spinach (6 cups)


kosher salt and black pepper


12 lasagna noodles (about 3/4 of a 16-ounce box)


8 ounces mozzarella, grated (about 2 cups)


green salad, for serving
Directions


In a medium bowl, mix the squash and nutmeg. In a second bowl, combine the ricotta, spinach, ½ teaspoon salt, and ¼ teaspoon pepper.


In the bottom of a 5- to 6-quart slow cooker, spread ½ cup of the squash mixture. Top with 3 of the lasagna noodles (breaking to fit), half the remaining squash mixture, 3 lasagna noodles, and half the ricotta mixture; repeat, ending with the ricotta mixture. Sprinkle with the mozzarella.


Cook on low, covered, until the noodles are tender, 3 to 4 hours. Serve with the green salad, if desired.
Gotta love anything that you just layer into a crockpot and leave for several hours. This didn't have any pre-cooking, not even the noodles! Yum-yum!
Sunday, October 10, 2010
Decorating our mantle is a little difficult, since it usually ends up being a catch-all for everything we don't want dogs, cats, or toddler getting into. But with all the inspiring mantles I've been seeing, I thought I could give it a try.
The vase on the left was a wedding present and is filled with peanut butter candies.  The lyre candelholder is a gift from one of my AXO sorority sisters.  Various other wedding gift candles and a halloweenish one I've had for a few years.  The flower bucket is filled with branches from our yard with a quick coat of black spray paint.  The pumpkin lantern is a hand-me-down from my Mom.  The light bulb was burned out, so I just popped in a tea light for the photo.  It will probably not get a new light bulb this season.  The book is a collection of Edgar Allen Poe works that we already had.  The print isn't specifically Halloween-y, but it's Magritte's 
Empire of Light
 and I've always thought the surrealism with the daytime sky and nightime house was a bit creepy.  I am also quite thrilled to replace the abstract expressionism
Bleu II
by Miro that was there previously - it was a red slash and some black dots against a blue background that I never really liked.  Maybe Dave won't notice if it doesn't return to the mantle!   The bowl with the rocks in the middle are our wedding "guest rocks" in a wooden bowl we got in Bora Bora on our honeymoon.  Instead of a guest book, we had everyone sign a rock.  I'd put them somewhere else for this, but I don't have a good place to move them to, and nothing specific to fill the space in the middle.  So, they can be Halloween guest rocks.  The wall color was already pumpkin - Dave has a fondness for this color and it's in our sun room, dining room, and over the mantle.
I think I have a few other odds and ends that I will add to this, and I think I'll do some kind of a garland or drape across the print.  Either way, it's better than it was and forced me to put away the junk that was just cluttering it up.
Saturday, October 9, 2010
Arden's not an exceptionally squirmy sleeper, but she does move around enough to get uncovered and often wakes up cold. We use sleep sacks - Aden + Anais have nice muslin ones that work great, especially in the summer when you just need a little something - but there are never arms on sleepsacks. So, I thought I could figure out some kind of a solution to the problem.
My approach to this went through a couple of iterations. First I was planning to sew buttons to the fitted sheet and then do buttonholes to attach the flat sheet. I figured I'd have to be sure and use extra-large buttons to ensure they weren't a choking hazard if one should happen to come off. I was also concerned that she'd end up lying on top of a hard button and wasn't liking that so much. Then I realized I could just use ribbon and not have to worry about buttons at all. So here's a little tutorial on how I made stay-put toddler bedding:
What you need:
Fitted crib sheet(s)
Flat crib sheet
About 1 ½ yards of ribbon
Sewing machine that can make buttonholes
Cute toddler!
I started by first making a cozy crib-size blanket out of snuggle chenille. We've got some super-soft and cuddly blankets that Arden loves, but none are hardly any bigger than her and I wanted this to be a mini-version of an adult bed (minus a pillow). I also had to make her a flat sheet. The only place I've seen flat sheets for toddler beds is part of a set that includes a comforter and I want to use the blanket from her crib set as a coverlet. I found a white twin sheet on clearance for $4.99 at Target and cut that down to size, finishing the new edges to match the original.
Next, I tacked 18" lengths of ribbon to the bottom corners of the fitted sheets - about 1" in from the end of the pocket seams.
And another set about 25" up towards the middle edges of the mattress. This length is about the distance from Arden's feet to her chin. This way she shouldn't be able to get her head stuck under the stay-put part of the blanket.
Then I made pairs of buttonholes on the flat sheet to match the placement of the ribbons on the fitted sheet. On the top set, I made them about 1 ½" closer to the edge of the sheet so I wouldn't be pinning her tight to the bed. My machine does automatic buttonholes using the button to set the length. I just found a button the same width as my ribbon to guide the machine.
I tucked in the sheet and pulled the ribbons up through each of the buttonholes and tied a bow.
I left the outside center tie undone so we can put her into bed and tie it closed. I had originally planned to do buttonholes on the blanket as well, but I decided that wasn't necessary. As long as the sheet stayed on top of her, the blanket should as well.
I couldn't resist a gratuitous cute toddler photo of our test run. She seems to like it, and is snoozing soundly while I put this post together. I'll add ribbons to the rest of her sheets, and probably make up another flat sheet with the buttonholes. Don't you just love it? I know I do!
I'll be linking up to the parties in my Linky Party Directory.
Friday, October 8, 2010
A local animal rescue sponsors a Dirty Dog run each year where you can run with your dogs on the trails.  Last year I ran with Laser and the oaf dragged me over hill and dale for the entire 5k.  Normally, he poops out and I'm dragging him after the first mile or so.  Turns out he's not lazy, he's just bored and it was exciting to run through the woods chasing other runners and dogs.
They encourage costumes, so this year we're going to try running Sophie and dress her up as a princess to go along with a pea costume I made years ago for a different race where I was the princess:
[caption id="attachment_458" align="aligncenter" width="288" caption="Princess and the Pea"]
[/caption]
So here's how I made Sophie's princess hat - keep in mind I'm making this for a dog, so I'm not all concerned about finished edges and durability.  This was also a stashbuster project - yay!
I started by measuring Sophie's head to get the circumference of my hat - 16" worked fine.  I arbitrarily decided I wanted the cone to be about 8" tall.  Then I tried to find something round that had a 16" diameter to use as a pattern.  My chip and dip tray came close, so I used that for starters.  I traced right onto heavyweight fusible interfacing:
[caption id="attachment_459" align="aligncenter" width="300" caption="Who needs a compass?"]
[/caption]
I broadened the circle to get my desired size, then I measured the edge of my semi-circle until I got to my 16" + 1" and drew a line to the center of the circle:
[caption id="attachment_460" align="aligncenter" width="300" caption="Rough pattern"]
[/caption]
Then I cut the shape plus some extra out of my fabric - a bunch of taffetta I had left over from a purse project several years ago:
Press to fuse, and then I turned the bottom edge up and stitched with about ¼" seam allowance.  I didn't bother to pin or anything since it didn't need to be perfect:
[caption id="attachment_462" align="aligncenter" width="300" caption="Turn and sew"]
[/caption]
For a little whimsy and because I wanted to play with Jane (my new sewing machine), I added a decorative stitch:
[caption id="attachment_463" align="aligncenter" width="300" caption="Decorative stitch by Jane"]
[/caption]
Then I added a bunch of ribbons into the top and stitched the back closed with right sides together, keeping the ribbons inside the hat:
Check the fit on Sophie and add some elastic to keep it put:
[caption id="attachment_465" align="aligncenter" width="225" caption="Princess Sophie"]
[/caption]
This took less than 20 minutes during naptime - pretty slick I think!  Any suggestions on what to do with another yard or so of the taffetta?
I finished Arden's Halloween costume!  This was so much fun to do.  I also got to try out the embroidery features on my new machine by adding "Chef Arden" to the hat band.  I'm so happy with the embroidery and other features on my Janome Memory Craft 9700 that I've decided to name it.  She will henceforth be known as Jane.
[caption id="attachment_450" align="aligncenter" width="300" caption="Jane's fine work"]
[/caption]
Pardon the lint, but I think it turned out really neat.  I'm also debating on putting a pocket on the sleeve with the same embroidery.  I did a test run and the piece is large enough to make into a pocket, but I'd have to mostly hand sew it since the sleeves are already together.  I'm also planning to make an oven mitt to go with the costume and become part of her play kitchen.
I also played around with Picnik for the first time.  I don't expect a camera upgrade in my future anytime soon, so I need to make due with what I've got - a Canon PowerShot A570 IS.  I like the watermarks I see on a lot of other blog posts so I added A Jennuine Life to mine.  I also did some fixing and added a border.  What do you think?  And pocket, or no pocket?
I'll be linking up to the parties in my Linky Party Directory.