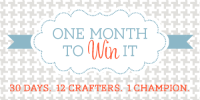 I've been busily working on my projects for week one and week two of
One Month To Win It
. No, I'm not that conceited to think that I'm going to make it past the first week; it's just that the second week's project is due the same day results are posted from the
Graphics Fairy
project that I better get rolling on it or I'd be in big trouble! Week one projects are posting tomorrow - make sure you go and vote! I've got my fingers crossed that my project is well-received!
I've also been knitting away on my cowl made from the Noro yarn I got for Christmas. I am so in love with that yarn! It feels amazing running through my fingers, and it's so much fun watching what colors will appear next. I should have the cowl finished in another day or two, so watch for it!
Today is Hadley's first day at daycare. I'm sure she's going to be fine - she's such an easy baby. Here's a little baby yumminess so I don't have a post without any photos!
I just love how it worked out that her shirt says "laugh" and we captured her laughing as Dave tickled her!