There's just something about sewing during early fall that I love so very much. Summer is nice, but when I spend my time wiping sweat from the back of my knees while sewing or trips to the breakfast nook to stand in front of the air conditioner it really takes a hit on my productivity. Late fall and winter are for knitting. Okay, any time I feel like it are times for knitting.
Orders for flag banners have slacked off a bit over the last couple of weeks, so I'm finding myself with a little time to sew for me (read: my girls) at just the right time. I was able to whip up a cute dress for Hadley to celebrate her first birthday, plus a little coordinating skirt for Arden. She wanted a dress too, but a skirt was what happened due to time and fabric restrictions. It turned out really cute, so you'll be seeing that shortly.
So, I'm going to try to participate in Elsie Marlie's Kids Clothes Week Challenge next week. I know, now that I've said it I'll probably get slammed with orders in my shop, but that's not such a bad problem to have, right?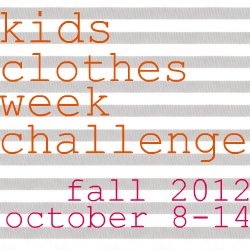 I've also got halloween costumes in the chute, and Arden really needs some more clothes to put on her body this fall. I'm going to flip through all the great clothes I've pinned and my pile of fabrics and refashion targets and get to work. Should be fun!