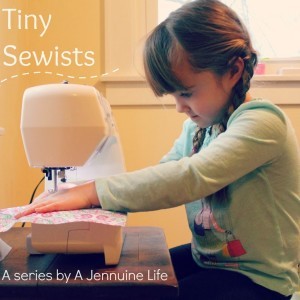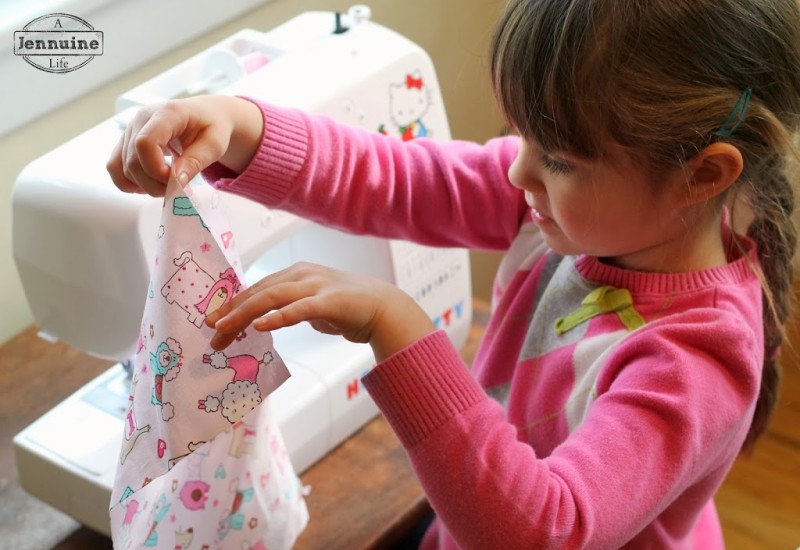 In the last lesson, we threaded the machine and practiced sewing on lined or graph paper to learn how to work with the threads: pulling the threads to the back of your work before beginning, and pulling the threads back and to the side to the thread cutter or using a pair of scissors to cut the thread.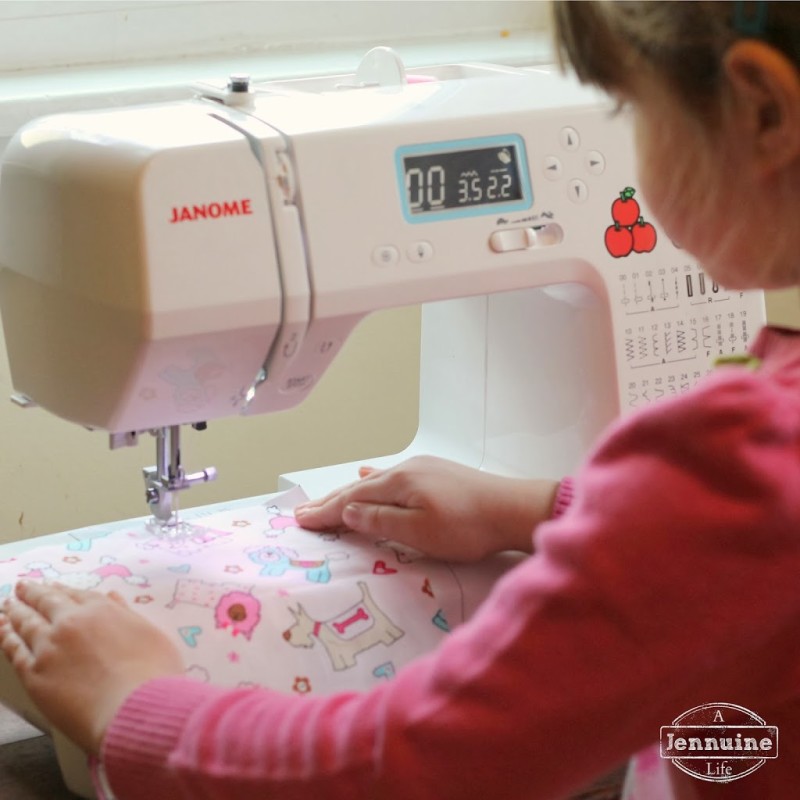 Today, we're sewing with fabric for the first time!  I thought the occasion called for some pink and turquoise dogs (with sparkles to boot!) – Arden loved sewing with this fun fabric.  I threaded the machine for her again, but this time I carefully described what I was doing and why.  The key points I covered while talking about threading were:
Follow the arrow guides on the machine
Keep a little tension on the thread with your right hand while guiding the thread with your left – this helps the thread follow the guides properly
Make sure the thread uptake lever is in the up position so the thread will feed through the guide at the top of the lever properly
Loop the thread behind the two thread guides above the needle
Thread the needle and be sure the thread is not looped around the needle
Remove the bobbin cover plate
Insert the bobbin into the bobbin case with the thread wrapping counter-clockwise as depicted in the bobbin cover plate
Guide the bobbin thread through the slot on the right in the bobbin housing and then slide it left so it emerges from the slot on the left.  With one finger on top of the bobbin, pull a few inches of thread out
While holding onto the top thread, lower and then raise the needle once to bring the bobbin thread up.
Replace the bobbin cover plate
The last five steps will be different if you have a front-loading bobbin withe a bobbin case.  I'll be covering how I teach her to thread in a future lesson and will have photos to accompany the instruction.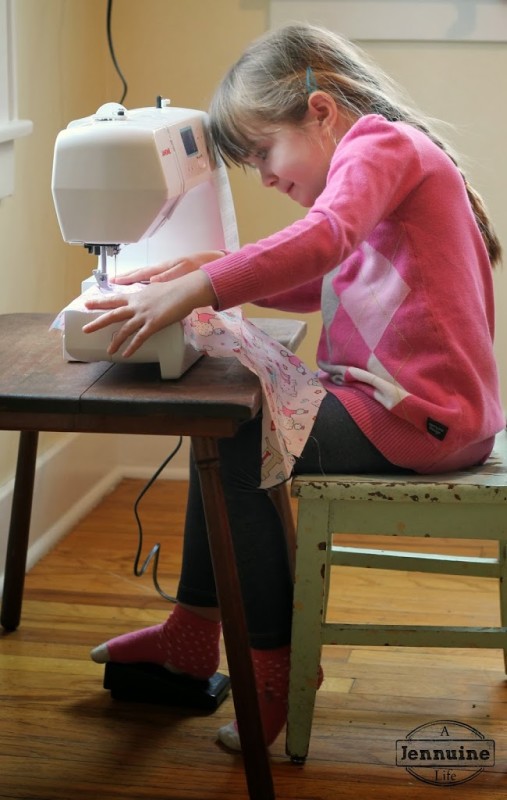 Now on to the sewing!  I just let Arden sew whatever she wanted on that single piece of fabric.  Don't worry about trying to sew more than one layer at this time – we'll get to that in the next lesson.  This busy print ended up being a perfect choice as it gave her many options for goals as she practiced: sewing around the dogs, going from star to heart to flower, etc.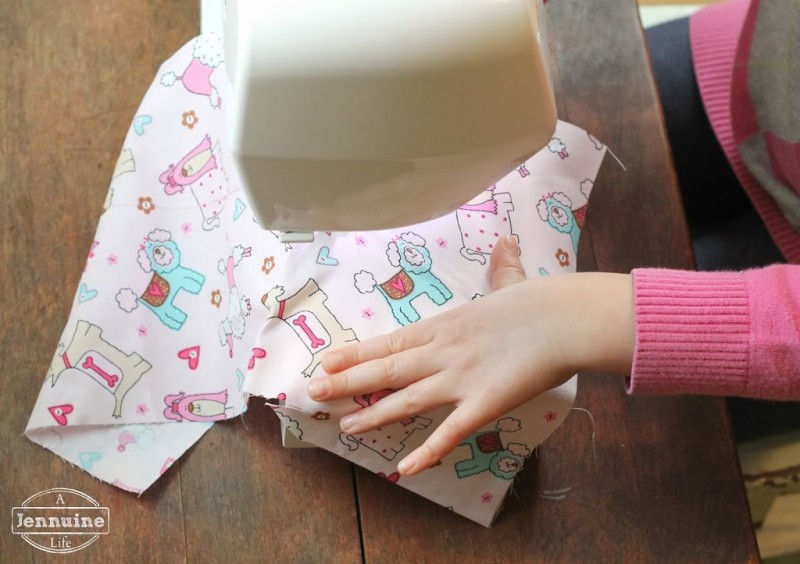 She decided to make a series of lines across the fabric in sort of a starburst design with a few curves thrown in.
… and sewing for over an hour!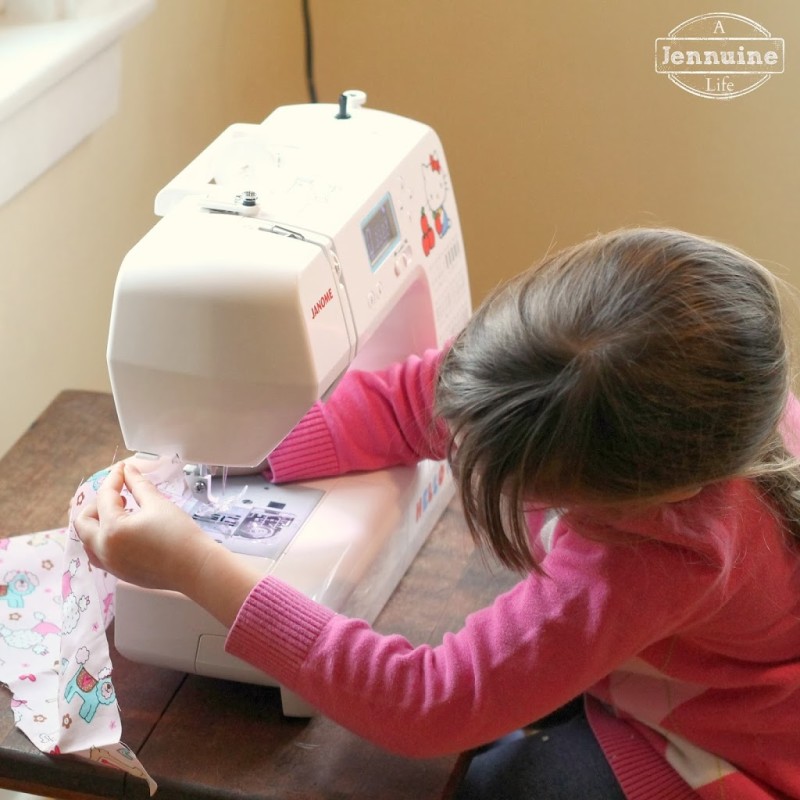 She became very proficient at pulling her threads up the the thread cutter.  Practice, practice, practice…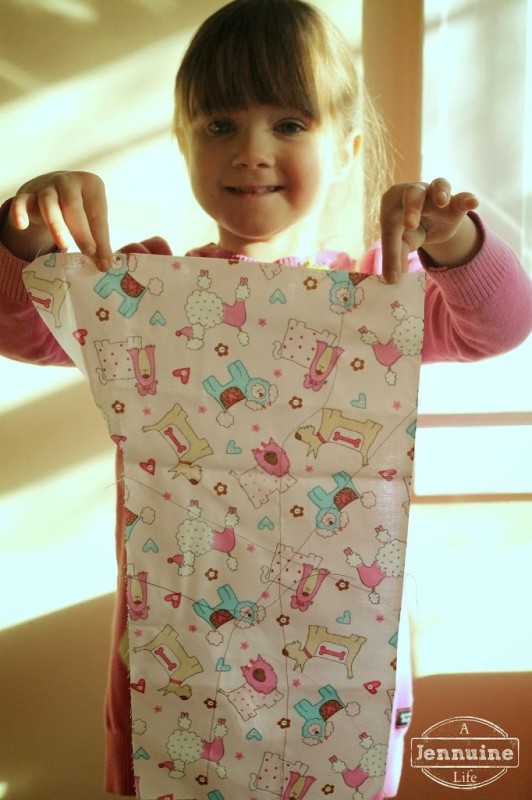 She was so pleased with her work!
Our next lesson will cover sewing two pieces of fabric together and I'll have a guest here to share how she addresses pinning with small children.
Next up: Lesson 6