I am so excited to show you the Bohemian Babydoll dress I made for Arden!  I'm sure you're all familiar with Heidi from Elegance & Elephants (* affilate link) from Bubble Pocket Shorts, Ruffle Top, or Fedora Hat fame, to name just a few of her stellar patterns!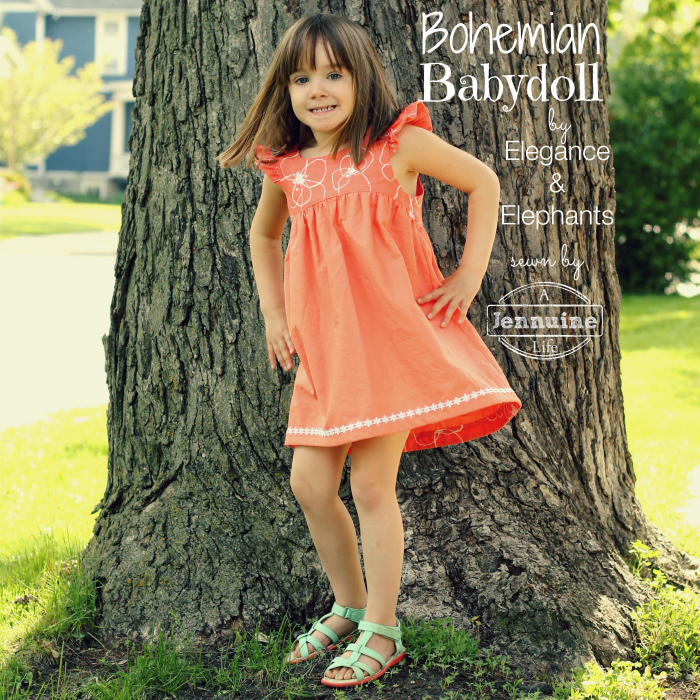 Arden is super excited about it as well, since I gave her a few choices about how to make her Bohemian Babydoll.  This pattern has options to make a dress or a top and with or without flutter sleeves.  Arden chose for me to make a dress, and later I gave her the choice of whether to add the daisy trim along the bottom, which she obviously said "yes" to!  I love the hi-low bodice and corresponding hemline!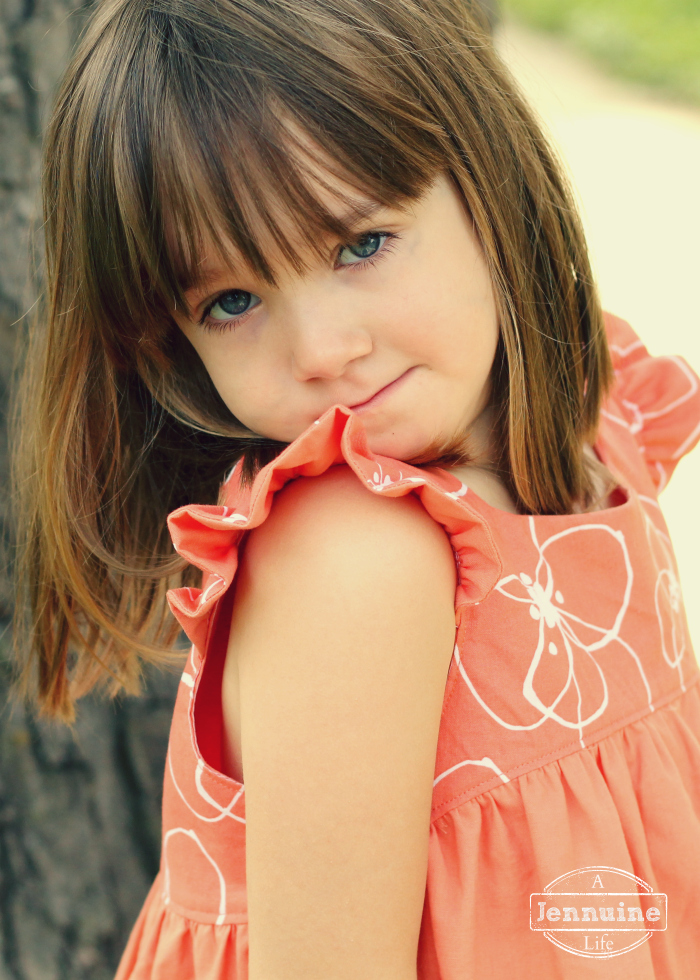 I didn't even bother asking whether she wanted the flutter sleeves – I mean come on!  What little girl would ever say no to these adorable sleeves?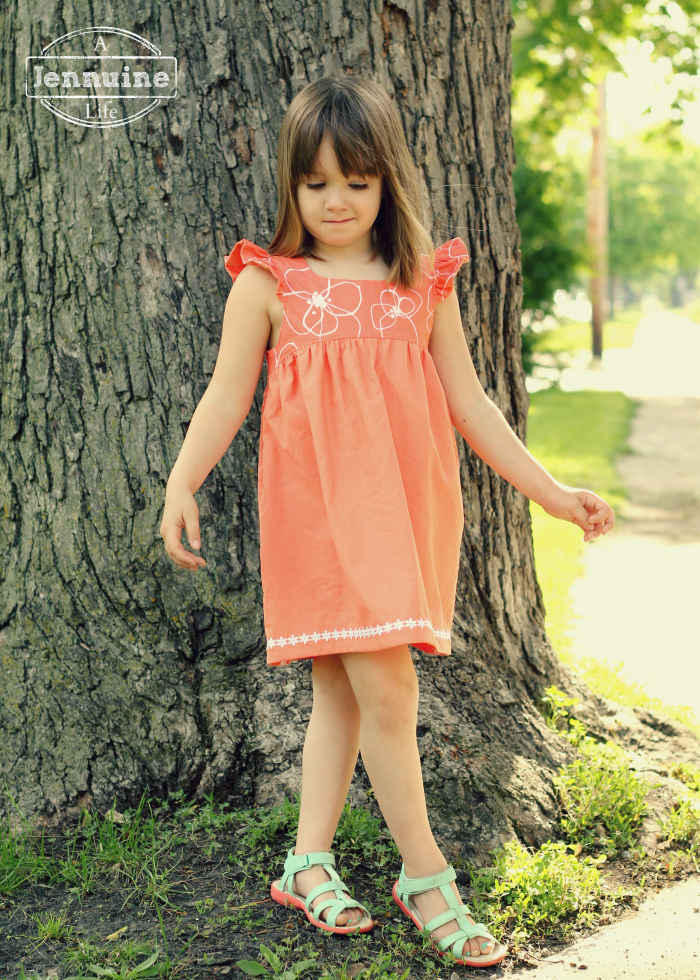 Prepare yourself for a little photographic overload.  Arden is generally fairly reliable for modeling for me, but this shoot was definitely one of her better ones!  Usually I'm hoping to get enough good shots to show the garment well, but this one had me narrowing down from the good ones, and that was really difficult!  (Check out her mint and gold toenails – we had a little girls' pedicure party over the holiday weekend.)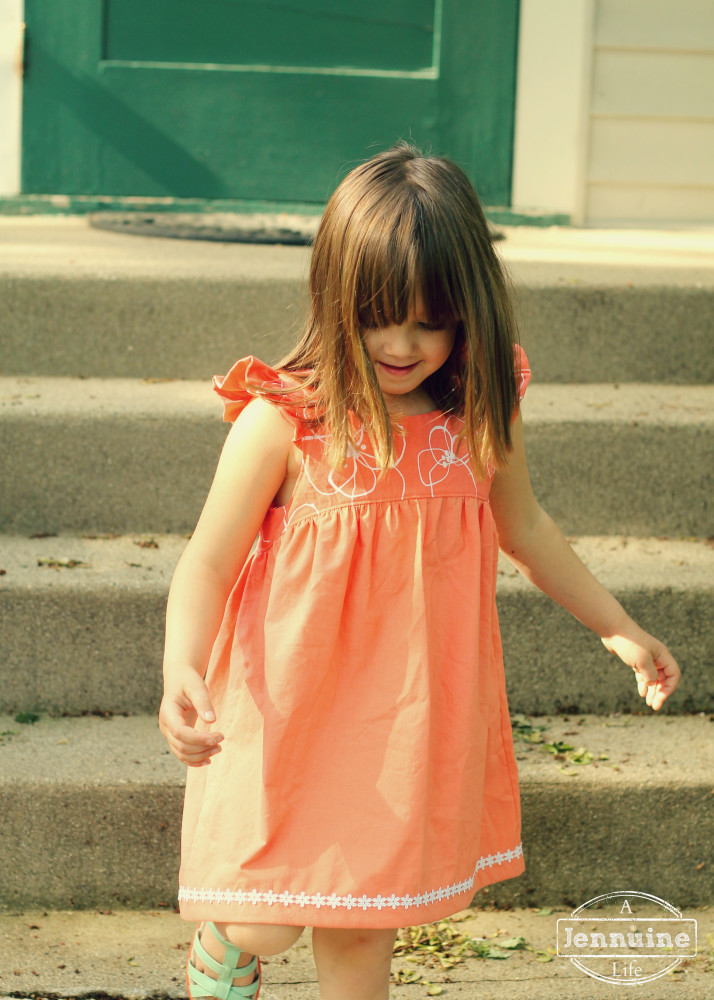 Now, this is the first E & E pattern I've used, but you'll notice that I now have an affiliate link to the pattern shop.  Because it's that good.  I only list affiliate shops that I personally recommend, and this one definitely fits that requirement.  So if you click on one of my links and buy something, I get a little extra to cover sewing supplies to make more great things like this!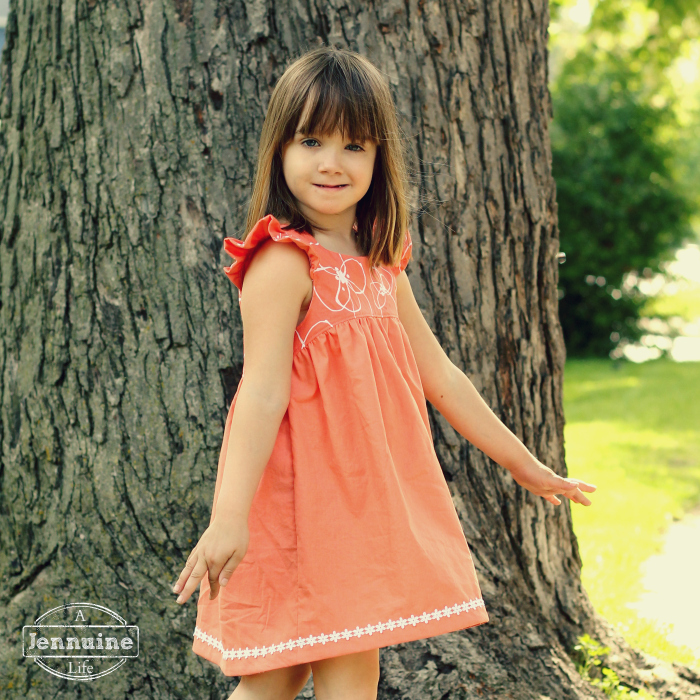 Starting with the pattern itself:
It has layers for printing only the sizes you need.  This is an option I included in my pattern, and plan to have in all future patterns, because it's so helpful and just… slick!
The pattern pieces themselves are clean and crisp with different line strokes so even if you do print all the sizes in one go, it's easy to tell which lines you need to cut.
All the relevant information about the designer, pattern name, pattern piece, cutting instructions, grainline, and piece number are included.  This is so helpful when you aren't quick to put everything into whatever filing system you use.  Just sayin'!
Sized for 6 months through 9 years.  I made a 5T for Arden and found the sizing to be spot on.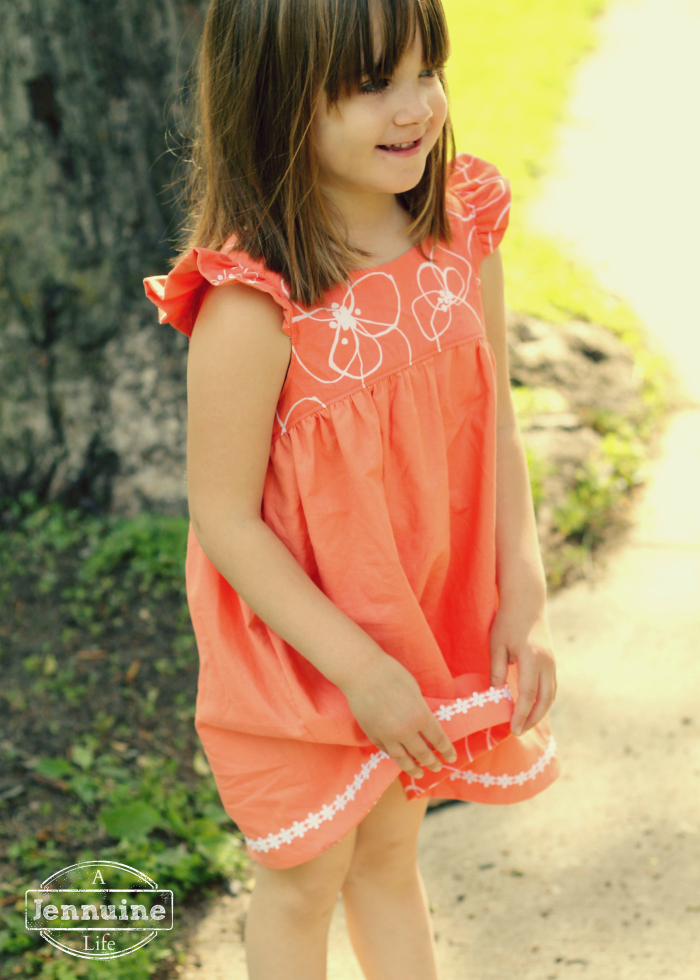 Heidi is a fellow student in Pattern Workshop* and was designing and offering patterns for sale before the course was published.  Many of the established designers in the course have said that it is really helpful for polishing what they already knew, to make things quicker, or to simplify their work flow.  Having both new and veteran designers in the group is such an amazing resource on top of the course itself!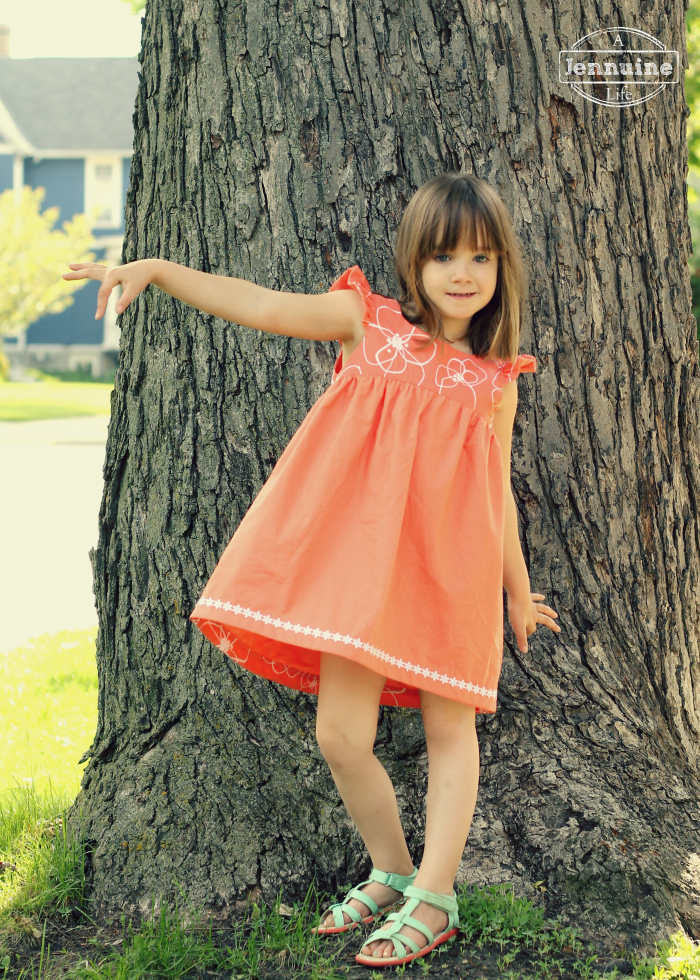 The pattern is fabulous, and the instructions are just as great!  Heidi gives concise directions with clear photos; adding text and illustrated lines to help where necessary.  She even gives a prompt for when to put a label in if you use one – perfect!  The pattern is listed at a difficulty of 1.5 out of 4, which is probably about right since there are no closures to deal with.  You do have to be patient and precise to press and sew the armholes together.  Since there are no closures, there's simply only one way to construct the bodice, and that requires attention.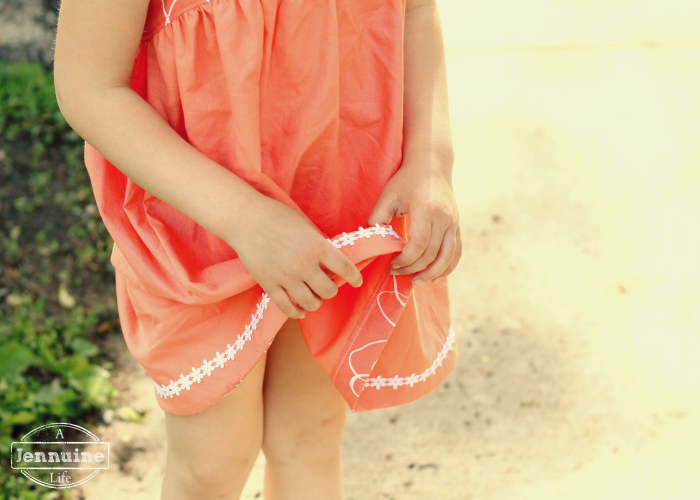 The hem facing is such a nice touch to finish this pattern.  If you choose to use contrasting fabric for the facing, it gives a cute little peek at the bottom of the dress.  Because it's a hi-low hemline, it shows even without flipping it up.  It lends a nice weight to the hem which helps the dress (or top) drape nicely.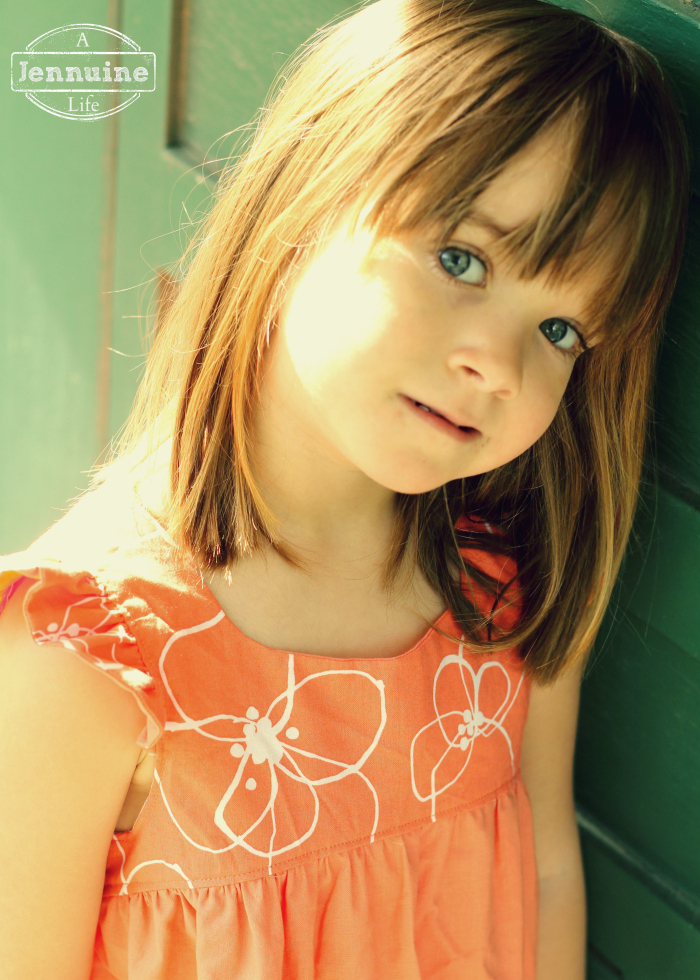 The fabrics I used are Lotta Jansdotter from the Mormor Collection, and provided by Sew Fine Fabric.  This is quilting cotton, and worked perfectly for this pattern.  This pattern is perfect for showing off coordinating fabrics, or using the same print or solid for the entire garment.  Jodi at Sew Fine Fabric curates an amazing selection of gorgeous fabrics, including a wide selection of organic cottons.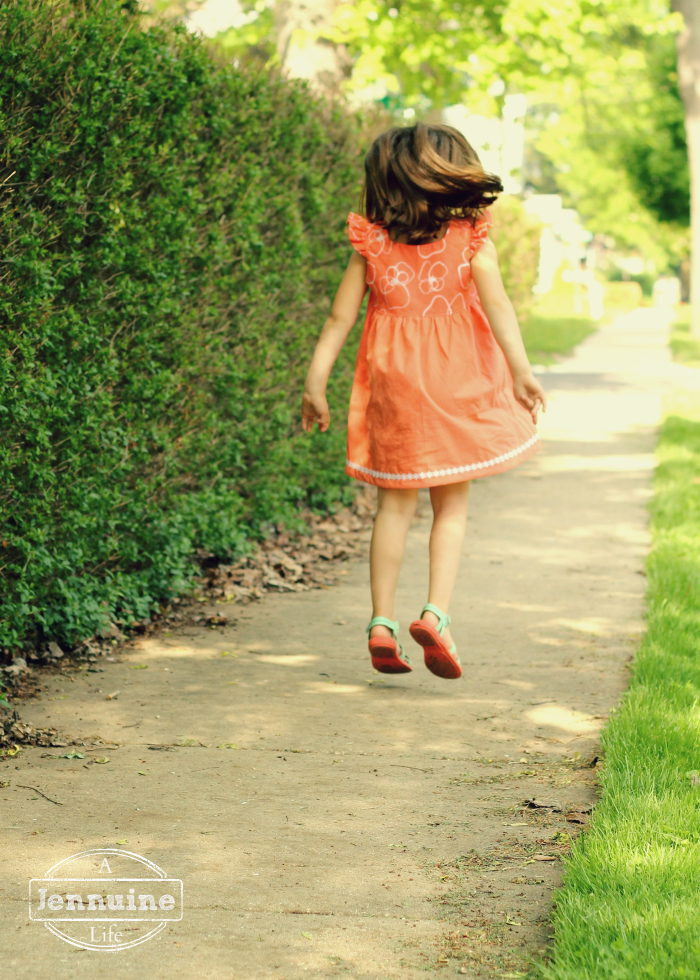 And true to form, it wouldn't be A Jennuine Life photoshoot with Arden if there wasn't some jumping!  She hopped all the way to the corner and back!  So jump on over to Elegance & Elephants* and get your Bohemian Babydoll pattern today!
Outfit Details:
Pattern – Bohemian Babydoll by Elegance & Elephants*
Fabric – Lotta Jansdotter Monmor Collection Blomster and Solid in Coral provided by Sew Fine Fabric
Sandals – See Kai Run
* Affiliate links