You've heard that September is National Sewing Month, right?  Jo-Ann is celebrating by asking you to #SewYourStyle and create a non-quilted, non-traditional project using quilting fabrics.  They've asked a blogger to share a sponsored post for each day of September as inspiration and today is my turn.  I made this adorable Cozy Cakes Backpack using this pattern, and both my girls and I love it!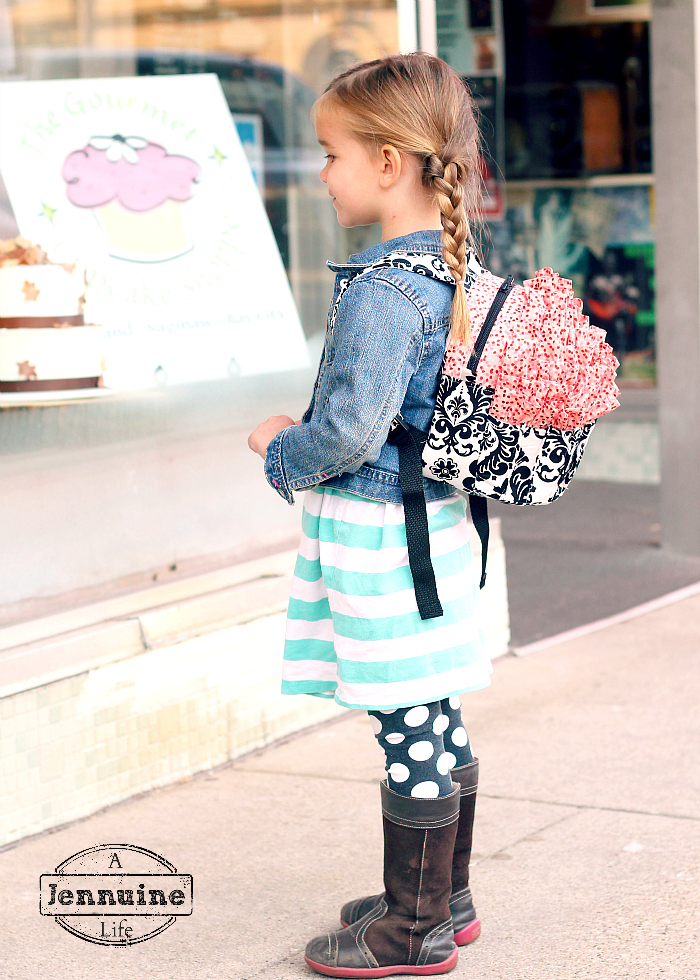 I mean really, what little girl wouldn't love a backpack that looks like a cupcake?  Arden especially is obsessed with filling up bags with various things as part of creative play.  I made this for Hadley so she could have a special bag now that Arden has a backpack to take to kindergarten and back each day.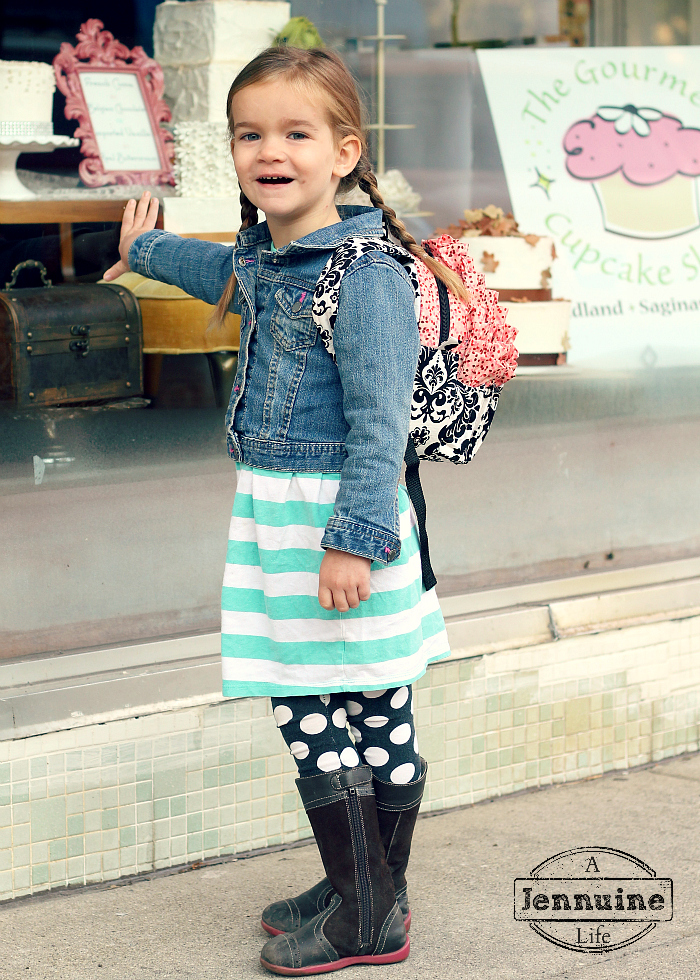 The pattern to construct this backpack is great – I had no trouble at all following the tutorial.  This is a stellar project if you're patient and can set aside a good chunk of time to work on it.  There's nothing particularly difficult about the sewing, but there are a lot of steps and working a three-dimensional bag through the sewing machine is a bit tedious.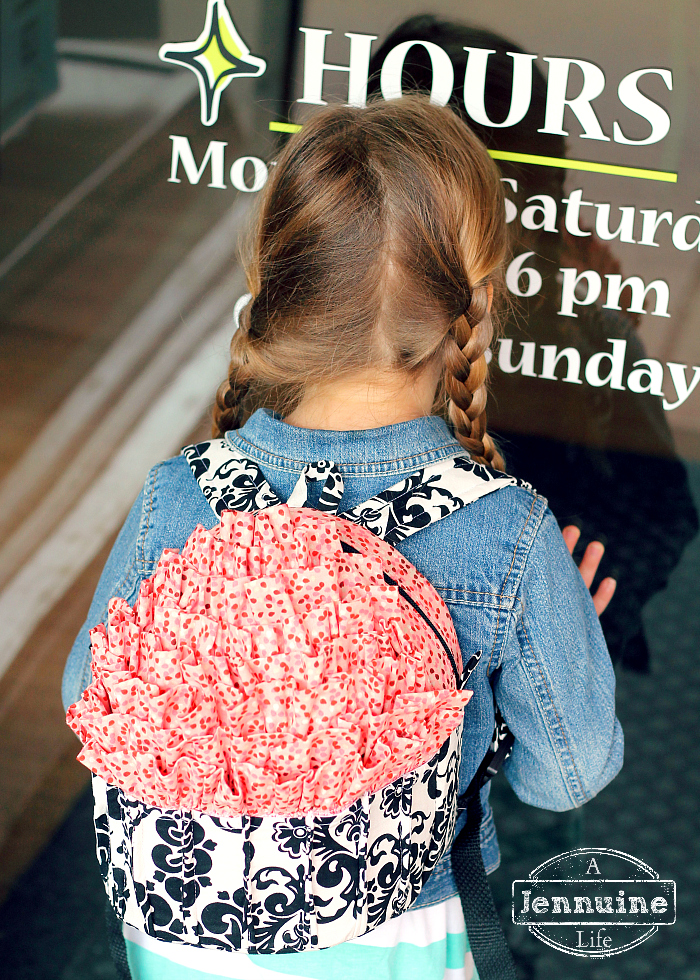 I took Hadley to the cupcake shop that's just up the road from us with the promise of a cupcake as a reward.  This is where we get cupcakes for birthdays and special events – they're soooo tasty!  Too bad I didn't check the hours before promising because they didn't open for an hour after we were there.  I made good and got her a muffin for breakfast at another store and all was well.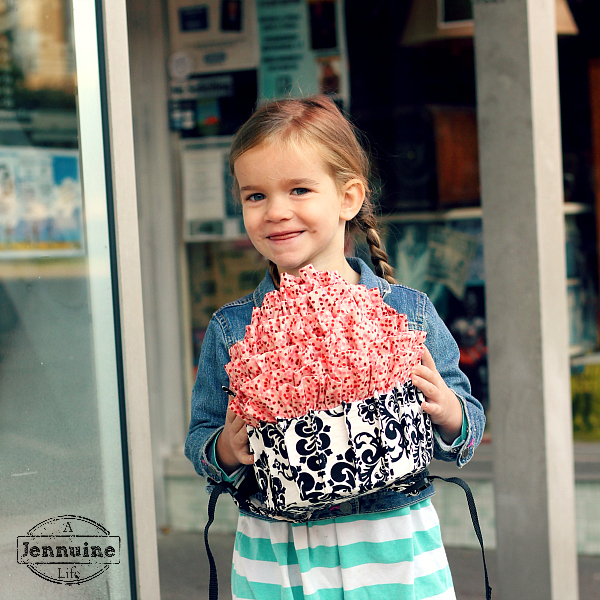 I love the fabrics I found to be transformed into a cupcake!  The damask just screamed cupcake wrapper to me, and I found the perfect pink speckled fabric that I thought looked exactly like pink frosting with sprinkles on top.  I chose to omit the cherry and stem in the pattern to allow this combination to shine.  The only other changes I made from the pattern as written were to use a zipper with two-way slides and I used plastic sliders for the strap adjusters instead of d-rings.
This was my first time working with Pellon's Peltex #72F Ultra Firm fusible interfacing.  It really makes this backpack have the dimension and stability it needs while still being easy to sew through.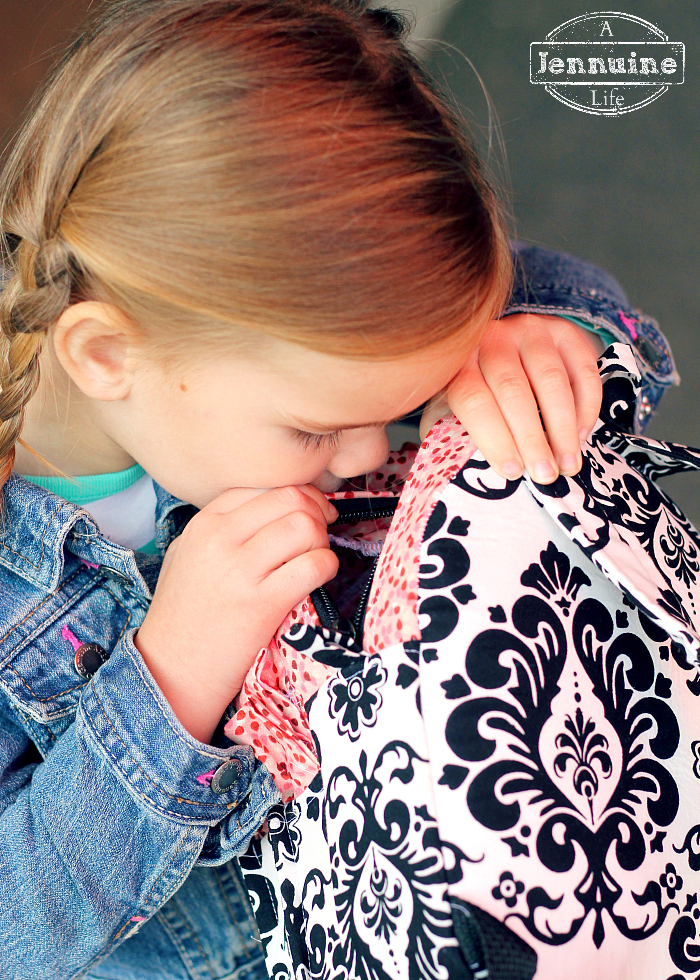 I didn't get a picture of the interior pocket, but Hadley thought it was great.  Just right for stashing small things you don't want sinking to the bottom of your bag.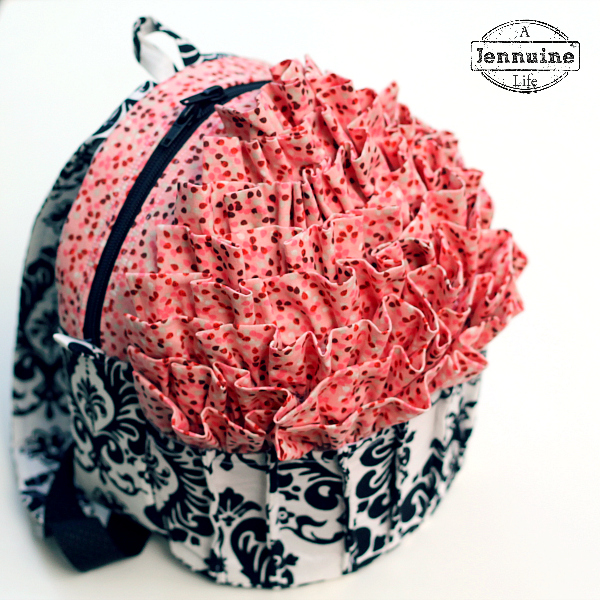 If you'd like a chance to win an amazing prize, just link up your #SewYourStyle projects at http://www.joann.com/sewyourstyle.  It's a fantastic contest sponsored by Pellon and runs the entire month of September.  All you have to do is show off a project you've made using quilting fabrics in something other than a quilt.  Make a garment, bag, pillow, really anything goes!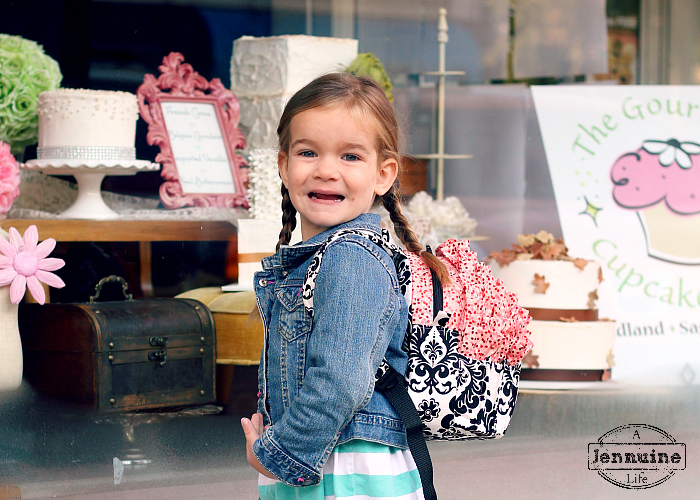 Thanks Jo-Ann for inviting me to the #SewYourStyle party!