Lately I've been feeling like everything I do is fruitless.  All the mundane daily tasks like cleaning and laundry are undone even more quickly when in the midst of a renovation.  Our kitchen is beginning to return to functionality, but there still seems to be unending dust and materials stored around, making everything feel dirty and just sort of weighted down.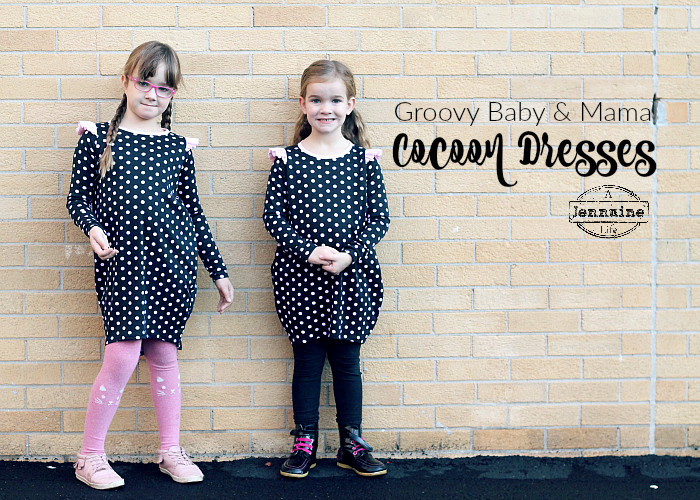 So I decided to make time for something a little more permanent – a pair of adorable Cocoon Dresses for my daughters.  Two for nearly the work of one, I do often make doubles of things like this, though not always in the exact same fabrics.  I made these yesterday in just a couple of hours of cutting and sewing, and then took photos in Arden's school yard before classes began this morning.  How's that for time from cutting to published for a sewing blogger?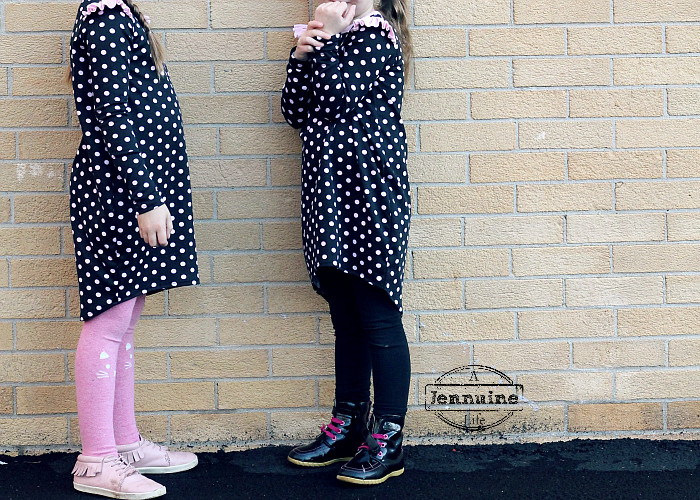 The pattern is the Cocoon Dress by Groovy Baby & Mama.  It was part of the Sew What Club in October, but is now available in Trine's shop.  I think you have to e-mail her to arrange payment since it's not an automated delivery.  Trine sent me this pattern as a gift.  The pattern is for girls 2T to 12 years.  I love the optional frills and the high-low hem, and the modern cocoon shape is different from the rest of their clothes.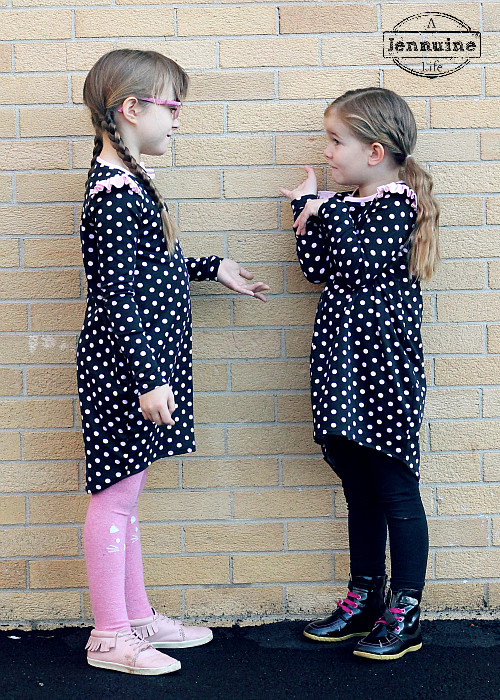 I made both girls a size 6, but used size 7 length on Arden's since she's growing taller every day.  I also lengthened the 3/4 sleeves to be long sleeves – I just extended the pattern using another knit sleeve to get the right length.  I also added a neckband – the pattern calls for it to be turned under and stitched, but I wanted to pull the pink of the frills in and just prefer a neckband.  I measured the neckline pattern pieces and multiplied by .85 and then added .75″ for the seam allowances.  The width I made 1.75″ to keep it pretty narrow.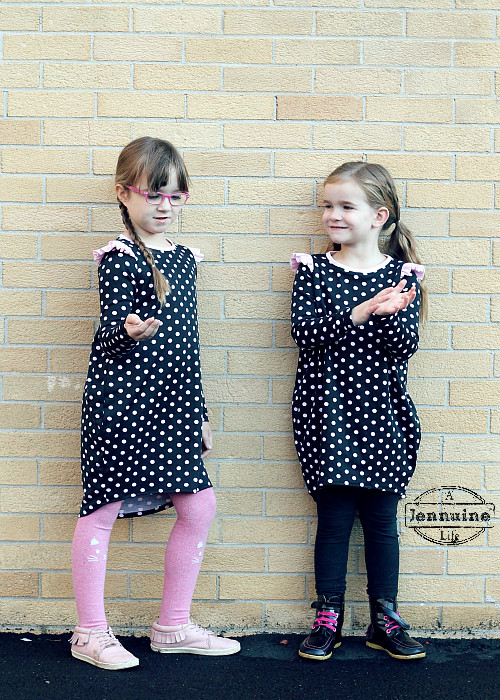 The polka dot is Ponte de Roma from Girl Charlee that I picked up during their daily sales a couple of weeks ago.  I got two yards and still have a little left over that will be great for accents or sleeves.  The pink accent is from Jo-Ann Fabrics.  Paired with tights and Freshly Picked moccasin shoes for Arden and leggings and Livie & Luca boots for Hadley (hand me down from Arden so no longer available), they are quite the pair!