You know by now that I am a fan of Terri from Sew Straight & Gather's patterns.  It began with the Uptown/Downtown Dress, then the Cousu Collection with the top and trousers turned shorts, back to Uptown/Downtown for myself, and now her most recent release, the Legends Top and Dress.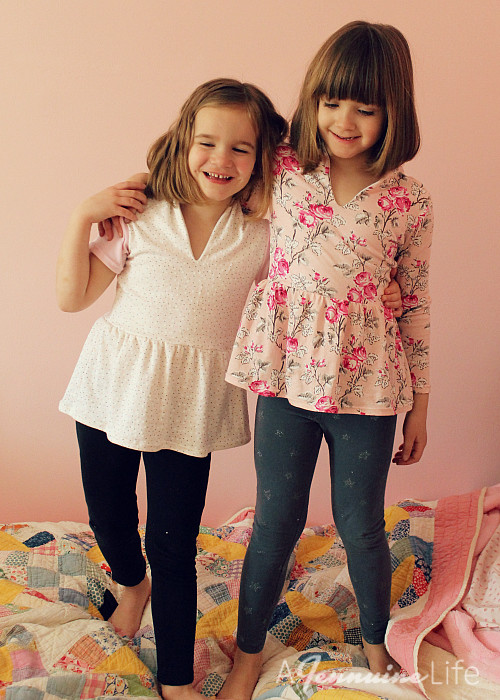 I jumped right on buying both the girls' and women's Legends patterns when Terri ran a bundled discount during release.  Coupled with the favorable exchange rate between US and Canada and it was an absolute steal!  Terri and I are friends and often gift each other patterns (or even cross-gift to each others' testers when we run into situations where some of our testers have all of our previous patterns) but I wanted to buy these so I could talk about them without any shadow of influence, however small.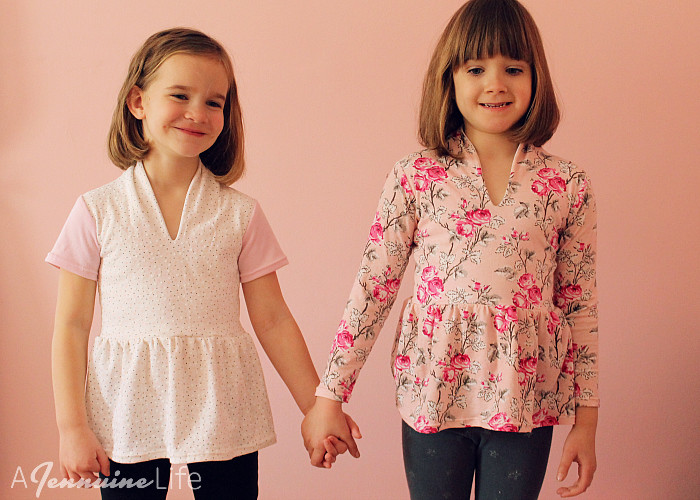 First let's talk about the style and options.  The pattern comes with views A and B in both top and dress lengths, as well as sleeveless, short and long sleeves.  View A top is a regular shirt with a hem that comes to the hip, while view B top has a gathered skirt falling from the low waist.  View A dress has a gathered skirt from the waist, and view B dress has a drop waist with gathered skirt.
I showed the girls all the options and they both wanted the View B top.  I would have made Hadley's with long sleeves if I had enough fabric, but we're quickly headed into spring so this will be fine.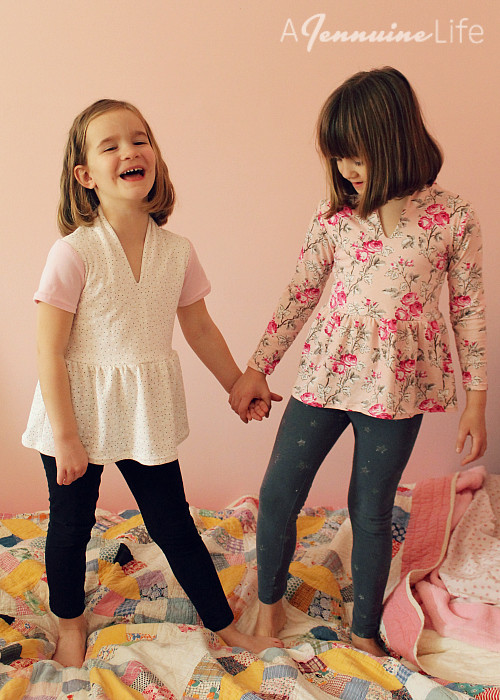 The fit is perfect.  Both my girls have broad, square shoulders (just like me) and sometimes tops aren't wide enough through the shoulders for them.  Arden's sleeves are a tad short on her for a couple of reasons: the fabric I used has pretty much zero vertical stretch, and I probably should be making a size 7 length for her.  These are both size 6 as both girls measure exactly for that size in girth despite a 2.5 year age gap, but obviously Arden is a lot longer in the arms and legs than Hadley.  I've been buying Arden size 7 in RTW for a while so it's completely logical that I should be making that length for her when sewing.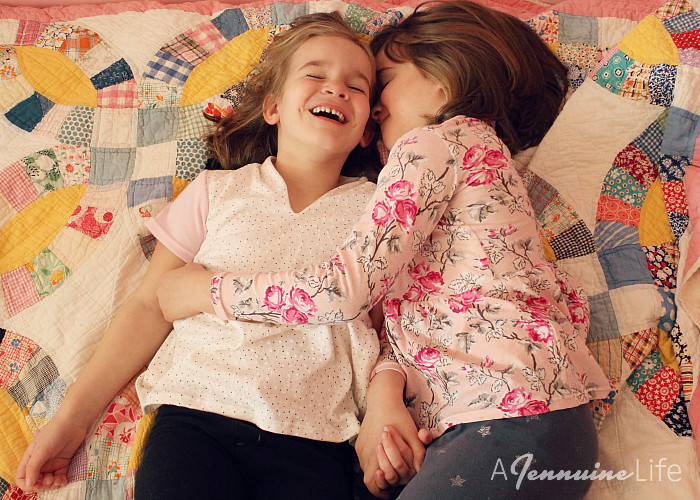 The girls had so much fun playing and wrestling on Hadley's bed.  I love when I get great sister shots while I'm documenting something like this!  I recently cut both girls' hair to donate to Children With Hair Loss and they look so cute with their new bob hairstyles!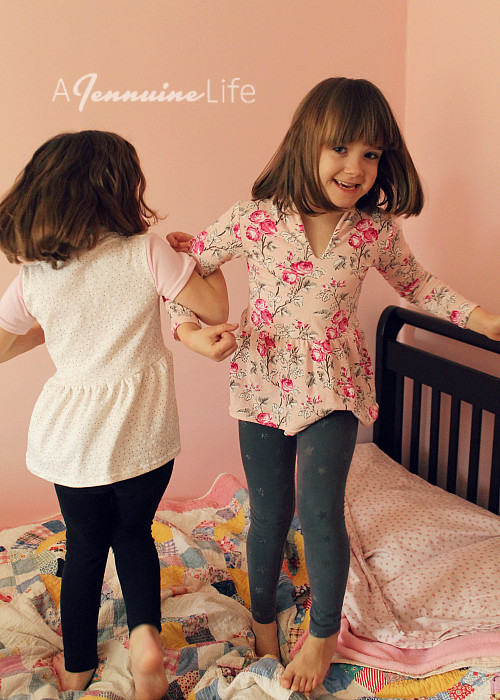 The instructions and construction techniques for this pattern are impeccable.  The front bodice is lined so that makes the slit/collar detail work and Terri took advantage of that lining to have fully enclosed seams at the back neck, shoulders, AND side seams.  If you were making the sleeveless View A top, there would be absolutely no external seams at all.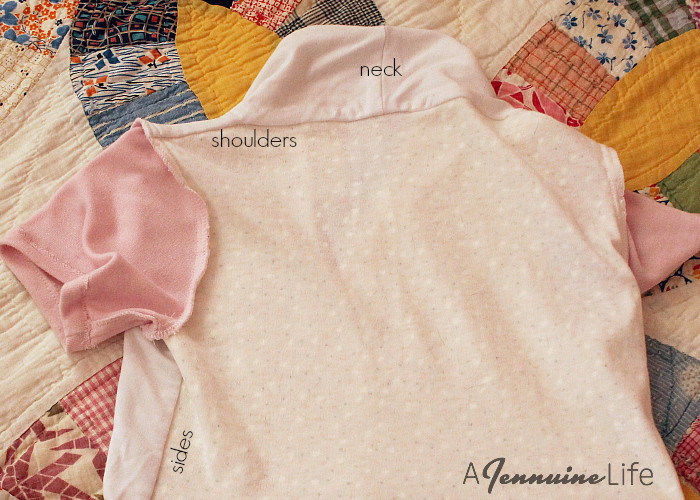 Parents with sensory kids: take note of this because the result is a very soft and comfortable garment.  I went back and took a picture of the inside of Hadley's top to show this.  My kids aren't bothered by seams, but who wouldn't want to have nice enclosed edges on their clothes if they can?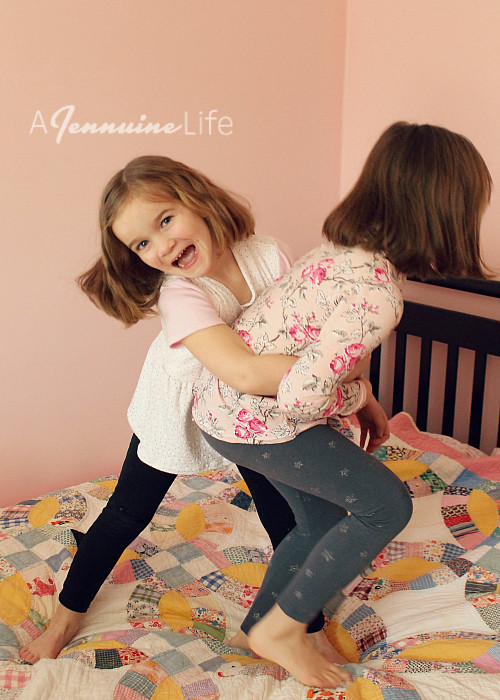 Hadley's shirt is made from some knit bought from an Instagram destash that I used previously on Arden's Cousu Top and it has a great weight and stretch to it (wish I knew the manufacturer because it's awesome!  There are white on white puffy hearts, I mean come on!).  The sleeves and Arden's floral are from Girl Charlee.  Pattern is the Girls Legends Top & Dress by Sew Straight & Gather, and even without a sale I say run to get your copy!