Hashtags have a way of growing into something more, don't they?  Well that dear friends, is what just happened with the #SatyaSeason hashtag I casually applied to some of my most recent posts of the Satya Romper I made to accommodate Arden's most recent growth spurt.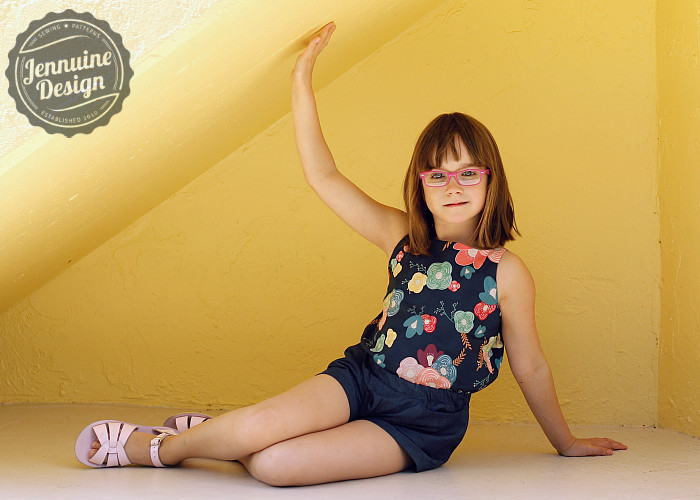 I've been working quietly on two patterns which will be unveiled soon, and thought it was a good time to shine the spotlight on the very seasonally appropriate Satya Romper.  You know I love to play with patterns and encourage all of you to do so as well, so let's make it a game of sorts… with PRIZES… and DISCOUNTS!!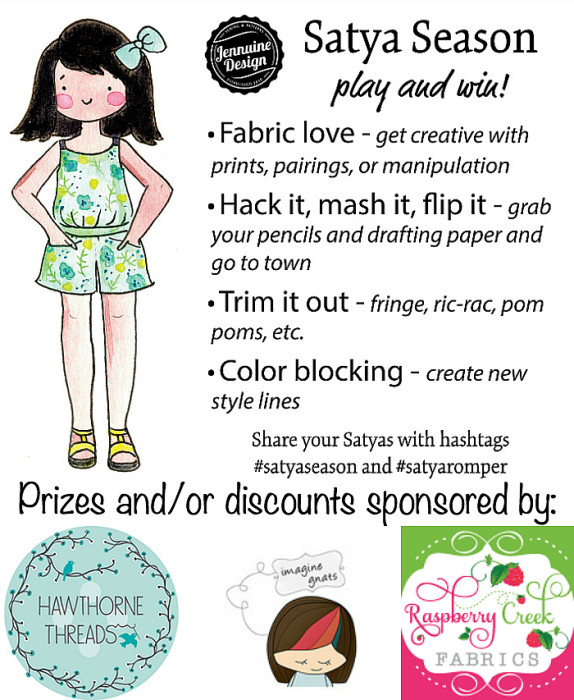 First, the DISCOUNTS:
Patterns:
Starting today, the Satya Romper — and heck, all summer-ish PDF patterns in my shop are 40% off with code SATYASEASON.  So the Satya Romper, Naples Dress, Verona Dress, LOL Swing Top, and Haven Acres Blouse are all part of the discount.  I figure I can't have one of the categories as a mashup and not have anything with which to mash it, right?  Mashing with non-Jennuine Design patterns or self-drafting is perfectly fine, though I really am curious to see how my patterns could work together.
Fabric:
Imagine Gnats is offering 20% off with code SATYA20 at http://imaginegnats.com/shop – Rachael has an amazing selection of fabrics available in her shop – the chambray union stretch by Robert Kaufman pictured on the shorts of the romper above is a personal favorite of mine!
Raspberry Creek Fabrics is also offering 20% off with code SATYA20 (purely coincidental that both shops used the same code, but doesn't that make shopping easier?) at https://www.etsy.com/shop/RaspberryCreekFabric.  RCF is known for their knits and club fabrics, but they also have a really nice selection of woven garment fabrics.
Prizes:
Pattern Package from Jennuine Design
$50 from Imagine Gnats
$50 from Raspberry Creek Fabrics
$25 from Hawthorne Threads
Now, the DETAILS:
Join the Jennuine Design Pattern Group on Facebook – that's where all the fun will be happening!  I'll be re-posting on Instagram as well, so follow Jennuine Design there too!
Get your pattern(s), source your fabrics and trims and get sewing!
Post your finished project(s) into the appropriate photo albums in the Facebook group.  Anything made this season is fair game.  Entries may fit in more than one category; post it in each that fits.  If you don't know where it should go, Fabric Love should work just fine.  Share on Instagram, Facebook etc. with the hashtags #satyaseason and #satyaromper.
On Friday, July 1 I'll announce the winners!
The CATEGORIES:
Fabric love:  Utilize different prints, pairings, substrates, techniques, etc.
Hack it, mash it, flip it:  Mash the Satya with any of my other patterns, another designer's pattern, or draft your own modification.  

*I'm perfectly okay with naming other designer's patterns in my group, but please check the group rules for other designers before giving this information in another group.

Trim it out:  Trims are so popular right now, let's see how trims can change up the look!
Color blocking:  Add style lines or trick the eye with color blocking.