We've been working really hard to get the Satya Pants pattern ready for release.  Boasting aside, they're really good, folks!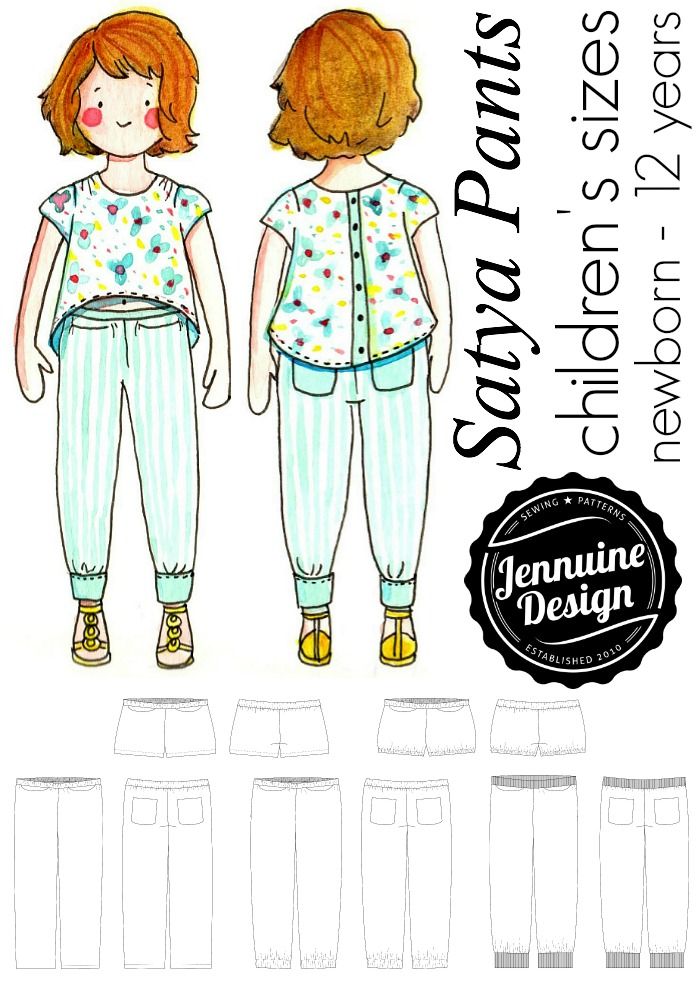 As usual, the watercolor from Candace at Dandyroo Designs for the cover is the icing on the cake.  Just so sweet and cute!
The pattern is unisex so it works for both boys and girls sized newborn to 12 years.  It also comes with lots of options to make it easy to customize your Satya Pants:
Fit: Regular or slim.  The regular fit is compatible with the Satya Romper to make a jumpsuit.  The slimmer fit is great for knits or a woven jogger with less ease.
Waistband: Woven or knit — as well as a two or four-piece option for the woven waistband
Hem: Straight leg, elastic, or knit cuff.
Length: Shorts or pants with separate cutting lines for the cuff/straight or elastic hem options.
Pockets: Optional back patch pockets.  The front pockets can be omitted as well.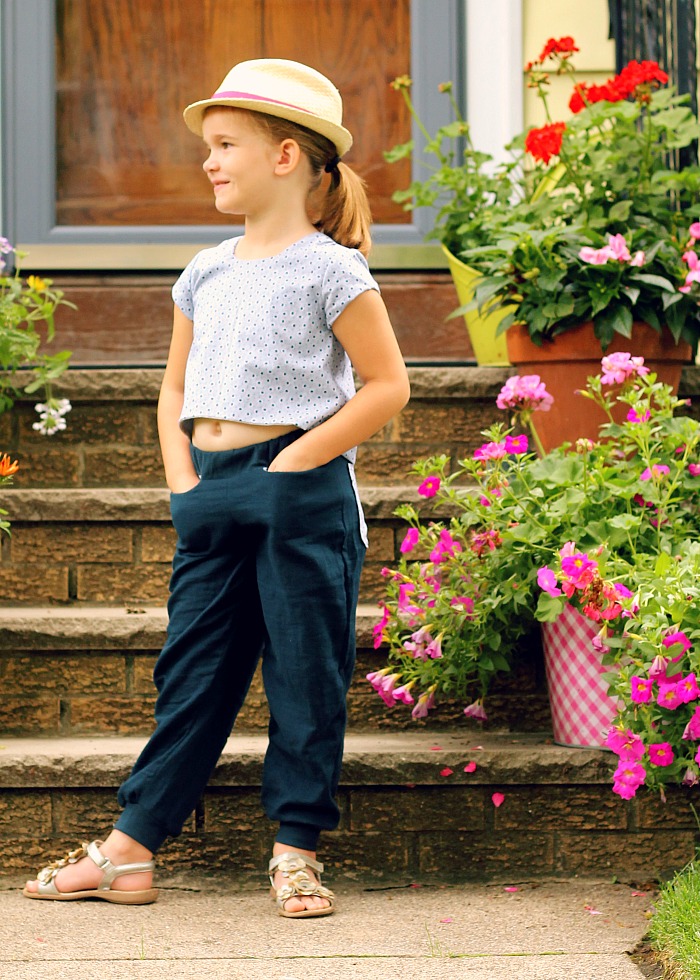 This version on Hadley is the original fit made from double gauze with the knit waistband and cuffs.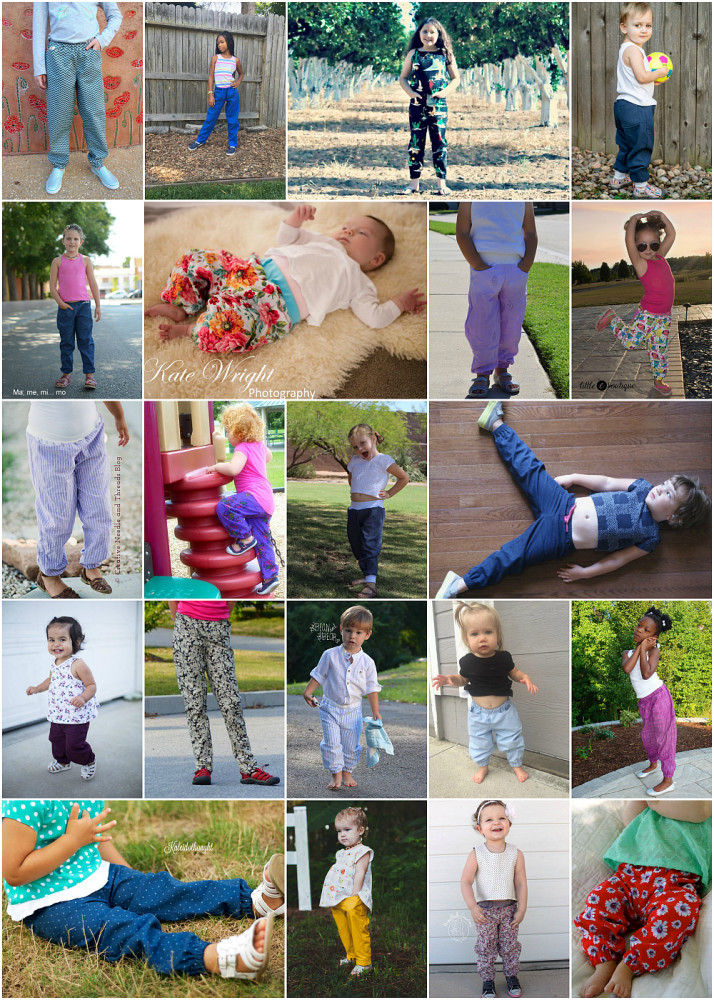 We tested on babies and big kids, boys and girls, using woven and knit and all options for hems.  Once we tested all the hem options once, testers had their choice and the elastic hem seems to be the most popular option.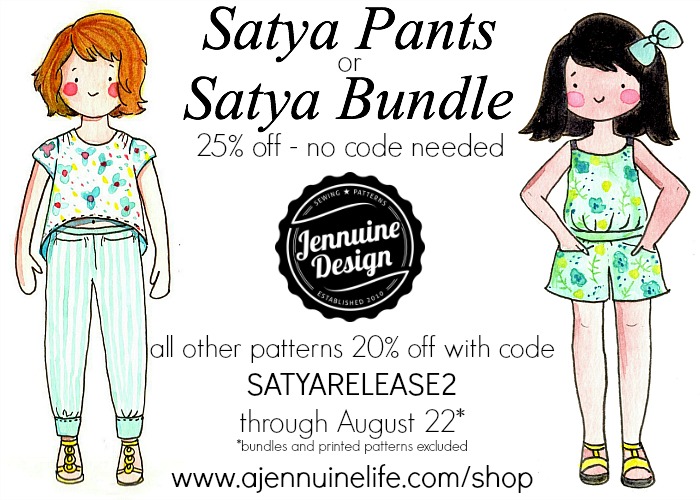 Now for the release sale!  I've upped my typical 20% to 25% on the Satya Pants and Satya Bundle, no code needed.  The Satya Bundle is the romper and pants patterns so you can make a jumpsuit version.  If you'd like any of my other patterns, you can get those for 20% off with code SATYARELEASE2 in the shop.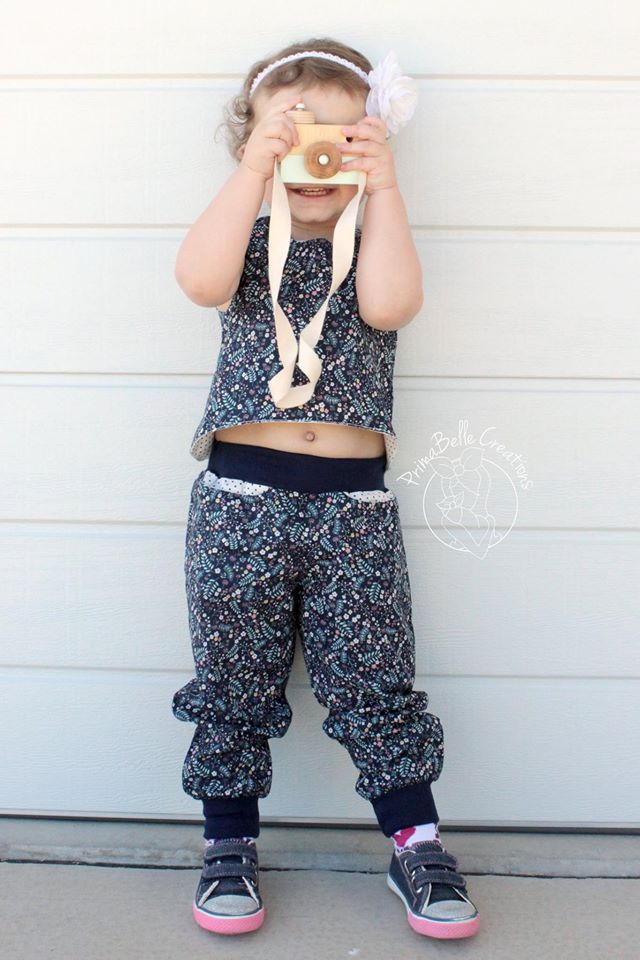 If you've got sharp eyes, you may be wondering if there's a pattern for the crop top in the watercolor…  That's the Calla Lily Crop Top, which is available exclusively through One Thimble*, a sewing e-magazine.  You can get it in Issue 12 which contains 10 patterns and many articles and tutorials.  If you're only after the Calla Lily pattern, it's available as a stand alone pattern here*.  *affiliate links
As always, I lovelovelovelove to see what you make with Jennuine Design patterns.  Join the Jennuine Design Pattern Group on Facebook and post in there and follow me on Instagram and hashtag with #satyapants so I can see!!