Another fun Halloween is in the books.  The girls get to choose their costumes, and once I've bought fabrics and start sewing there's no changing.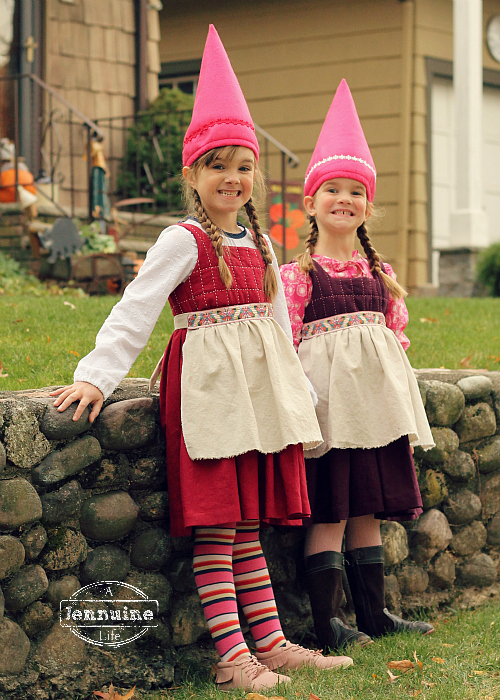 Last year they went as a pair of gnomes, and I lalaloved the coordinating costumes.  Plus, those quilted dresses were (and still are) worn for lots of other events from Girl Scout hoedowns to holiday parties.  I really hope there are still future team costumes, and maybe I can even get a whole family thing going.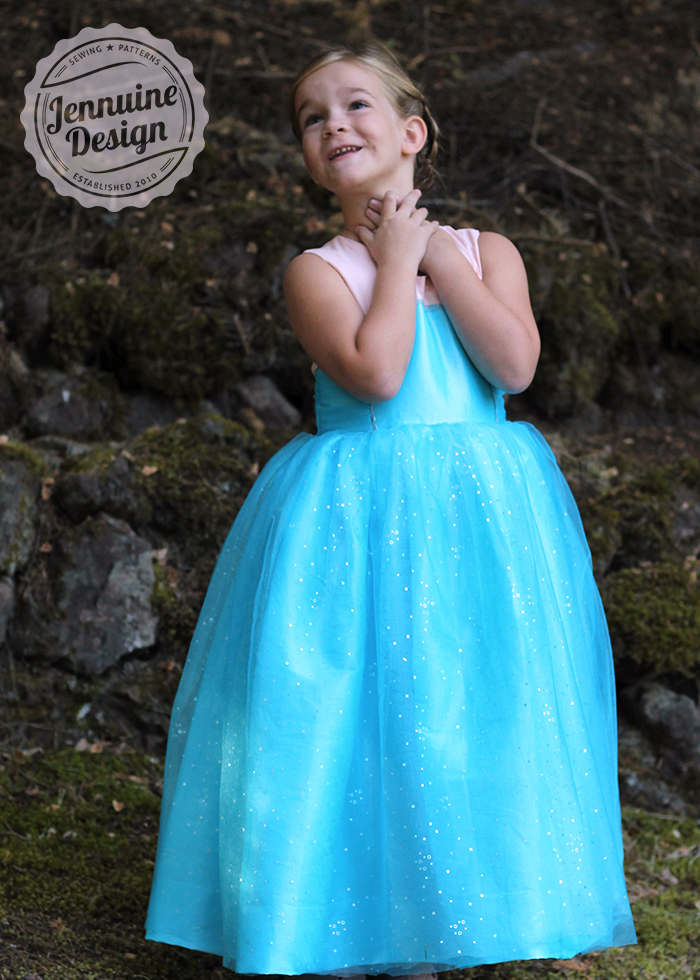 This year Hadley fell in love with the dress from the most recent Cinderella movie, and you've already seen this from my posts about One Thimble Issue 12.  I did get the bertha with butterflies added, and I snapped a few pictures I'll share after I talk about Arden's costume.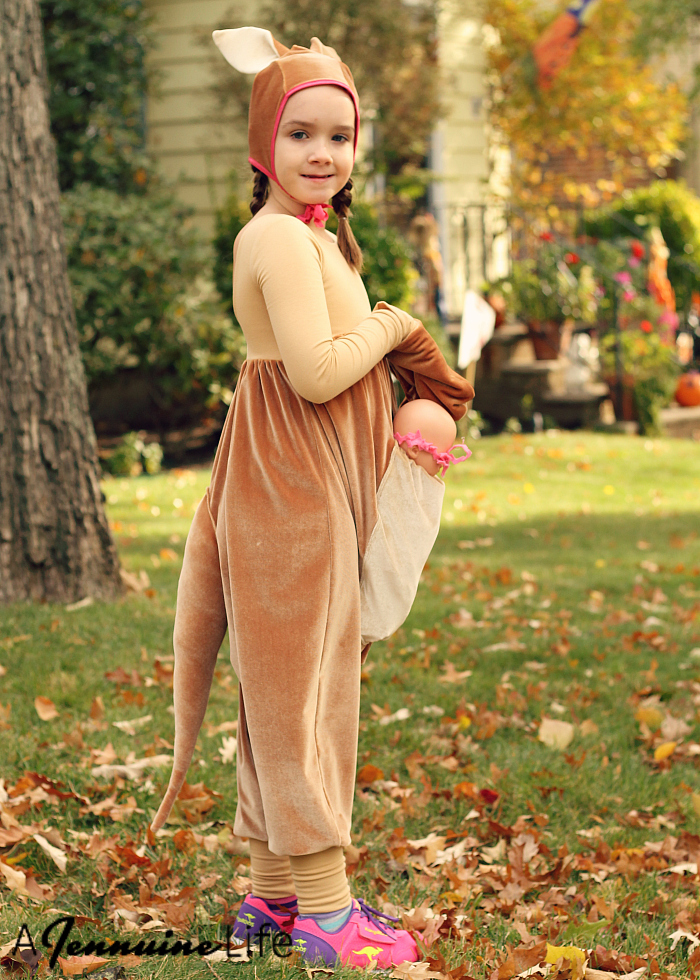 Arden was dead set on a kangaroo, and no amount of trying to convince her to do something to accompany Cinderella could change her mind.  So I ordered a few fabrics from Spandex World and set to work.  The body of the kangaroo is the Alley Cat Romper by Lil Luxe.  I dropped the crotch by about 6″ to make the bottom more "haunchy" like a kangaroo.  Then I added a pouch with elastic at the top and double top stitched it in place.
Arden insisted that her doll, Pretty Rose, needed to be in the pouch.  We did sway her to leave her home for trick or treating and that worked well because we stashed the larger treats like popcorn and pretzel packages in her pouch!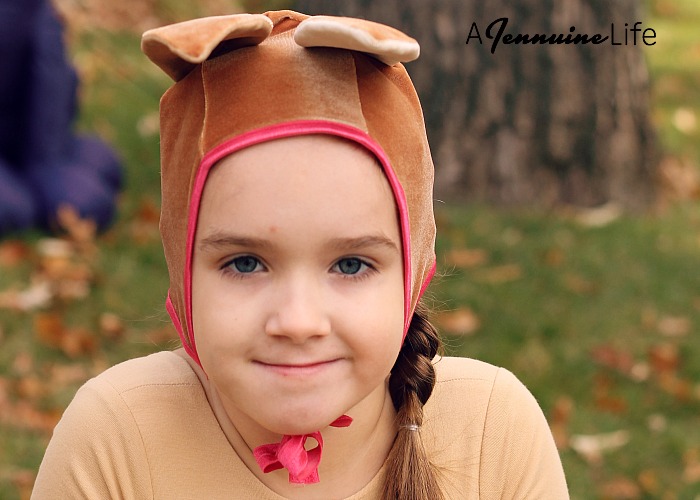 The hat is a take on the eared hat made by Glitter+Wit – the original eared version is available in her shop here and while you're there make sure you check out the recent collection she just dropped.  I made big ol' roo ears and used Peltex heavy duty fusible interfacing to help them stand up straight.  We left them relatively floppy at the base, since kangaroo ears seem to flop a bit.  I had started out with a fleece lining, but Arden said it was better without it after a fitting.
The tail is stuffed and topstitched on similar to the pouch, but with considerably more wrangling through the sewing machine.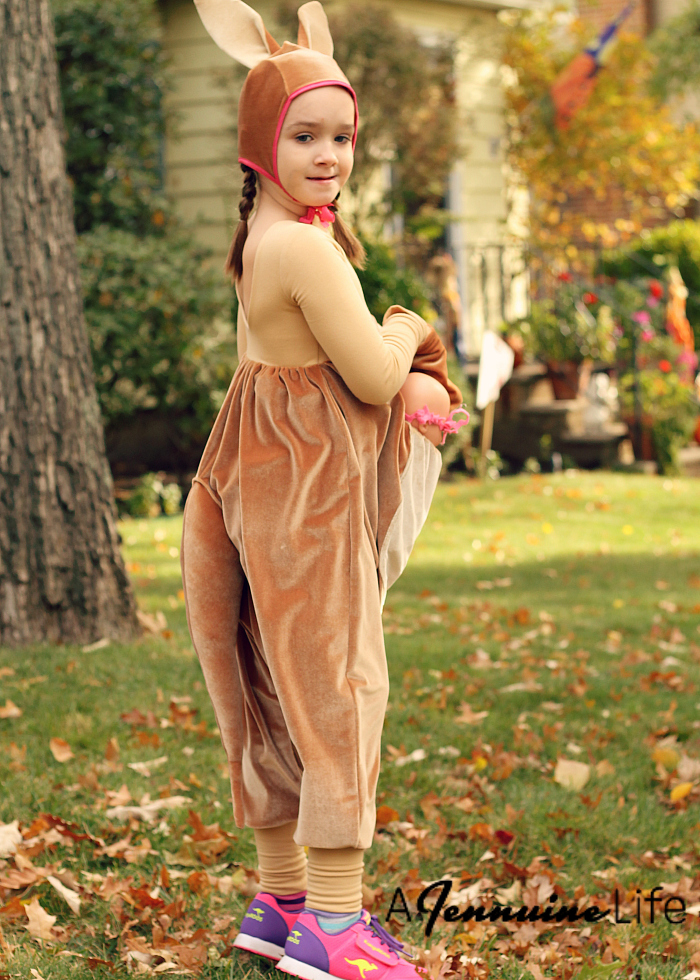 Did you notice the kangaroo "feet"?  If you're a child of the 80's-90's you may remember Kangaroos – the tennis shoes with a velcro pouch on the sides.  I thought it was a very appropriate solution to kangaroo footwear, and saved me having to figure out some way to make shoe covers.
She's also sporting a pair of mittens from Stitch Upon a Time's (known as SUAT) Wonderland Mittens.  I was going to just wing it, but then there was a sale on the pattern and I went that route.  This is my first SUAT pattern I've sewn and it was easy to print and follow the tutorial.  The pattern covers hands sized toddler through adult.  I made these intentionally a little large to be more paw-like.  I don't know if I can make any true judgement from a super simple pattern like this, but I certainly would give another of their patterns a try.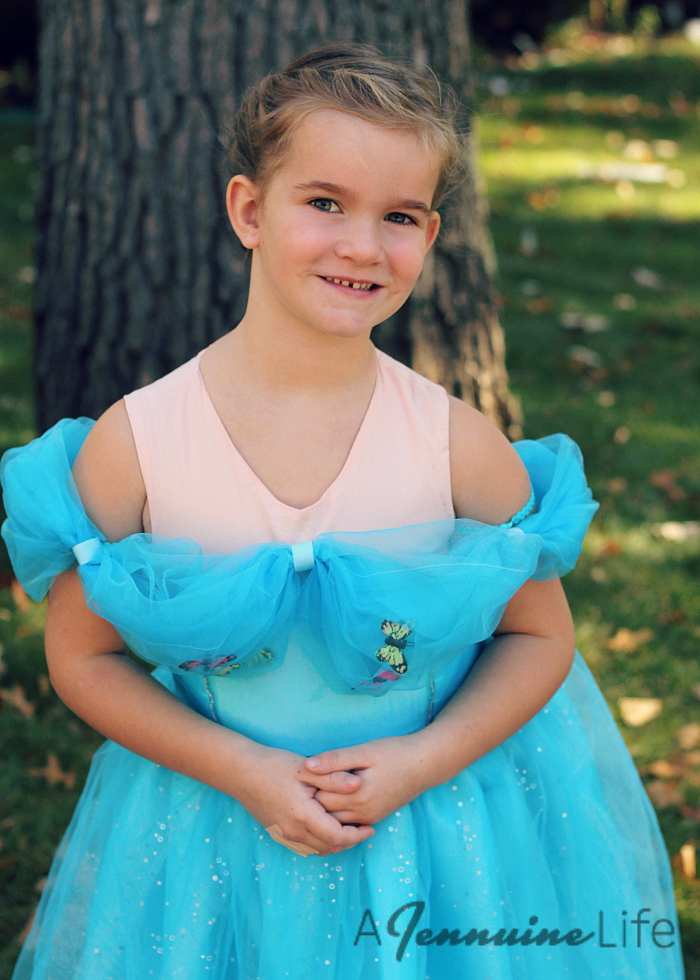 Now for that bertha – the pouffy thing that wraps around the shoulders.  I made this super simple – it's a tube of the same tulle from her skirt, and then 3″ long loops of grosgrain ribbon to hold it at the center and arms.  To hold it in place at the arms I connected the ribbon loops with lengths of blue decorative elastic.  Then she slips her arms through the loops and it allows the tulle to rest gently around her arms.  I tossed a few butterflies into the center front sections before feeding it through the loops.  Then the center front and back are just safety pinned in place.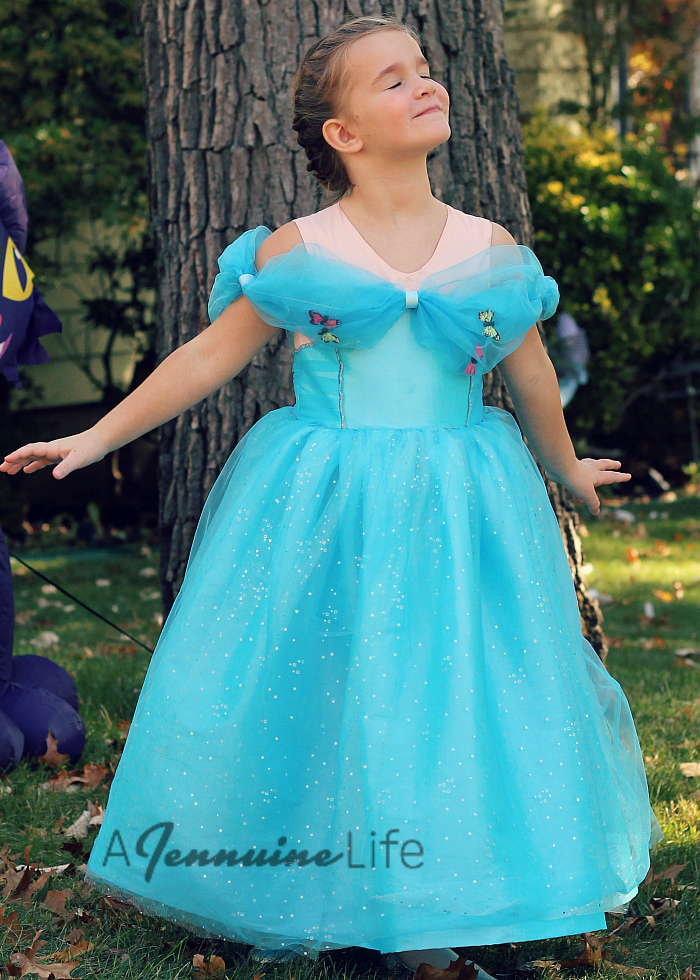 The overall effect is really nice, I think!  Hadley super loved it and enjoyed herself immensely.
The shoes were a fun find.  I knew I didn't want her to suffer with uncomfortable dress up shoes, so when I found a pair of sparkly silver Crocs in a ballet flat style I knew those would fit the ticket.  I am so not a Croc fan, but I'll make an exception for comfy Cinderella slippers that don't look like they belong in the garden.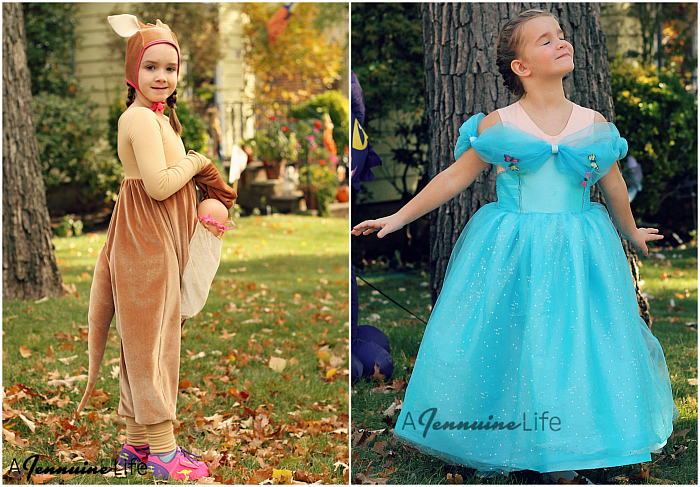 So that's Halloween 2016 – did you make any part of your kid's costumes?
Outfit Details:
Kangaroo
Fabrics – 2-way Stretch velvet in light and dark nude and khaki cotton lycra from Spandex World
Main – Alley Cat Romper by Lil Luxe Collection
Hat – based on eared hat by Glitter+Wit
Mittens – SUAT Wonderland Mittens
Shoes – Kangaroos *affiliate link
Cinderella
Fabrics – Joann Fabrics
Dress – Azure Party Dress by Ainslee Fox *affiliate link
Shoes – Crocs from Zappos