Woot!  I got invited to play with a new line of fabrics from Sew Caroline for Art Gallery Fabrics; Here Comes the Fun!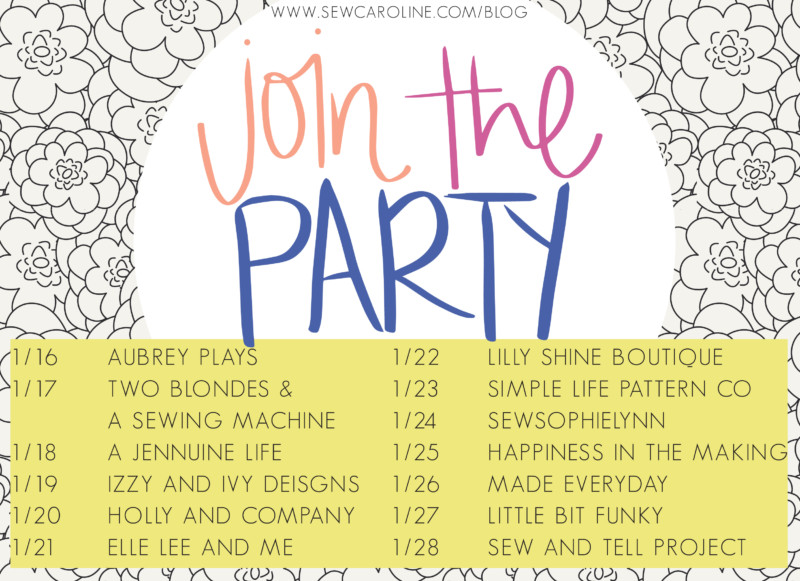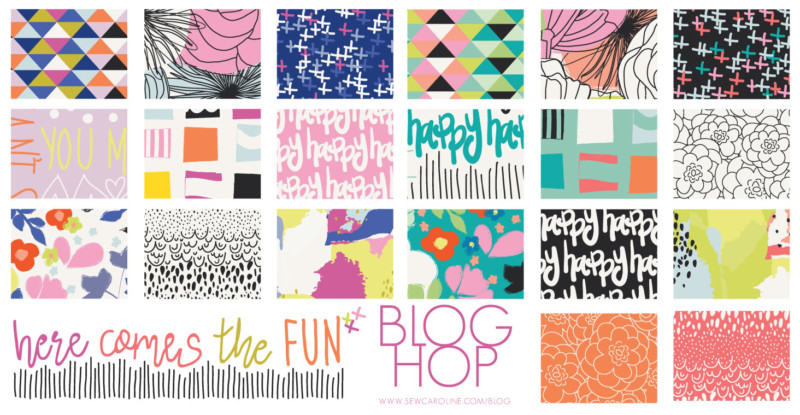 And fun it certainly is – the colors are so vibrant and happy and the designs are cheerful and fun!  If you remember, I previously used the voile from Caroline's Happy Home line to create the first version of the Satya Romper.  This time I wanted to take a turn with the lovely knits, which are available in five of the designs:

I chose the Bloom Montage Light, Across Sparks Black, and Happy Whisper.  The other two are Corollas Ashen in the center and Tripixels Loud on the far right.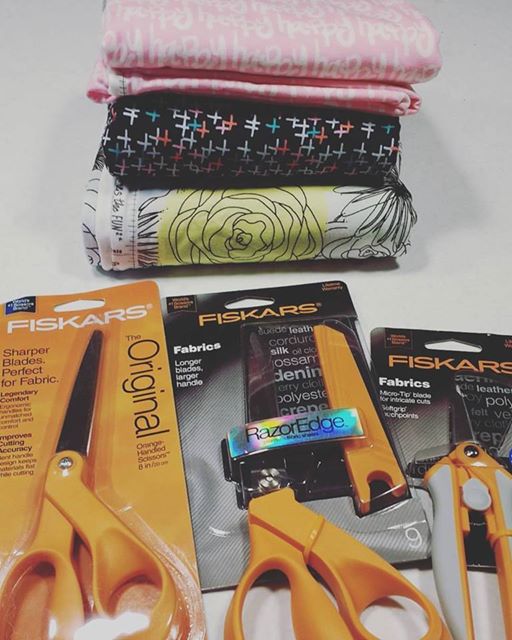 Along with the gorgeous fabrics, Fiskars also provided a generous gift of scissors and snips.  I busted these out immediately and keep the snips right next to my sewing machine for trimming threads, and the others on my cutting table.  I was already a Fiskars fan, and these great tools solidified that position even more.
Fiskars is also sponsoring part of a giveaway for the Here Comes the Fun blog hop – be sure to read to the bottom to see how to enter to win!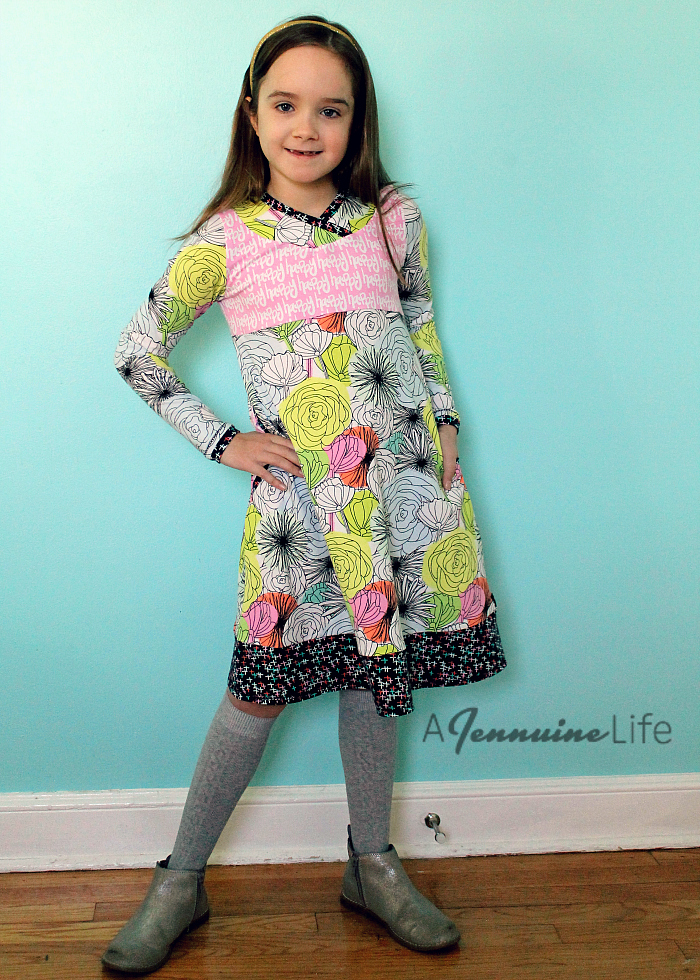 I'm working on a contract design job for a client right now, so I wasn't able to draft something new for this tour.  But my Divided Dress that released recently is perfect for showcasing several knit designs; it was meant to be!  This is the circular shawl option.  There is also the color blocked "divided" option which gives a faux-raglan look, and also a plain bodice option included.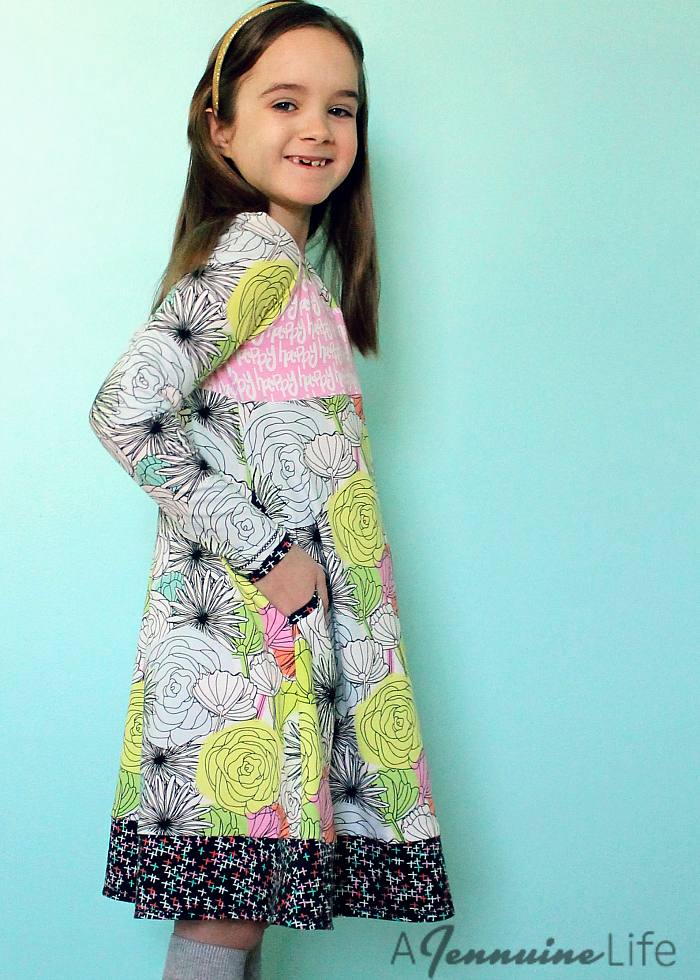 I want to capture Arden's crooked, gappy smile for as long as it lasts – such a fun, goofy stage!  Normally I play it a little safer with fabric combinations, but one of the great things about using prints from a coordinated line is that you know they'll work together.  The scale and visual weight of these three fabrics merged really well, and the end result combined with the a-line silhouette of the Divided Dress gives a bit of a 60's vibe to me.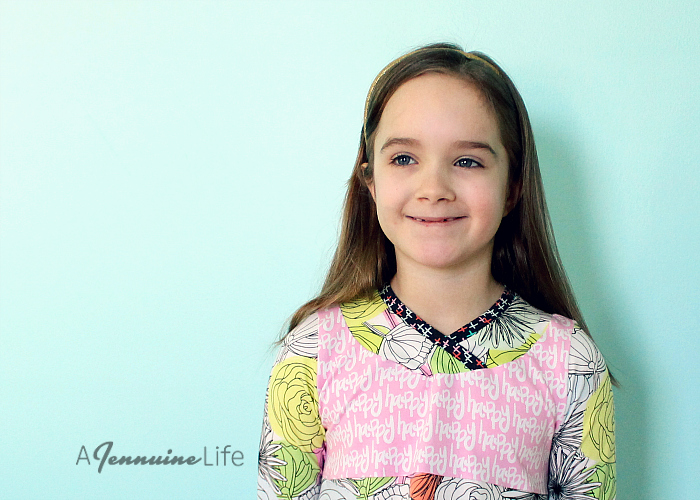 The circular shawl collar is so cozy for winter, and the bright colors keep it light and lively.  Art Gallery knits are really lovely to work with – a nice substantial weight with great stretch and recovery.  They work great for cuffs and bands so you don't have to dig for coordinated ribbing.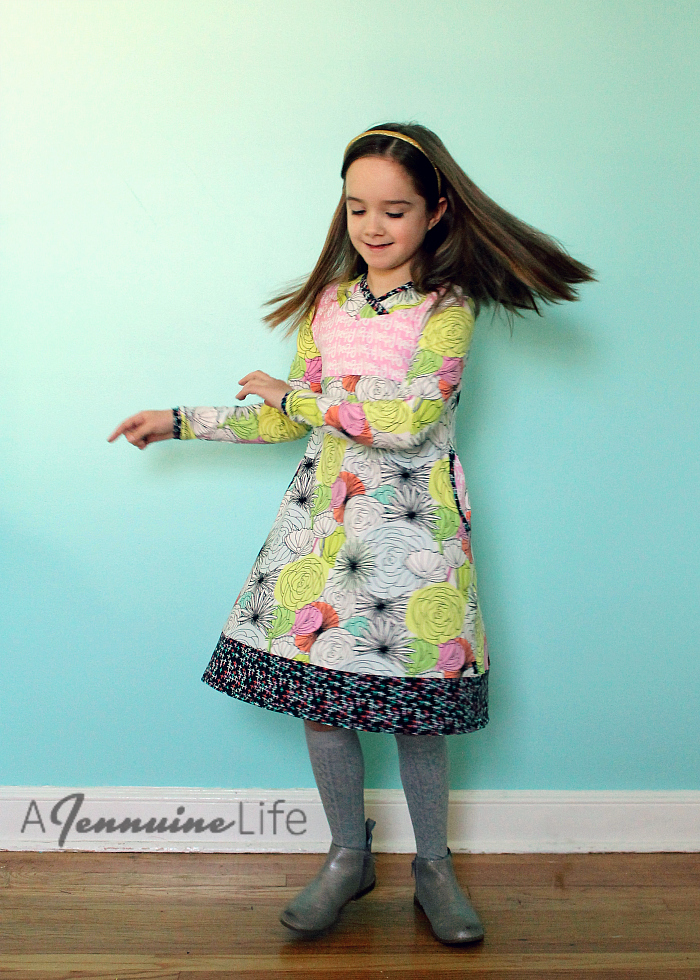 Just enough twirl to keep a 7 year old happy.  I used a "X" stitch to hem the skirt and repeated that at the sleeve bands.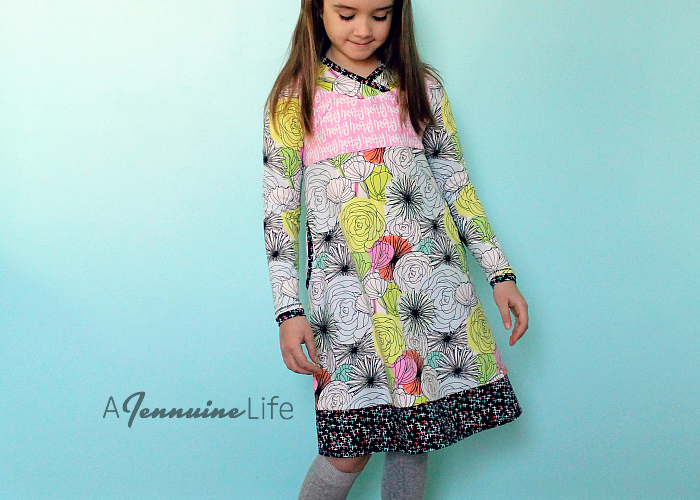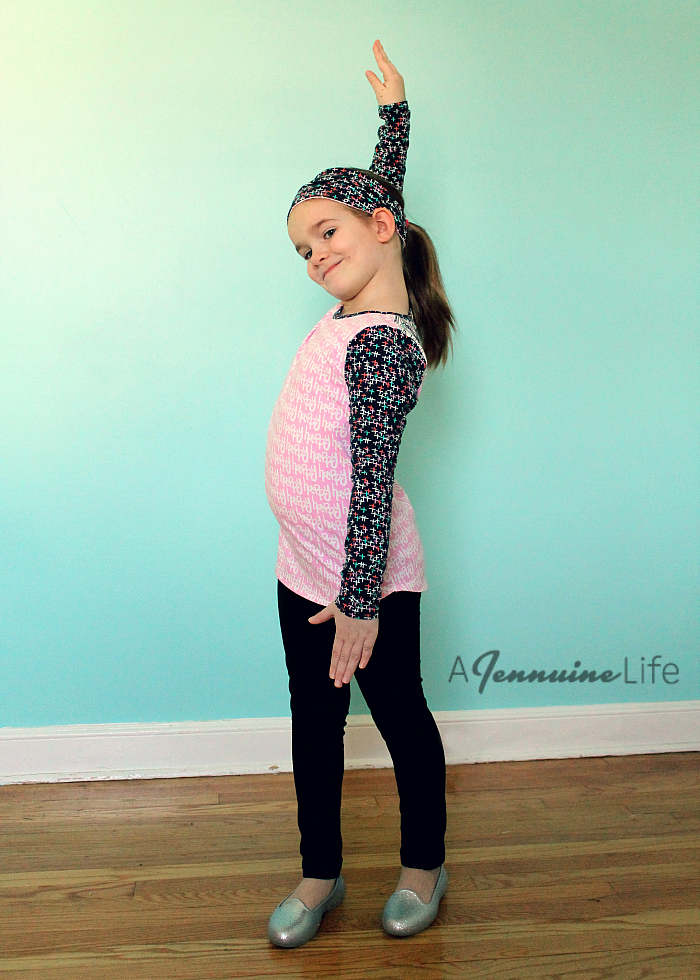 I had enough fabrics to let Hadley join in the fun, so I made her a slightly modified City Park Tee by Hey June.  I'll get to the (unintentional) modification in a bit.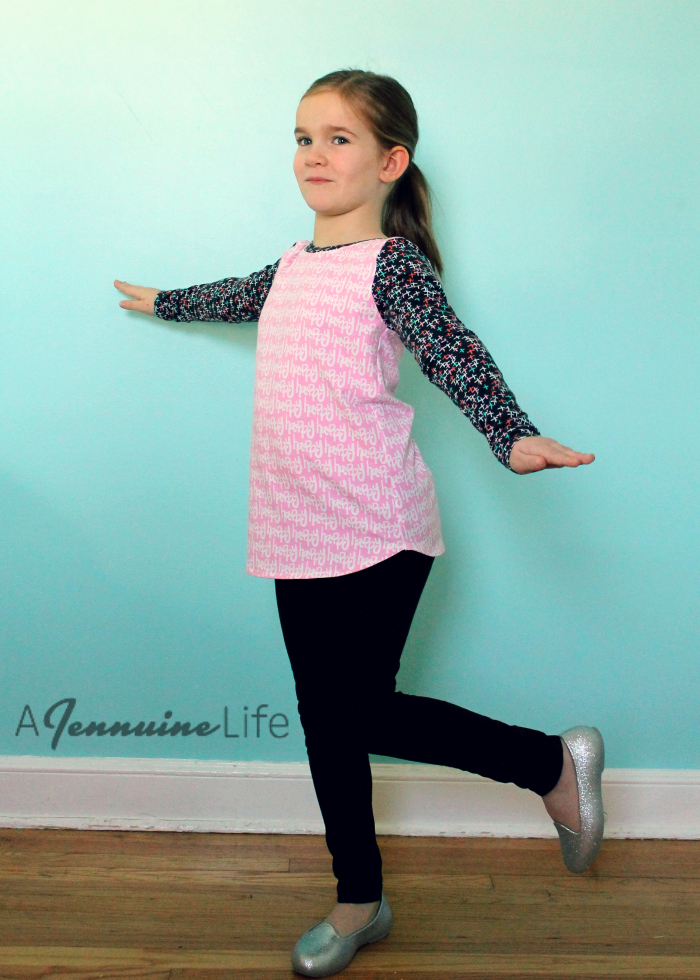 Hadley got a simple and cute long sleeve t-shirt in tunic length with the shirttail hem.  I used the Happy Whisper for the body and Across Sparks Black for the sleeves and neckline.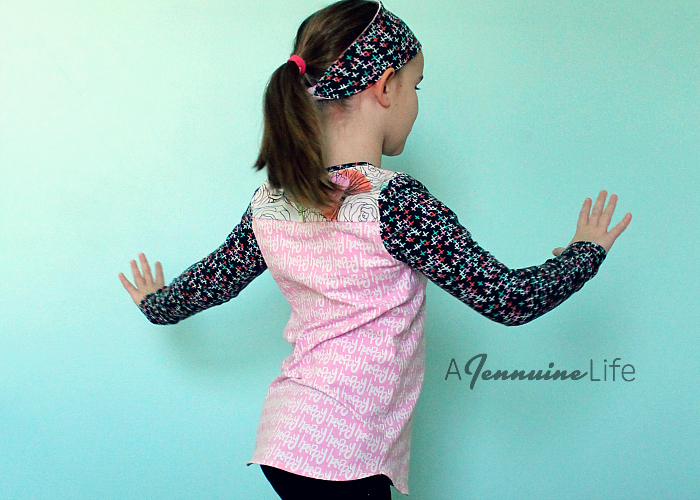 The modification was due to a little error I made as I was cutting the back.  I had printed sizes 6 and 8 and planned to cut the 8 when I started in on the back neckline of the size 6 – after I had cut all the other size 8 pieces and didn't have enough of the Happy Whisper for another.  So I made a color blocked yoke piece from the Bloom Montage and everything was right in the world again.  And a little cuter, to boot!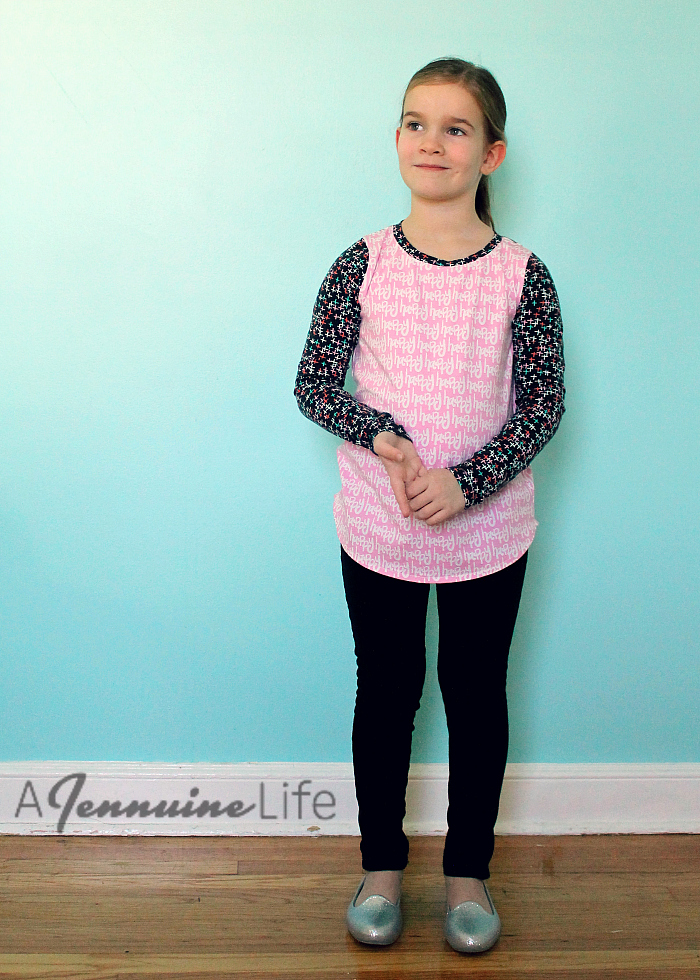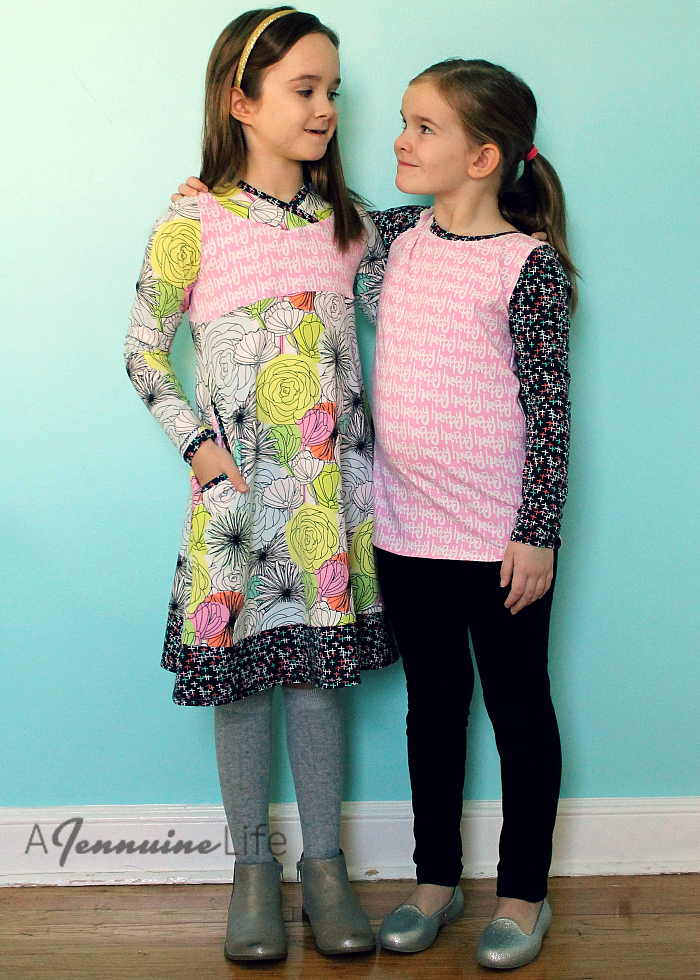 These two – it looks like they never argue or fight when you capture moments like this.  Of course that's not the case – they're sisters after all!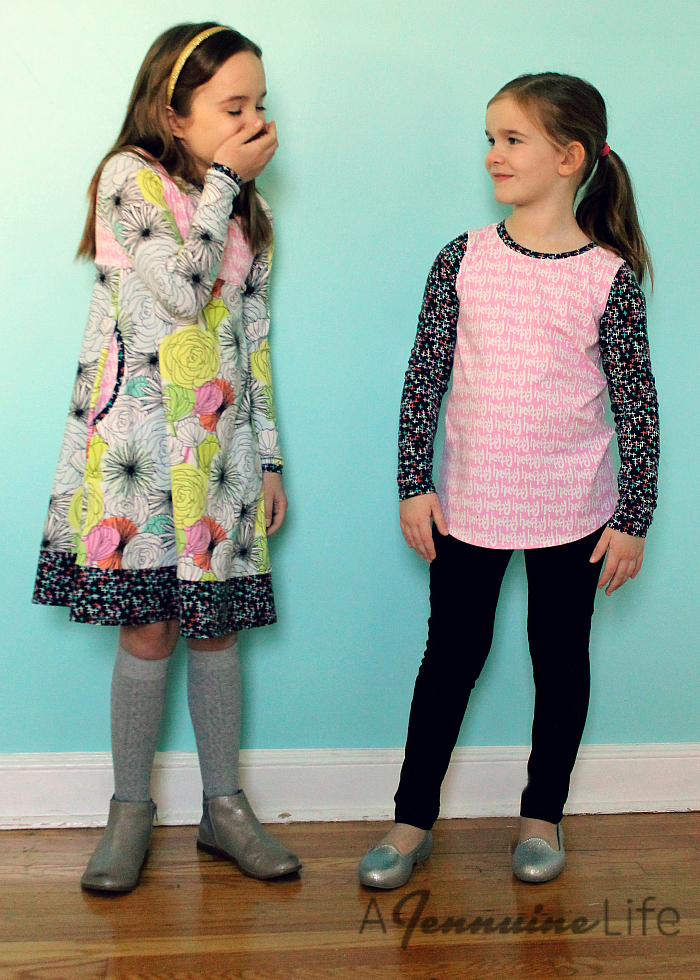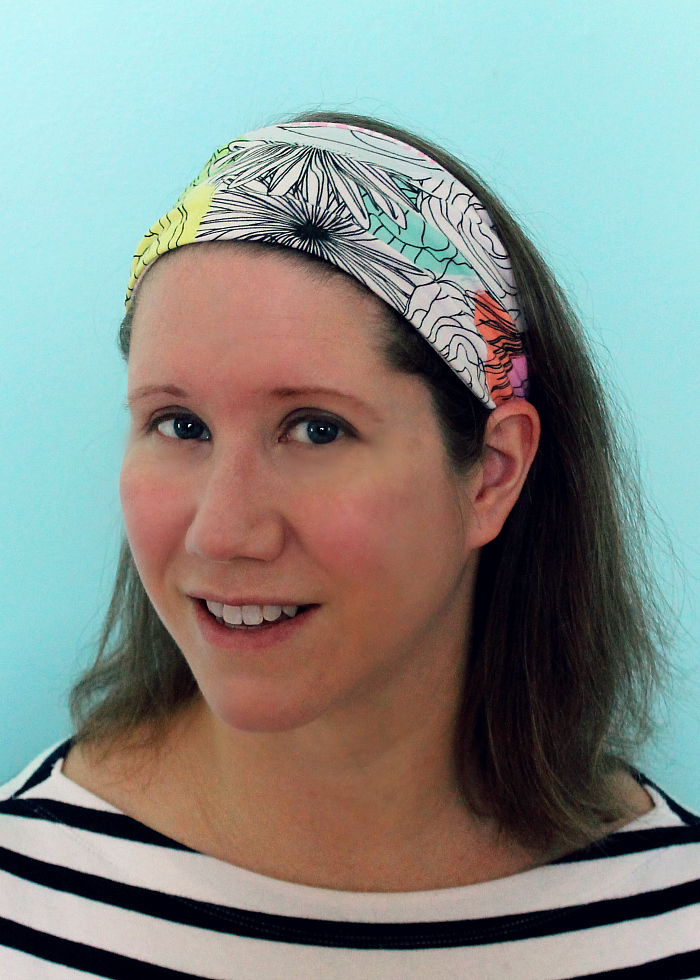 Bonus time!!  Did you noticed the simple headband Hadley is wearing in a couple of shots?  I took this opportunity to finalize a free headband pattern I've been working on for infants through adults.  The Zenith Headband is a super quick sew and perfect for fitness or every day wear.  It's also reversible, so you can get two looks in one.  Pick up your free copy of the Zenith Headband in my pattern shop.
Be sure to head over to all the other tour participant's posts – there's a great mix of quilters, garment and accessories that will be showcased:
January 16: Aubrey Plays
January 17: Two Blonds and a Sewing Machine
January 18: A Jennuine Life
January 19: Izzy and Ivy Designs
January 20: Holly and Company
January 21: Elle Lee and Me
January 22: Lilly Shine Boutique
January 23: Simple Life Pattern Co
January 24: SewSohpieLynn
January 25: Happiness in the Making
January 26: MADE Everyday
January 27: Little Bit Funky
January 28: Sew and Tell Project
Now, for the giveaway!  Head over to Sew Caroline to enter for a chance to win a full fat quarter bundle of Here Comes the Fun as well as a bundle from Fiskars!
Thanks Caroline, for letting me join in for the Here Comes the Fun blog hop!