Along with sewing more for myself, I've also been pattern testing more for women's garments.  Recently I helped Kelli of True Bias test her latest pattern, The Lodo Dress.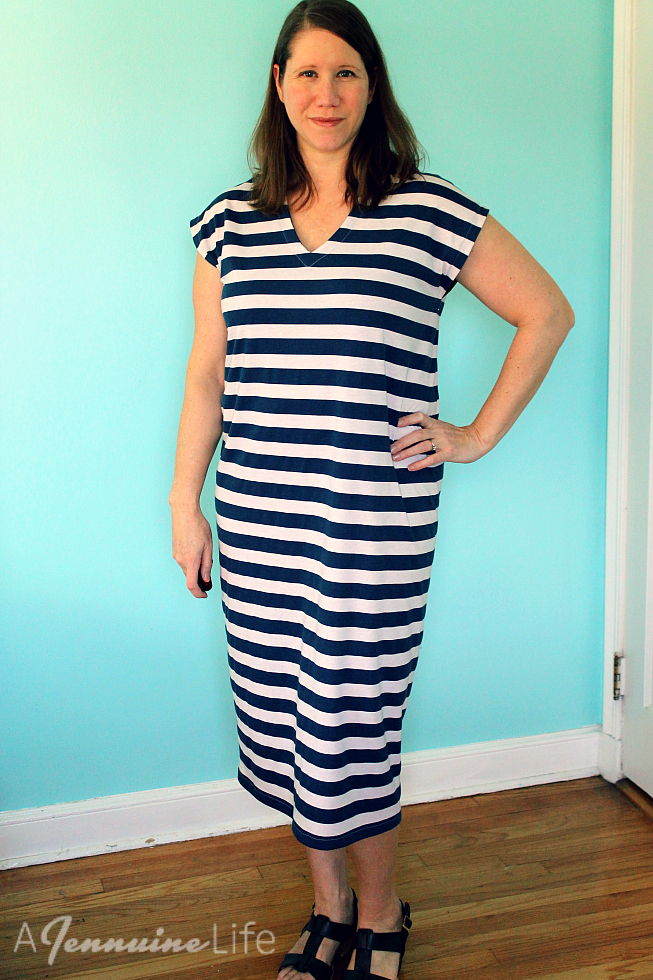 The Lodo Dress is a a twist on a t-shirt dress with a subtle cocoon shape.  There are two views: View A is a longer mid-calf length with a walking slit and View B ends above the knee.  I made View A since I prefer my dresses at or below the knee.  It's drafted for women size 0 to 18, or 32″ to 44.5″ bust/34″ to 48.5″ hip.  I made a straight size 16 and my current measurements are 42″ full bust, 36″ waist, 42″ full hip, 5'8″ tall.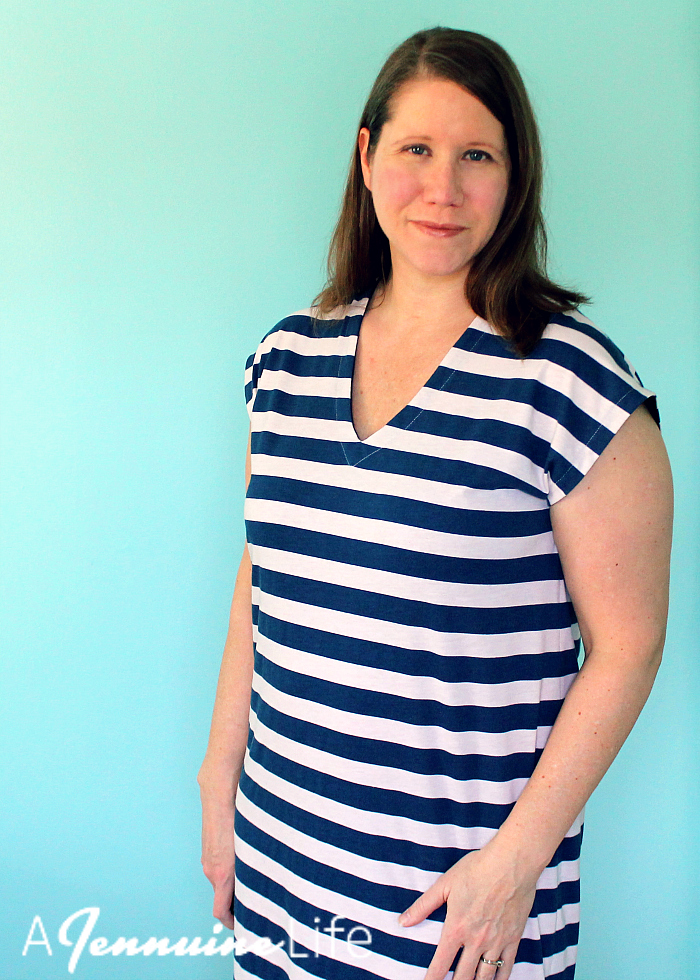 You'll have to pardon my Arden's-bedroom-remote-selfies as the weather was still in the throes of early spring in New Jersey so outdoor photos weren't happening.  This dress uses woven facings for the neckline and armholes.  I like this finish for ease of sewing and the opportunity to use a contrasting or coordinating fabric there.  I had some navy washer linen from other projects and it was perfect for this.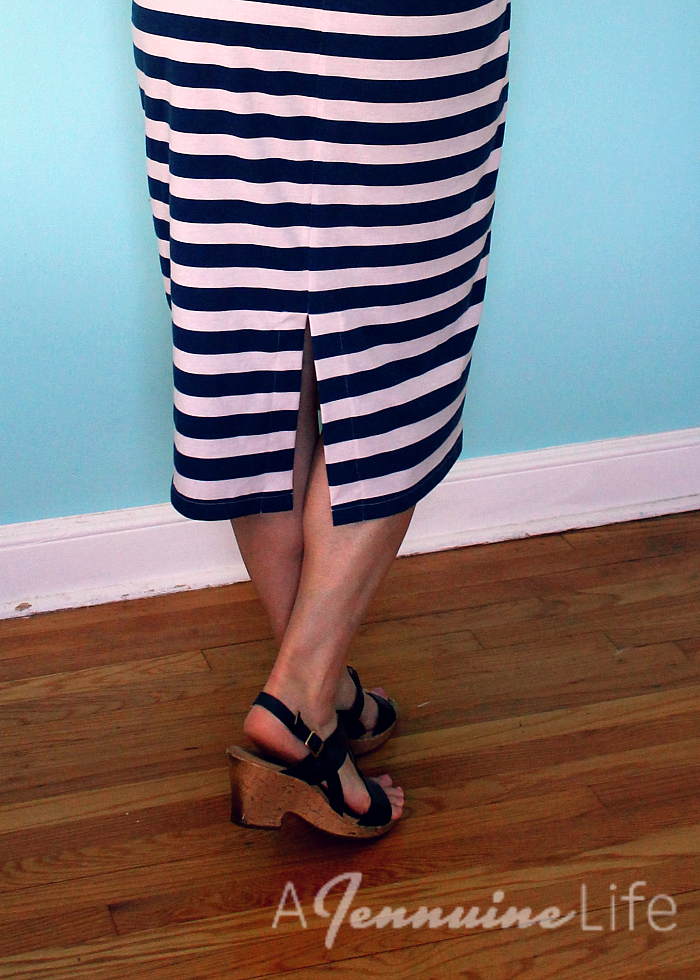 There's that slit to keep you from doing a Morticia Adams shuffle.  I subjected myself to quite the exercise in stripe matching with this fabric!  It was well worth it and I love my new dress!  The fabric is something I've had in my stash for some time.  I'm pretty sure it's from a Girl Charlee clearance sale.  It's quite stable, which is what this pattern calls for.  It's also navy and striped; totally my jam.  The opposing stripes are a very pale peachy-pink.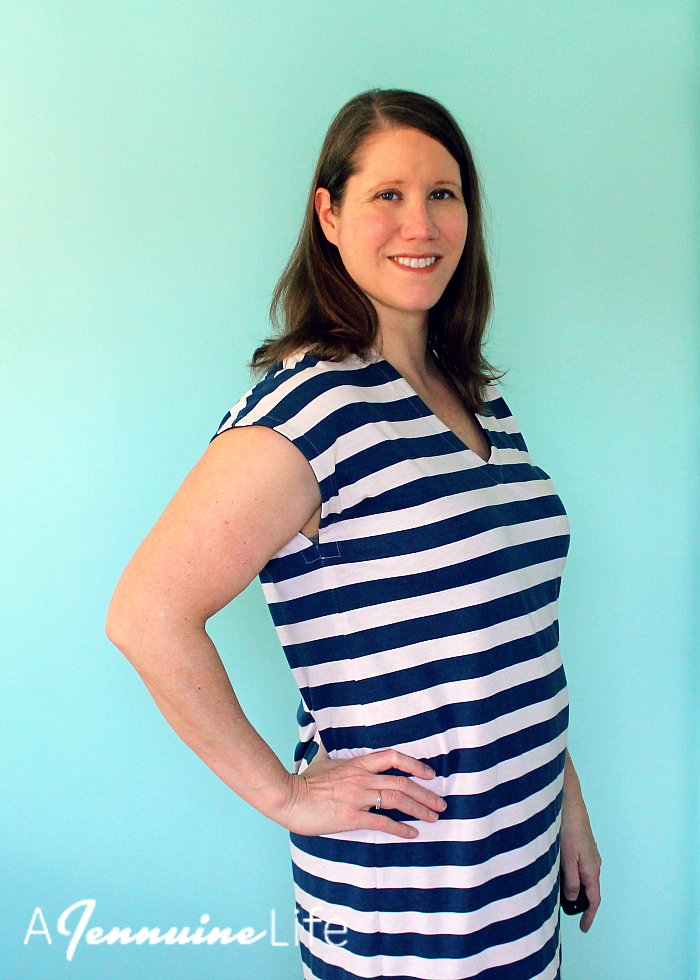 I wasn't 100% sure the cocoon silhouette would work on my sturdy frame.  After the first fitting, I was 100% sold!  I think this skims over the areas I'd rather keep to myself and minimizes my broad shoulders.  I particularly like the length and angle of the neckline.  Deep enough to not feel constricting, but no danger of showing my full-coverage bra.  The main adjustment Kelli made after testing was to remove a small amount at the back as some of the testers (myself included) were getting a bit of pooling at the low back – a slight swayback adjustment if you will.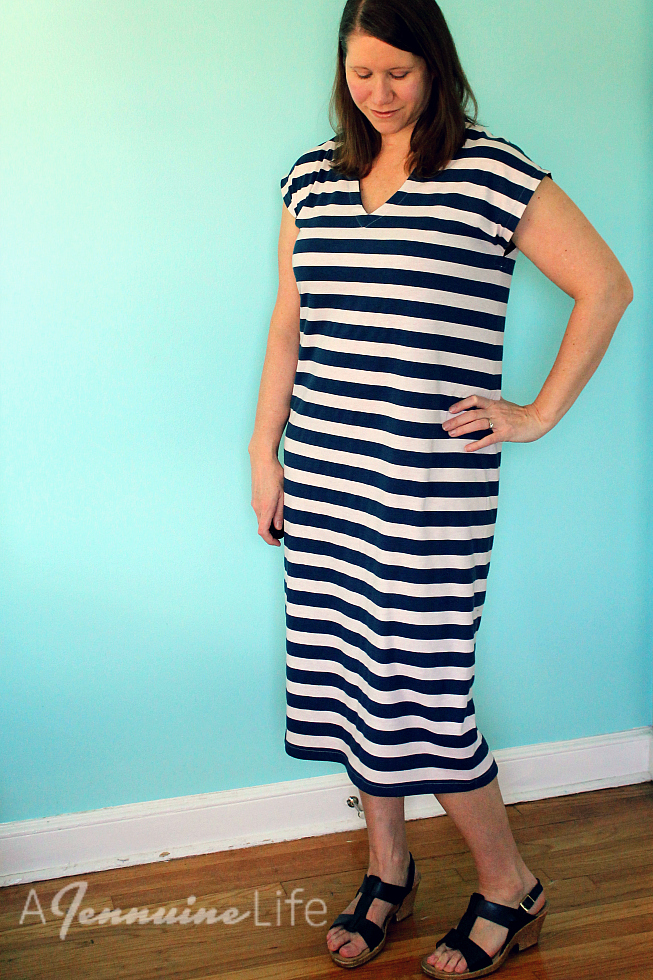 I can say with certainty that this dress will be in frequent rotation for my spring/summer wardrobe.  You can pick up The Lodo Dress for 20% off through April 14 with code LODOLAUNCH here.