The first pattern I sewed in my pattern review and comparison of women's stretch woven pull-on pants are Jalie Éléonore Pull-on Jeans.  You can click back to the muslin stage of all four patterns in my muslin post to catch up.  I'm going in order of pattern label alphabetically and that's how I will present the information in the final comparison post.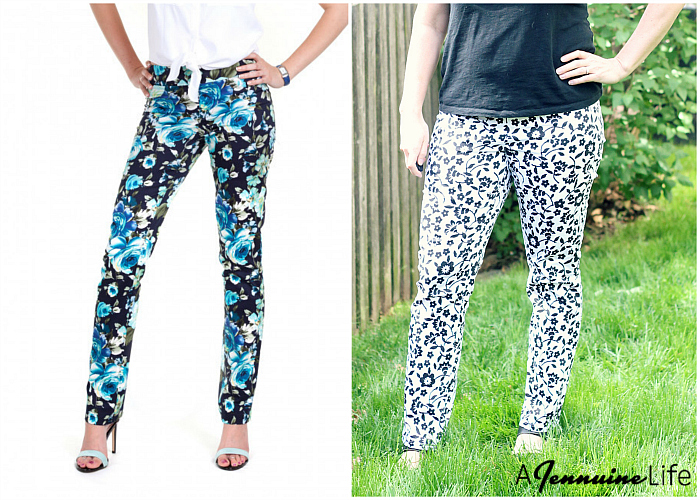 Pattern Details: Jalie Éléonore is for get this… girls' and women's sizes from 2 to 22, which covers 22″ to 53″ hip.  That means I can make my kids the same pants without buying another pattern.  This is typical for the Jalie size range and definitely elevates the value when shopping.  There are two views – an ankle length jean and capri length.  I'm sewing the full length pant.
Have you noticed my attempts to recreate the pattern listing photos in each review?  Ironically I actually had a pair of very similar strappy high heel sandals but I purged them a couple of years ago when it became clear my feet would no longer stand for such mistreatment.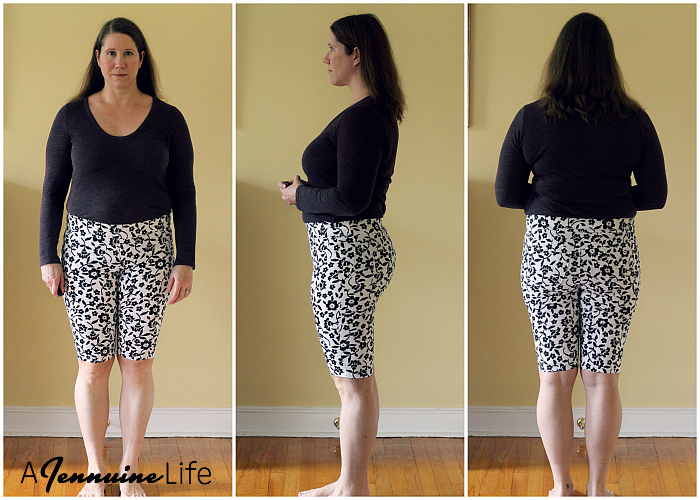 I had made a pair of Éléonore pants back in October, and had muslined for those.  When I muslined again for this fabric the only adjustment I made was to back off on an earlier adjustment to increase the rise in the back by slashing and spreading horizontally at the center of the rear yoke.  I also needed to add a little width since the fabric I'm using for this pair didn't have as much stretch as the stretch denim I used for my first pair.  I also decided to use 1.5″ wide elastic since the waistband in the pair I made in October want to flip over.
I am channelling my mother by taking photos in front of whatever plant happens to be blooming at the moment.  Any staged photos from my childhood also captured our blooming rose bushes, apple trees, dogwoods, etc…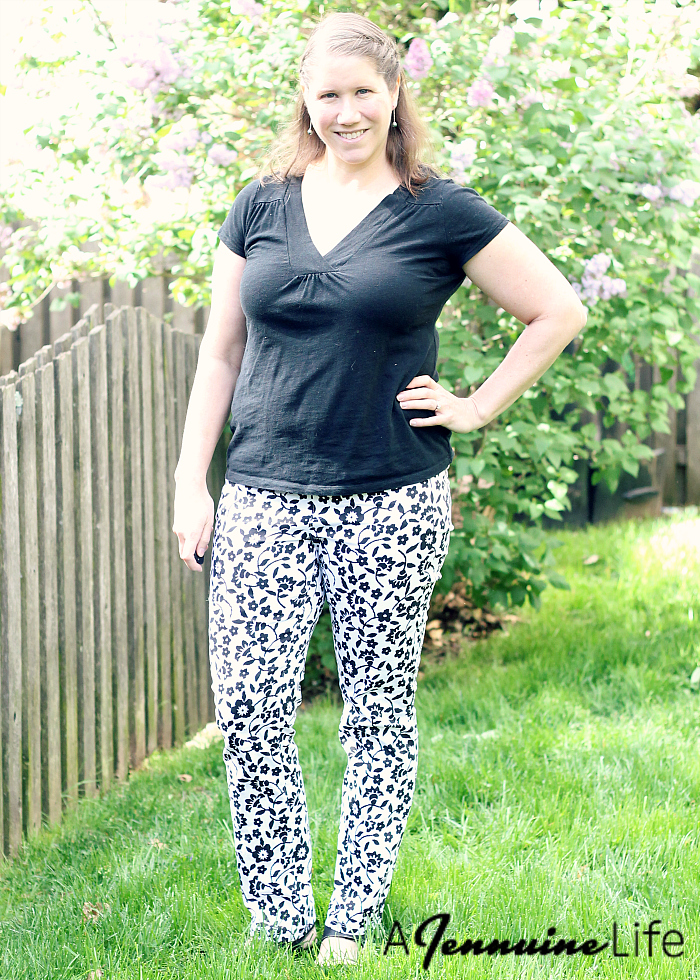 Drafting:  Simplicity at its finest.  There's only seven pattern pieces, but there's notches and grainlines where needed, and a placement line for the back pocket.  There are layers for printing, and text size labels, and size lines are differentiated with different strokes as well.  I printed only the size I was making, but it would be easy to follow a size among the rest if you don't utilize that option.  The grading is even through each size range broken into F-L, M-CC, and DD-FF, which means the steps between sizes are the same through each size grouping.  This makes complete sense to me considering the sizes cover young girls all the way to plus sizes.  My understanding is that some of the older Jalie patterns don't have layers, but they're working backwards through their catalog to offer it on as many as they can.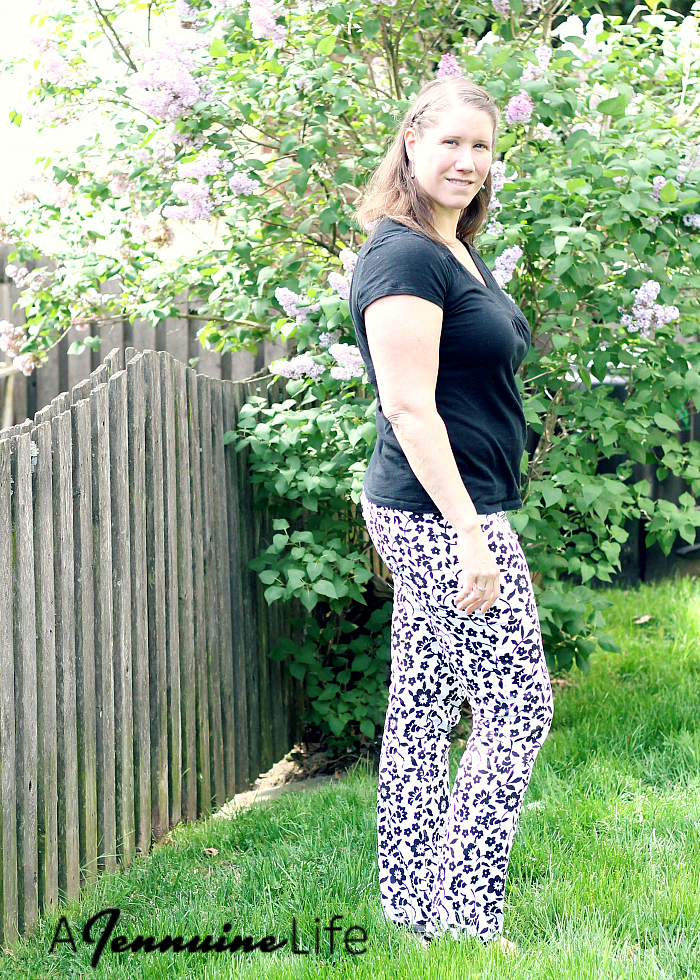 Sewing: Smoth as buttah! There's a faux fly that gets some nice topstitching that you need to mark out, but that's not difficult and there's nothing finicky about this pattern.  If you do the mock front pockets there's a curve that needs to ease in, but it's marked with a notch that helps line everything up.  On my first pair I omitted the front pockets entirely, but for these I made the pockets functional as I felt like I was missing a pocket there.  The waistband is contoured, and there is elastic which is sewn onto the inner edge of the waistband.  I like this method of securing the elastic aside from a bit of bulk in the side seams.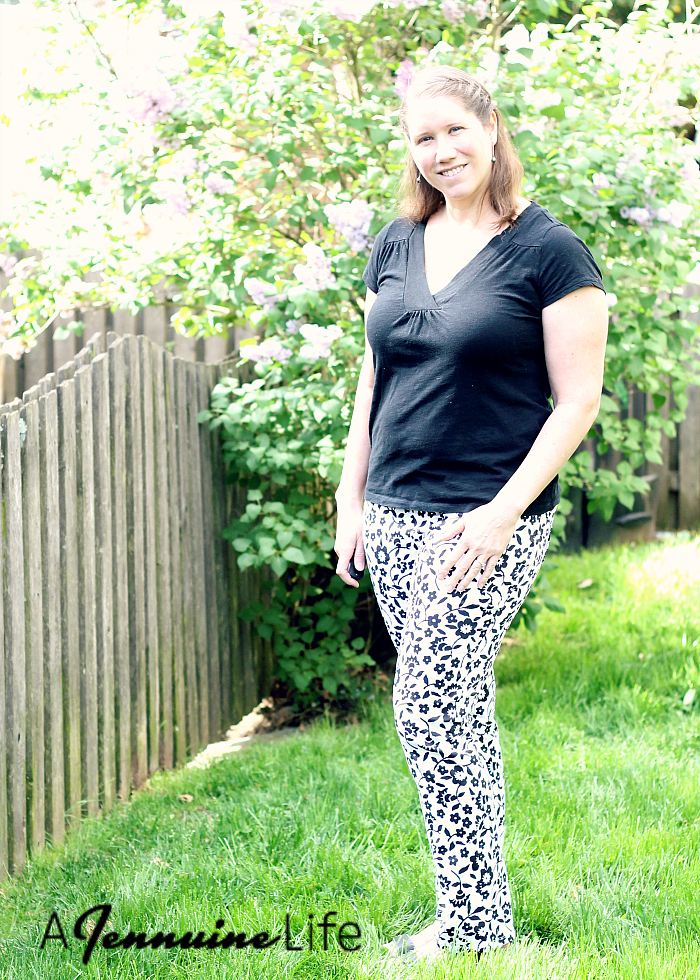 The tutorial is succinct with technical drawings.  Jalie is a Canadian company, so the instructions are given in both French and English.  The labels are also given in both languages, and measurements are given in both metric and imperial.  I don't know of any sew alongs with photos, but there is a Facebook group Sewing With Jalie, and for this pattern there is a link to a blog tutorial for making the faux front pockets functional.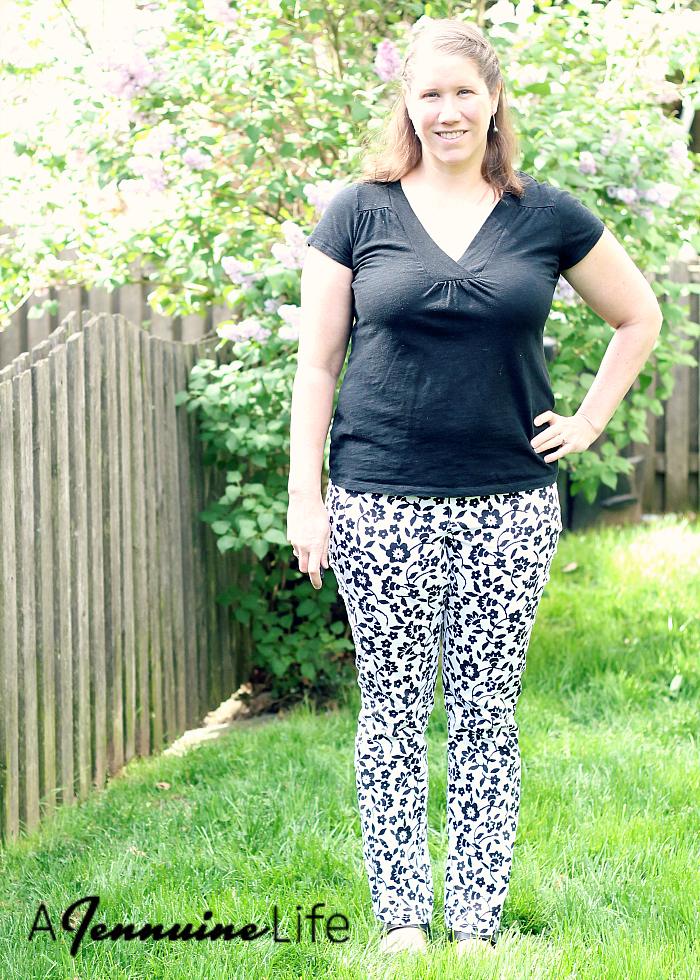 The pattern calls for denim or twill with 20% stretch across the grain.  I have to say the denim is more comfy because they have more stretch.  But these are way cuter ;).  When I made the stretch denim pair, I made size X, but after the muslin being a bit too snug for this fabric, I made this pair in size Z.  This is stretch twill from Cali Fabrics.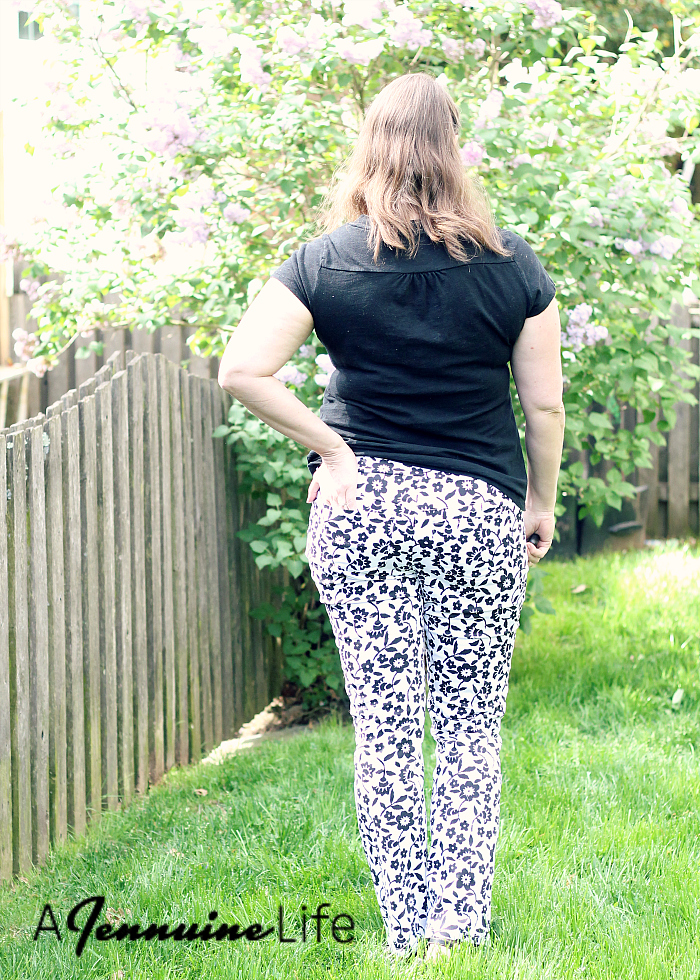 When I made my first pair, I was knocking them out pretty quickly so I didn't do any fancy detailing on the pockets.  Then this pair is patterned and it wouldn't really show well anyways, so I kept it simple.
I measured the total crotch length which is taken by measuring from front waist to back waist going between the legs.  I did this in a very unscientific manner by just using a tape measure on my finished muslin.  When I calculate this for my own patterns I remove seam allowances from the pattern pieces and add together front rise, rear rise and waistband.  Since I don't have access to the pattern in a format I can manipulate measuring the finished garment seemed the most straightforward way.  For the size X that I muslined, Jalie Eleonore has a total crotch length of 26.25″.  When I do the final overview of all four patterns at the end I'll share the table that compares the details and key features of all the patterns.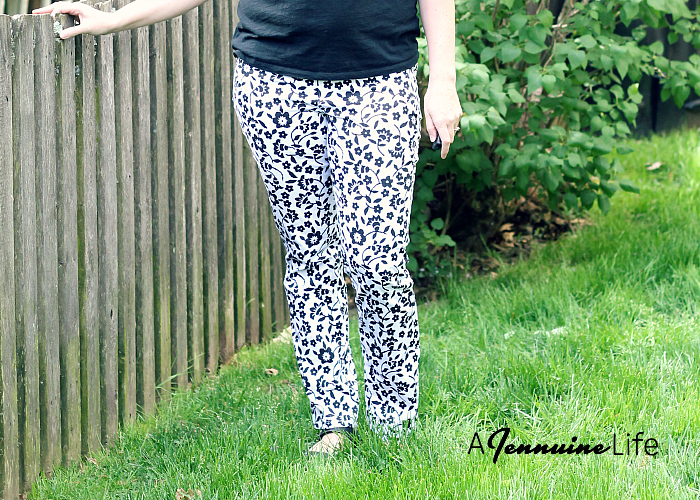 Sewing took one day interspersed with school dropoffs and pickups and feeding small people.  I finished sewing the waistband after the girls were in bed.  I'd estimate about 2-3 hours excluding cutting, which I did the evening before.  This is a quick sew, and if you're not stopping to rethread for contrasting topstitching it's even faster.
I absolutely recommend this pattern, and have many times when someone asks for a quick and easy pattern for pants.  The instructions are clear and succinct for seasoned sewists, and the enormous size range makes it a clear value.
Next up will be Laela Jeyne Scarlett Moto Skinnies!
Outfit Details:
Pattern: JalieÉléonore Pull-On Jeans
Fabric: Floral Stretch Twill from Cali Fabrics