As soon as Kelly of Handmade Boy asked me to join the pattern tour for the Fighter Tee I was in!  You see, I would have joined her for darn near anything, but when she mentioned it was a fundraising project I was even more on board.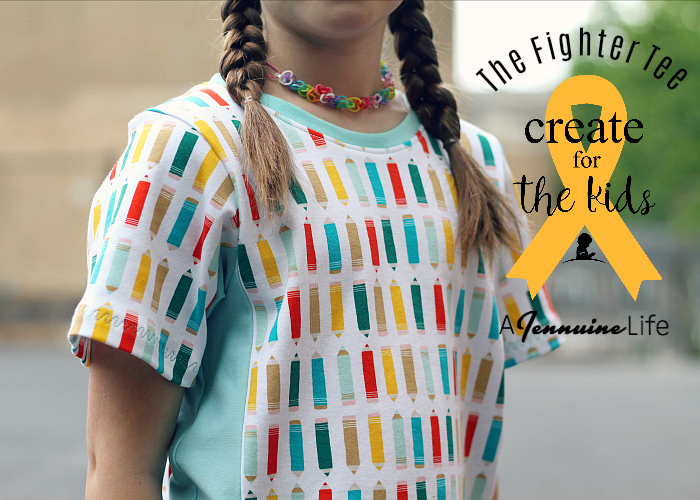 Kelly is participating in a St. Jude Run as a runner, and as such has pledged to raise sponsorship funds.  What better way to accomplish this than to offer something of value to the sewing community – like a great versatile sewing pattern?  St. Jude Children's Hospital treats children with devastating illnesses at no cost to the families.  I've participated in fundraising activities for this great organization – most memorably a bike-a-thon as a child and raised a respectable amount through that event.
The Fighter Tee is available in the Handmade Boy Creations Etsy shop.  It will be available indefinitely and all proceeds are transferred to St. Jude.  I received this pattern for my participation in the pattern tour, but I wanted to support this cause as well so I've purchased my own copy.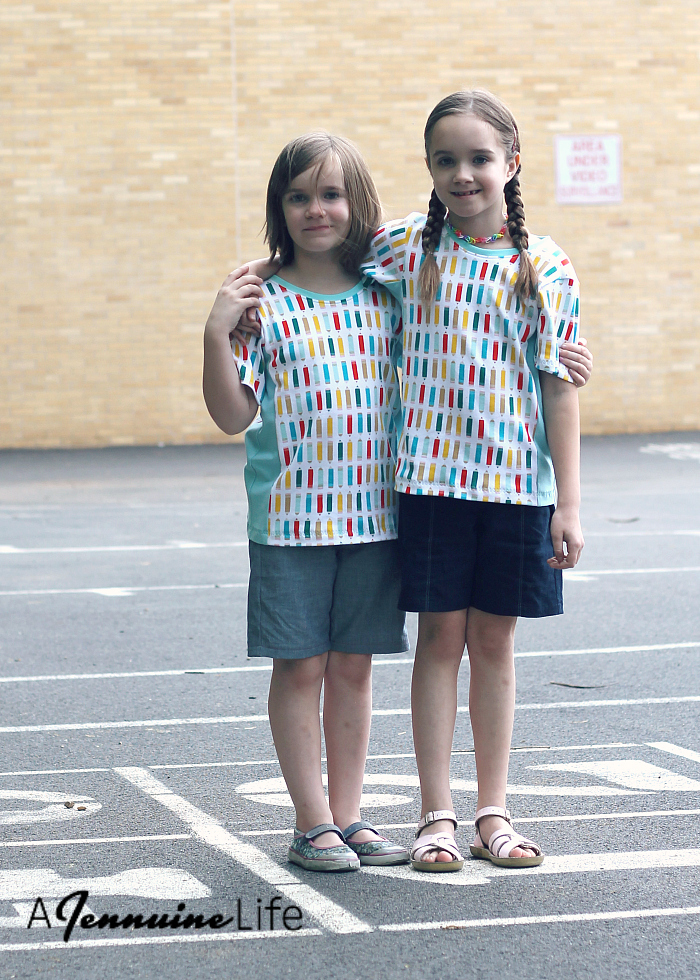 I opted to make two shirts to avoid any arguments about who got what shirt (and let's be honest, so I don't have to try to remember what shirt is who's since they're mostly wearing the same size now).  I had picked up a couple of yards of this pencils print interlock by Rae Hockstra for Cloud 9 Fabrics at the going out of business sale at my local fabric shop, Rock Paper Scissors.  The interlock was nice and sturdy; perfect for a loose-fitting tee.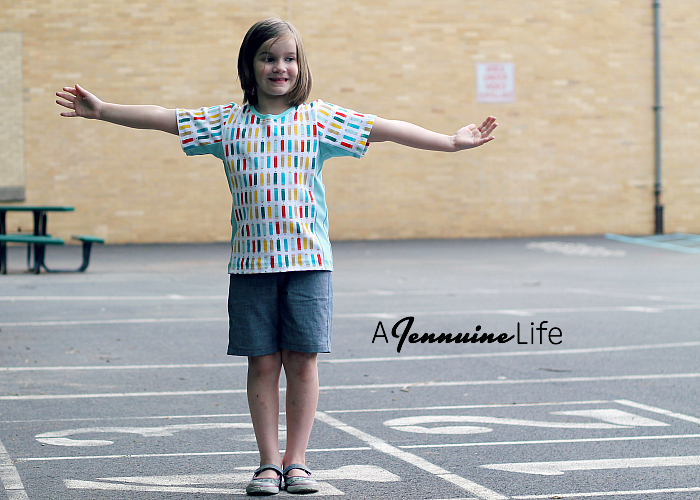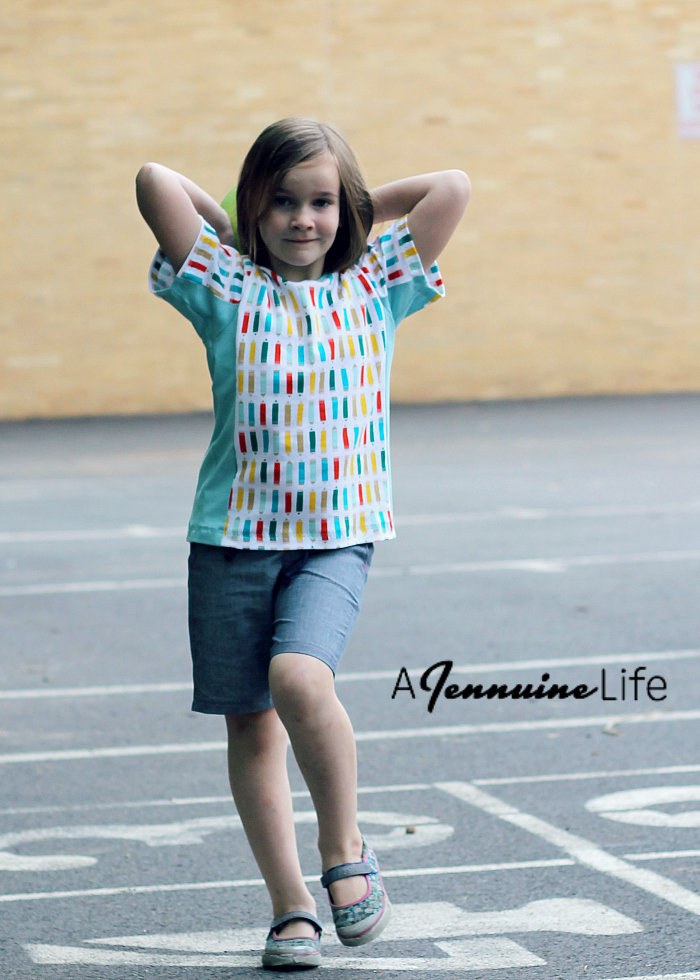 The way the colorblocked side panels match up to the sleeves is really cool.  Plenty of opportunities for playing with fabrics or using those tall skinny scraps of precious fabrics.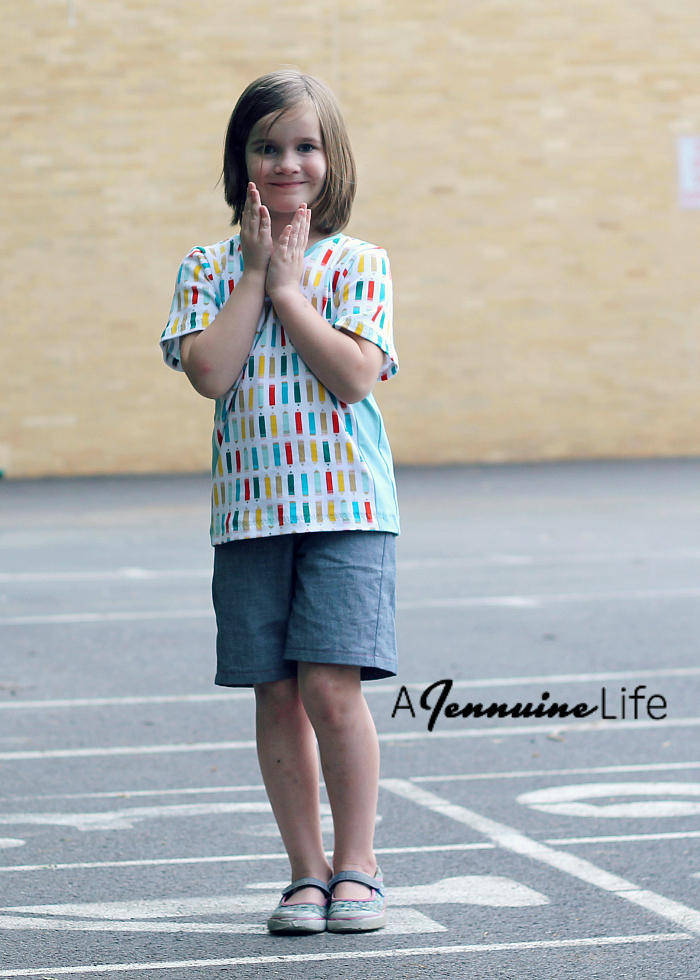 The Fighter Tee was designed by Kelly, and drafted and graded by Tami of Love Notions.  It has all the bells and whistles you'd expect from an established designer, like layers for each size and Tami's trimless page setup.  The tutorial is written by Kelly using her photography and sewing skills.  It's unisex for children sized 2T to 12.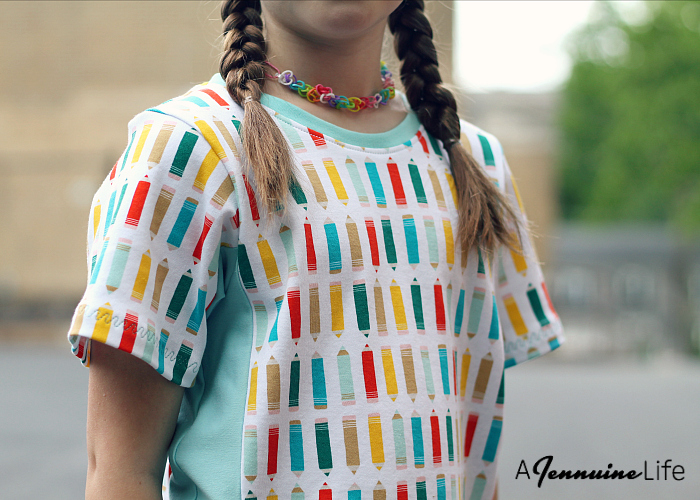 The only change I made to the pattern was to make the neckbands a little narrower.  It opens the neckline a bit and the narrower proportion feels a touch more feminine.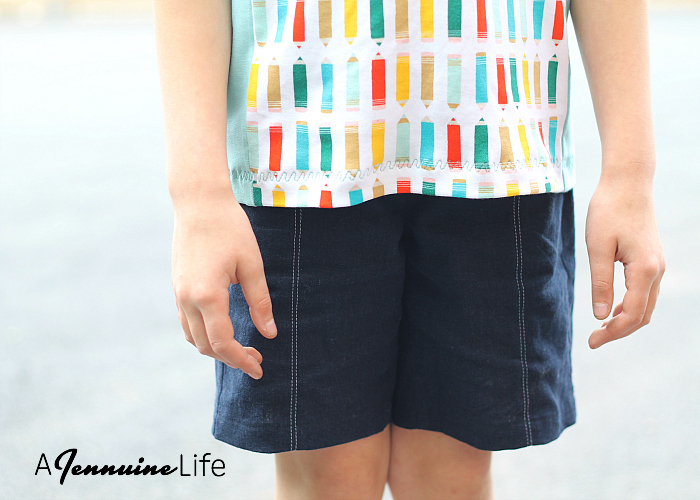 I used a decorative stitch for the hems – a curving "doodle" that I thought went well with the pencil motif of the fabric.  I like using these wide stitches as I've found they help hems lay nice and flat straight out of the washer.  Both girls are wearing Clipper Shorts with their Fighter Tees.  I'm working on this pattern now, and will be testing it shortly.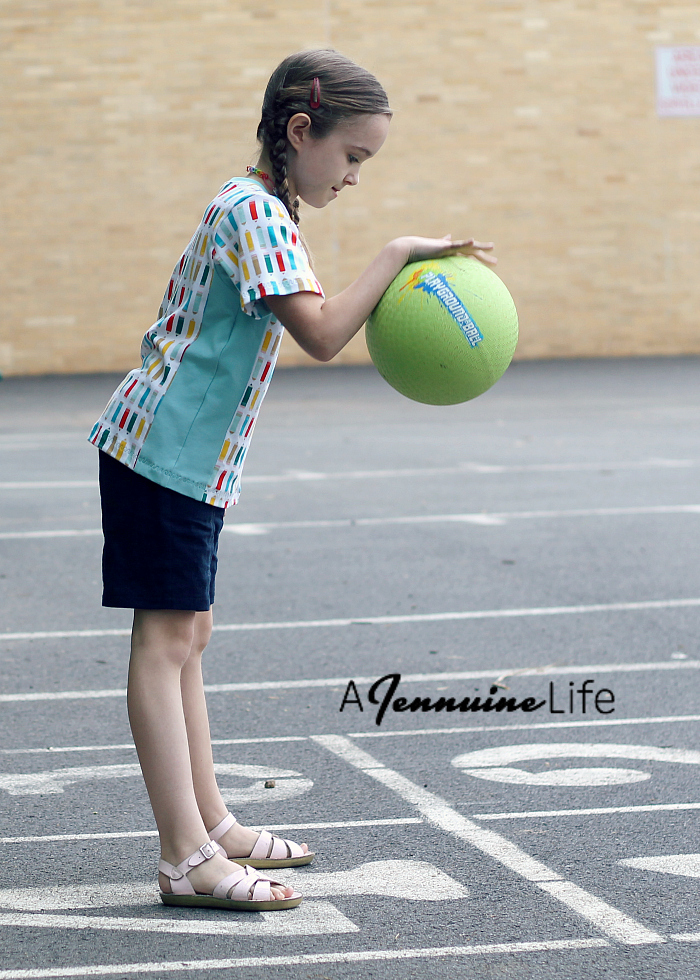 Be sure to check out the rest of the participants on the tour.  I'm certain they'll be showing all different variations on both boys and girls.
Monday: The Wholesome Mama, My Creative Room, Wild & Wanderful
Tuesday: Doodle Number 5, A Jennuine Life, Sew Sophie Lynn
Wednesday: Paisley Roots, Handcrafted by RED, Ruby Rue Creations, Free Notion
Thursday: F&B Creations, Gracious Threads, Sew and Tell Project
Friday: Phat Quarters, The Crafting Fiend, Pattern Revolution
And be sure to pick up The Fighter Tee pattern to support St. Jude.  Remember all proceeds go to St. Jude so you can create for the kids with us!