The stars aligned recently to fulfill  a dream to take Arden and Hadley to Disney World.  Arden has been asking to go for about a year after many of her friends returned from Spring Break trips and gushed about the magic of Disney.  It wasn't really in the budget, and we wanted Hadley to be a little older so she would remember and appreciate it more.  We decided to visit my parents in Florida over the summer so we weren't trying to mash a trip into Spring Break and then were able to work out a side trip up to Orlando with only a couple months preparation.
We knew Disney at the end of August would be – as an understatement – hot and humid.  Arden in particular is sensitive to the heat, getting flushed and splotchy easily.  I knew there was no way I could put her in a typical princess dress, so the planning began with a few "friendly" criteria:
heat friendly – lightweight fabrics and silhouettes that float away from the body
park friendly – no long dresses or fussy trims
budget friendly – patterns I already owned and minimizing fabrics
wardrobe friendly – able to be worn after the magic fades, less overtly "princess-y" if worn as separates
I approached Micheal Miller about supplying some of the fabrics for my endeavor, and they happily sent over several yards.  I don't often sew with quilting cottons, but their Cotton Couture is great quality and works very well for garments that don't need a ton of drape.
That last one is the reason a couple of items don't scream CHARACTER and only really make sense in context.  So let's explore the outfits I made along with the plans for the different parks and activities each day.
Day 1: Classic Minnie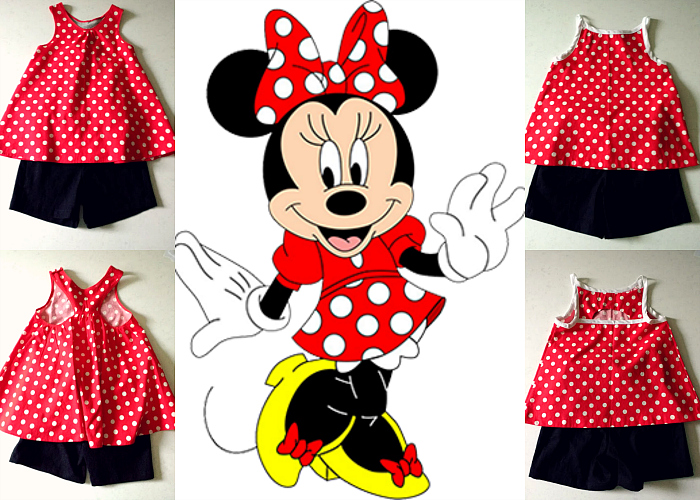 Minnie Mouse had to be on the list and my LOL Swing Top has a great breezy shape to allow any air flow up and around Arden.  Hadley isn't as sensitive to heat, but the Shandiin is nearly as light to wear and gave a little bit of contrast with the same fabric.  The red with white polka dots is from Michael Miller Fabrics.  Paired with my Clipper Shorts in the mid-thigh Jamaica length out of black washer linen and you have an easy-to-wear Classic Minnie Mouse outfit.
These outfits will be worn for the drive from SW Florida up to Orlando and dinner at Chef Mickeys.  We might wander around Disney Springs a bit, but we are not going to any of the parks this day.
Day 2: Provincial Belle and Snow White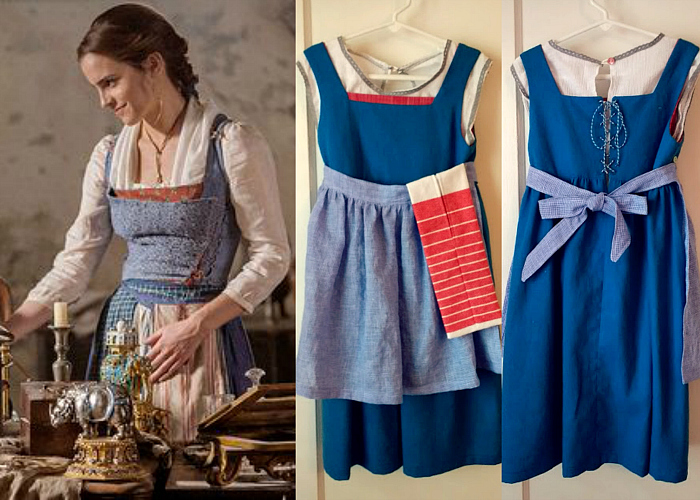 This is the most literal of the outfits I made and planned for Arden almost solely because I think she looks a lot like Emma Watson.  This has the potential to be pretty warm if she wears both the blouse and the apron, but she can take off anything that starts to bother her, and I think I'll toss the Minnie outfit into my bag just in case she starts getting warm during the day.  The dress is the same pattern from Carefree Clothes for Girls by Junko Okawa (*affiliate link) I used to make both girls their Happy Gnome Halloween costumes a couple of years ago and those dresses were worn repeatedly after the holiday.  I used washer linen and left off the quilting on the bodice to keep it as cool as possible.  I added a little accent detail of red to the front of the bodice to mimic what looks like a busk or underlayer in the costume from the movie.  Instead of buttons and button loops I made eyelets on my machine and threaded baker's twine to lace the back closed picking up the lacing detail from the side front on the costume.  The little chemise blouse is from the same book and made from white gauze to be soft and lightweight.  The simple apron is linen and then I used a kitchen towel from Home Goods to make the little pocket Belle uses at the market.  The pocket is attached to the apron's band using Kamsnaps so if it is heavy or needs to be washed it can be removed.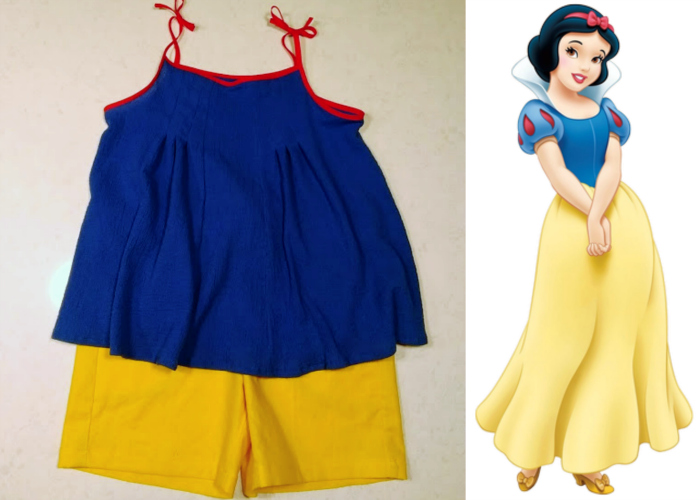 Snow White is a simplified Persimmon tunic (*affiliate link) from blue gauze and my Clipper Shorts in a cotton linen blend.  On the Persimmon blouse I omitted the facing or lining by trimming down the top edge of the bodice and using red double fold bias instead.  I also used the pattern piece from the lining to make the back to omit the pleats there.
This will be our first day in the park and we'll be going to Magic Kingdom.  I made breakfast reservations at Be Our Guest in the Beast's castle.  Then we have fast passes including Enchanted Tales with Belle and Seven Dwarfs Mine Train and plan to see the Festival of Fantasy Parade that day.
Day 3: Elsa and Anna of Arendelle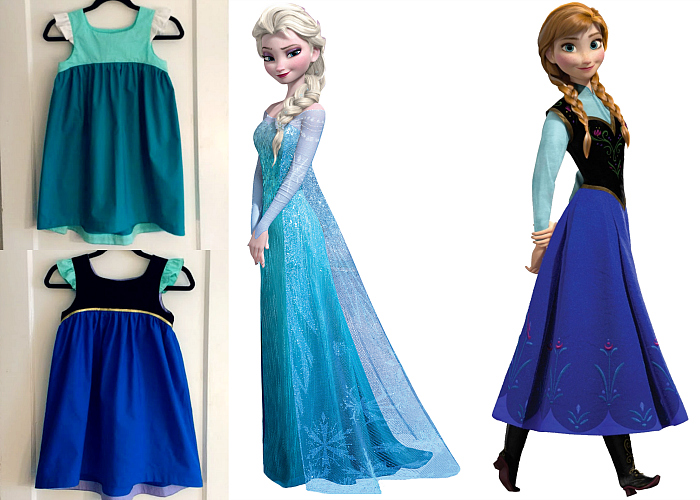 I didn't start out planning both of these dresses to be made using the Bohemian Babydoll Dress, but Hadley has recently outgrown the one I made a couple of years ago for Arden and specifically asked for a new dress like that.  So that sorted out Anna and then I just decided to make my life easier and make Elsa from it as well.  Both of these are less literal interpretations using just the color schemes, but they'll definitely get worn at school which is my overarching goal with all of these outfits.  The lighter aqua used on the bodice and hem band of Elsa and the flutters of Anna are cotton lawn.  The skirt of Elsa is Michael Miller Cotton Couture in lagoon and the white flutters are the same white gauze you saw on the Belle chemise.  Anna's bodice is the black washer linen from Minnie's shorts and I picked up the blue cotton from Jo-Ann's after I realized I forgot to add extra yardage of the blue gauze.  I think this works better on this pattern anyway.  The hem band on Anna is lilac Cotton Couture from Michael Miller.  I added the little touch of gold lamé at the waistline using some wide single fold bias tape I had on hand.  I particularly like how Anna turned out with all the colors picking up her vibe without screaming "I'm a Frozen dress!".
We'll be hitting Epcot this day with breakfast at Akershus, Fast Pass for Frozen Ever After, and we'll try to get a meet with the Arendelle sisters at the Sommer Palace while we're in Norway.
Day 4: Tinkerbell and Cinderella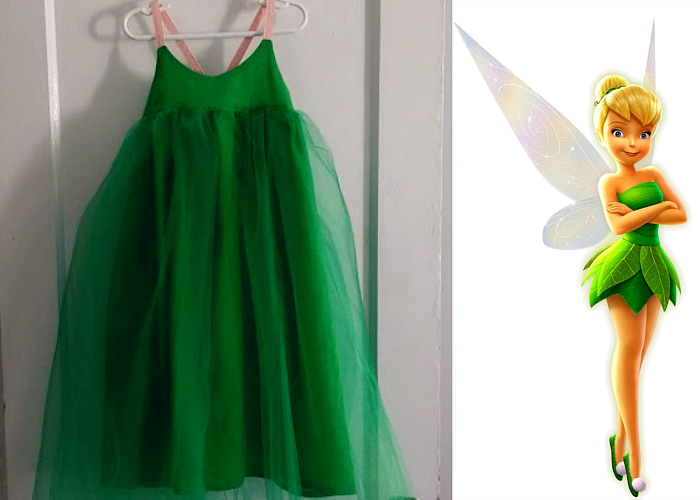 Tinkerbell was one of the first outfits I made because I already had the fabrics on hand.  I had planned last winter to make a new Tink dress for pretend play, but never got around to it.  The pattern I had planned would have been too warm so I decided to make a Hummingbird to keep it light.  The bodice and underskirt are kelly green voile and then a fun tulle overskirt.  The straps are nude voile to try to make it look like Tinkerbell's strapless leaf dress.  I modified the original pattern for both of these to raise the bodice, change the angle of the armscye and add the slight "V" neckline.  I used the Mini Ogden Cami as my guide for these changes.  I also used the tutorial on Glitter + Wit to make it easier to attach the gathered skirt, sew a clean finish on the bodice enclosing the raw edges and then insert the elastic.
Cinderella was also originally intended to be made from a different pattern.  After how cute Tinkerbell turned out and getting daily plans better formed I decided to use the Hummingbird again and add little flutters and bustle using shimmery white organza from Jo-Ann.  For both of these additions I folded the fabric and cut half ellipses so there was no edges needing finishing.  The blue fabric is lawn.  I didn't think I'd be re-using this pattern so I had to recreate the modifications I had made for Tinkerbell.  This one may not see as much wear after the magic is over, but who knows with Hadley – she may decide she wants to wear it every day.  I could in theory take the organza bustle part off if it needs to be made more everyday.
Day 4 is another Magic Kingdom day with a Fast Pass to meet Tinkerbell, ride Peter Pan's Flight, and then we have dinner reservations at 1900 Park Fare where we'll meet up with Cinderella, Prince Charming, and the wicked stepfamily.
Day 5: Merida and Alice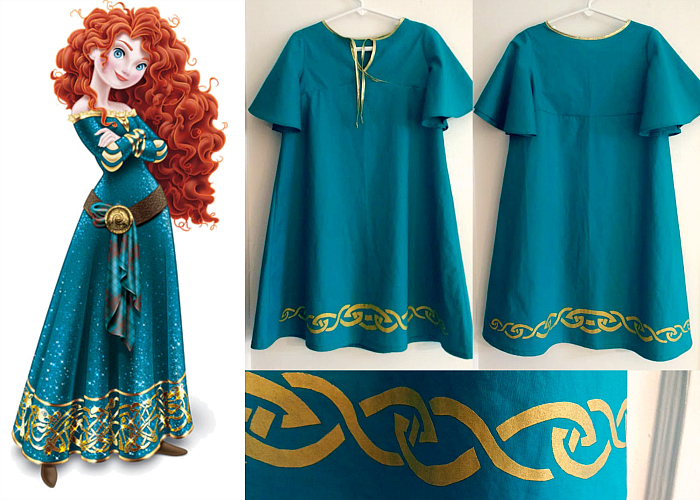 Merida is made from my Naples Dress pattern with the butterfly sleeves and a-line skirt.  A little more sun coverage but hopefully open enough to let the air flow through.  I used the gold lamé bias to pick up the gold detailing on her dress.  The pièce de résistance is the fun screen printing I added to the hem on front and back!  The screen printing kit is from Bobbinhood and it was really fun and interesting to do – and pretty easy!  I'll definitely be using my kit more after this!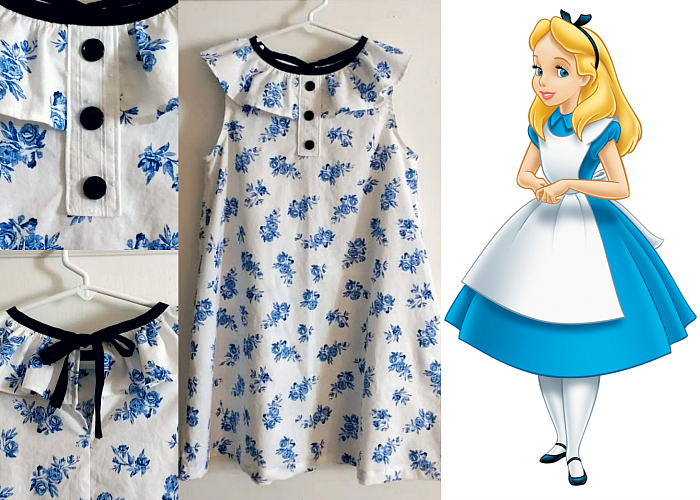 Alice is the least alike to my target, but Hadley had chosen this cute blue and white floral from Hobby Lobby and I'd been eyeing the Juliette pattern with it's sweet ruffled neckline.  By adding black bias at the neckline I feel like it picks up the essence of Alice's hairbow and the color scheme is there.  If nothing else, this will certainly be worn by my dress-loving daughter.
Animal Kingdom is on the schedule this day with lunch at Tusker House, and fast passes for Kali River Rapids, Kilimanjaro Safaris, and even Avatar Flight of Passage (at 8:25 which was the best I could get and happy to have it!)
So there you have it!  Since we're surprising the girls with this trip I don't have modeled shots of any of the outfits.  We'll tell them either the evening before or the morning we leave on August 27.  The funniest part is that I sewed every one of these with them going about their daily routines and in and out of my studio.  They're so used to me working on things that they really don't have much interest in what I'm up to, and likely just happy that I didn't make them try on stuff every half hour.  I plan to post those with details of our adventures in separate daily posts after our trip is over.