It's been a while since I last sewed for a kindergartener!  I participated with Arden in 2014, right before we moved from Michigan to New Jersey.  Arden is 2.5 years older than Hadley, but Hadley missed the cutoff here in New Jersey by three days and will turn six at the beginning of the school year.
For the past two years I've been asked at least once a week if I needed to get Hadley into the correct line at dropoff for Arden.  "Nope, she's still in preschool!" I'd say as she blended neatly in with the first and second graders lined up behind cones marking each class.  #tallgirlproblems
I'd like to preface this post to clarify the posing and overacting activity are all Hadley.  She is 100% personality all. the. time.  She comes up with some fun stuff amidst all the leaping, twirling, duck lips and pin-up poses.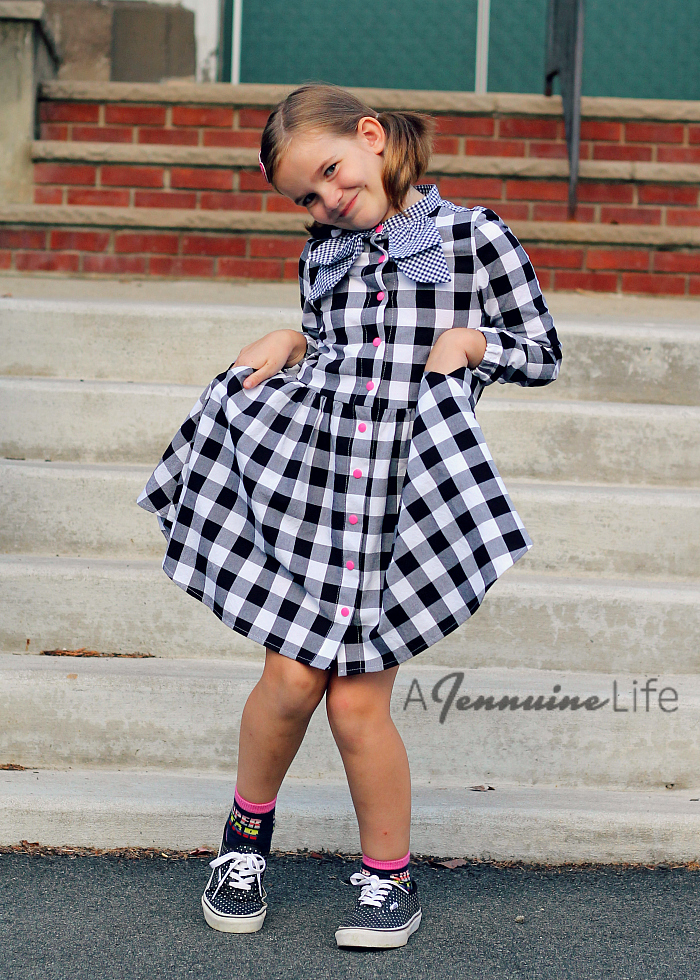 At last the big day arrived and Hadley handled it like a seasoned pro.  She lined up behind the KC (Kindergarten Cella – labeled by class/teacher) cone and trotted in.  Kindergarten is half days here, so only from 8:30 until 12:30 and then back with me to pick Arden up at 2:45.  I didn't tear up at all, but I was a little nervous and excited.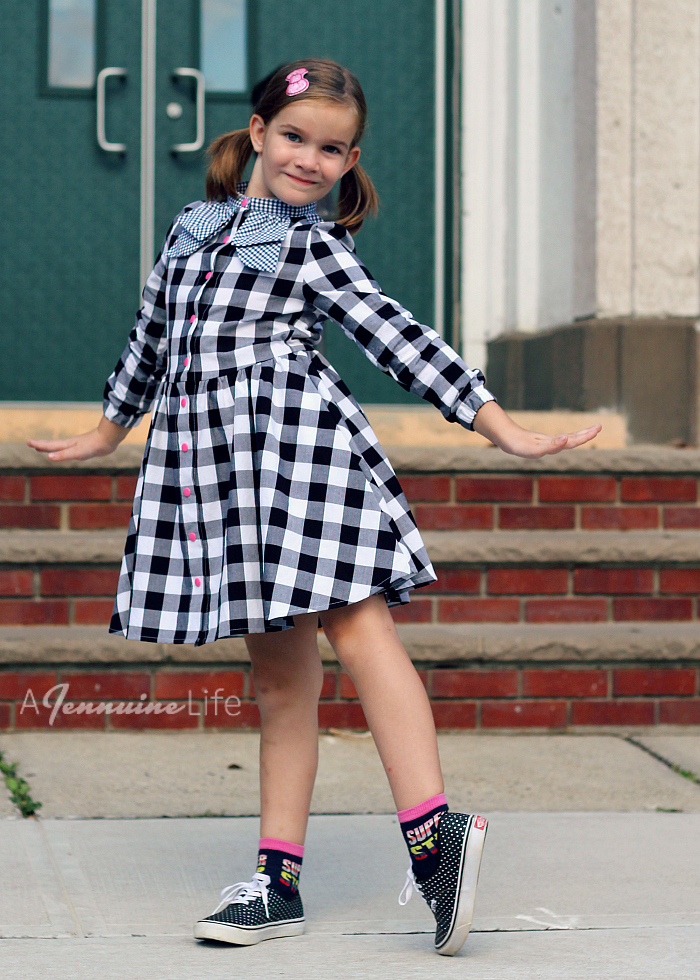 So now let's talk about the sewing part of Sewing for Kindergarten, right?  I had grand plans of making a mix and match capsule wardrobe, but some of that got sidelined with all the sewing for Disney World I did over the summer.  I will still round out her wardrobe with some tunics and tees, and maybe a couple of sweaters or scarves.  I'm pretty happy I was still able to get two dresses sewn in time for the series, and they are following the color story I have planned for her wardrobe.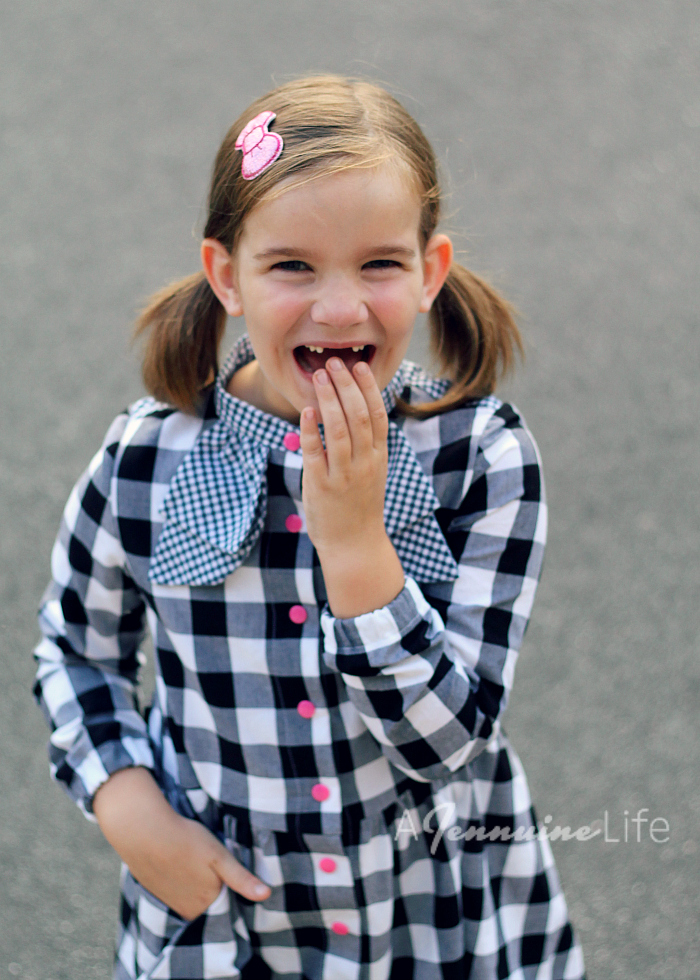 This is Petit a Petit's Friday Dress and oh, man! it's infatuation!  I love a good shirtdress and this one is packed with options.  Different collars, sleeves, gathers or pleats on the bodice, waistband or not, belt loops or not, and gathered or a-line skirt.
I love the cute bow collar so I went with that and the rest of the options on View B.  The only change I made was to use pink Kamsnaps instead of buttons.  This makes for such a quick and slick finish even though I don't mind making buttonholes. I think I'll have to fight the urge to snap everything, and I still want to try the fabric covered snap trick soon.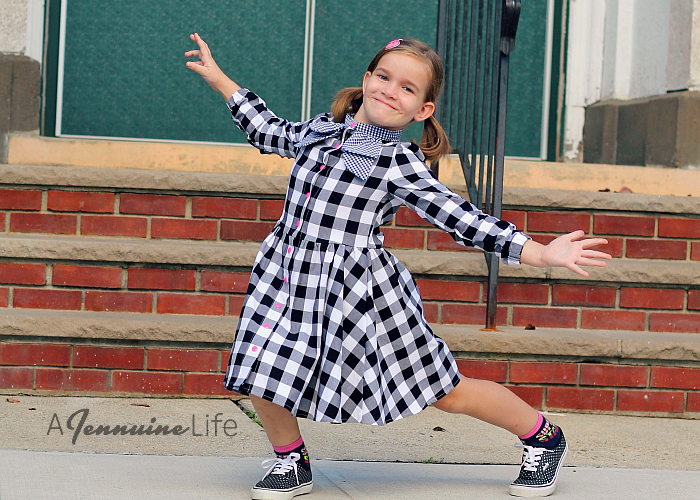 I used two different scales of Robert Kaufman gingham and really love the visual interest this gives.  I kind of want to make another with a floral where I used the small check and I suspect that would be even more fabulous!
The cute glitter felt bow is from StitchandPink on Etsy.  I picked up several colors of these bows and I love how versatile they are.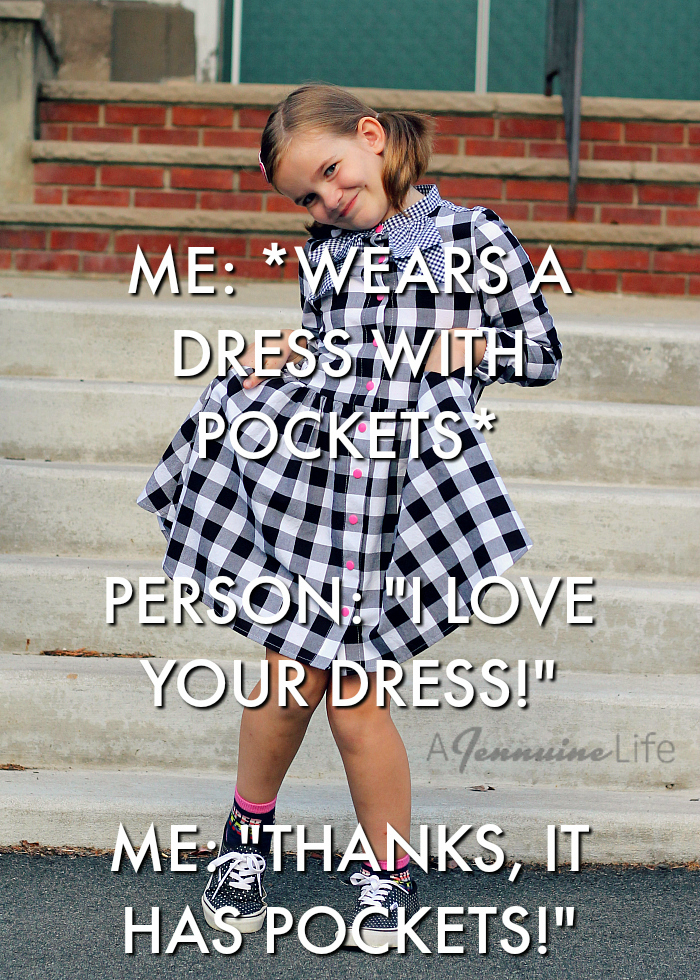 And because I just couldn't resist – I "meme'd" Hadley after she discovered there were pockets in her Friday Dress.  It's totally the truth, isn't it?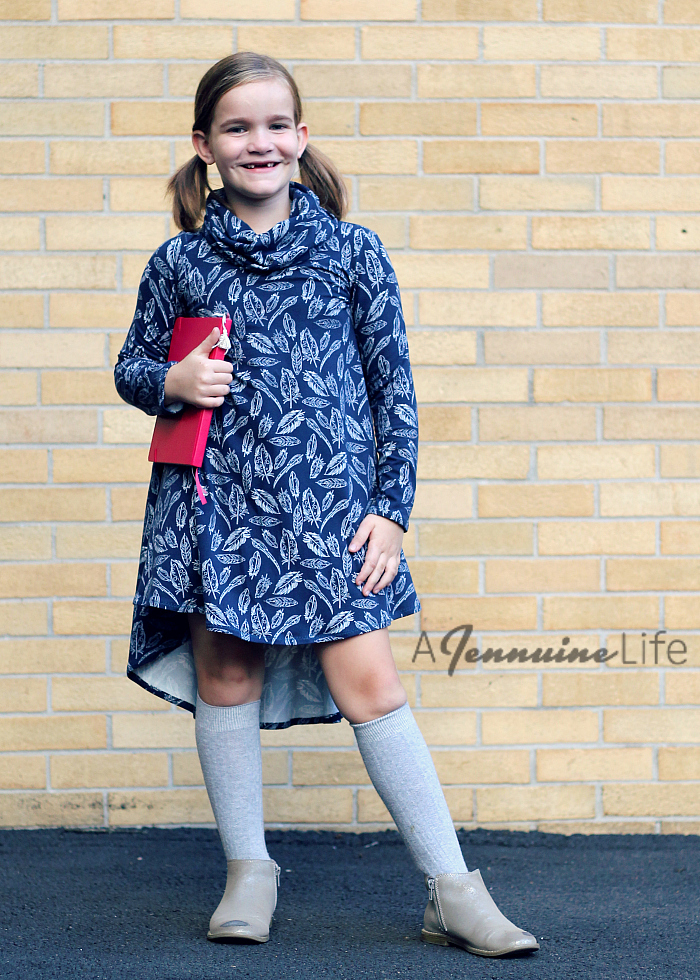 Next up is the Groove Dress by Madeit Patterns.  This was a nice quick sew to balance the more complicated Friday Dress.  Also knit vs. woven, but I think equally easy to wear.  This was the second outfit we photographed and she didn't want to take it off when we left even though it was in the 80's.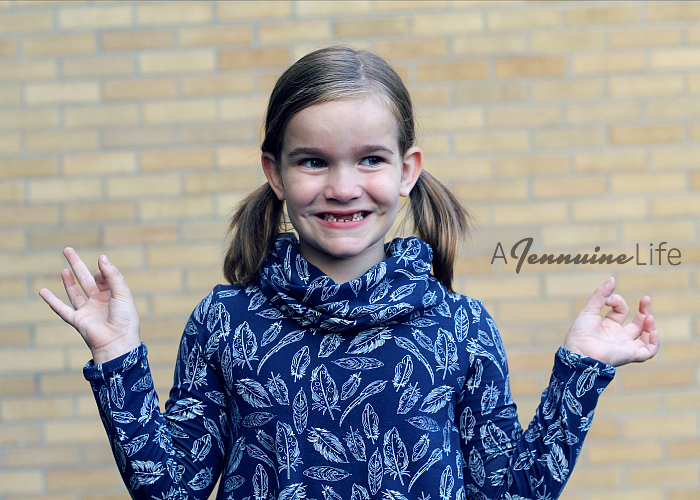 I choose to make the cowl version as I have a deep weakness for them.  I hope my daughters don't resent this the way I question my mother for sending me to preschool in bell bottom corduroy pants…  The construction on the cowl is lovely, leaving the neckline neatly enclosed.  So any Moms of sensory kids out there, take note!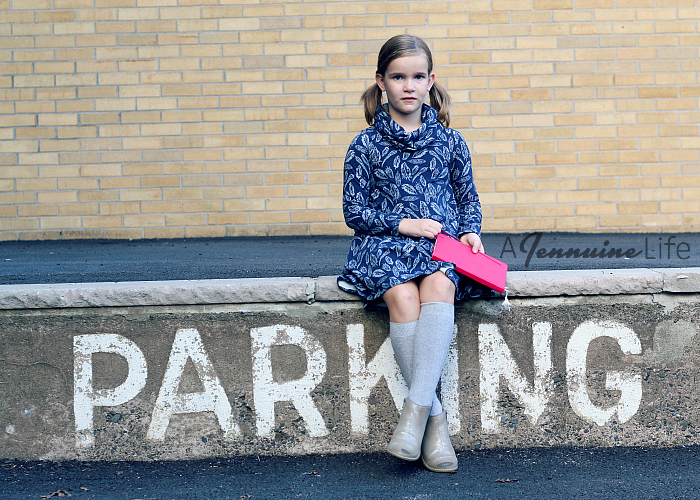 All the photos are taken at our school.  This area is where most of the kids come out at the end of the day and file down the drive to be picked up by their parents or caregivers.  Hadley's kindergarten class has a separate entrance around to the right but it's just a door on a brick wall so I didn't take photos there.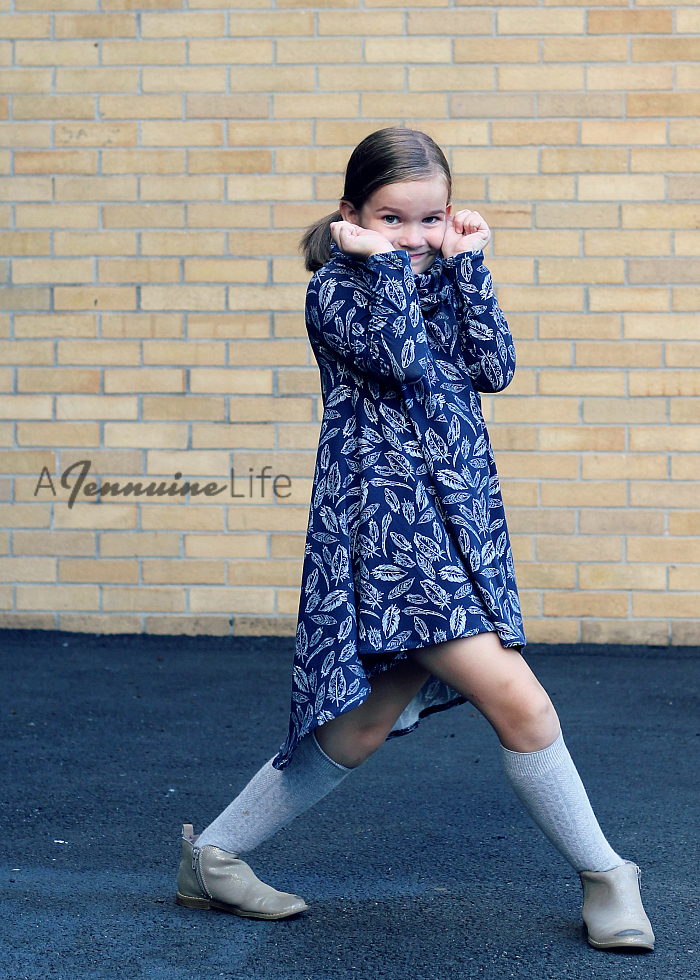 The fabric is Art Gallery that I picked up in a destash.  I had intended it to be something for me; oh, the sacrifices we make for our children, right?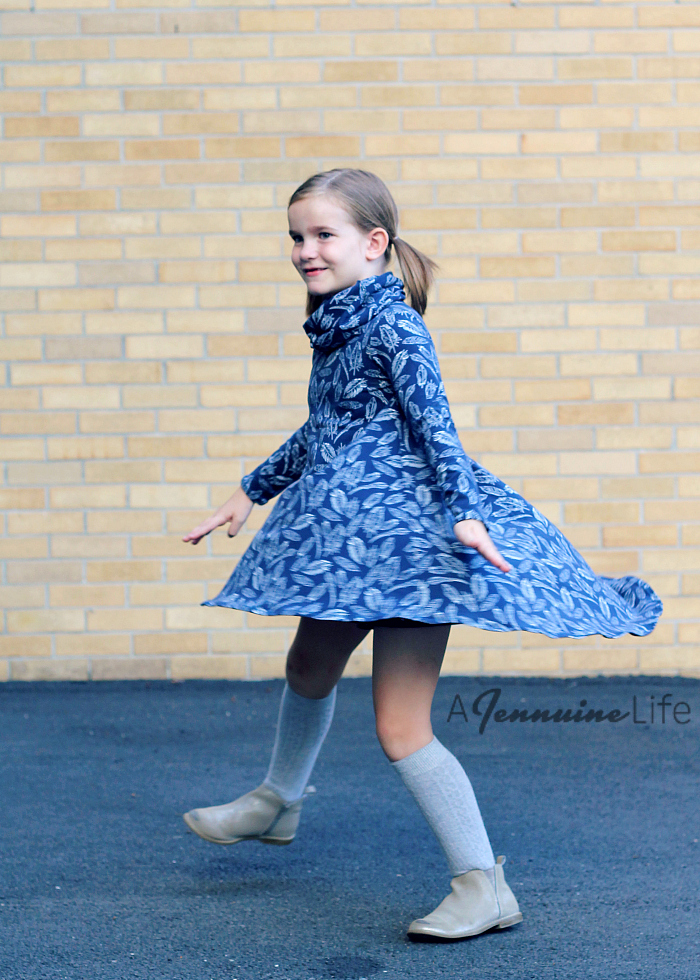 I made the high-low hem that curves deeply in the back – super fun for twirling!  I should have added pockets, but didn't think about it until I was on a roll and didn't want to stop.  This is one of the few knit patterns I've made that recommends a double turn to hem.  I quite like the look and weight it gives the near circle of the skirt, so I may adopt this for future sews.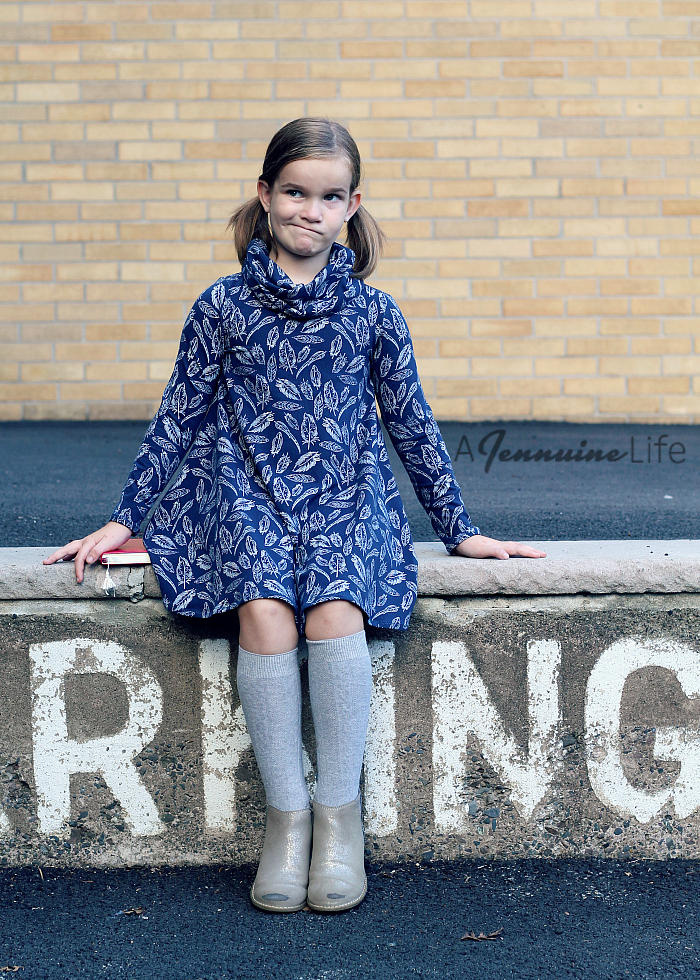 Outfit Details:
Checked Dress
Pattern: Friday Dress by Petit a Petit
Fabric: Kaufman Carolina Gingham Black in 1″ and 1/8″ check
Shoes: Vans
Accessory: Felt bow by StitchandPink
Blue Feathers Dress
Pattern: Groove Dress by Madeit Patterns
Fabric: Art Gallery Petal and Plume Peacock Panache Profundo
Shoes: Gap
Be sure to check out all the posts in the series.  You may note that I have now taken over as host from Mie at Sewing Like Mad.  She graciously hosted it for four years and I hope to follow well in her footsteps!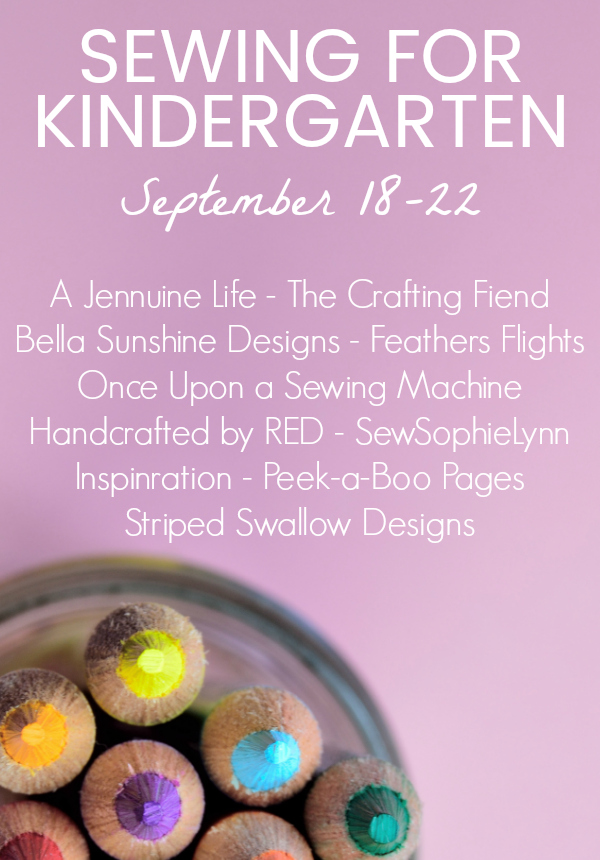 Today I'm posting along with Jeanine at The Crafting Fiend and Melissa at Bella Sunshine Designs.  I can't wait to read about their kiddo's kindergarten adventures!