Nothing like getting two posts out of one photo shoot, right?  When I styled my Laela Jeyne Scarlett Moto Skinnies with my Allie Olson Coram Top I hoped I'd be able to sneak a twofer and it did work out reasonably well.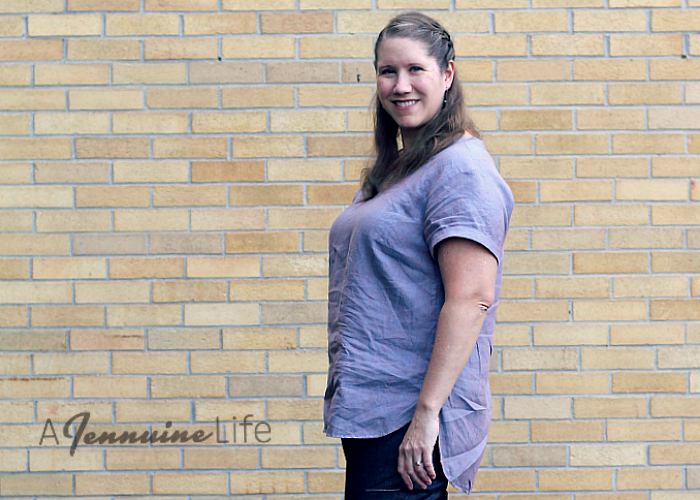 This was my second time testing for Allie, the first being the Highlands Wrap Dress.  I haven't yet taken good photos of that one, so there's no post about it.  Testing for designers who don't ask for promotional photos is a double edged sword: it's so nice to not have to worry about both finishing and photographing, but I don't have an incentive to get nice photos and often don't get around to it.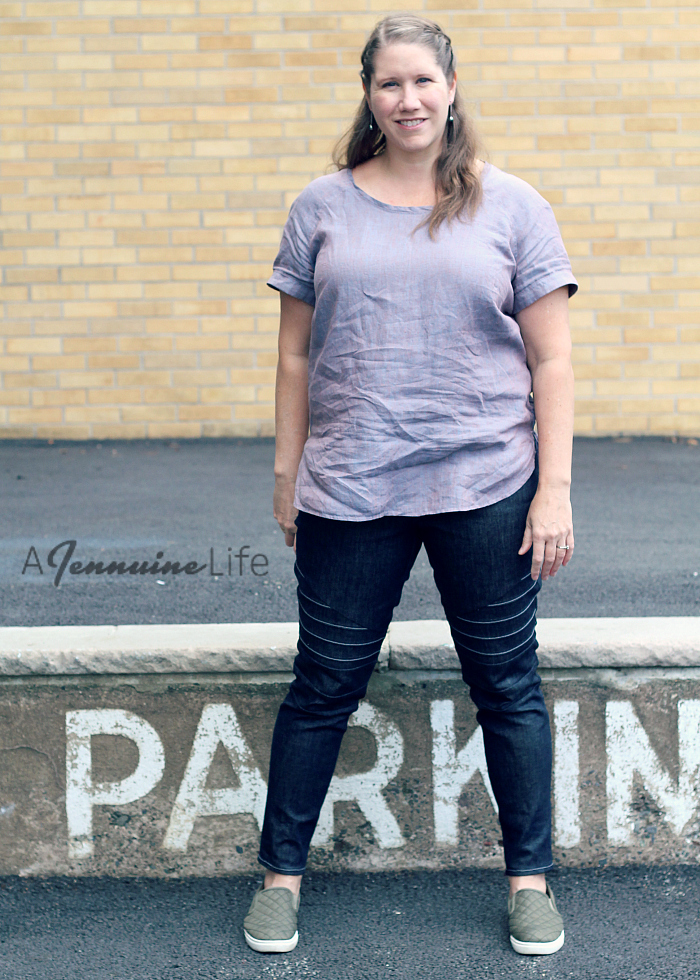 So let's talk about the Coram Top, shall we?  It's for women's sizes 0 through 18, or bust sizes 32″ to 43.5″.  It's a fairly boxy silhouette, so I made a size 16 for my 42″ bust.  Normally I might have made an 18 since I fell just above the 16 bust size but based on the other testers' versions I went down and it was the right choice.
Allie is the founder of IndieSew, which is a website featuring patterns, fabrics and pattern reviews and more.  Each season she curates a collection of patterns at an amazing bundled price that is really inspiring.  There are also paired fabrics that are shown as inspiration on the patterns.  The Coram Top is part of the 2017 Fall/Winter collection along with four other complementary patterns.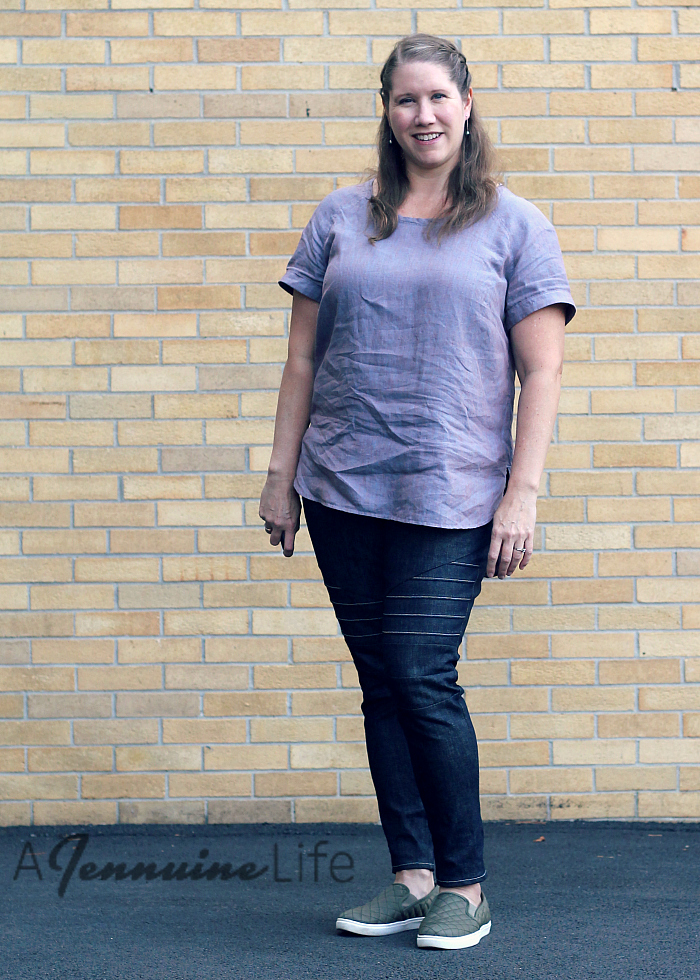 I did some flat pattern measurements and lengthened about half an inch at the lengthen/shorten line provided in the pattern.  On this version, which was the first, I lowered the darts so they'd hit at the right spot.  This is a typical adjustment for my mature figure (meaning my bust is a little lower than it used to be).  On the second version the darts were lower and I didn't need to make this adjustment.  So… if your girls are still high and mighty you might need to raise your darts.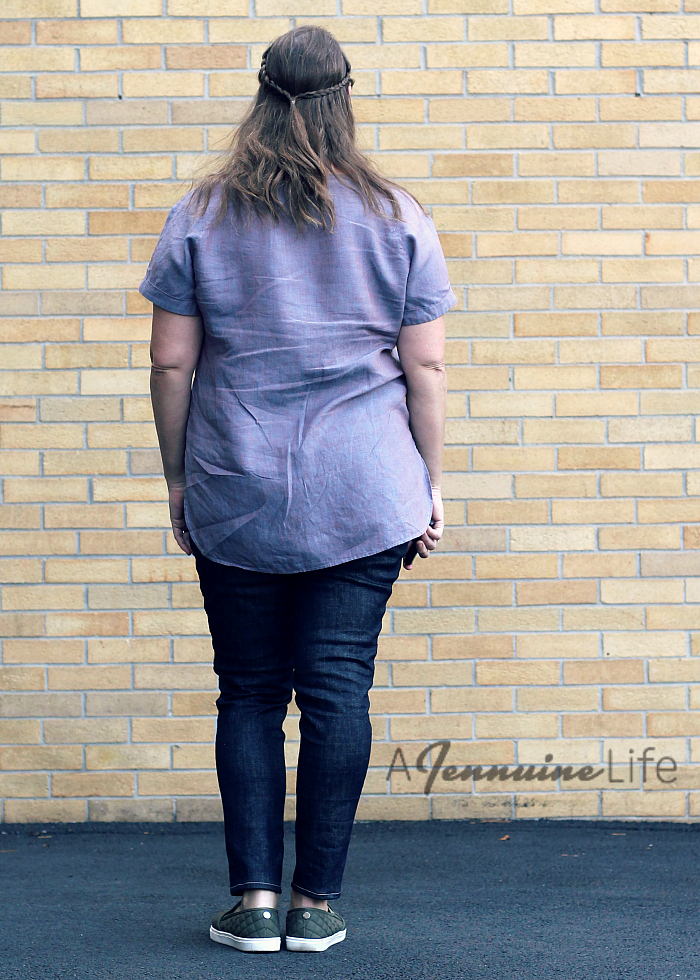 My top has all kinds of wrinkles and that's just the nature of my fabric.  It's 100% linen and despite being freshly pressed it wrinkled like this just from getting in the car and driving up the street to the girls' school.  I love linen so I deal with the wrinkles.  This is lovely yarn-dyed linen I bought in NYC at Grey Lines Linen a few years back.  It's not actually purple; the warp and weft fibers are dark pink and blue respectively for this really cool pastel purple-y effect.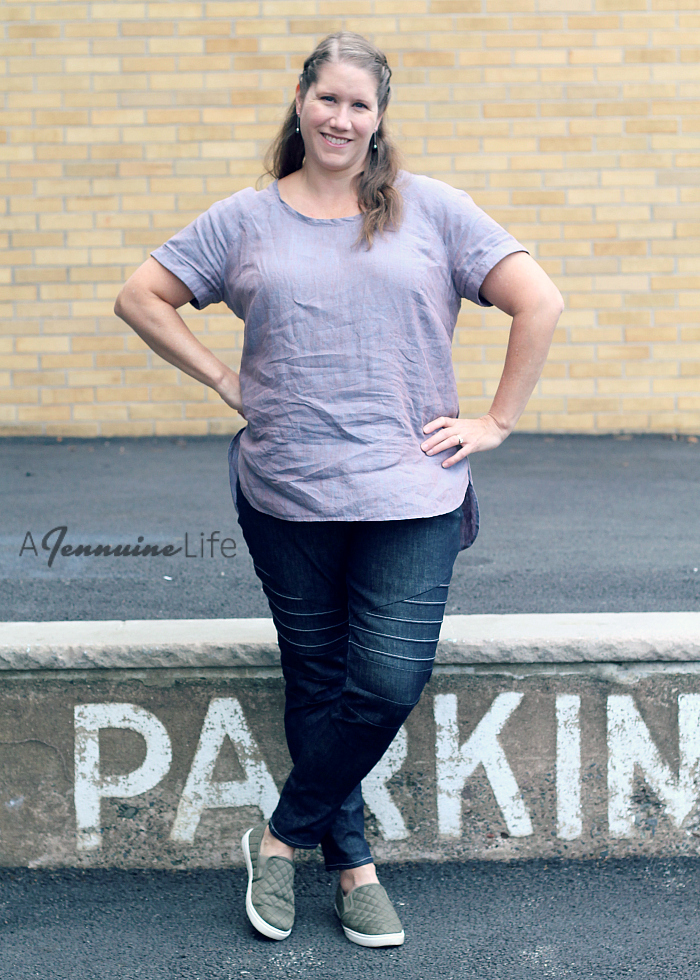 The shape of this top (or dress) is great and not one I thought I'd enjoy quite so much!  It's a raglan sleeve, but with a nice dart at the top of the shoulder so it shapes nicely along the arm.  The raglan sleeve can be felled which I did for this top.  The neckband is woven – cut on the bias to shape nicely.  This neckband worked great, but on my challis version I should have shortened it to accommodate the mechanical stretch of the fabric better.  It's casual without being overly boxy and I really love the dolphin hemline with the front slightly shorter than the back.
I've definitely worn this and the other test version and plan to make a dress version this spring.
Outfit Details:
Top Pattern – Coram Top and Dress by Allie Olson
Top Fabric – linen from Gray Lines Linen
Bottoms Pattern – Laela Jeyne Scarlett Moto Skinnies
Bottoms Fabric – waxed denim from Cali Fabrics
Shoes – Target