Another fun Halloween is in the books!  Halloween is a big deal in Verona so we have no shortage of creepy backdrops to use for photos.  In fact we had to move a few houses down because the zombie behind me in the first few shots was creeping the girls out too much!!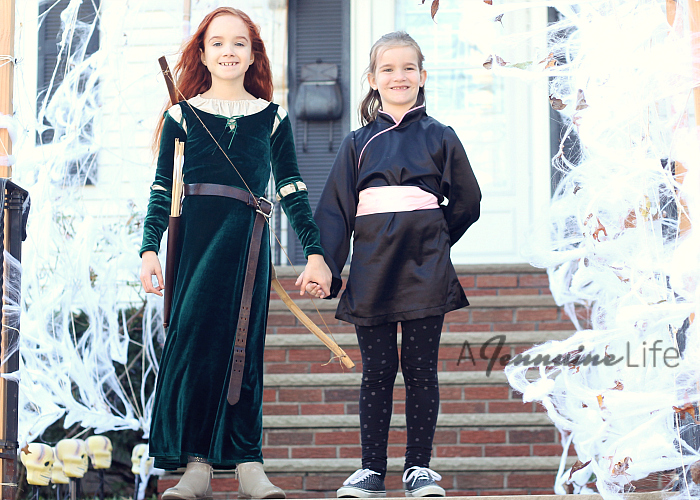 This year the costumes of choice were Merida and "Ninja with pink".  I'll start with Merida and then sneak on to the Ninja…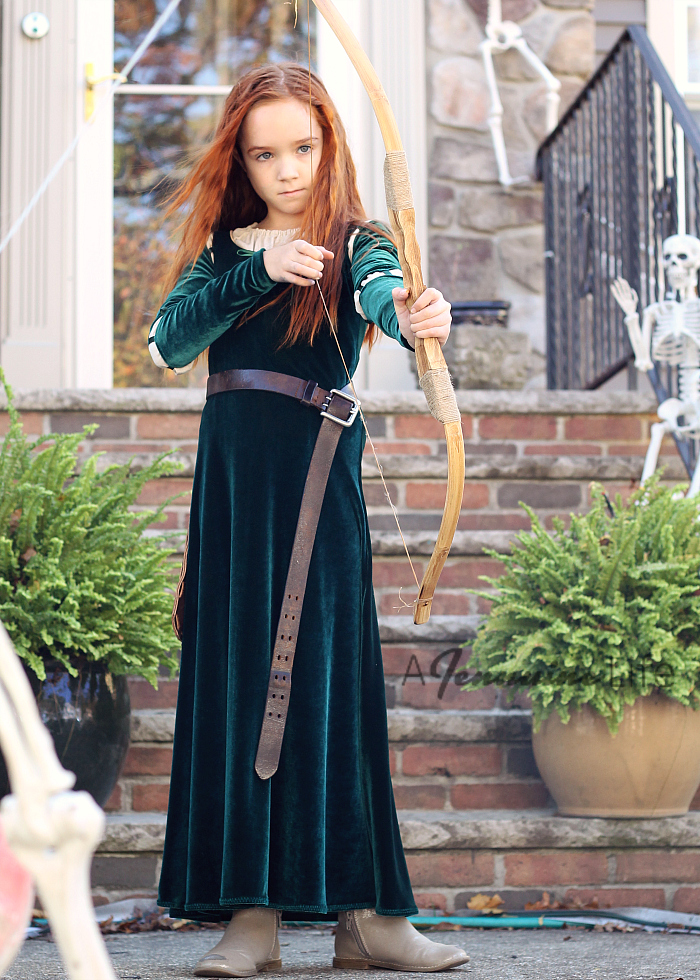 Arden loves the strong Disney characters like Merida and Mulan.  I had already made a Merida-esque dress for Arden to wear at Disney World, but that was much more of an inspired look and meant for the Florida heat.  For this more literal look, I used hunter green stretch velvet and natural linen fabrics and tried to capture all the details of Merida's gallavanting-across-the-countryside look.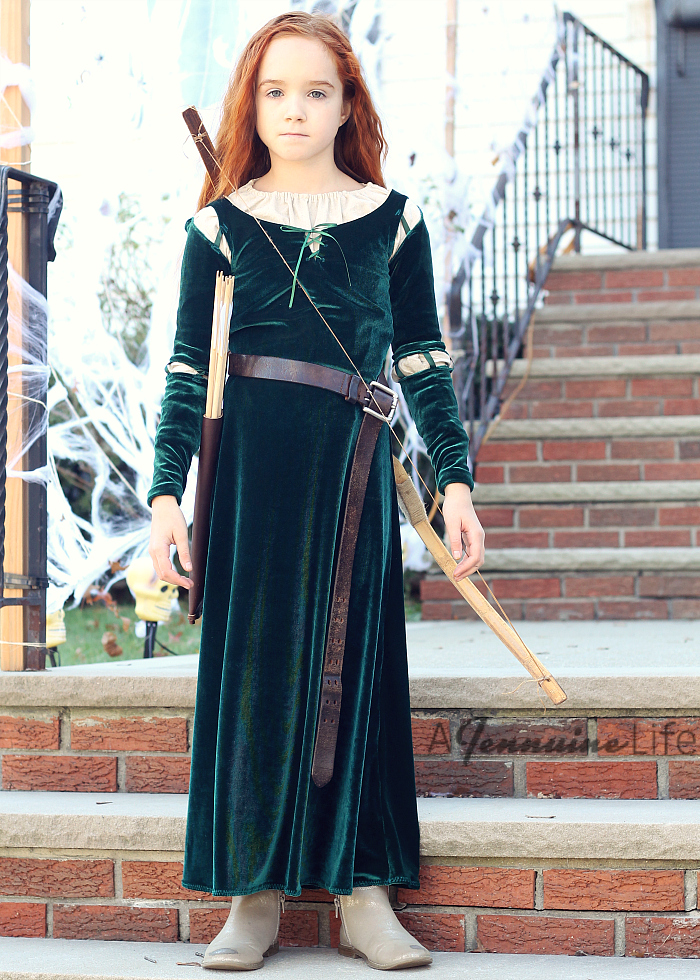 I used Sew Straight & Gather's Uptown/Downtown Dress as the base for the dress.  I modified the front of the bodice to dip down into a V-shape and added ribbon to lace up the front.  I sewed the half facing version of the dress and enclosed the armscye and the neckline using the burrito method.  For the sleeves cut the pattern piece in half and added seam allowances to the cut.  I then hemmed all the edges and attached everything together with lengths of satin ribbon.
The blouse is from the book Girls Style Book by YoshikoTsukiori (*affiliate link).  It's pattern Q – puffed sleeve a-line dress, and I made it with the closure in the back instead of the front, shortened to blouse length and lengthened the sleeves.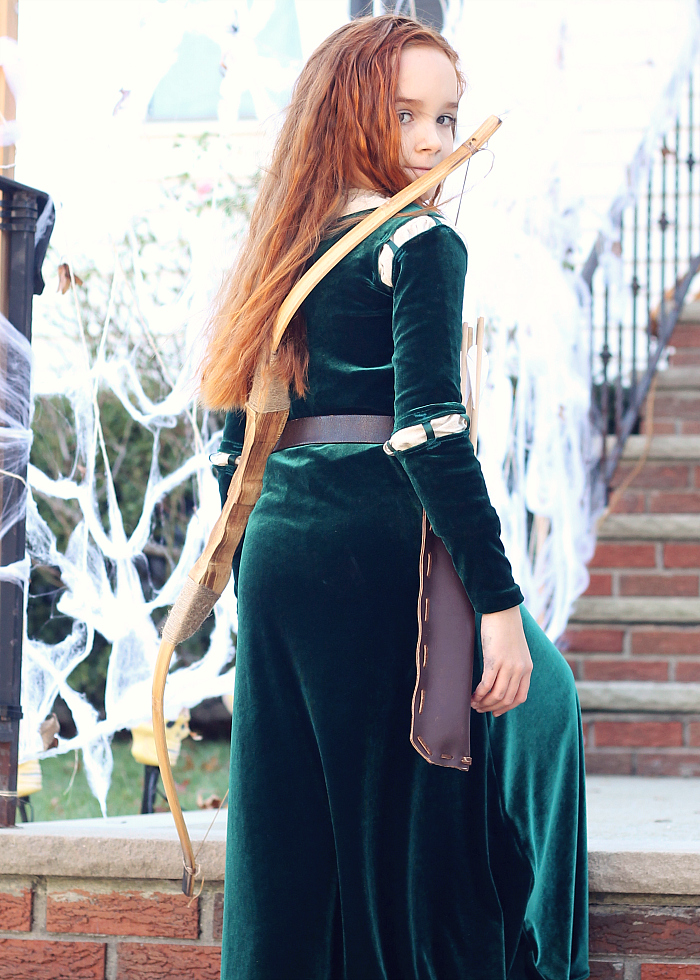 I purchased the bow and arrow set from Etsy seller Goodtrade Kevin.  It's a functional wooden bow, sized for a child and the included arrows are rubber tipped.  I shot one in the backyard and certainly with practice I think they would be accurate.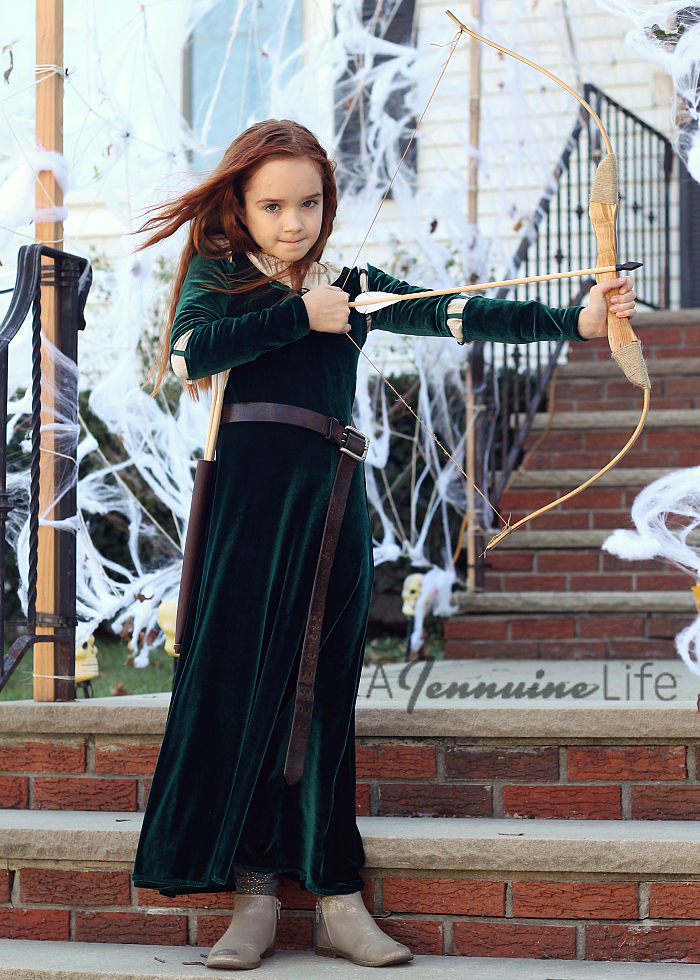 The hair was achieved with Overtone (*affiliate link) hair dye, lots of French braids, and I boosted the color just a bit when I edited photos.  I really liked this product for easy application and zero damage to the hair.   I bought the Extreme Orange Deep Treatment, donned gloves and put it into her hair to sit for about fifteen minutes.  Rinse clean and you have instant Merida!  Arden has medium brown hair naturally, and it does have faint reddish undertones thanks to that 1/16 or so of Scottish blood she carries from my husband's ancestry.  I have a little bit of coppery accents in my hair, so maybe I had some effect as well?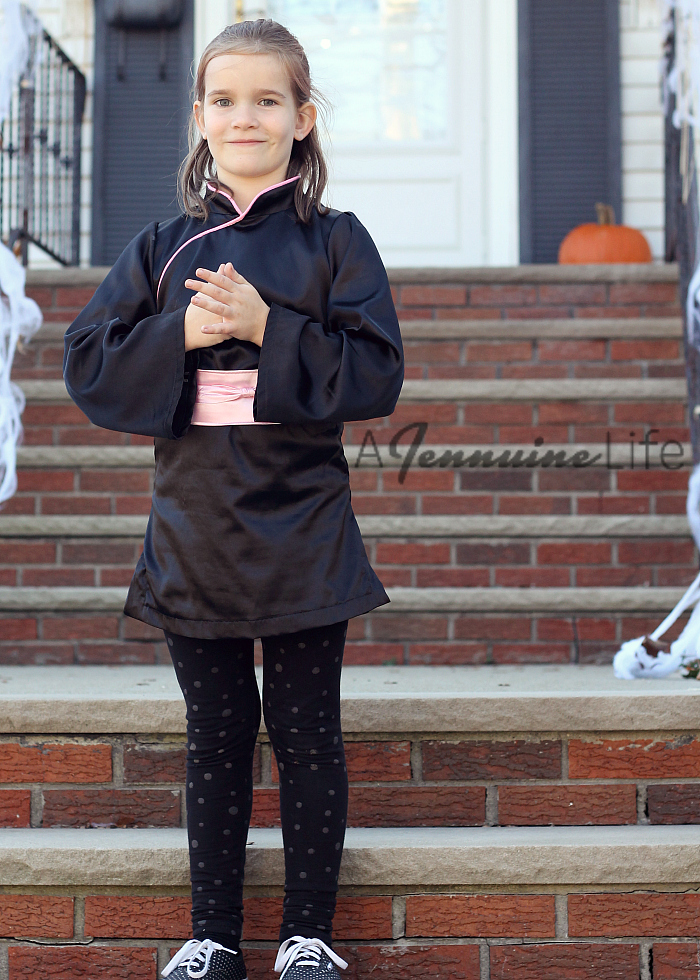 Hadley was dead-set on being a Ninja.  Someone from Ninjago?  Nope.  Someone like Mulan? Nope.  Someone dressed all in black with the hood?  Nope.  Ninja with pink!  So we scrolled through Google images until I felt like I had a (somewhat) more clear idea of her vision.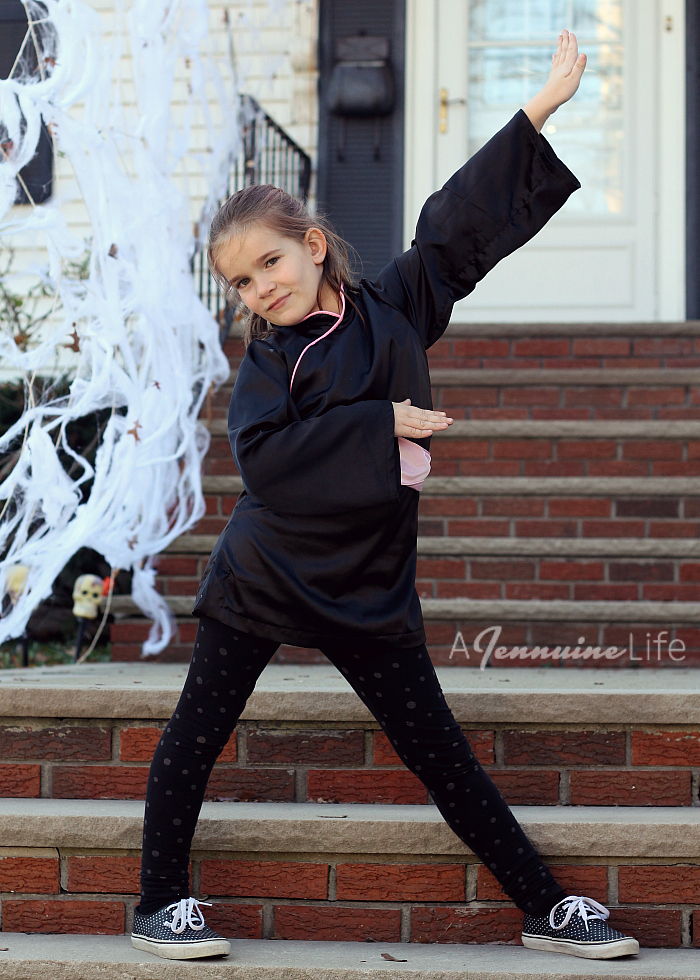 Before we continue, I know what I made is a complete mix-up of several Asian wardrobes.  But we're working with a five/six year old's vision and cultural appropriation and gender roles aren't really part of her vocabulary.  So I cast aside any objections I had to authenticity and just went for it.
I used Straight Grain's Laure Dress which includes this Qipao style.  I modified it to make it tunic length and added side vents.  The sleeves I modified to make them more of a bell-shape so they'd be wide at the wrist.  Then I added an Obi-style belt using the Early Empire Cinch pattern from Anna Maria Horner's Book.
The fabrics are stretch charmeuse in pink and black.  I had also bought fabrics for and made a pair of True Bias Mini Hudson Pants, but the fleece I bought looked more charcoal gray.  I thought these store bought leggings worked better, and she can still wear the joggers for everyday.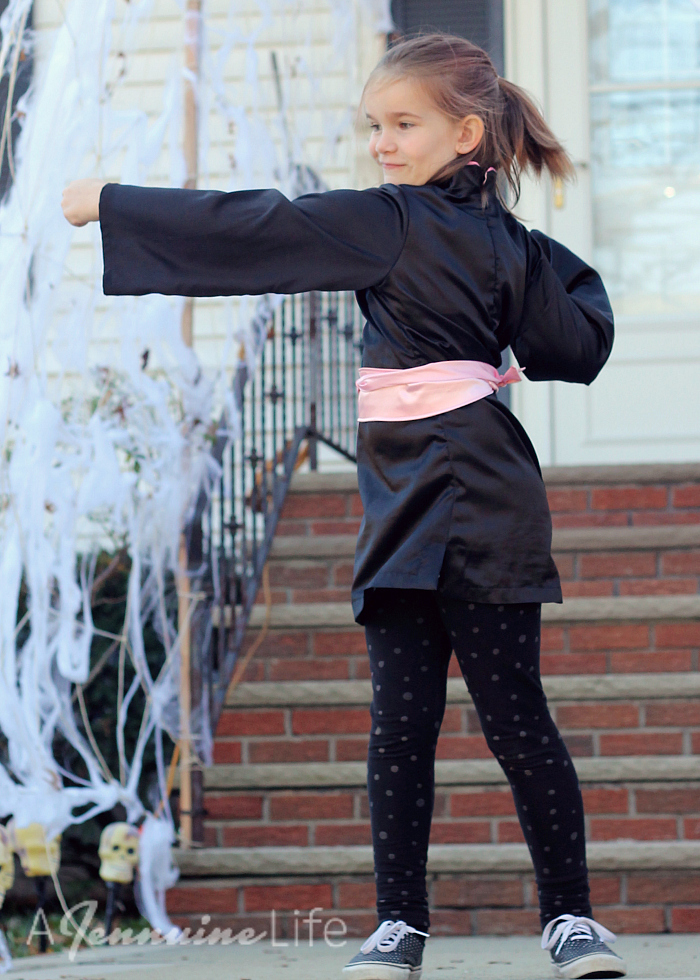 I know not everyone enjoys making Halloween costumes, but I really do.  The challenge of interpreting their vision and making it work for the weather and running about the neighborhood.  It's a bonus if any of the parts can be worn after, and if not they're fun for dress-up or handing down.