My journey to Bethioua: I've never given much consideration to raglan shirts for myself.  Given my broad shoulders and large bust, I didn't think they would do much to enhance my shape.  After finding that I quite liked the woven raglan Coram Top, I decided to reevaluate my opinions and see if I could become a raglan convert.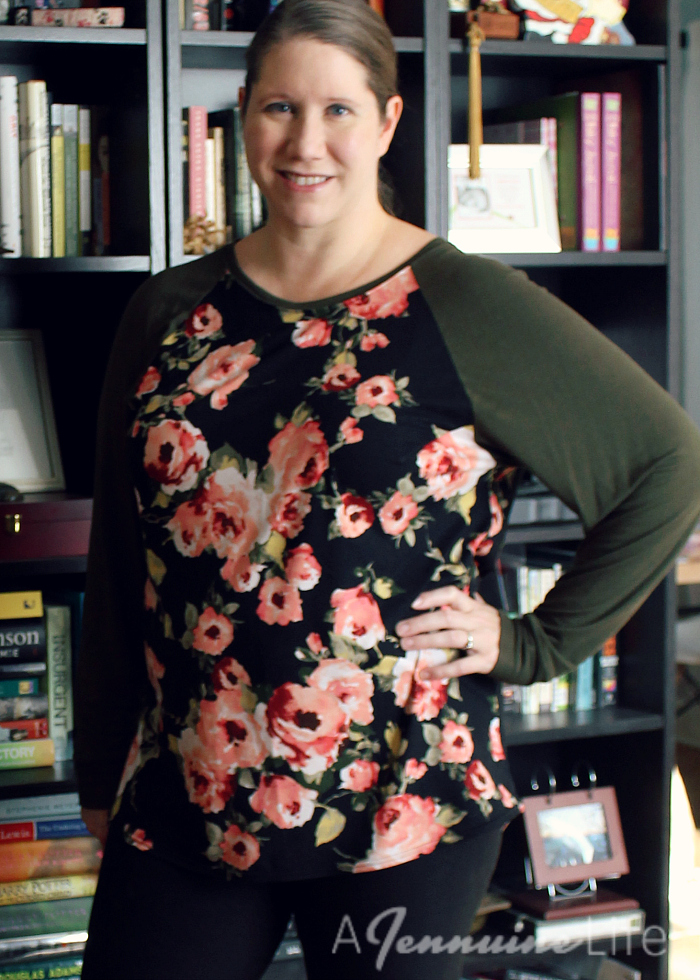 I ran a quick search on Upcraft Club of raglans.  The Bethioua Raglan Shirt by Elle Puls was the one that caught my eye for a few key features:
the unique cut of the back creating a yoke effect from the raglan sleeve is interesting.
the darted shoulder addresses one of my key concerns about raglans and my broad shoulder/large bust – there doesn't need to be excess fabric at the underarm to shape across the shoulder.  This is also a feature of the Coram Top previously mentioned.
there are bust darts (on a knit pattern?!!) for the larger sizes and I was curious to give that a try.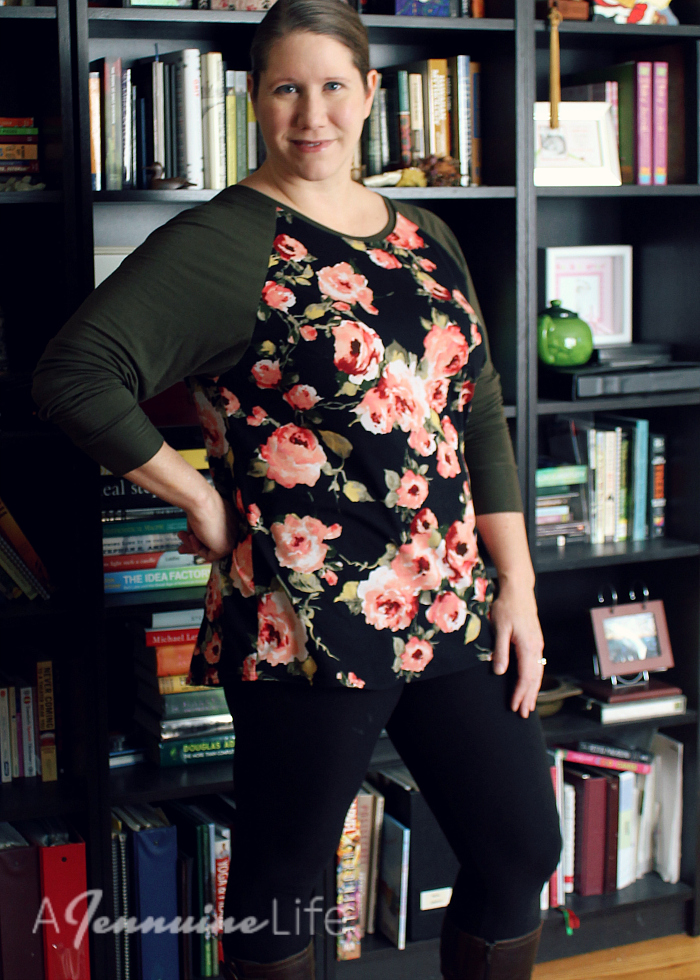 Elle Puls is a German designer, and the version of the pattern I purchased has been translated to English.  The sizing is given in European sizes.  I sewed a size 46 based on my full bust measurement of 42″.  The only adjustment I made was to add 1″ at the waist because I wanted to be able to wear this with leggings and have full coverage.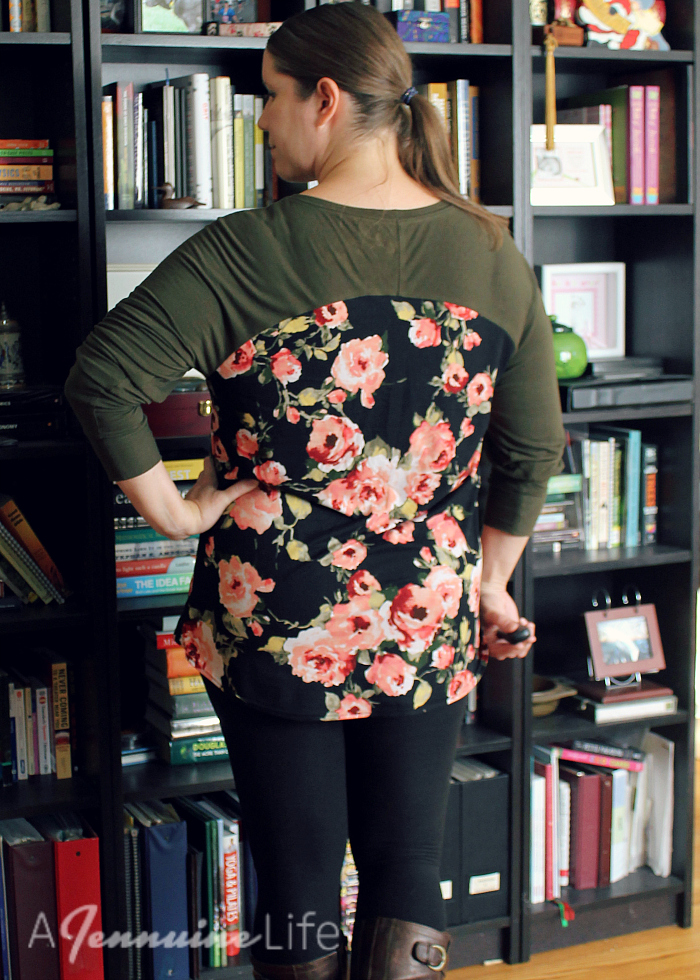 Here's that unique yoke.  The olive fabric is rayon spandex and quite drapey.  The floral is brushed polyester and a lot more stable. Additionally I've worn this top several times before I was able to take advantage of a sunny day for indoor photos, and it has stretched out and wrinkled a bit.
Both fabrics are from Raspberry Creek Fabrics and you've seen the floral previously in my leggings comparison post on the 5 Out of 4 Ninja Pants.  I'm also wearing the Patterns for Pirates Peg Legs from that same post.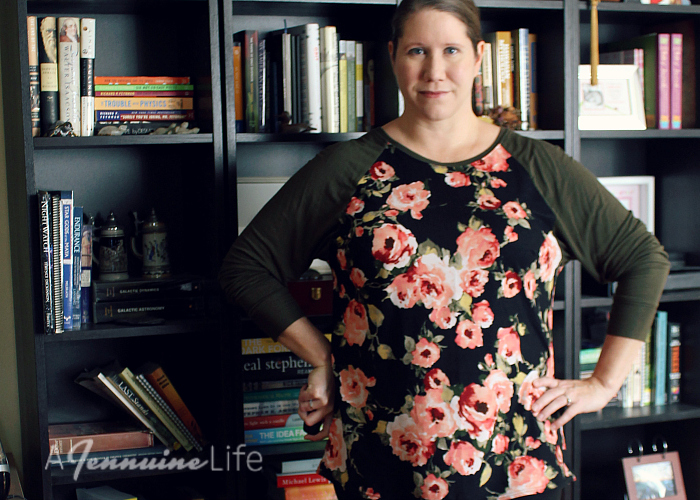 The Bethioua has a slight batwing cut to it, which is the one area I'm not certain I love.  I think it's something I need to get over – because looking at these photos objectively it looks fine and may even camouflage some of the bumpiness I get around my bra strap on my back.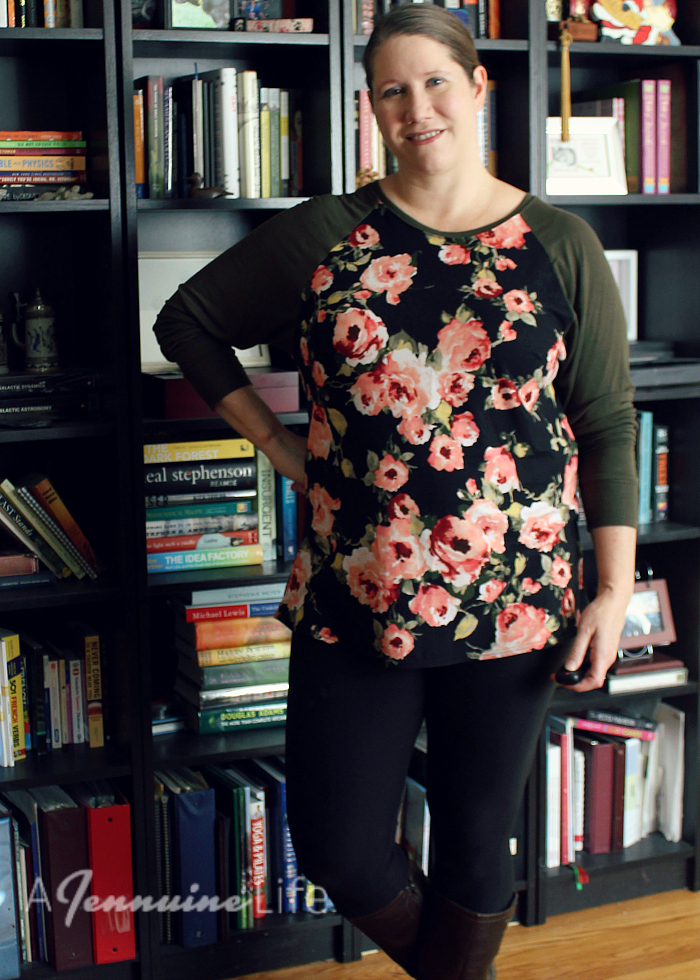 I'll definitely keep this pattern in my files.  I'd like to give it a go with striped sleeves to play with the back some.  I have at least one other raglan pattern I'm going to try before I say I'm done with my hunt!
Outfit Details:
Pattern: Bethioua Raglan Top by Elle Puls sourced from Upcraft Club
Fabrics: Raspberry Creek Fabrics olive rayon spandex jersey and floral brushed polyester