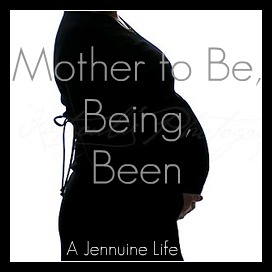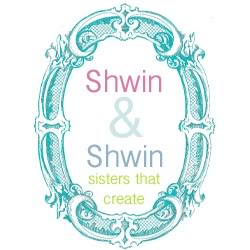 Today we're beginning the nursing "trimester" of Mother to Be, Being, Been with a fabulous post by the inspriational Shauna of Shwin & Shwin. I met Shauna as a contestant on Project Toddler Runway, and she was an absolute pleasure to work with! Shaun as volunteered to let me repost a recent tutorial of hers that fit well with the Mother Being – Nursing category. This was originally posted on March 18, 2011 as part of her Spring Into Skirts series – and to prevent any rumors from flying, she's not announcing a pregnancy; this was a tutorial she created for a project she made while still nursing her daughter.
Before we head into today's inspiration post – here's where you'll be posting your creative entries – Mother Being Flickr Group. Please note that this is a new pool for the nursing fashions you've created. If you have any trouble getting your project uploaded, please feel free to send your photo and description to me at deshazer(dot)jennifer(at)gmail(dot)com.
I also wanted to take a minute to say WOW! – the projects submitted so far in the Mother to Be – Maternity category are amazing! There are so many that I want to try for myself!!
As a reminder, the guidelines for entry are for your project to be:
Sewn in 2011: It doesn't have to have been made specifically for this competition, but let's keep it current – sewn in this year.
Photographed on a person: Preferably on you, but since that can get difficult – just do your best!
More than just embellished: I'm not saying that every stitch of the project has to be sewn by you, but if you've just added rosettes to an existing maternity top, then this doesn't count. Refashions are great – let's see some ingenious transformations! If you've used a pattern, let's give credit for it!
Shauna of Shwin & Shwin: Spring Into Skirts Part III Nursing Dress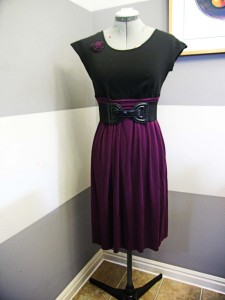 Ok so todays skirt is really more of a dress that looks like a skirt and shirt, but wait there's more! (do I sound like an informercial?) It is actually a nursing dress! That's right a nursing "dress" (as a disclaimer to my mom who reads this I am NOT expecting, or currently nursing). This is actually a project I made almost 2 years ago (right after I had my daughter) I really struggled to find nursing clothes especially dresses that I liked and were flattering, I mean no one wants to look frumpy after having a baby. Well to this day this is still my favorite and most comfortable dress I have. So I thought I would share how to make one during the skirt series since it looks like a skirt with a shirt.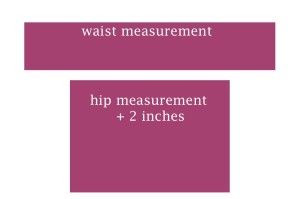 Start by making the skirt part. I used a rayon lycra blend which was really soft, really stretchy and light so it had great flow. Then measure the widest part of your hip. Add 2 inches. That will be the width of your front and back pieces for the length decide how long you want the skirt to be.
Then make a waistband piece that is the width of your waist and double the height that you want it to be.

Then I have to talk you through this since I made it before I had the blog and didn't take pictures…
The waistband was made like the belt from

THIS SKIRT

. It's pleated and sewn the same way (scroll to the bottom you will see it).
Then sew the front and back skirt pieces together at the sides.
Then pleat it to fit to the waistband.
Sew the skirt to the waistband.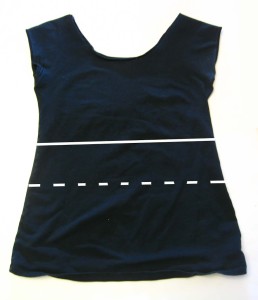 Next grab a snug fitting shirt. Try it on and pin or mark where you want the skirt to be.
Then cut the back of the shirt at that mark(the solid line) stop at the side seams.
Cut the front of the shirt a few inches lower (the dotted line).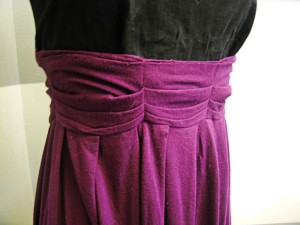 Then sew the back of the shirt to the skirt matching up the side seams.
Don't sew the front of the shirt to the skirt.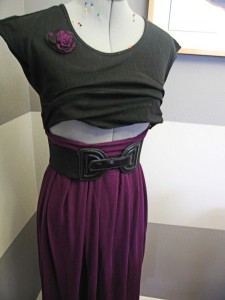 That's all there is to it. The front tucks in and can be pulled out for nursing…
Everything stays tucked in, and stays pretty snug but it can also be worn with a belt if you want it to be more secure.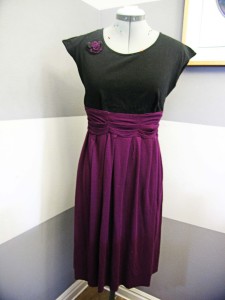 There it is without a belt. Simple, flattering and as I have found it transforms well from maternity, to nursing, to life afterward…

I have a few more skirts coming up
I hope you are enjoying the skirt series and working up a skirt filled spring wardrobe!
Enjoy!
Genious! One of the things I've been searching for are unique ways to create nursing access without the openings being obvious – this is perfect!