Well, I made it past week two! Yippee! I had a really fun time putting together my banner project for week three. Here's my entry for the DecoArt challenge – with the pixelation removed from the photos.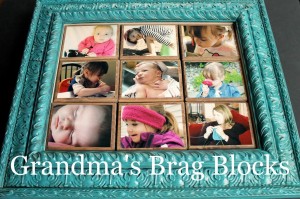 I'm so excited and honored to have made it past the first round of competition! There were some pretty amazing projects put forth last week, and I'm sure this week will be just as inspiring (and intimidating)!
For this week's DecoArt challenge, I wanted to try to flesh out a project that had been floating around in my head for some time – sort of a shadow box frame that could hold photo blocks for my Mother, an idea which became Grandma's Brag Blocks.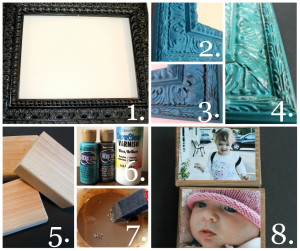 I had great intentions of finding a cool thrift store frame to use, but after scouring three different stores in the area, I had to go to plan B – an open back frame from Hobby Lobby for 50% off. It ended up being only a little more than the prices I was seeing for frames at the thrift stores. I painted the frame with DecoArt Desert Turquoise Americana acrylic paint, then mixed and applied a wash made from water and DecoArt Raw Umber to get into the nooks and crannies. I ragged most of the wash off using scraps of an old t-shirt. Finally I used DecoArt DuraClear gloss varnish to seal the paint and give it a brilliant shine. I ended up with an accidental faux verdigris finish that is really pretty!
For the shadowbox and blocks, I built a box to fit in the frame from a piece of plywood and some poplar 1/4″x2″ pieces of wood. I cut and sanded the 2″x4″s to fit nicely in the frame. I brushed on the same wash to stain the blocks and then decoupaged the trimmed photos to both sides of the blocks.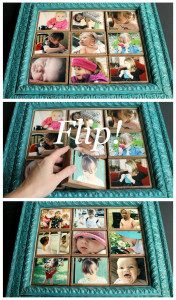 Now Grandma can swap and rearrange photos as she likes, and I can always make additional photo blocks as grandbabies get older.

Featured on: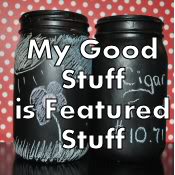 Linking to:
Mondays Making the World Cuter Monday – Making the World Cuter Just Something I Whipped Up – The Girl Creative Party Blog Made By You Monday – Skip to My Lou Do It Yourself Day – A Soft Place to Land Craftastic Monday – Sew Can Do Making Mondays Marvelous – C.R.A.F.T. Market Yourself Monday – Sumo's Sweet Stuff Creative Me Monday – The Southern Institute Tuesdays I Made It Without My Hubby – Shanty 2 Chic Sew Cute Tuesdays – Creative Itch Anything Related – All Things Related Tot Tuesdays – My Delicious Ambiguity Tute-in Tuesdays – Oops, I Craft My Pants Take a Look Tuesdays – Sugar Bee Craft Edition Wednesdays We Did It Wednesdays – Sew Much Ado Sugar and Spice and Everything Nice – Seven Thirty Three Show & Tell – Blue Cricket Design Show Me What Ya Got – Not Just a Housewife Your Whims Wednesdays – My Girlish Whims Thursdays Strut-Your-Stuff – Somewhat Simple Make It, Wear It – The Train to Crazy It's Stinkin' Cute – Sew Stinkin' Cute Show Off Your Stuff – Fireflies and Jellybeans Making It With Allie – What Allie's Making Now Pinspirational Thursdays – The ArtsyGirl Connection Fridays Furniture Feature Friday – Miss Mustard Seed Weekend Wrap Up Party – Tatertots and Jello Feature Yourself Friday – Fingerprints on the Fridge Friday Fun Finds – KojoDesigns Weekends Check Me Out Saturday – A Vision to Remember Show and Tell Saturday – Be Different Act Normal Sunday Scoop – I Heart Naptime Sunday Showcase Party – Under the Table and Dreaming A Pinteresting Party – Tutus & Tea Parties