This is a Sponsored post written by me on behalf of
NECTRESSE™Sweetener
for
SocialSpark
. All opinions are 100% mine.
One of the things we've begun doing each summer as a family is rent a vacation cottage for a week at the end of the season. This year, Dave has also begun a major health overhaul so he's tracking foods and has refocused his fitness routine.
NECTRESSE™Sweetener
So when I received the opportunity to try out NECTRESSE™ natural no calorie sweetener, I thought the timing couldn't be better! My sample arrived the day before we left for vacation, so I gathered up a few dessert recipes I had filed away that I wanted to try and packed my package of NECTRESSE™.
sweetener
I decided to try a recipe from
Kojo-Designs
as part of their Color My Summer series: Blueberry Stuffed French Toast. I made a few changes – the biggest being substituting NECTRESSE™ sweetener for the sugar the recipe called for.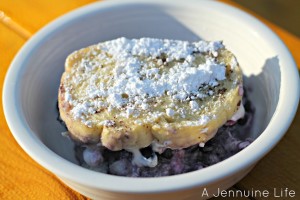 Ingredients
1 loaf italian bread
6 cups blueberries (I used frozen, but I think it would be better with fresh if you can get them!)
8 oz reduced fat cream cheese
1/2 c light sour cream
1/8 c NECTRESSE™
1 t vanilla
6 eggs
3 c milk
1/2 t cinnamon
1/2 c powdered sugar
Directions
Cut the loaf of bread in half. Rip one half into little pieces, covering the bottom of a greased 13×9 pan. Sprinkle the blueberries over the bread. Heat the cream cheese until softened. Stir in the sour cream, NECTRESSE™ sweetener, and vanilla. Spread over the blueberries. Arrange the remaining bread slices on top. In a separate bowl, whisk the eggs, milk, and cinnamon together. Pour over the bread and berry layers. Cover and refrigerate overnight. Bake covered at 350 for 45 minutes, then an additional 15 minutes uncovered.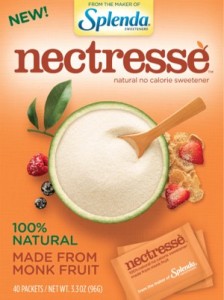 All I have to say is "yum". I seriously couldn't tell there was no sugar in the recipe. Dave, Arden, and I thoroughly enjoyed it, and Arden even shared a few of her blueberries with baby Hadley. I've also been using NECTRESSE™ packets to sweeten my coffee since I'm about oh, a three to four tablespoons full of sugar in my coffee kind of girl. That really adds up unless you use a no calorie sweetener!
So what's so special about NECTRESSE™? Well, it's the only 100% natural sweetener made from real fruit – monk fruit extract to be exact. Lisa Ling has a family history of diabetes and loves it so much that she became the spokesperson for NECTRESSE™. Check out her testimonial video!

Want to try it for yourself? Well, go to http://www.nectresse.com/free-sample and sign up to receive your own free sample of NECTRESSE™. What will you make with it?
FREE sample of NECTRESSE™Sweetener