This is the final challenge for Project Run & Play, which means I accomplished my goal of participating in the sew along each week!
Ahhh… The Signature Look. What is my signature look? That's the first thing I had to ponder when planning this style. Refashioning is my favorite type of project, so I knew it had to be a refashion. Aside from the material source, I'd say my style is classic and simple with a little interest or twist sprinkled in.
I started with a cute but horribly unflattering (empire waist and a full pleated skirt on a broad-shouldered girl with an athletic build – what was I thinking??) sleeveless dress that I wore exactly once on our honeymoon. The sequined top was a knit halter that saw many a New Year's eve in my single days, but it's seen way more of the inside of my spare closet in the past several years and I thought it needed to get out and play again.
This challenge coincided nicely with the Daddy Daughter Dance Arden and Dave were planning to attend at our local YMCA, and I finished within an hour of the dance. Dave calls it Just In Time sewing. I drafted the bodice pattern myself and created some features that I thought were pretty interesting, like the side panels that go under the arms without a seam. I knew the sequins had to stop before the armholes or they would irritate the underside of her arms (speaking from experience). The bodice is fully lined and I used fold over elastic with a touch of sheen I bought some time ago from Pick Your Plum to bind the edges. It matched perfectly – yay! I pulled all the sequins from the seam allowances so the seams would lie flat (thanks for the tip, Miranda!). After the dress was complete, I hand sewed sequins along the seams to fill the empty spaces.
The best part is that she LOVES it. She kept twisting and swaying in the sunlight in our breakfast nook making sparkly reflections like a disco ball. She's never been quite so excited about anything I made her except the Hello Kitty sleeping bag, but that's not a dress! I guess what little girl wouldn't love a dress that sparkles, shines, and swirls?
I'll be linking up at many of these great parties as well as the Project Run & Play sew along linkup:
This project was declared the sew along winner for Week 6!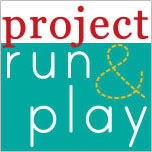 I'm submitting this project as an audition for Sew-Vivor:
And was featured here:
Mondays Making the World Cuter Monday – Making the World Cuter Made By You Monday – Skip to My Lou Craftastic Monday – Sew Can Do FUNday Mondays – C.R.A.F.T. et al. Market Yourself Monday – Sumo's Sweet Stuff Creative Me Monday – The Southern Institute Tuesdays I Made It Without My Hubby – Shanty 2 Chic Sew Cute Tuesdays – Better Off Thread Take a Look Tuesdays – Sugar Bee Craft Edition Shwin&Shwin Nap Time CreationsWednesdays We Did It Wednesdays – Sew Much Ado Sugar and Spice and Everything Nice – Seven Thirty Three Show & Tell – Blue Cricket Design Show Me What Ya Got – Not Just a Housewife Your Whims Wednesdays – My Girlish Whims Thursdays Strut-Your-Stuff – Somewhat Simple Make It, Wear It – The Train to Crazy It's Stinkin' Cute – Sew Stinkin' Cute Show Off Your Stuff – Fireflies and Jellybeans Making It With Allie – What Allie's Making Now Pinspirational Thursdays – The ArtsyGirl Connection Fridays Furniture Feature Friday – Miss Mustard Seed Weekend Wrap Up Party – Tatertots and Jello Feature Yourself Friday – Fingerprints on the Fridge Friday Fun Finds – KojoDesigns Weekends Check Me Out Saturday – A Vision to Remember Show and Tell Saturday – Be Different Act Normal Sunday Scoop – I Heart Naptime Sunday Showcase Party – Under the Table and Dreaming A Pinteresting Party – Tutus & Tea Parties Sunday Roundup – A Rosie Sweet Home Just Something I Whipped Up – Project Inspire