**  The Moto Jacket is now a pattern!  Get it in my shop and make your own cool Moto Jacket!**
I titled this REduce, REuse, REfashion because refashioning fits well into our family dynamic.  We are dedicated recyclers, we compost every scrap of kitchen waste we can, and we use gDiapers all to help to reduce our environmental footprint.  Refashioning is one more way to do that.  I won't say that I don't buy fabric, but I do try to choose organic fabric when I can and only buy what I need for projects.  Add refashioning what we have and it makes me feel happy that I'm doing what I can to lessen our impact.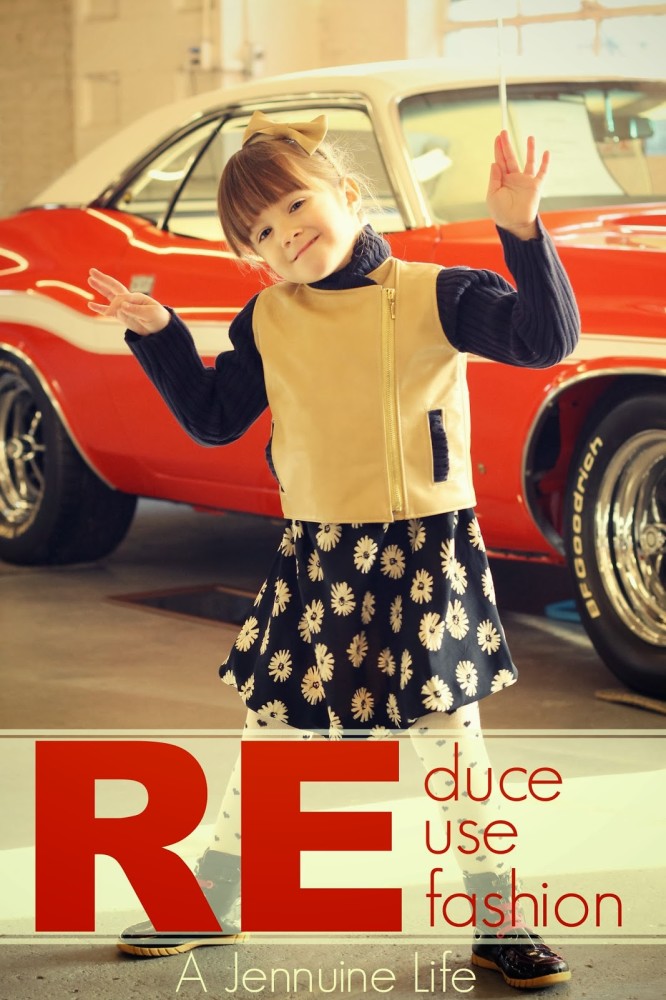 I was really excited that there would be a refashion challenge for this season of Project Run & Play.  I love refashioning, and it was with a refashion project that I won the sewalong in Season 6.  Sometimes I look through my stash of refashion targets and figure out a project from those, and sometimes I'm inspired by something else which was the case in this instance.  I saw this picture from Shabby Apple in my Instagram feed and immediately loved the combination of a floaty skirt and moto jacket!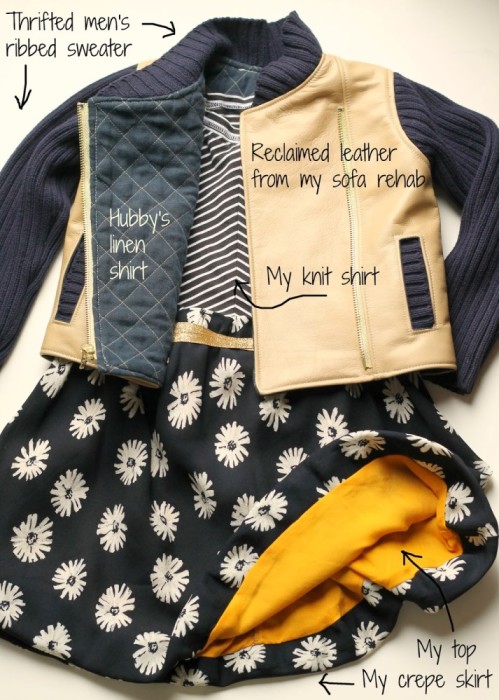 Then it was a matter of finding materials that would work together to realize my inspiration.  A striped knit shirt my Mom had given me that was just a little too boxy for my taste, a crepe skirt of mine that I loved but sadly no longer worked with my post-children body, a bias-cut top of mine that was an unfortunate color choice with my skin tone, a thrifted men's rib knit sweater, and some leather I salvaged from my sofa rehab a couple of months ago.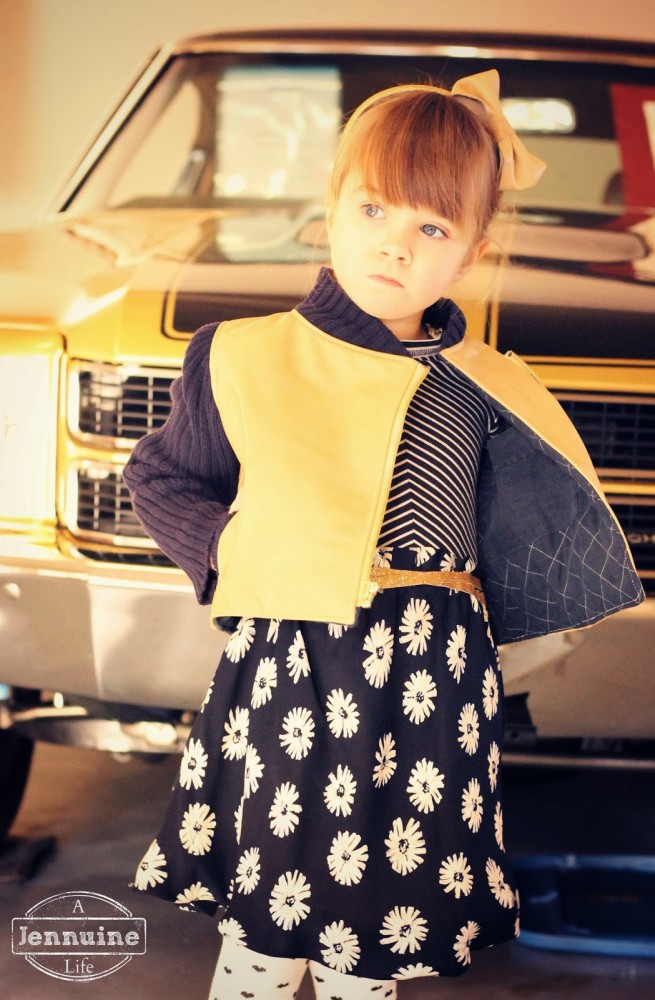 Arden giving off her best tough girl attitude.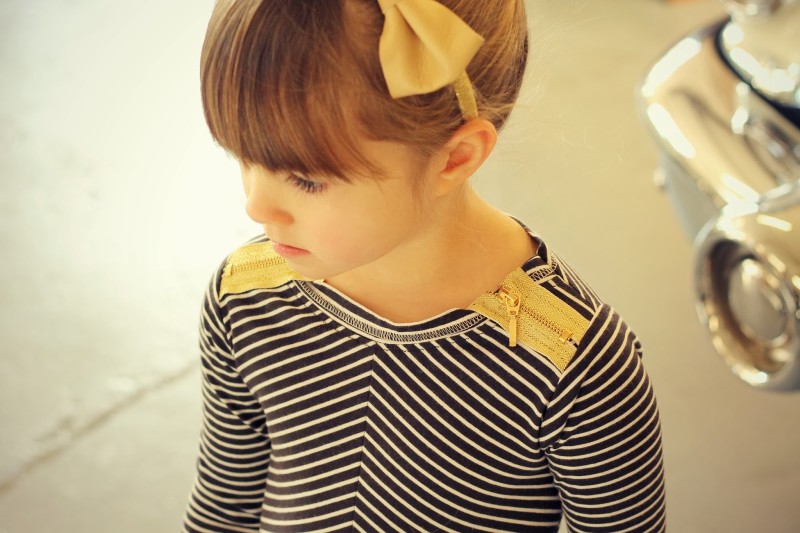 I pieced the front of the shirt and carefully matched up the stripes.  The front neckline is salvaged from the hem of the original shirt.  I added the shoulder zips for a fun accent – they function but it isn't necessary to open them to get the shirt over her head.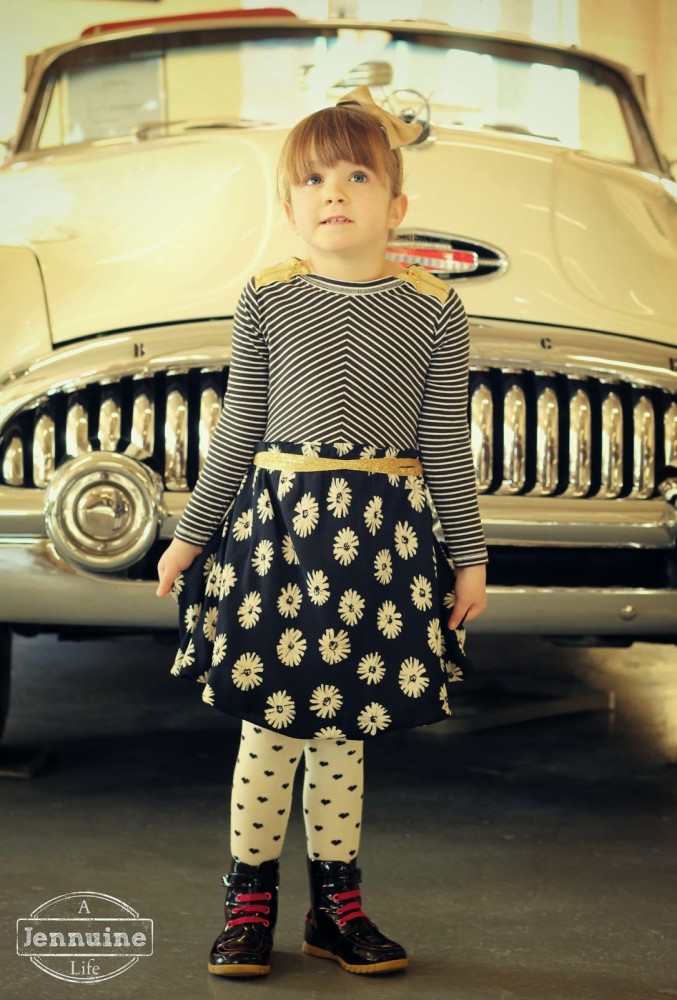 The skirt I made into a paper bag style with a slight shirttail hem to the bottom, and the yellow shirt pulls up the hem to make it a bubble dress.  It's very swishy and fun!  I found this great sparkle trim that matched the gold metal zippers on the shoulders and added a belted accent to the dress.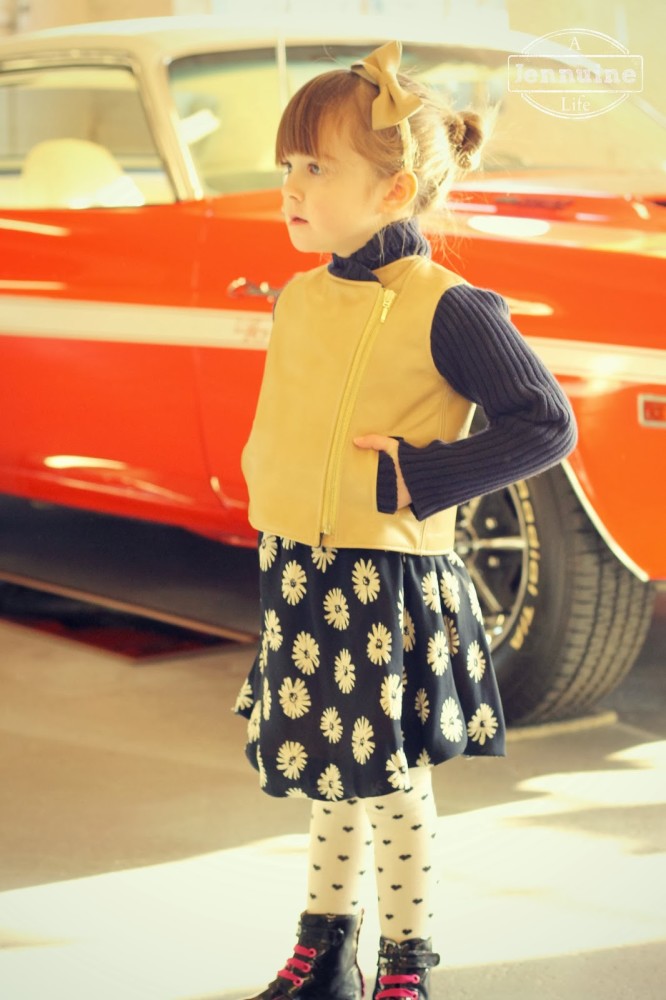 The jacket.  Oh, I want one of these for me, but I don't think I can eek it out of the leather I have remaining.  The whole reason I needed to reupholster the sofa cushions was because they were in such rough shape, so I only had one piece that was wider than 8″.  I used the one large piece to make the larger right panel and then all the other sections are small enough to work with the narrow leather and I pieced the back.  I'd like to take a moment to sing the praises of my Janome for tackling multiple layers of leather like a champ!  I used upholstery thread left over from the sofa project and that worked well for this.  A separating gold metal zip to close the jacket brings the look together.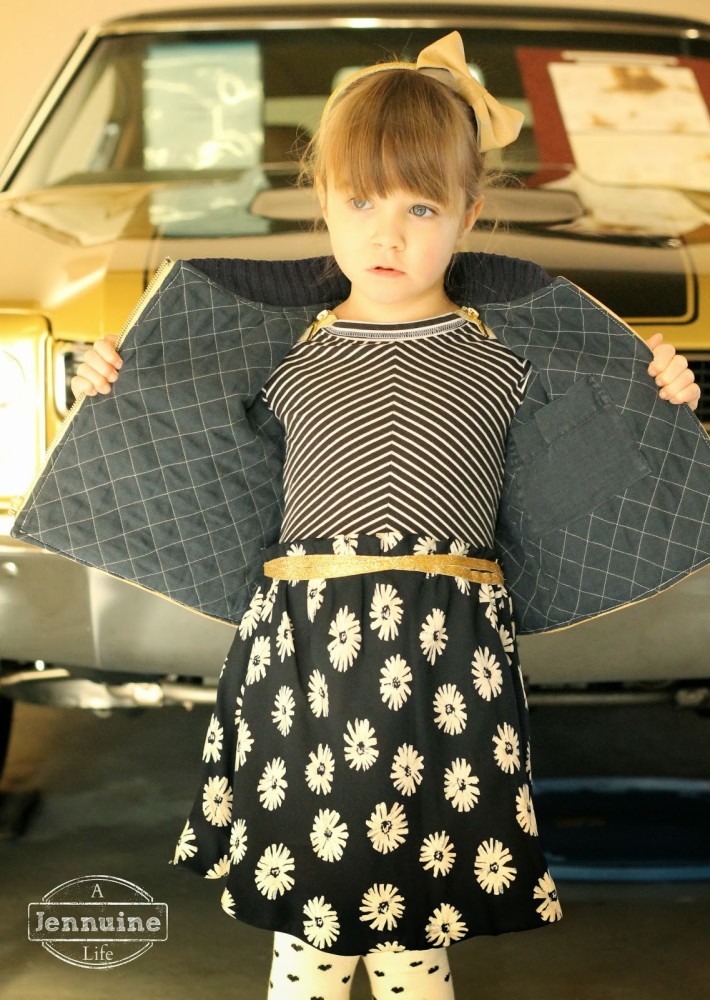 The lining is a linen shirt of hubby Dave's.  I broke out my walking foot and some remnants of warm & natural batting I had left over from past projects and quilted a diamond pattern to the lining pieces before sewing it together.  I salvaged the pocket from the shirt and put it as an interior pocket.  I would have preferred to have the leather come up into the lining side, but the thickness of the leather posed a problem and turn and topstitch seemed like the best solution.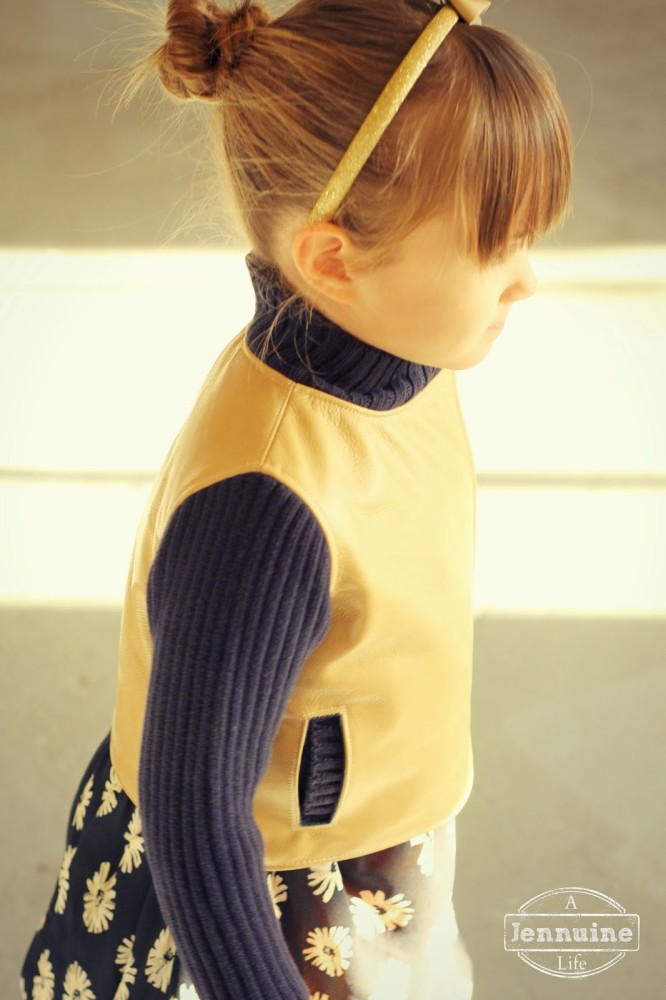 The men's cotton ribbed sweater became the sleeves, shawl collar, and the welt for the pockets.  The pocket bags are also from the linen shirt.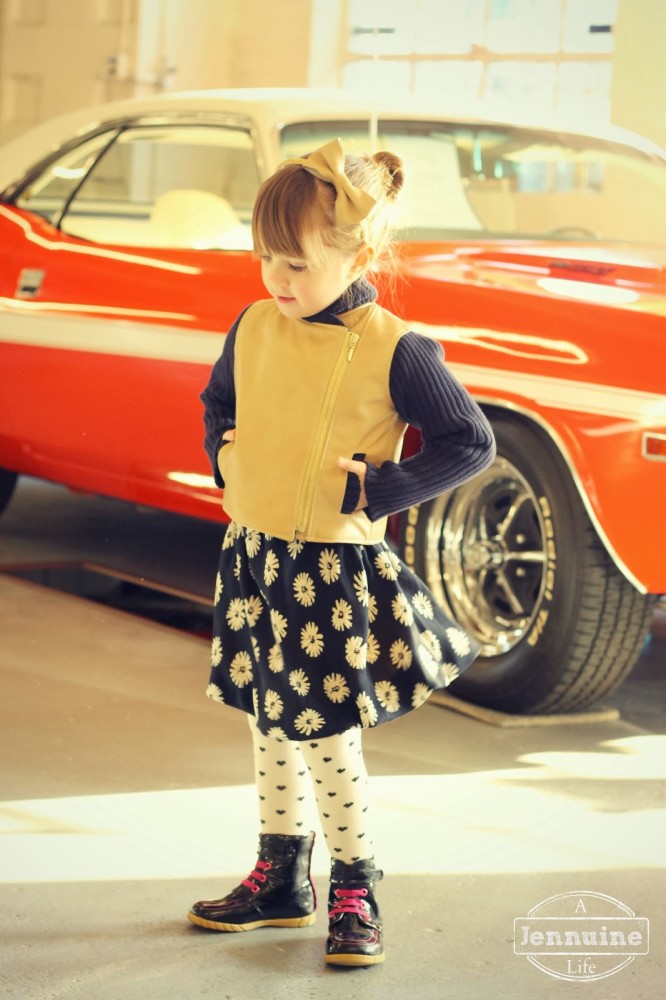 The location for this shoot was such a fun find!  Hubby Dave had mentioned some time ago that there was a classic car showroom in town and he thought it would work for a location.  Since it's frigid cold here in Michigan with the whole Polar Vortex and all, outdoor shoots are completely out unless we're modeling parkas!  So I checked it out and it was perfect!  The lighting was
gorgeous
and how cool are all these classic and muscle cars?  I'm glad my target audience isn't a bunch of men or I think everyone would be looking more at the cars instead of Arden and the outfit!  If you or your spouse are into cars, these and more are available for sale at
Bay City Motor Company
.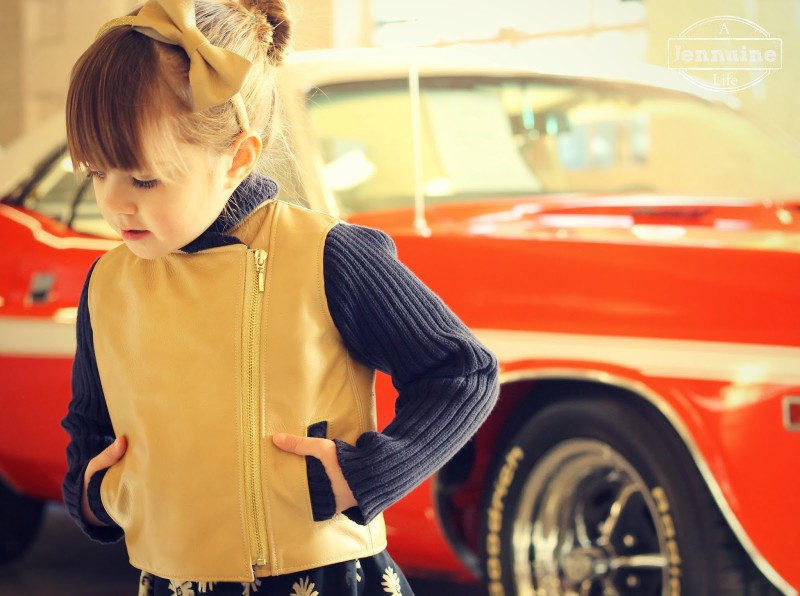 I made a leather bow and slid it onto a sparkly gold headband that perfectly matched the trim from the dress and the zippers.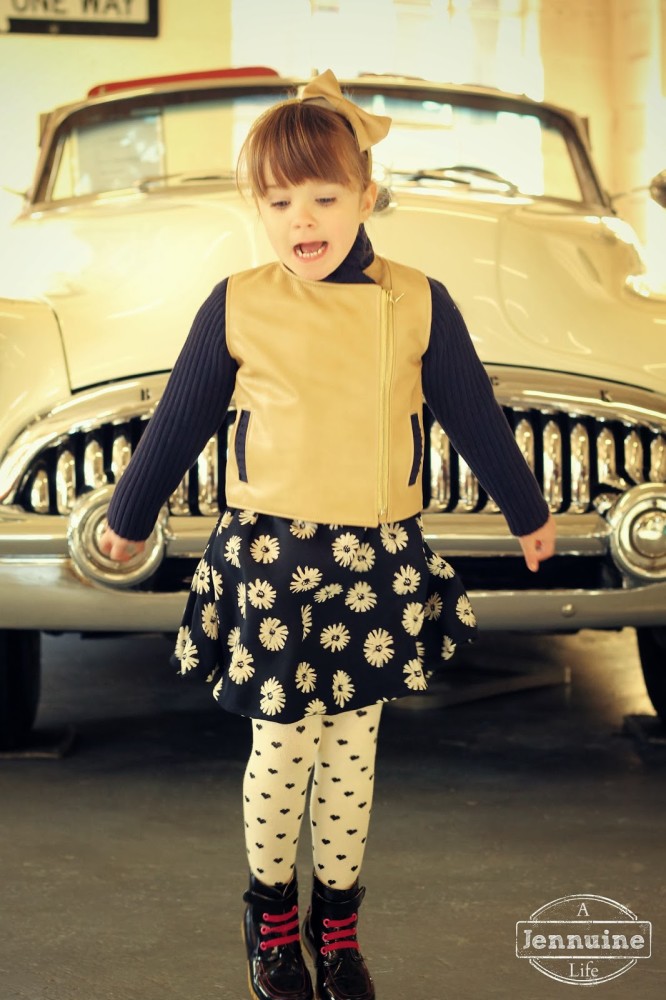 Happy dance!
I don't have any shots of the bloopers from this shoot, but instead a story.  Arden will do photo shoots for a promise of a treat afterwards, and there's a cupcake shop just up the road.  So I started trying to take pictures and Hadley did not want to stay out of the shots.  The owner of the showroom came out and asked if she could have a cookie; he had a whole bag from the nearby Double tree.  (Have you had a Doubletree cookie?  They're to. die. for!)  So I sat Hadley in a corner on my coat, just to the right of the creme Buick Roadmaster you see above.  She sat there eating a gigantic chocolate chip cookie like a happy camper for about 15 minutes.  Photo shoot saved!  She had a chocolate ring around her mouth and if I had even one shot left on my SD card I would have taken one – priceless!
Now I need to remember to have something to occupy my "assistant" when she's along…