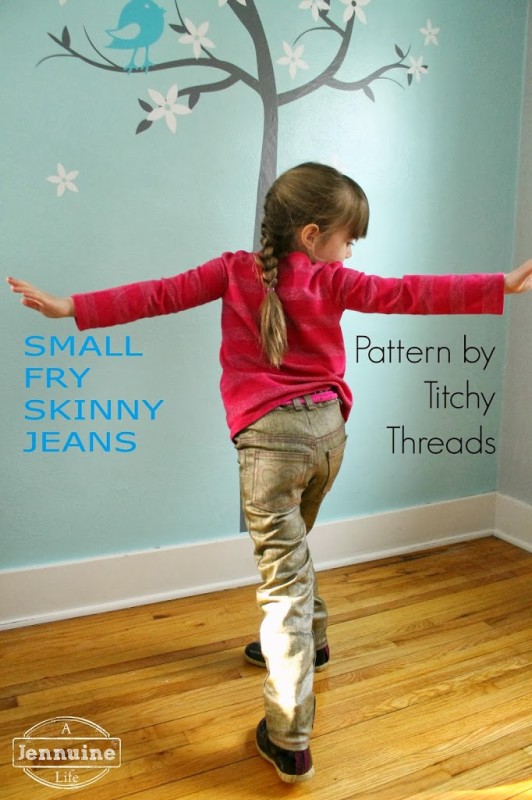 I am so excited to share my version of the Small Fry Skinny Jeans from Titchy Threads!  This pattern tour has been chock full of inspiration, and I'm in great company with the other participants: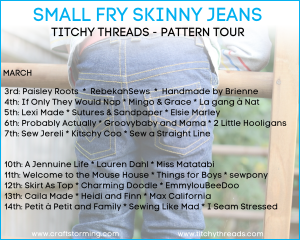 Laura is offering a 20% discount for the duration of the tour with the code TOUR20 when you check out at the
Titchy Threads pattern shop
.
First, a little background for the fabric I chose for my Small Fry Skinny Jeans:  Arden just celebrated her 5th birthday on March 5th, making this her Golden Birthday.  It seemed quite appropriate then, to use golden metallic stretch denim to commemorate the event.  I bought the fabric from
Fabric.com
.  It's an interesting textile – the gold is a coating and you can see it distressed a bit when I prewashed it.  I'm expecting more of the indigo base fabric will show through over time.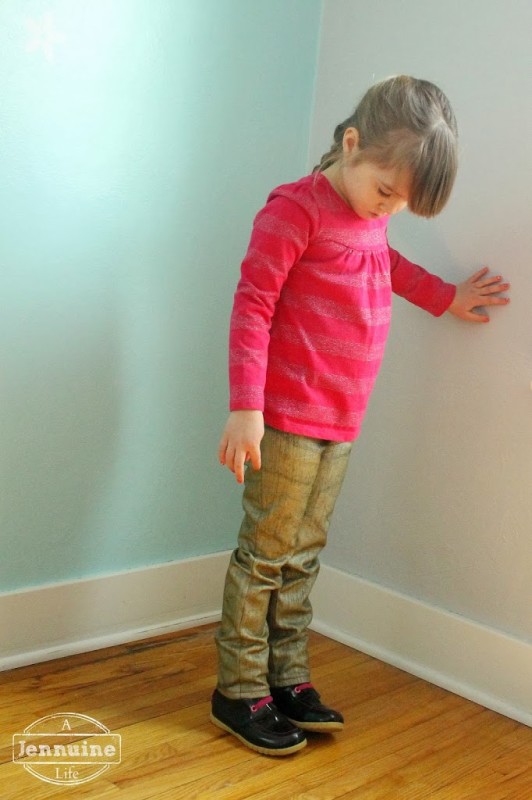 The pattern and tutorial Laura has created are incredibly thorough.  I've sewn a ton of dresses and tops but not many pants, and this is my second zip fly.  It went without a hitch and the end result is so professional.  Now, I won't try to say this is a quick or easy sew.  This took me a week of work in small bursts because I felt like if I tried to churn it out I was going to make errors.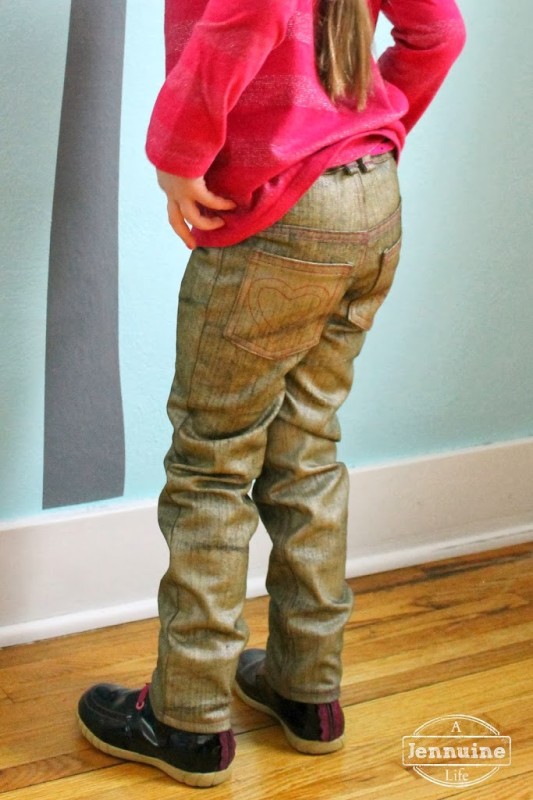 Don't let that scare you away — instead, I'd like to think it's a vote of confidence that anyone with reasonable skill and a willing attitude can make these jeans and they will have the best finishes.  There are options throughout to let you decide how "real" you want to make your jeans.  I chose the inset pockets, zip fly, full-length and the top-stitched waistband.  If a zip fly scares you, the half-fly looks like a really great alternative and much simpler to install.  But don't be scared – if I can do it, so can you!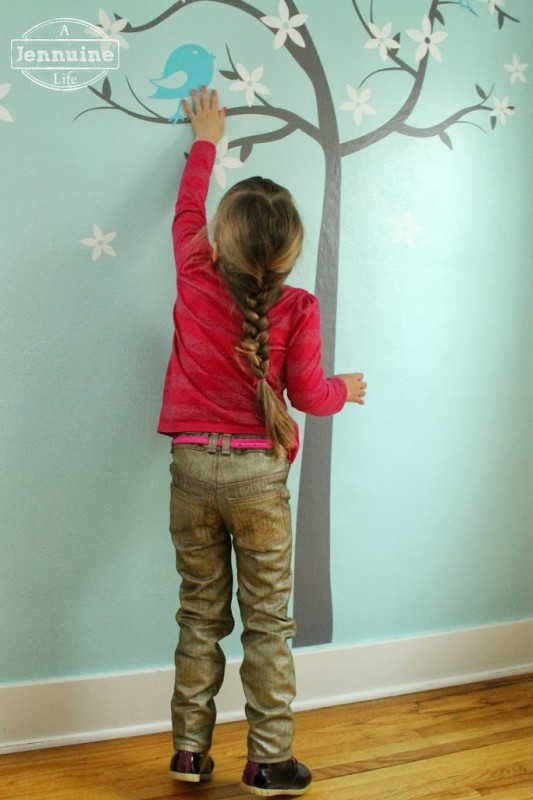 A really cool feature on this pattern is how Laura added layers to the PDF file to allow you to print just one size.  I chose not to use it because even though Arden's measurements put her squarely in a size 4Y, she tends to run a little long in the leg.  I cut about halfway between the 4Y and 5Y for my pattern pieces.  This wasn't necessary as they would have been plenty long without the added length.  You can see they're pushing up from the ankle, which is even more pronounced with the ankle boots she's wearing.  I'm not concerned because the way she's been eating and sleeping lately, I foresee a growth spurt coming on!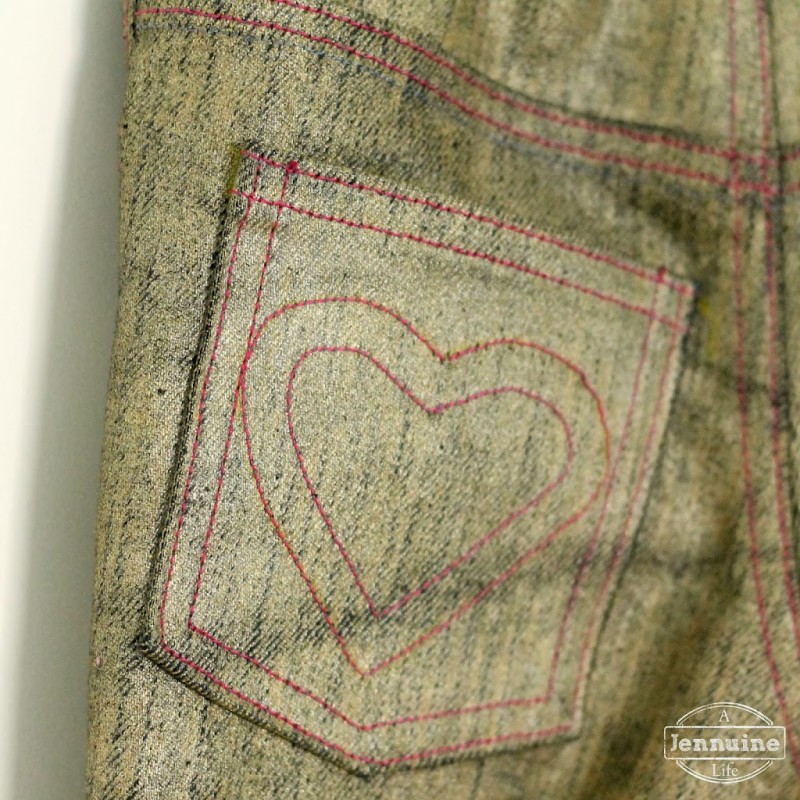 I chose to make hearts for the back pocket details.  You can still see some of the yellow wax pencil I used to mark my stitching lines, but that will wear or wash off.  This is a fun area to really customize the look of your jeans.  I gave Arden a few choices and obviously the hearts won – I mean, she's five right?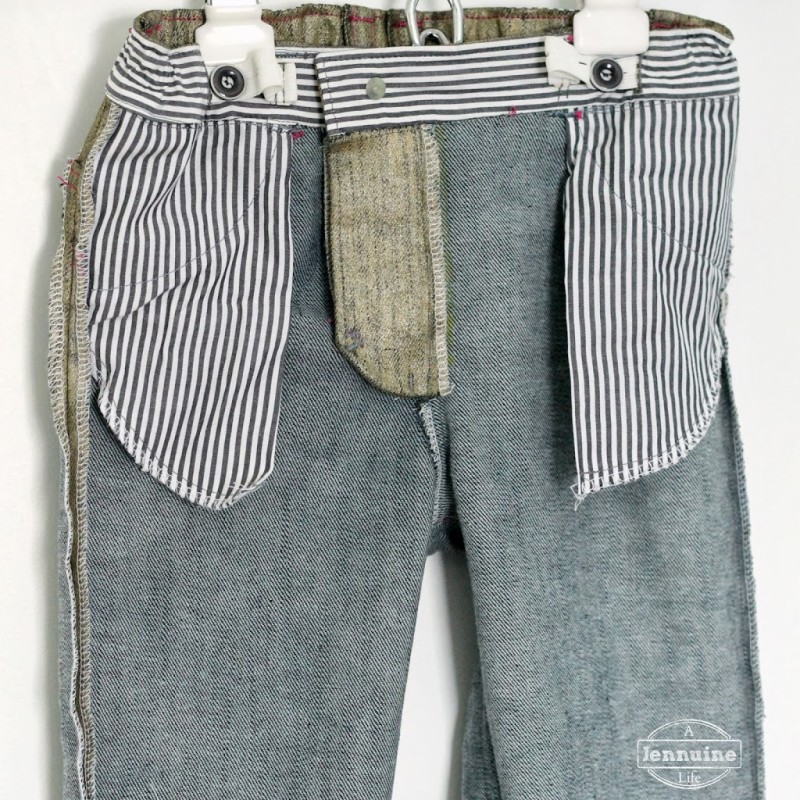 To give you an idea of the great finished in the instructions, I thought it would be fun to show the pants inside-out.  Flat-felled inside, rear rise, and yoke seams, serged edges, bar tacking, and buttonhole elastic in the waistband are some of the professional aspects in these pants.  I will definitely be making more of these, though I might be checking out the half-fly option next time!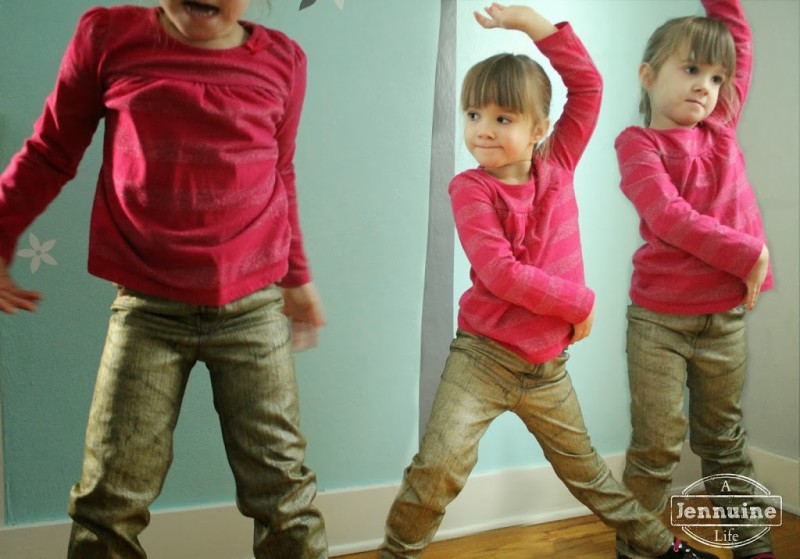 To finish, I gave a try at a multiple exposure shot.  I think I still need more practice, but it's not too bad, right?  But the jeans are fabulous!