Hello everyone!  I'm so very excited to get the opportunity to participate in the fabulously philanthropic Skirting the Issue event hosted by Simple Simon & Co.!  I tried to go the extra mile and give you something a little special: a downloadable PDF tutorial.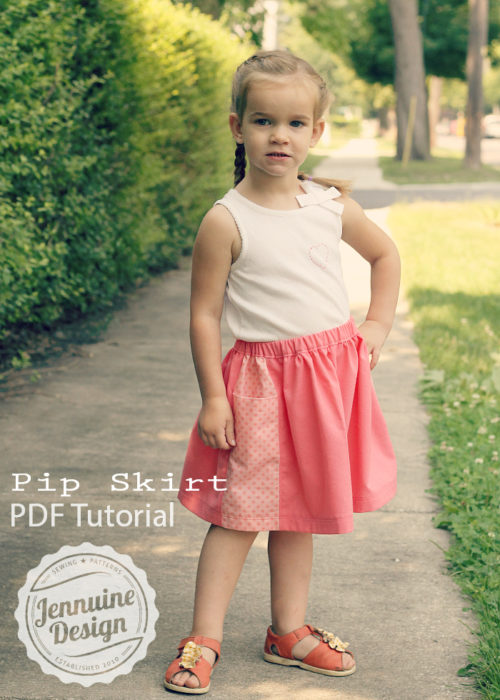 The skirt is a quick and easy sew for girls' sizes 12 months through 12 years.  Dimensions are given for all sizes, so you don't have to rely on measuring a child to make a skirt (or a dozen) to donate.  I illustrated the tutorial in a similar style to the patterns I offer for sale in my pattern shop.
These graphic illustrations are easier on printers if you decide to print them, and can be much clearer than a photographic tutorial since there are no competing fabrics, shading to show right and wrong sides, and pieces can be made transparent to see what's happening below.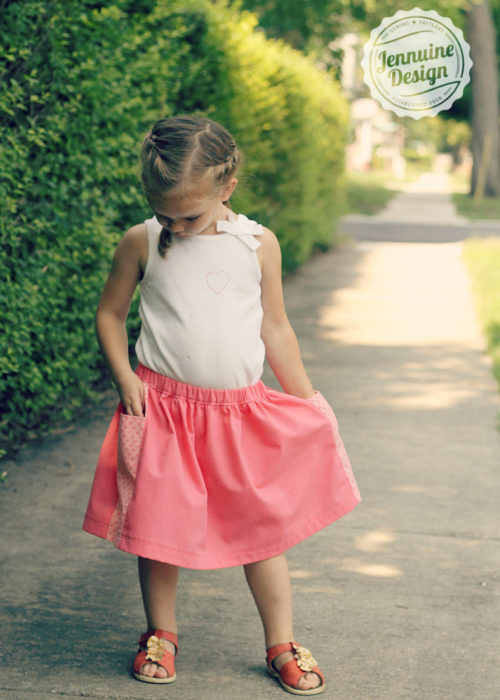 The pockets are what sets this skirt aside from a plain gathered rectangle.  They are formed from a single panel folded accordion-style.  They're nice and big for stashing all the little treasures girls like to gather.  Anyone else have to dig through their kids' pockets before laundry to be sure you're not washing a collection of rocks, flowers, and nuts?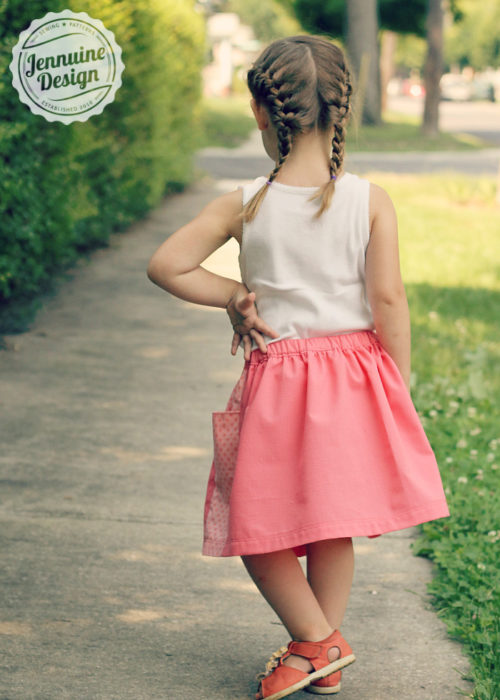 You might recognize the style from my Let's Go to the Movies themed outfit for Project Run & Play.  I made a whole ensemble inspired by the movie Pretty in Pink which included a dress with these same pockets.  I loved the dress so much and it seemed so fitting to make it into a skirt for Skirting the Issue.  Do you catch where I got the idea for the name?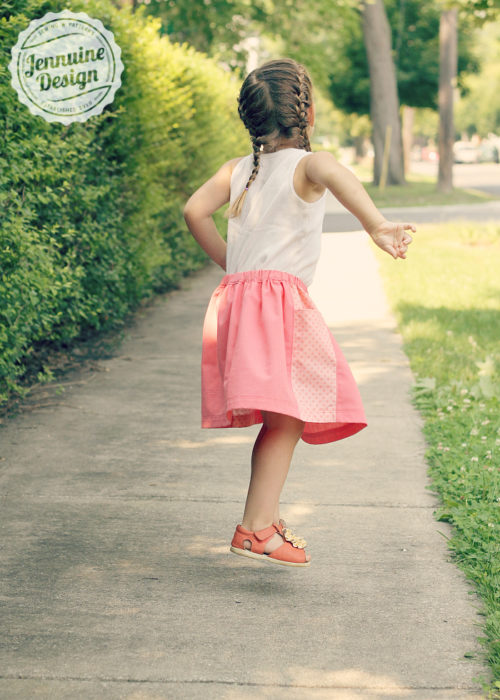 And it's perfect for jumping and twirling!  So pop on over to my pattern shop and download the tutorial!  I'd love it if you followed me on Instagram at @jennuinelife, or liked my Jennuine Design Facebook page.  That way you'll be able to see any new patterns I'm releasing, or more freebies like this!
If you haven't been sent over from Simple Simon & Co., you might be wondering "What the heck is Skirting the Issue?".  In a nutshell, in Elizabeth and liZ's words, it's "A month long event where you are invited to sew along with us and make skirts to donate to local Foster Care centers".  The skirt I made that Hadley is modeling will go to my local center, along with any others I can manage to whip up through the end of July.  Check out more skirt tutorials at Project Run & Play and Simple Simon & Co.