Well, actually I released the Satya Romper on Thursday, but we were still in the midst of the Moto Jacket pattern tour and I didn't want to dampen the excitement.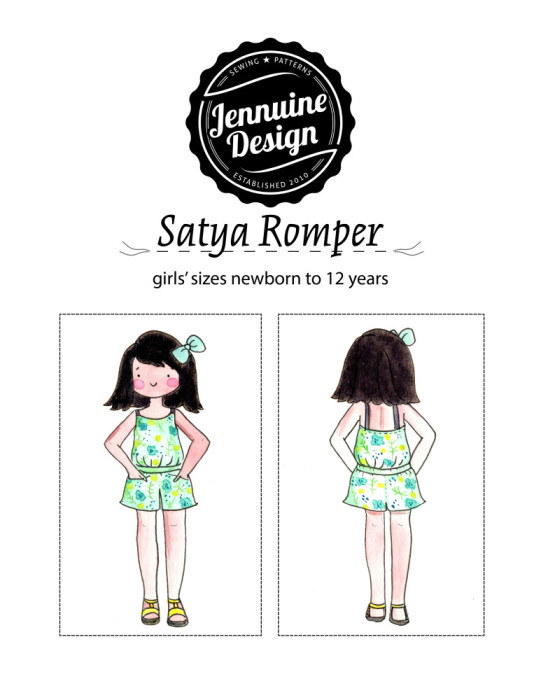 Here's the pattern cover, with another adorable watercolor from Candace of Dandyroo Designs.  Each new girl is always my favorite and she captures the details and attitude so well.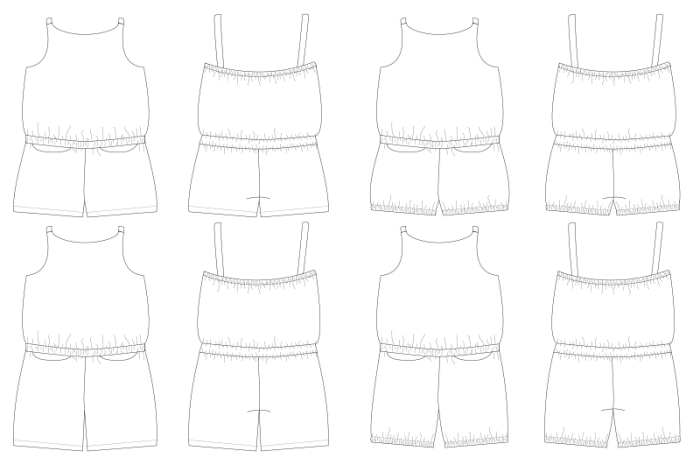 The Satya Romper features a gracefully curved neckline which mirrors the arc of the pockets set into the waistband.  The straps are elastic, using either fold over elastic (FOE), decorative elastic, or by making a fabric covered elastic strap.  Two lengths – a shorts length romper or a longer playsuit ending at the knee.  Either length can be made into a bubble style with the addition of elastic at the hem.  And for those requiring access for diaper changes, there's an optional snap closure on newborn to 2T sizes.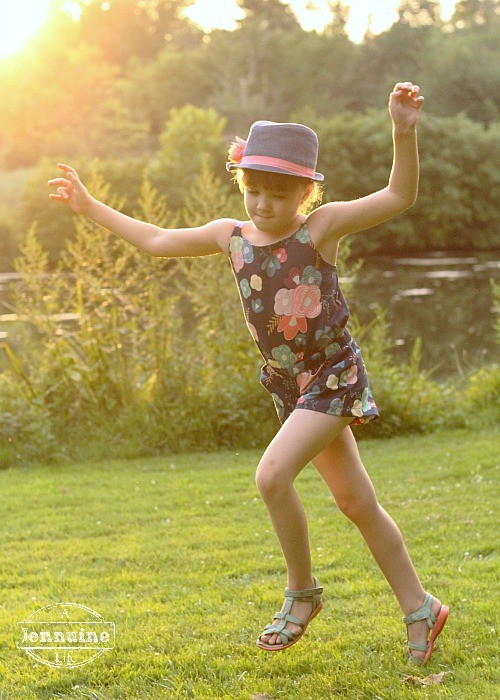 This is the first version I made for the Happy Home fabric tour hosted by Caroline Hulse of Sew Caroline.  This is the shorts length which are cut with a wide leg for a soft and floaty silhouette.  You can see more photos of this version here.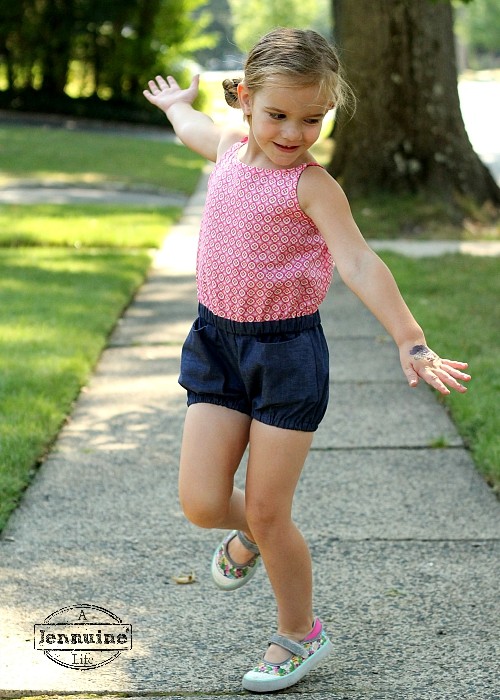 This is the shorts with elastic added to the hem for Hadley.  I mean – how cute is that?  The bodice fabric is lawn from Jo-Ann Fabrics – the Lisette line I believe but I'm not finding this one online to link.  The shorts are Robert Kaufman chambray (affiliate link) I bought from Imagine Gnats.  This is like the third garment I've made using this fabric and I am just in love with it!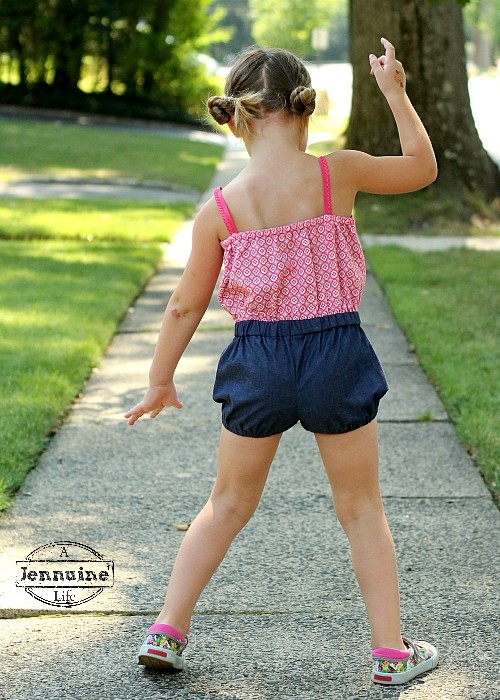 The pattern had one more revision after this version which added a little more depth to the rise on the shorts to keep it from creeping on the kiddos.  Hadley has a short enough torso/rise that she fit  this pair fine but a little extra breathing room never hurt anyone.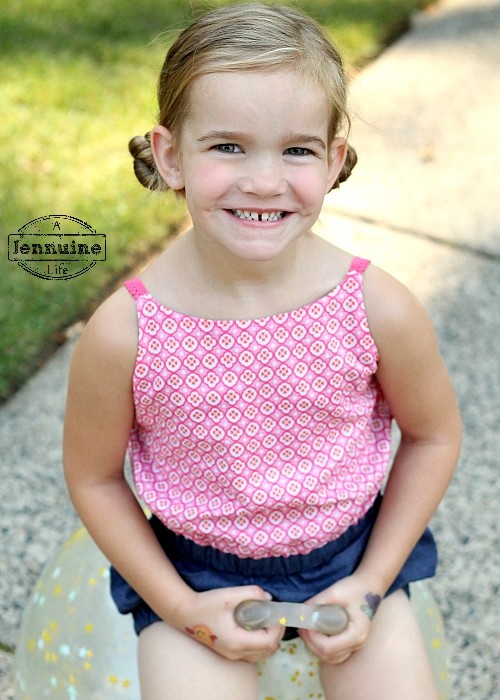 We had so much fun doing this quickie photo shoot on the sidewalk outside our house.  I had to do some editing though, as Hadley had a run-in with the seat on the rope swing bashing into her cheek.  Not too shabby if I do say so myself.  The timing was good for taking these because later that day she fell at our community pool and got a pretty big bruise on the opposite cheek.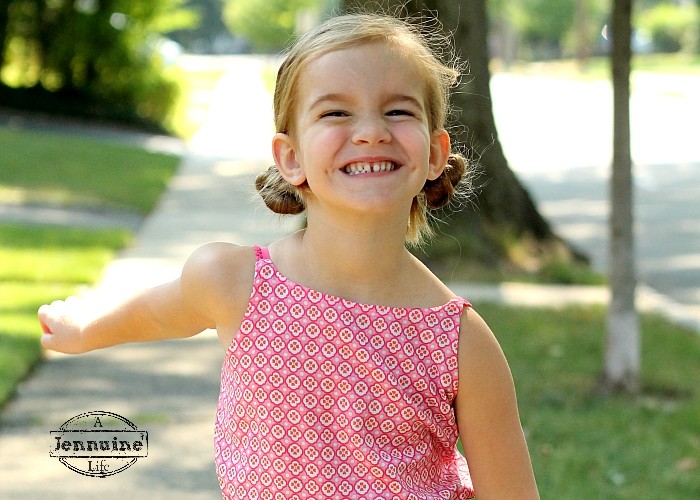 My little ham!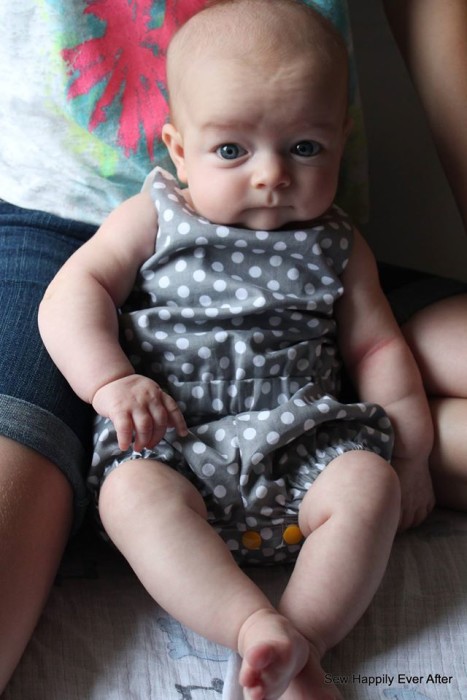 Here's one of our littlest testers with the snap opening.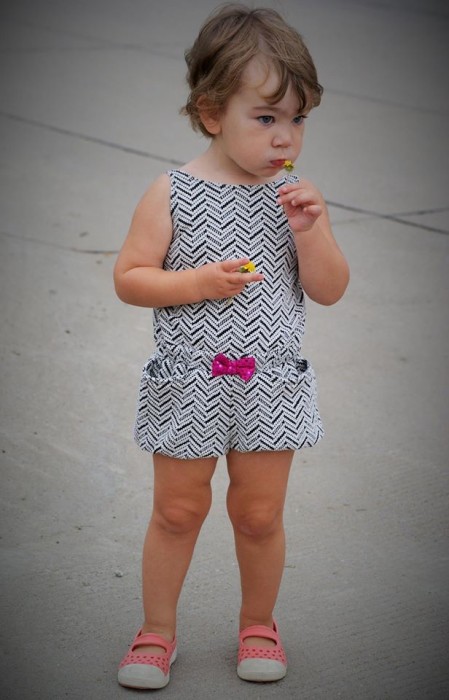 And if you're familiar with Shelly of Sew Shelly Sew you know she was itching to try it out in knit as soon as we were looking good with testing the woven version.  It world really well as you can see!  So give either fabric a try.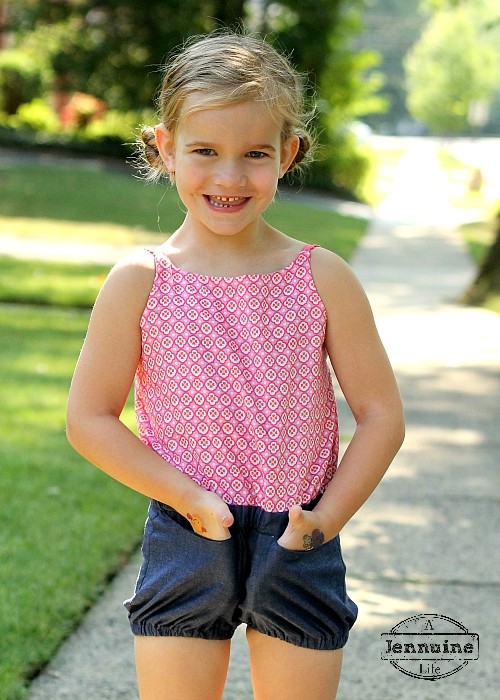 The design really originated from the pockets.  I had sketched out this sort of half-ellipse shape as a concept for slouchy joggers and gave them a go on this romper version.  After a meh attempt at a different bodice, I came to this version with the neckline mimicking the same curve and I love it!  And the rest is history.
I have a 25% discount in my shop with the release, use code "SATYARELEASE" at www.ajennuinelife.com/shop.