Today I have something fun to share – I'm participating in the Petit Oiseau pattern tour for Filles à Maman.  Hadley was the recipient of my last FAM tour with a Mimi Dress, so Arden is the winner today!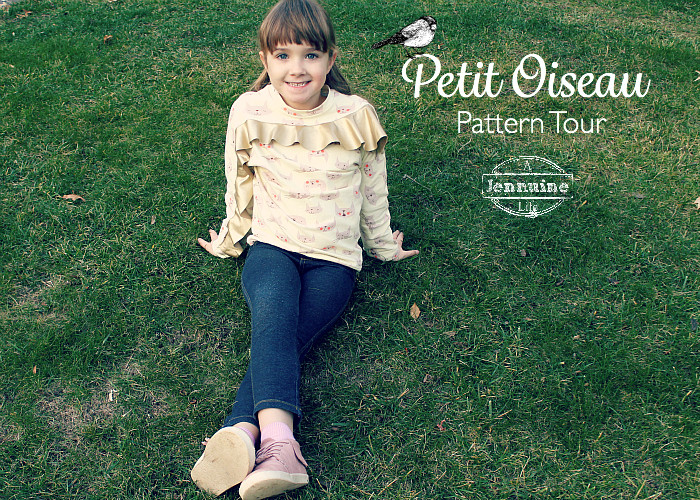 The Petit Oiseau is a girl's dolman shirt with unique asymmetrical piecing across the neckline continuing down one arm.  I did a quick search to find that oiseau means "bird" in French, so little bird is the meaning of the name.  Perfect description, right?  A flounce can be added like I did, or use it as an opportunity for color blocking.  For girls sized 12 months through 14 years, and both short and long sleeves.  The pattern has layers for printing only the sizes you need, and a no trim format so you can just overlap the pages and skip the trimming.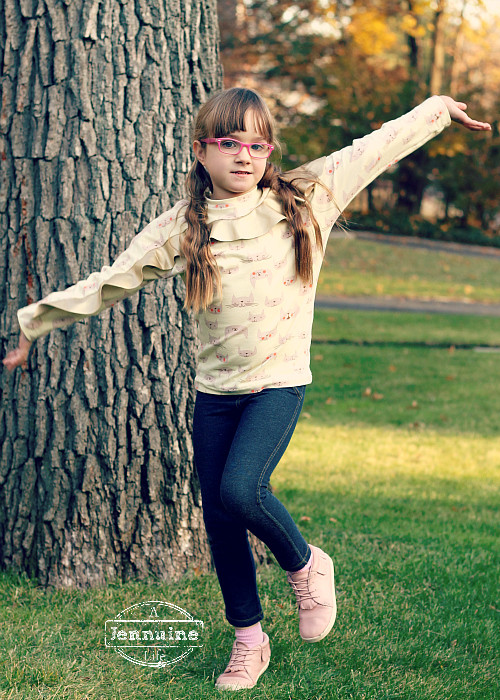 Since we're heading into winter (though it's been incredibly mild so far!) I made the long sleeved version.  The fabric is from Andover Fabrics – did you know they had knits?  It's part of The Hit Parade line by Lizzy House and those little modern kitties are so cute!  Giuseppe (@Giucy_Giuce on Instagram) at Andover sent me this fabric to show how lovely it is (and it is!).  It has a very nice hand and is on the heavier side – a lot like the European knits I've used.  It's 95% cotton/5% spandex so great recovery as well.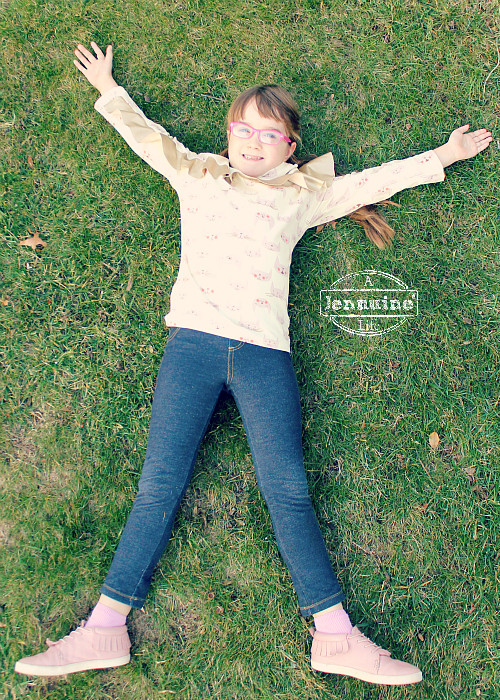 You may notice that my Petit Oiseau is opposite the pattern listings and other versions you may have seen.  That was all me – I cut the front pieces with the fabric facing down, which is entirely opposite the pattern instructions.  Once I realized, I just continued on, and cut my flounce out of gold vegan leather in the same manner.  The fit is great – this is a size 6 on my very-standard-measurement daughter.  Mel gives another option at the neckline to hem instead of the neck band and I think I'll try that next time to give it a more relaxed look.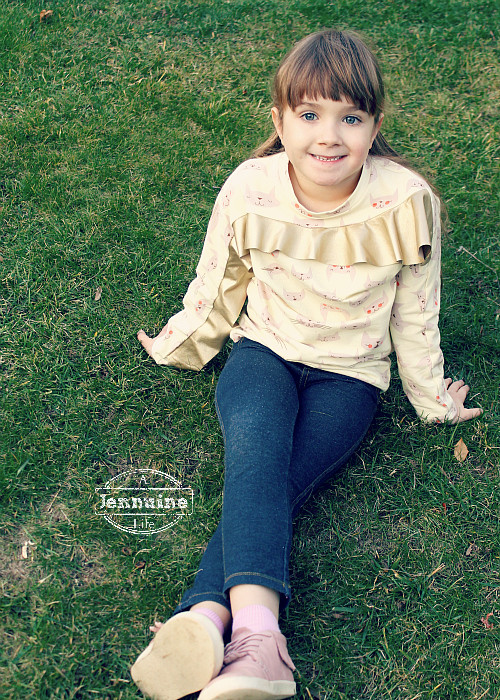 There's an amazing giveaway as part of the tour – enter using the Rafflecopter widget below for a chance to win 21 patterns from a wide variety of sponsors, myself included with one Jennuine Design pattern of the winner's choice:
I'm on the last day of the tour, so be sure to check out the other participants today and those that have already shared their versions earlier this week: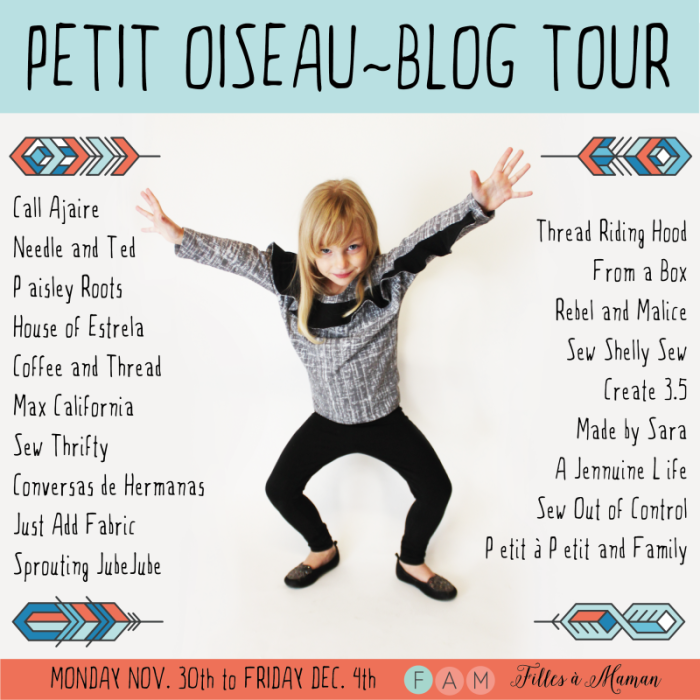 Monday, November 30th: Call Ajaire – Needle and Ted – Paisley Roots – House of Estrela
Tuesday December 1st: Coffee and Thread – Sew Thrifty – Conversas de Hermanas
Wednesday December 2nd: Just Add Fabric – Sprouting JubeJube – Thread Riding Hood – From a Box
Thursday December 3rd: Rebel and Malice – Sew Shelly Sew – Create 3.5 – Made by Sara
Friday December 4th: A Jennuine Life – Sew Out of Control –Petit à Petit and Family