It's LIVE!  Just before midnight last night, I published the Naples Dress and Tunic pattern.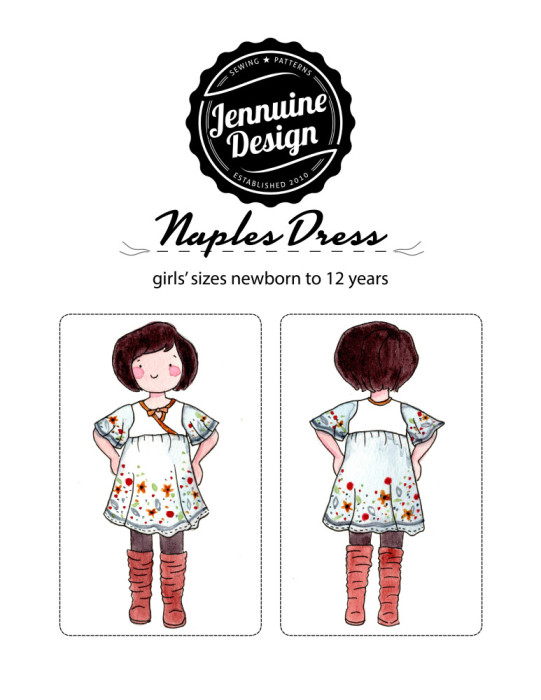 Phew!  Let me tell you – even with a really smooth test and no self-inflicted deadline, it's still nerve-racking and a ton of work getting a pattern published.  I'm so thankful my littles let me get a little extra rest this morning and now I'm refreshed and ready to go.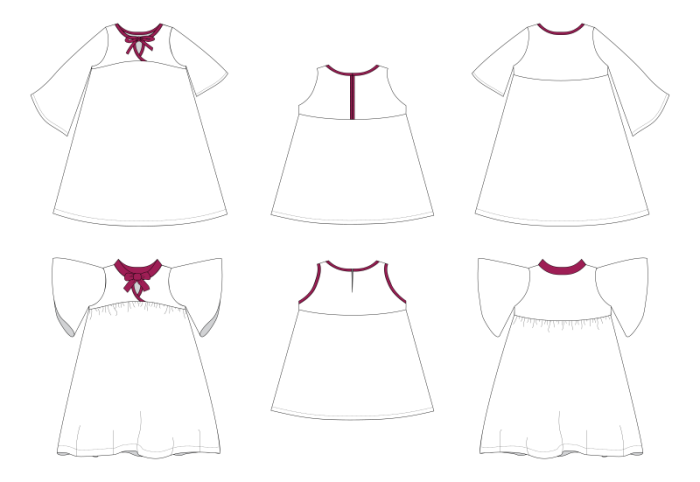 The Naples Dress has loads of options:
Neckline: button and loop, bias tie, wide bow, no closure, or get creative!
Sleeves: sleeveless, butterfly, or elbow or long bell sleeves.
Skirt: A-line or gathered
Length: Tunic or knee-length dress.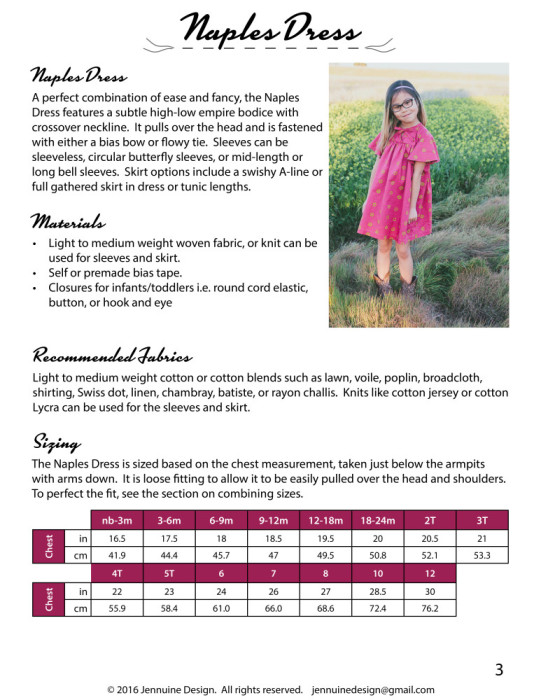 The Naples Dress evolved from my desire to have a cute A-line dress that would work with panels and border prints, similar to the version I adapted from my Haven Acres Blouse.  Once I began, I wanted to play around with the bodice and offer some fun sleeve options.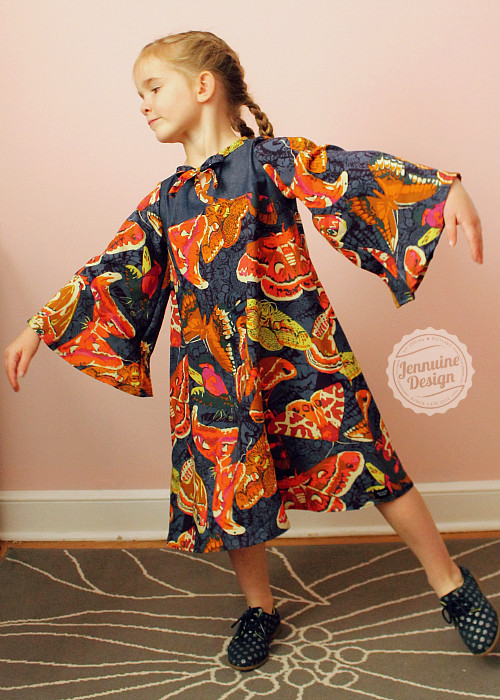 Those sleeves!  Hadley got to try the first version with the long bell sleeves.  She floated.  She fluttered.  She pranced around.  Second only to a really twirly skirt is a nice full sleeve, am I right?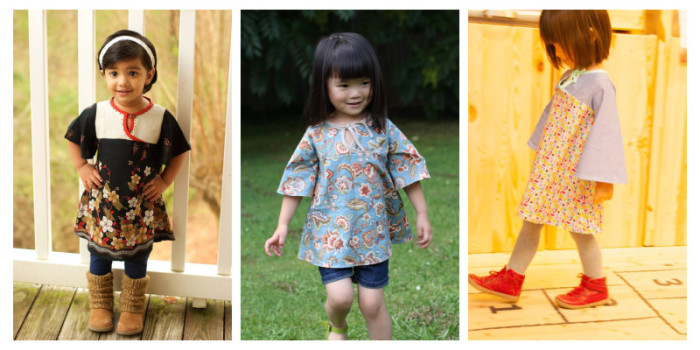 Here's a side by side of the three sleeve options, left to right: butterfly, elbow length bell, long bell.
The weight of the fabric can give a different look, the butterfly above and the one on Hadley that I made are both rayon challis, and the two bell sleeves above are both cotton.  I really want to try one in chiffon and see how that drapes.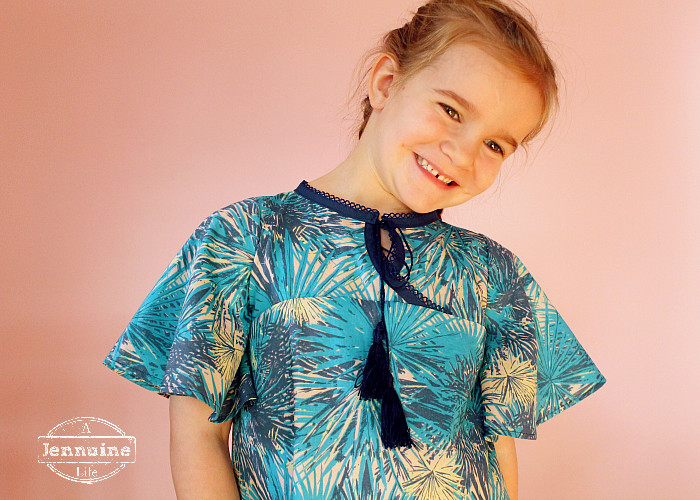 The neckline is fun with so many options.  This one that I made for Sharon Holland's Coastline fabric tour I added a tie with tassels and it really gives it a different look.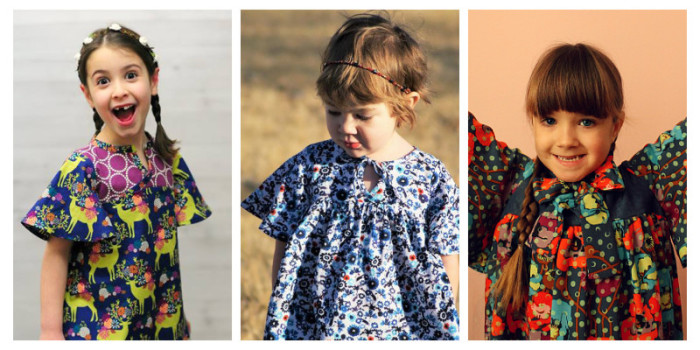 Some of the neckline options, left to right: No closure, bias tie, and wide bow.
I didn't include dimensions for the wide bow for sizes below 3T for safety reasons.  As always, use your best judgement about ties at the neckline for your children, and if you're sewing to sell check your countries' regulations for child safety to ensure your product is compliant.
I'm not sure which skirt is my favorite.  The gathered skirt would be great for a border print with the squared hem and it's more full and twirly.  As far as sewing, it's a bit of a trade off: the gathered skirt has to, well, be gathered which is always a bit of fussing to get even.  The A-line skirt meets the bodice without gathering, but then you have to hem that curved hem.  I've got you covered with some tips for hemming curves since there's curves a-plenty in this pattern!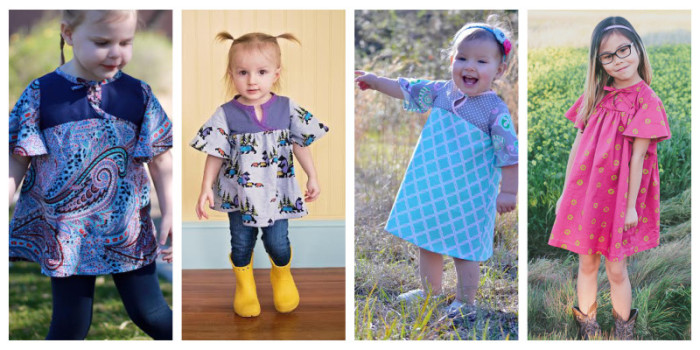 Skirts left to right: A-line tunic, gathered tunic (in knit!), A-line dress, gathered dress.
The Naples Dress and my entire shop is discounted 20% with code NAPLESRELEASE through Feb 21.  This code will work in both my shop and on Etsy.  The pattern is also listed on Craftsy, but that platform doesn't allow coupons.
As always, I'd love to see what you make!
Follow me on Instagram @jennuinedesign and share your Naples Dress using hashtag #NaplesDress and #JennuineDesign – tag me too!  On Facebook join the fun in the  Jennuine Design Pattern Group, or upload to Flickr pool.