I was involved in another project for Mouse House Creations, this time The Janie Dress.  The Janie Dress is for girls sized 6 months to 12 years.  It's on sale for $7 through Friday, after which it will be $9 regular price.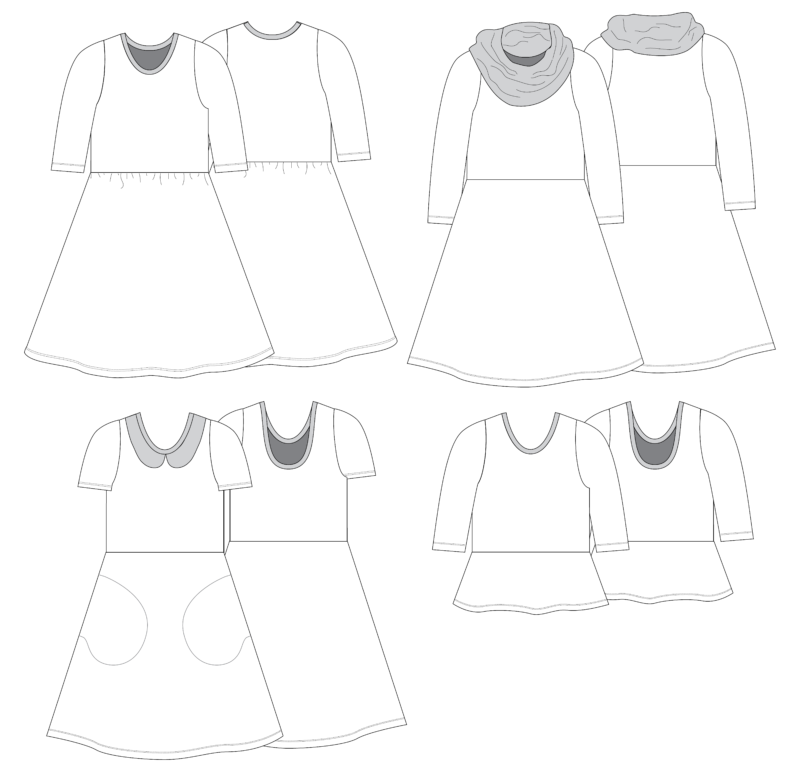 It features three different necklines: regular, ballet scoop back, and cowl.  There's also a mock collar for the front only – it is sewn into the shoulder seams which leaves the neckline unrestricted, and can even be made from woven fabrics if you use the scoop back to be sure there's enough space for your kiddo's melon to fit.
There's short, half-length and long sleeves.  The circle skirt can be made as a regular circle or a gathered circle and in knee or peplum length.  All skirt options can be cut as two pieces or with the fabric folded in quarters to make a seamless skirt.  The gathered circle skirt/peplum can be made using either knit or woven fabrics.  Also there are nice deep inseam pockets.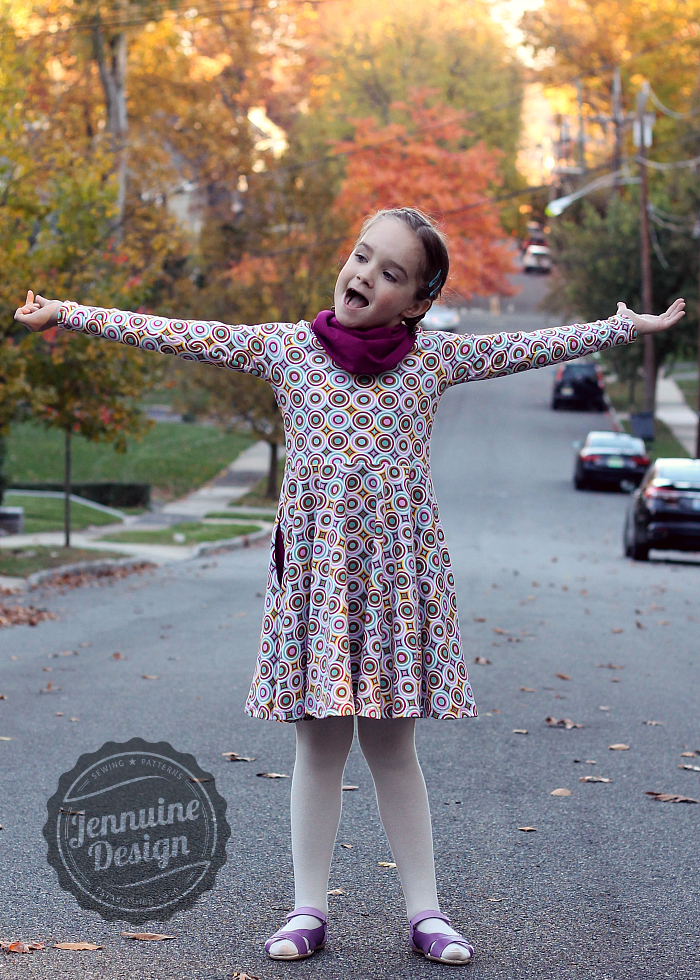 I made Arden the cowl neckline, long sleeve, with a two-piece skirt and pockets.  She measures for a size 7 chest and just a bit taller than that size.  Rather than lengthening, I just made my hem a little bit smaller than the tutorial calls for.  Now I love me a circle skirt, but pressing and hemming just went on for-ever!  Not any fault of the pattern, it's purely mathematical that it's a huge length to hem.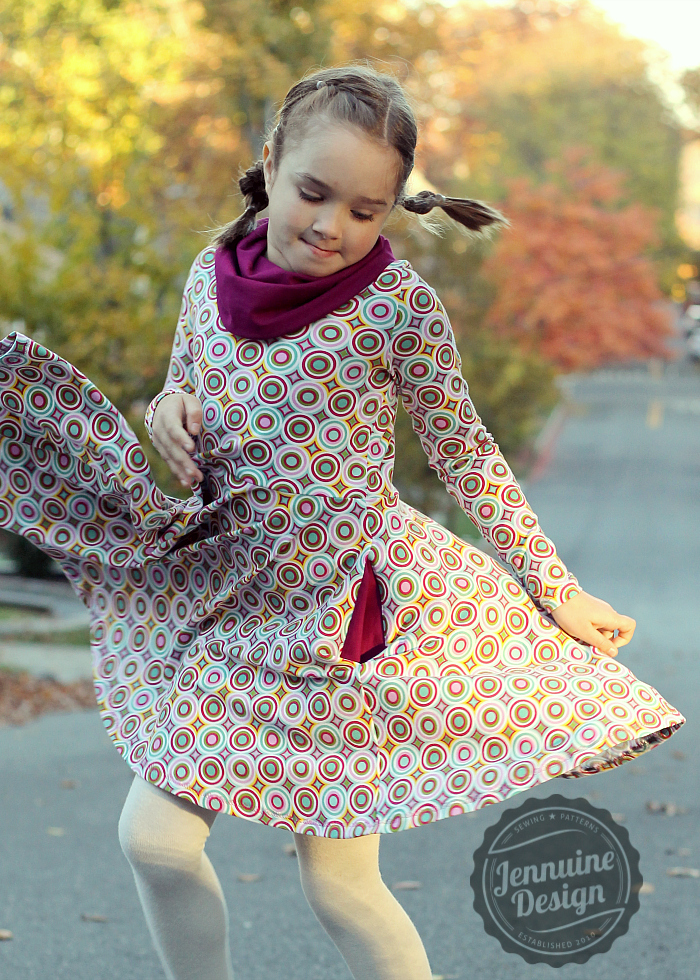 If you know me at ll, you know I'm a sucker for a nice big drapey cowl neck.  This will be so cozy and comfy for fall and winter.  We went up our street to the dead end at the top of the hill to take photos.  Our area of New Jersey is really hilly, and the autumn colors are at their peak right now.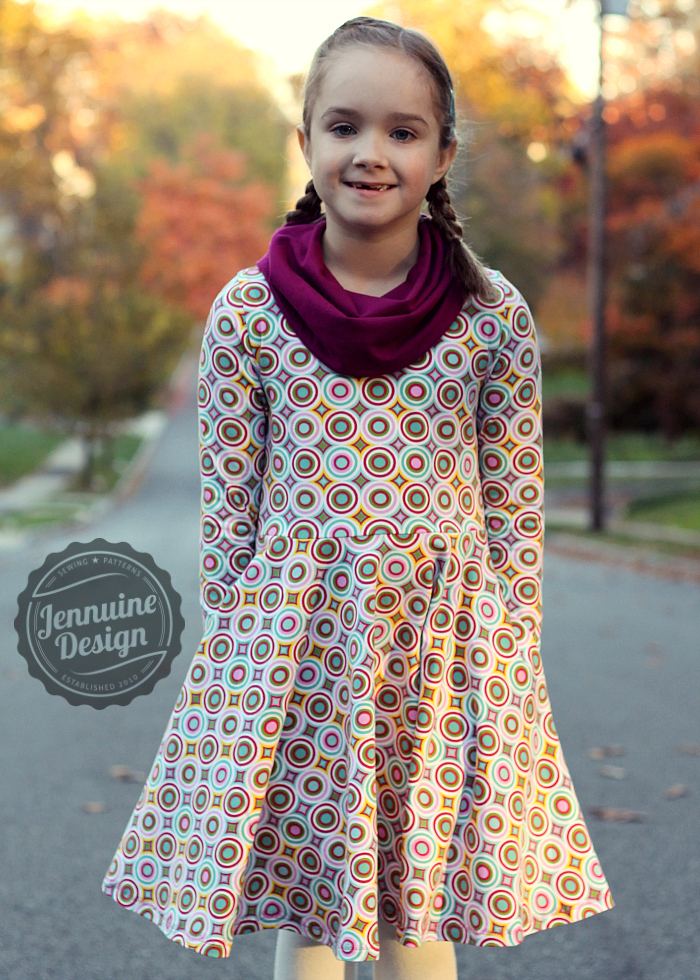 The fabrics I used are from the Emrose Fabrics clearance sale, which is still on for a while longer.  The circle print is Tante Ema BonBons in the turquoise/yellow colorway, and the solid is also Tante Ema, but it isn't in stock any longer.  There are several other coordinate solids available, and I have some of the aqua that matches to help use up the bits and bobs I have left.  The weight of these fabrics are really lovely, and are organic Oeko-Tex certified.  Be sure to go shop around because the sale is 50% off all the Euro knits until she's stocked out.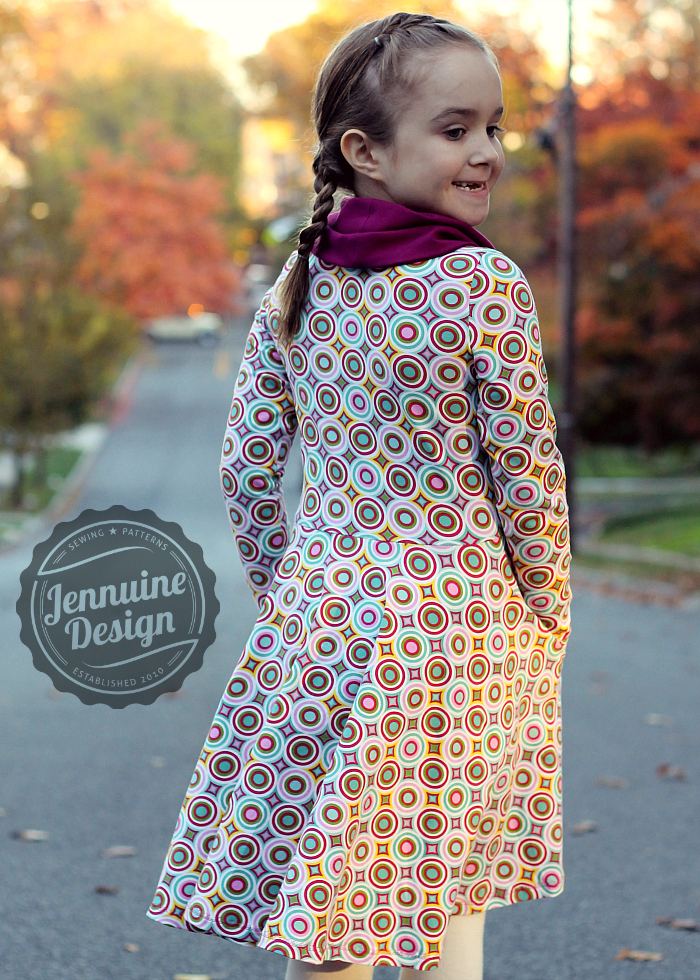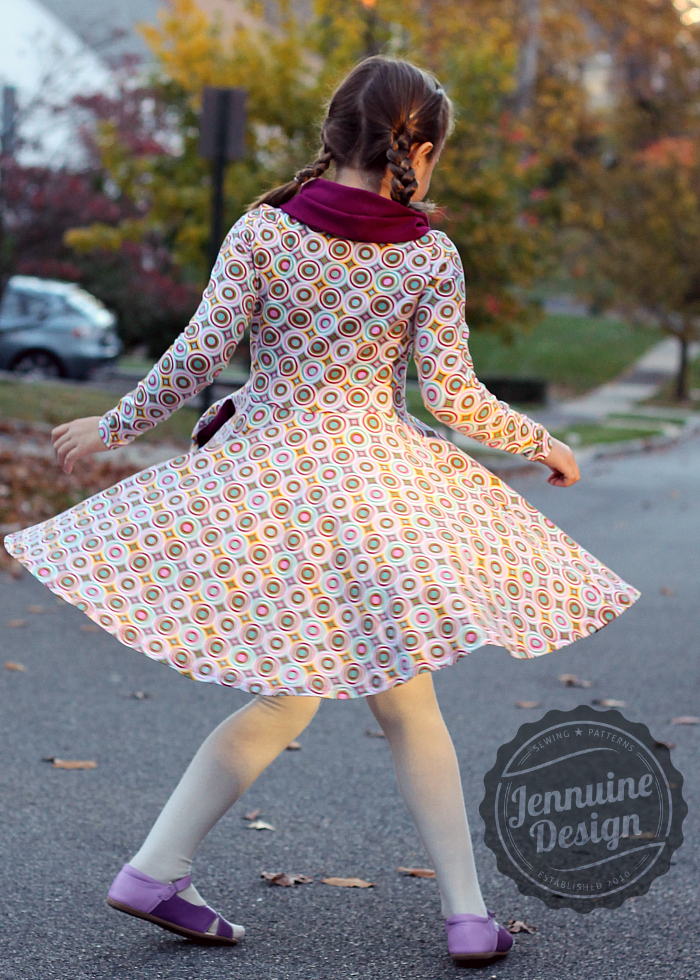 I love the fit on this dress, and Arden loves the twirl factor.  It's classic and fun and can be a canvas for a ton of different looks.  I really wish I had a cute pair of knee high or Chelsea boots for Arden to style these with, but we worked with what we had.  A pair of opaque tights and cute peep toe shoes from See Kai Run that she outgrew in a blink and borrowed back from Hadley for photos.  I may make a pair of leggings/tights/knee high socks with the same fabric from the cowl.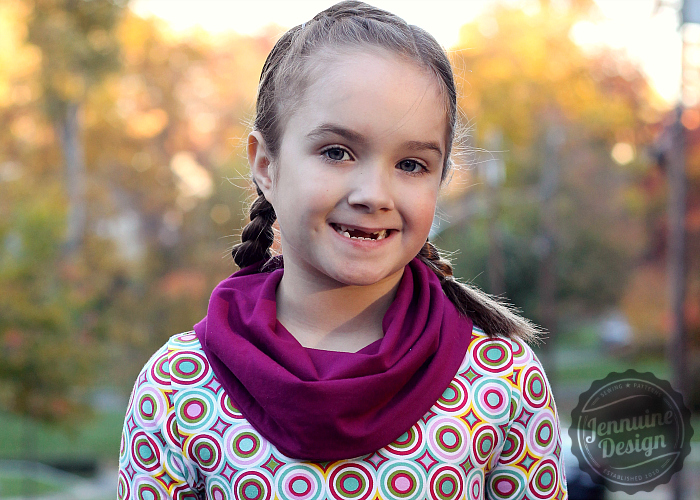 Arden's gap tooth smile is still showing, though the top two are beginning to come in.  She's also been growing her bangs out and after much trial and error I've found this style that works to tame the awkward growing out stage.  …and no more glasses!  We switched to a pediatric Ophthalmologist and she said the low level of correction she needs doesn't require glasses at this time.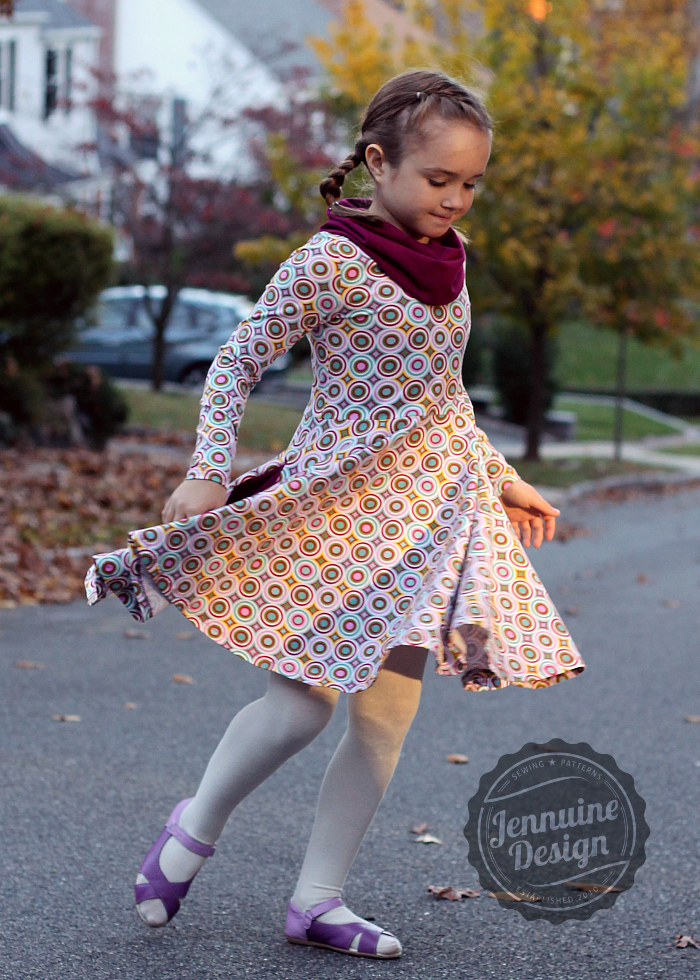 This is the second full size range pattern I've been contracted to draft and grade for Mouse House Creations.  I've been taking on contract projects in between my own patterns and have more projects in the works as well as more Jennuine Design patterns.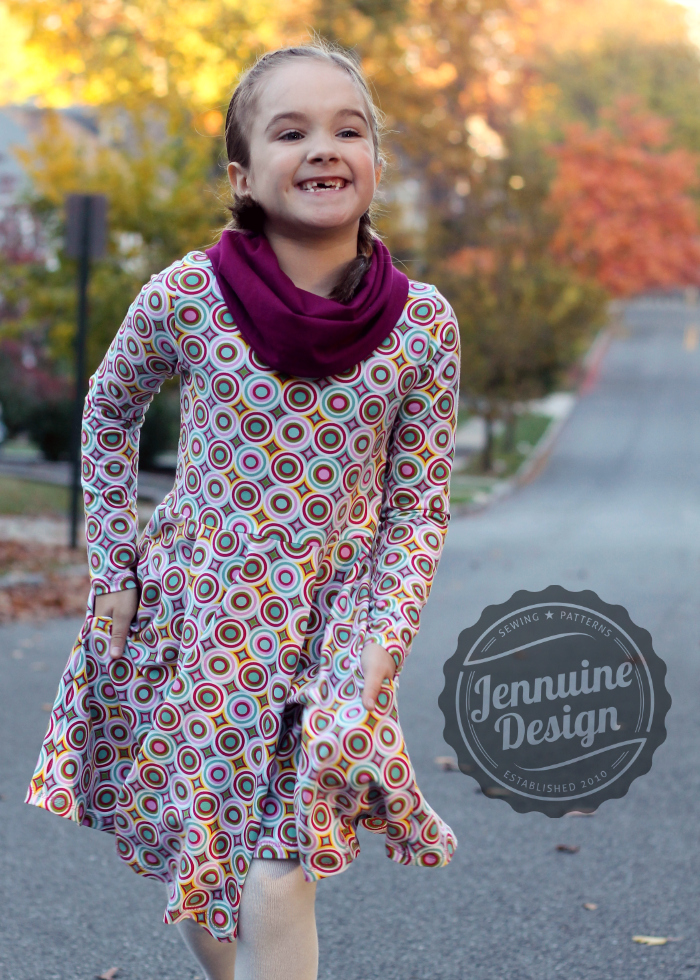 Outfit Details:
Pattern – The Janie Dress by Mouse House Creations
Fabrics – Emrose Fabrics
Shoes – See Kai Run (style no longer available)