Just in the nick of time, I sewed up this pair of adorable Pillow Pals Dolls from the recently released pattern by Heidi & Finn.  And I mean that quite literally!  I spent Christmas Eve sewing the dolls, putting in the last stitch to close up the opening from turning and stuffing at about 10PM.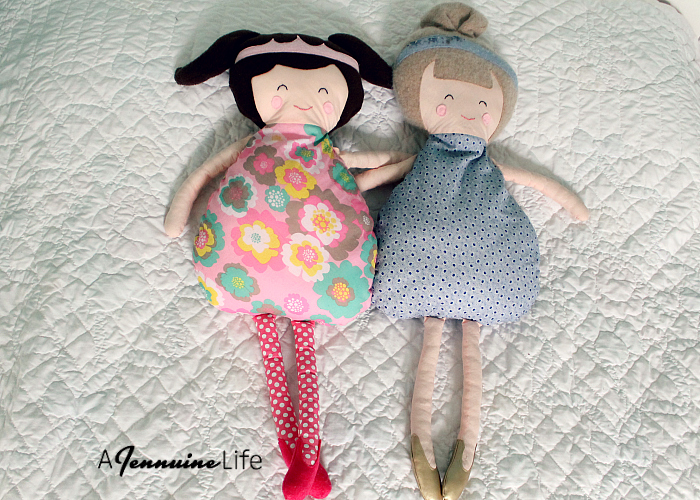 Of course, on the day I dedicated to making these, the girls decided it was a good day to spend the ENTIRE day playing and watching Netflix on the computer in the basement right next to my sewing studio.  There were a few times I had to casually toss something on top of a part that could have given away the surprise, but mostly they were oblivious to what I was doing.  I guess when Mommy sews a lot it all just blends into the background.
The construction is not difficult, and after making much smaller dolls the large scale of these make it a lot easier.  There are simply a number of steps with sewing the face, hair, stuffing different pieces etc.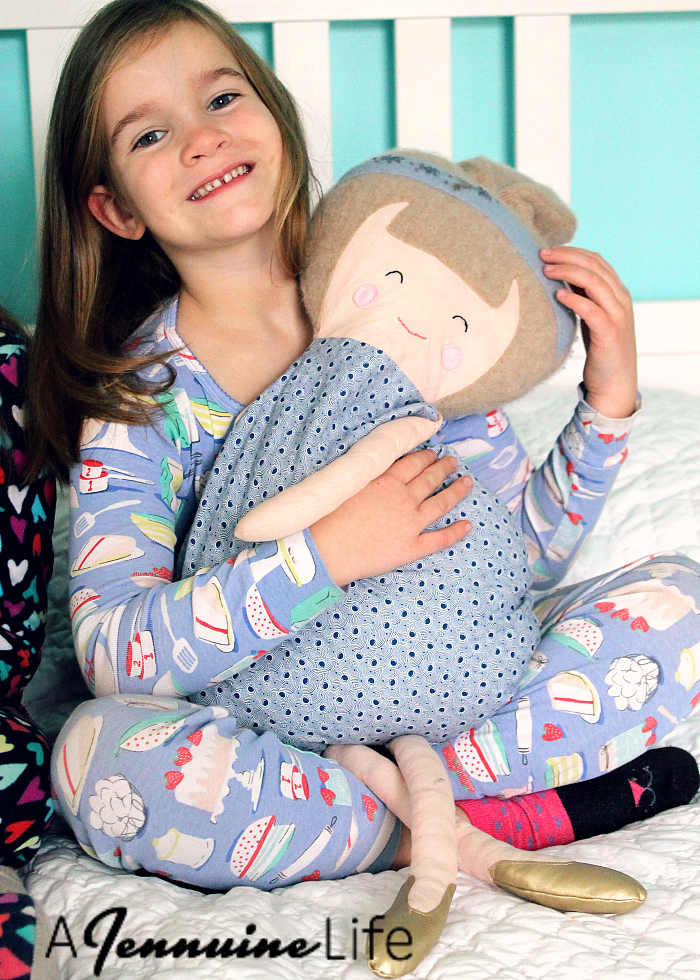 This is such a cute pattern with literally TONS of options!  I don't remember enough from my statistics class to tell you exactly how many combinations you could make, but let's let the different selections give you an idea:
3 body sizes
3 head styles
10 hair/hat styles + 4 optional hair style add ons like bun or ponytails
2 arm styles
2 leg styles + optional shoes for each
18 faces
13 accessory options
I was a little boring in my selections as I only varied in the hair styles and bun/ponytail add ons, and the headband/crown accessories.  Since I was sewing so last minute I just didn't want to add on too many decisions.  I used all materials from my stash: the doll on the left is made with dark brown hair out of fleece with a neat texture, the crown, cheeks, and shoes are felt  and the rest are woven cottons.  The doll on the right put a couple of fun felted wool sweaters to good use with the hair from a wool cashmere sweater (the bun is from a ribbed cuff so it adds another element of texture there), and the headband just barely fit onto a section of embroidered wool sweater.  Her shoes are vegan leather which are adorable so it makes up for being pretty much a pain to sew ;).  The rest are woven cottons as well.  You can use all variety of fabrics and Christine provides good instruction for the different types.
There are a lot of pages with all those options, but if unlike me you figured out what features you wanted before printing you could greatly reduce the amount of paper by only printing the pages on which your desired features appear.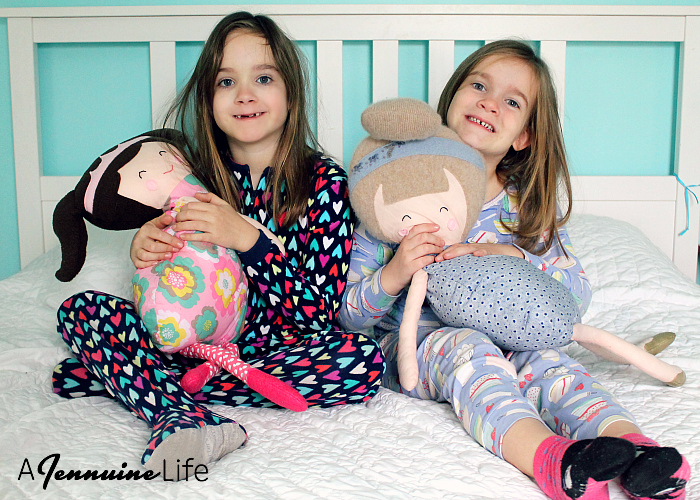 I hand embroidered the eyes and mouth using one of the face templates.  You can also use fabric paint or markers to make the faces, but doing it by hand only took a few minutes.
This pattern is not just for little girls.  There are plenty of options for cool boy dolls – superhero, aviator, pirate, or ninja; as well as a basic boy.  With all the hair and accessory options you can make a doll to feature whatever your kids interests are.  These would make a great gift for someone special!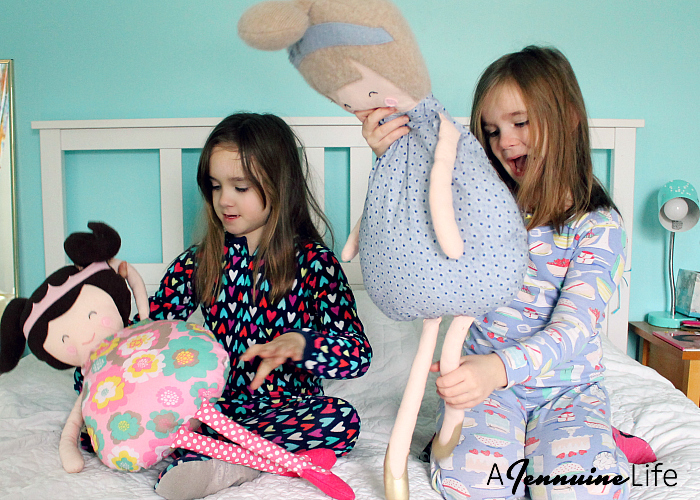 The girls truly love them, and have been sleeping with them every night since Christmas Day.  I had to de-lint them a bit from being dragged around so much.  On Instagram (@jennuinedesign) I shared a peek at both girls snuggled up sleeping with their dolls.  I definitely recommend this pattern!
Pattern Details
Pattern: Pillow Pals by Heidi & Finn