Here's the post you've all been waiting for!  Or, have I been prattling on to myself?  The wrap up and comparison of all four women's popover tunics: Hey June Cheyenne, Itch to Stitch Mila, Oliver + S Gallery Tunic, and Patterns for Pirates Everyday Elegance.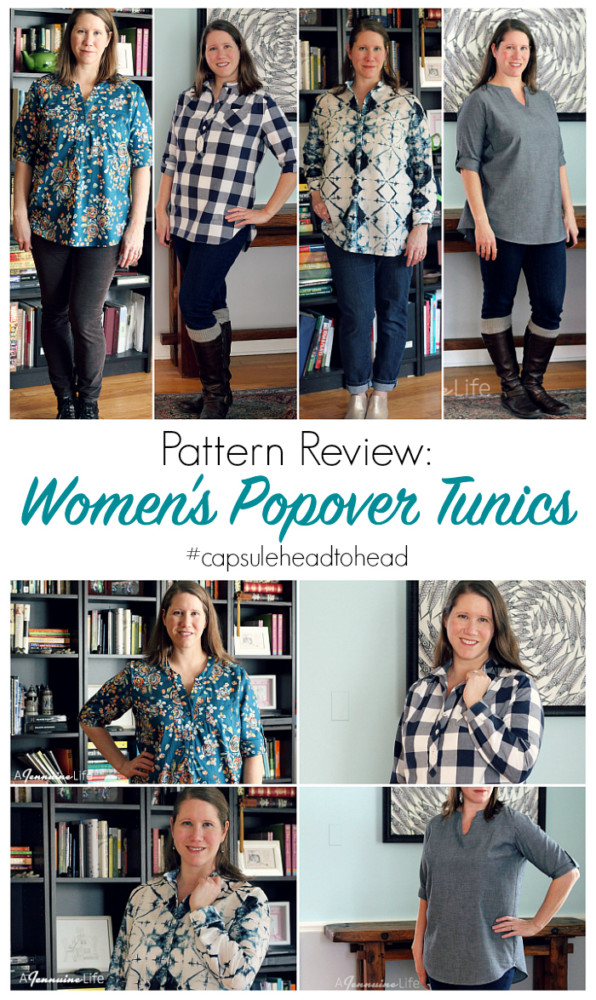 Here's a quick refresher of why I feel qualified to conduct this comparison: First, I was an internal auditor before having kids.  Reviewing and documenting work processes (pattern tutorial) and analyzing results (comparing features and fit) is what I did for over three years and beyond in different accounting roles.  Second, I don't typically have to do a lot of fitting for my body as I am relatively close to ASTM standards for my size.  If I do make adjustments, they are generally minor and more about my broad shoulders and D-cup breasts (B sewing cup).  Even though I'm usually making a size at the higher end of the range offered, they usually fit right out of the envelope (or printer).  I'm regularly asked to participate in pattern testing for women's patterns, and I believe being a fairly good "fit model" for the upper end of the size range is part of that.
My current relevant measurements are: 5'8″ tall.  40″ upper bust, 42″ full bust, 36″ waist, 39″ high hip, 42″ full hip.  I'm kind of between a rectangle and an hourglass, but I lean more towards a rectangle because I don't have a defined waist, particularly from the front.  I have broad shoulders and large trapezius muscles.  I also have a swayback, but I don't typically address this for tops.
I selected the size to sew based on the recommendation in the patterns, and made muslins for each to determine any fitting adjustments I needed to best fit my figure, which I'll discuss below.
The fabrics I used are all fairly similar in weight and drape.  Two are voile from Art Gallery, then a gingham and chambray from Robert Kaufman.  The voile I had enough yardage in my stash from Fabric.com, and I purchased the two Robert Kaufman fabrics from Raspberry Creek Fabrics for this challenge.
Overview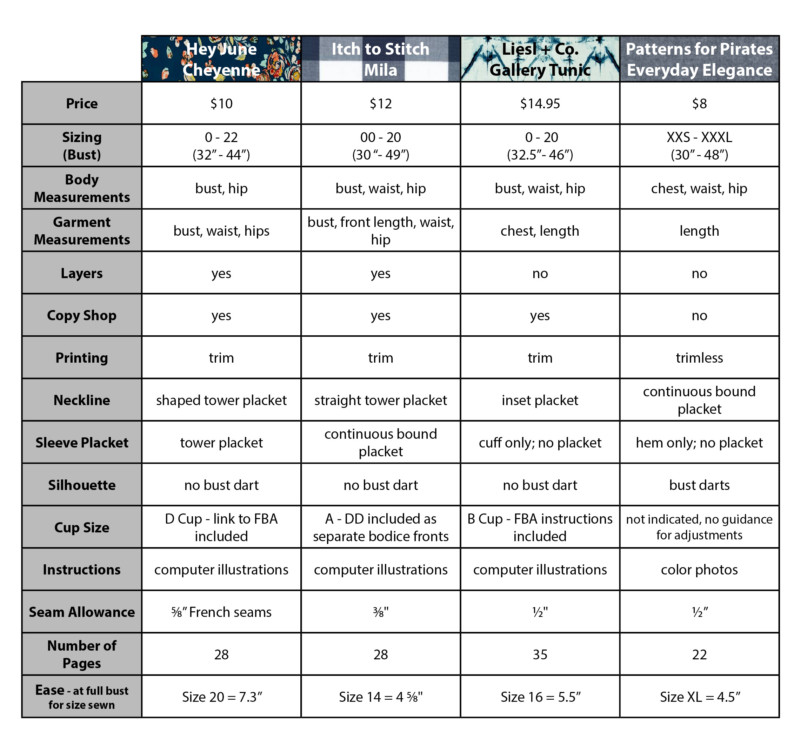 This table is an at-a-glance overview of the stats about each pattern.  I'll cover the details of each pattern in depth and then give a summary at the end.
Review
Hey June Cheyenne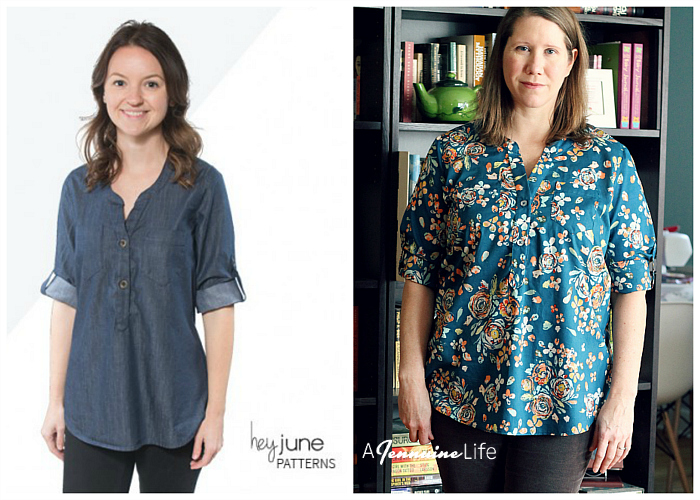 Printing, Assembling: Hey June patterns have layers for printing, and require trimming (my preference).  The tutorial gives the ranges for printing the back and sleeve that are common in both views and then the front pieces depending on option.   The sheets are matched up with triangles on each edge to form a diamond.  Everything matched well with no issues.  There is also a copy shop file included.
Drafting: A++  All the notches, drill holes, labels, grainlines, etc. are very clear and where needed, including button/buttonhole guides, pocket placement and lengthen/shorten lines.  As there are layers for printing, there are not text size labels, but the size lines are differentiated with different strokes etc.  I printed only the size I was making, but it would be easy to follow a size among the rest if you don't utilize that option.  The grading is even, which means the steps between sizes are the same.
Sewing/Construction:  Every single seam of the Cheyenne is enclosed, including French seamed sleeves and side seams, a double-layer yoke with enclosed shoulder and back seams – no serger required for a beautifully finished shirt.
I made note of one minor area of construction that I'll change on my next (and there will be more!) Cheyenne – the turn under for the collar made it a little difficult to catch into the collar edgestitching – the collar facing is pressed under 1/4″ and the collar is sewn with 3/8″.  When edgestitching I had to be very careful to not miss the turned under edge of the undercollar.
Recommended For: Everyone!  Particularly those with broad shoulders, as I have heard comments that they found the Cheyenne to be a little bit wide for them.
Itch to Stitch Mila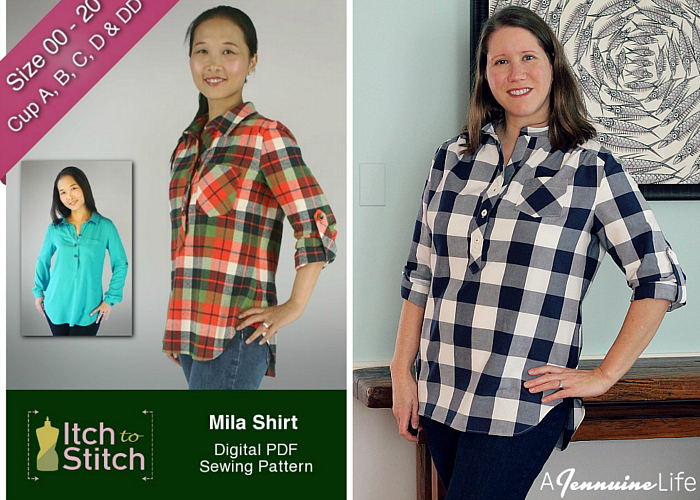 Printing, Assembling: Itch to Stitch patterns have layers for printing, and require trimming (my preference).  The tutorial gives the print ranges for printing the pieces that are common in all cup sizes and then the pages for the corresponding cup sizes.   As you assemble the pattern, the upper front bodice with the cup size you've selected is attached to the lower front.  The sheets are matched up with triangles on each corner to form a diamond.  Everything matched well with no issues.  There is also a copy shop file included.
Drafting:  Kennis' drafting is top-notch.  All the markings are there, and she even goes what I'd call a step beyond by offering separate pattern pieces for the collar and undercollar so the collar lays nicely.  Some patterns will give instructions to shift or trim the undercollar, but here the work has been done for you.  Separate pattern pieces are given for the interfacing.  I really like the way the tower placket is laid out – it made it much easier to get the centered alignment you see on my placket.
Sewing/Construction: Sewing was smooth sailing with the Mila.  The placket instructions were precise as long as you could keep track of the fold numbers as you pressed and sewed the tower placket.  The markings on the pattern piece made it superbly easy to get a precise alignment as you see in my shirt.  The side seams and sleeve do require finishing, but the rest of the seams were all nicely enclosed.
Recommended For:  Those who typically need to adjust bust sizing with either a full bust or small bust.  The separate cup sizing makes this incredibly easy.  I would also say petites will find the proportions more to their liking, and non-petites and those on the higher end of the size range just need to watch sleeve length, cuff width and pocket size and placement.  The Mila had the most inclusive size range of the patterns I reviewed, so those at the far ranges of the sizing may find a hit here where they just miss on other patterns.
Liesl + Co. Gallery Tunic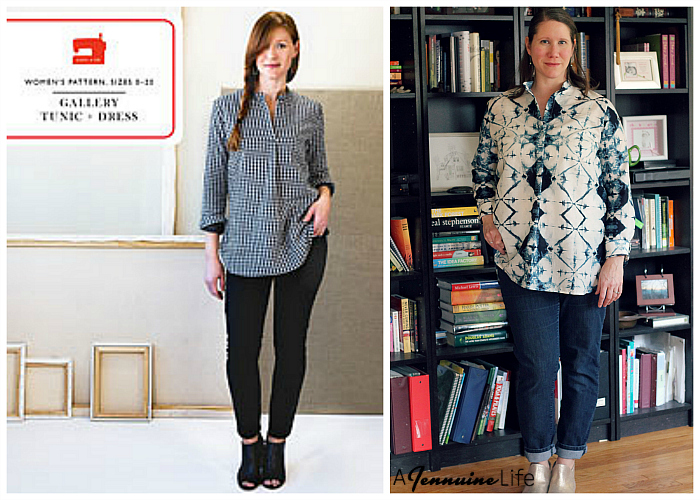 Printing, Assembling:  This is only the second PDF version of a Liesl + Co./Oliver + S pattern I've printed.  I had heard grumblings about the layout not being good for paper economy, but it looks like they've made a strong effort to remedy that – with intriguing result.  There are not layers and the pattern requires trimming (again, my preference).  The background is a 1″ grid and labeled with letter number combination at the joins.  The intriguing part is that as you trim and place as usual, there are smaller pieces you trim away which are then rotated and added in a different area.  Once I got the hang of it, things were perfectly fine and it was kind of like a simple jigsaw puzzle.  As a designer who spends a lot of time shuffling pattern pieces around like Tetris to try to conserve paper I'm just really curious how this effect is achieved!  I know Liesl + Co. isn't using Adobe products for drafting, but that's likely where they've tiled the pattern and I don't know where to begin to understand this.  Oh well, mysteries of life I guess!  The end result is that the pattern went together just fine and any minute misalignments were obviously from how my printer fed the paper, which is common.
Drafting:  Grade A.  All the notches, drill holes, labels, grainlines, etc. are very clear and where needed, right down to alignment marks and a notch on the pocket – and lengthen/shorten lines.  There are text size labels throughout.  The grading is even for most pieces, which means the steps between sizes is the same, but there does appear to be a separate grouping for the smaller and larger body widths with greater steps between the larger sizes.  There are separate guides for the placket and button/buttonhole placement on the cuff.
Sewing/Construction:  There were a couple areas I was slightly less impressed with the construction of the Gallery Tunic – the placket/facing at the neckline is less polished than a tower or shaped placket as seen on the Cheyenne or Mila, but it's still an appropriate method.  The way the sleeve placket is formed is not my favorite, but the collar is beautiful.
Recommended For:  Those looking for a more relaxed silhouette and simplified placket techniques.  I ended up with a lot of volume on my Gallery Tunic, which is in part due to a larger cup size, so I'd also venture to say those with smaller busts would be happier with the Gallery.
Patterns for Pirates Everyday Elegance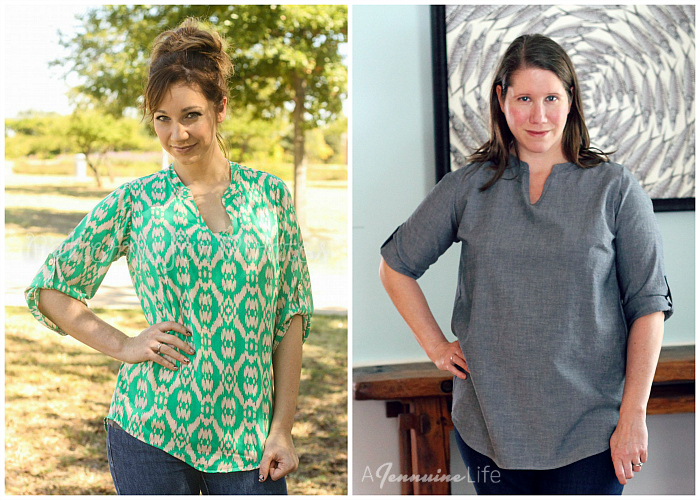 Printing, Assembling: This is a trimless pattern, so you overlap the pages and align a number/letter combo in the corners.  As trimless patterns go, this one went together well enough.
Drafting:  There are some areas that worked well and others not so much.  Grainlines are marked on the pattern pieces, and there are some notches to help with alignment.  The original sleeve has notches for gathering, but those marks are roughly the same distance apart for the smallest and largest size.  This means my XL had the same amount of space gathered very tightly as the XXS on two very differently sized sleeve caps.  On my muslin I was left with about an inch and a half into which to fit the gathered section.  I forgot to mention the dart in my review of the Everyday Elegance, but the dart bulk was not trued to the side seams correctly.  Dart bulk is the excess triangle to the outside of the side seam which, after the dart is sewn and pressed, matches to the side seam.  It was not so far off that it was not enclosed in the seam allowance when the side seams were sewn and serged.
Sewing/Construction:  I feel the construction was sorely lacking on the Everyday Elegance.  Seams that could easily be enclosed were not like the collar and yoke.  The neckline placket was more appropriate to a cuff or a skirt placket and did not lay nicely.
A thought occurred to me repeatedly while I was muslining and sewing the Everyday Elegance: pattern drafting and mathematics have a lot of similarities.  In mathematics, there is often more than one way to solve an equation, but some are considered more elegant than others – they take fewer steps or show an innovative concept.  The play/movie Proof speaks about this at length.  Unfortunately for the Everyday Elegance, the "elegance" is sorely lacking.
Recommended For:  Honestly I don't recommend this pattern.  If I had to give an area where this pattern would be most successful, I'd say someone with fabrics with tons of drape and looking for a quick sew and doesn't mind construction shortcuts.
Comparison by Features
Neckline
Cheyenne has a shaped tower placket which is relaxed and wide.  Mila has a straight tower placket which comes straight up to the neckline.  Gallery has a Y-shaped inset placket/facing which also comes up to the neckline.  Everyday Elegance has a continuous bound placket shaped into a "v".
All four have nicely shaped collars or collar stands.  Cheyenne and Itch to Stitch are machine sewn to enclose the neckline, and the Gallery is instructed to hand sew the undercollar.  Everyday Elegance does not enclose the neckline in the collar.
While it's a touch lower than I'd prefer, I like the shaping of the Cheyenne neckline the most.  I think it's flattering and draws attention away from my solid shoulders.  Next is the Mila and then the Gallery.  The Everyday Elegance lags behind with an atypical application of a continuous bound placket and "quick and dirty" instructions for the collar.
Bust
Cheyenne is a relaxed fit with no bust darts.  A link is provided to a tutorial to adjust for a full bust if needed.  Mila has the handy-dandy interchangeable cup sized upper bodices.  Gallery is another relaxed fit with no darts, but a tutorial is included to draft a full bust adjustment.  I had some difficulty with the darts initially ending too close to my apex, but I don't know whether that was the instructions or my error.  Everyday Elegance has a dart included.  There is no mention of what cup size the pattern is drafted for, nor how to adjust the dart if needed.
Mila is a clear winner in this area.  I would put Gallery and Cheyenne right behind that, and Everyday Elegance last.
Shoulders
Cheyenne, Mila and Gallery all have an eased sleeve with no gathering.  All three of those set in or were sewn flat without issues.  The Everyday Elegance relies on a gathered sleeve cap which resulted in a puff of tight gathering on my muslin, so I swapped the Gallery sleeve in it's place.  I have to question if this style of sleeve was used to mask inadequate knowledge of how to draft this area?  I know my earliest patterns are gathered because I was unsure of the drafting (and puff sleeves are cute on little girls!).  This pattern is from 2014, maybe they've also gained drafting skills?  I now love a good eased sleeve and enjoy working out variations.
The Cheyenne has the most relaxed, or widest set shoulders of the four I compared.  That's a bonus to me since I often need to adjust the shoulders on patterns.  If you've got narrower shoulders this may put a mark in the negative column.  The Mila and Gallery have similar width shoulders, ending right at the point of my shoulder.  I had to make a forward shoulder adjustment on the Gallery, which isn't unusual for me, but it was a larger adjustment than I've ever made before.  The Everyday Elegance shoulders had a host of issues.
For shoulders I rank in order from best to worst: Cheyenne, Mila, Gallery, and once again trailing behind, the Everyday Elegance.
Sleeves/Cuffs
Cheyenne has a tower placket for the proportionately sized cuff and French seamed sleeves.  The length is just a touch on the long side, which I greatly prefer over the alternative.  Mila had a narrow continuous bound placket, what I feel is a too narrow cuff, and serged sleeves.  The length is a touch on the short side for me, and I don't have particularly long arms.  Gallery has the strange hemmed placket I discussed in the review, proportionately sized cuff, and serged sleeves.  The length is good, but the width across my biceps is a litle tight.  I do have a full upper arm so I'll call that an issue particular to my body, but I didn't experience this with the other sleeves.  The Everyday Elegance sleeve was such a bad fit in my size that I swapped the Gallery sleeve.  There is no cuff or placket on the original Everyday Elegance sleeve; it is hemmed and shown rolled and fastened
Again in order of preference is Cheyenne, Mila, Gallery and then Everyday Elegance.  I would have swapped the Gallery and Mila if the Gallery had used a different placket construction as I preferred the length and proportion of the cuff.
Back/Hem
Cheyenne is the only pattern that doesn't have an inverted box pleat in the back, and the Gallery is the only one without a yoke.  The yoke on the Everyday Elegance is single layer, missing an opportunity to enclose the shoulder and yoke seams.
The Cheyenne, with French side seams has you hem the shirt before sewing the side and sleeve seams with French seams.  Because of this order of construction, the more "petal" look of the hem works well.  The rest of the hems are narrow curved hems, all with slightly different shapes.
I wish I could mix and match the features, and maybe I will someday?  I love the deep shirttail hem on the Gallery with the back slightly longer than the front, but I like a yoke much more than the way the upper back is designed on the Gallery.
My ranking based on back and hem features: Mila, Cheyenne, Gallery and then Everyday Elegance.
Value
I think the Cheyenne is an amazing bargain at $10 – two very distinct views which would easily be two different patterns from another designer, professional finishes, a helpful sew along and a large size range.
Similarly I think the Mila is also priced well at $12.  It has the largest size range AND the cup sizing, which is a significant amount of work to offer in a pattern.
Oliver + S and Liesl + Co. are known for being a little pricier than most patterns, and I think their reputation merits that pricing.  They also have printed patterns available which affects price points for PDF as many distributors won't carry paper if the PDF is listed for less.  There is a dress version included, though that's a relatively easy option to offer.  The Gallery is regularly listed for $14.95.
The Everyday Elegance is the least expensive of the four patterns I reviewed at $8, but with the less professional finishes and drafting issues I think it's good that it's priced lower than similar patterns.
Summary
Drumroll, please!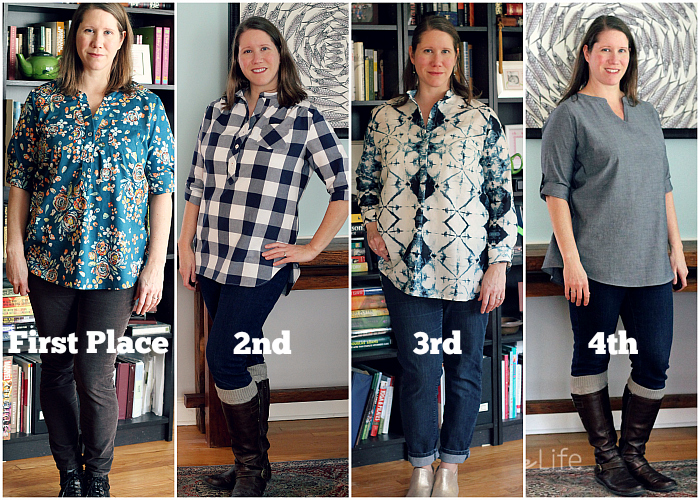 I doubt this is a surprise if you've read through the synopsis of each pattern as well as the comparison by feature.  Cheyenne was my favorite of the four.  Mila was a VERY close second and I've worn that one about the same amount since making it.  The Gallery Tunic will definitely get worn regularly.  The Everyday Elegance… well, I'm considering ripping the sleeves off to see if I feel more comfortable in it.
I've heard plenty of comments since I posted my review yesterday that the Everyday Elegance I made is flattering and looks nice on me.  I wanted to clarify that while it may look okay, it isn't comfortable at all.  The shoulders feel very restricted and I have to tug the front down to make it sit evenly on my shoulders
I'd love for this review to become a discussion about features and patterns that you prefer.  Comment away!