I'm excited to share this project from a new pattern collection releasing this Friday from Jalie, the Galaxie Collection.  Jalie Patterns has recently started a promotions team and I applied to become a member (I was accepted).  I've sewn several Jalie patterns and have a great affection for the precision drafting, wide size range, and concise instructions.
Galaxie is a collection of four different patterns, most with different sizes for a total of eight patterns.  There are three sizes of Bento style bags which are a quick-sew project perfect for gift giving, named Pluton/Neptune/Mercure.  There is a zippered box pouch named Mars.  I made one of the drawstring bags and tote bags – this size is the Jupiter drawstring bag and Saturne tote bag.  There are larger sized versions called Sirius and Soleil.  The drawstring and tote bags can be made as separate bags, or attached together as I have.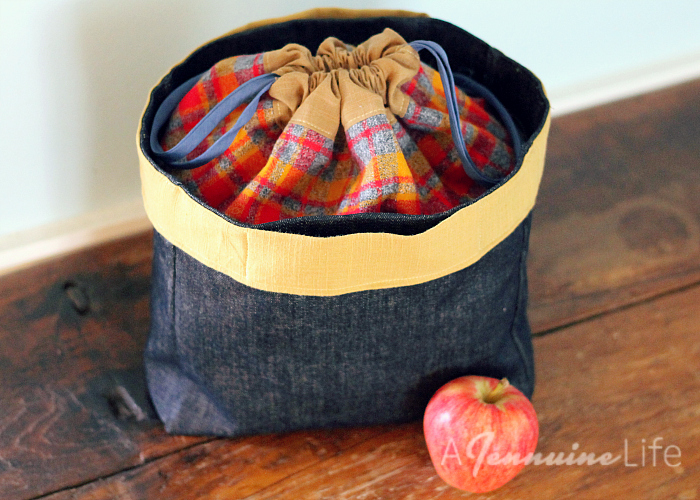 This Jupiter/Saturne bag is the perfect size for a lunch tote.  I made this one for my husband as an upgrade to the little bag I had made previously, which was a little small for his man-sized lunches.  This tote comfortably held three 32 oz/4 cup containers with room for the apple and water bottle on top.  The drawstring bag closes neatly to keep everything secure.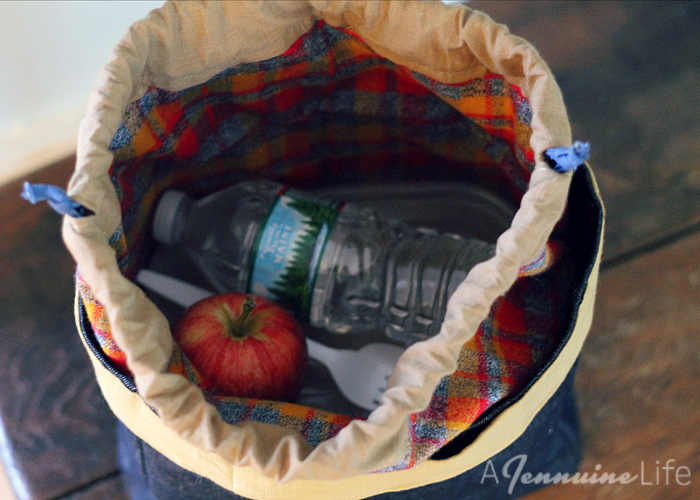 Packed up and ready for a day at the office (or lab, my husband is a Physicist).  I printed and sewed this pattern in one evening.  It's a very straightforward sew, but with nice finishes.  The side and bottom seams are all French seams and the casing on the drawstring bag encloses the top edge.  I used heavier waxed denim for the body of my bag and that did give me a touch of trouble when sewing the band over something like twelve layers of denim.  I hammered the seam allowances to compress them and after that everything went smoothly.  The drawstring bag is attached to the tote along the bottom boxed corners so everything stays together if you choose this combo option.
The band around the top forms handles for easy carrying.  Hadley is home sick today, so she graciously offered her services as product demonstrator.
Galaxie will release on Friday, November 24th.  This pattern is on special for the release – take 50% off with coupon code 50OFF2017, valid from November 24th, to Nov. 27 EST. This pattern will be available in PDF only.  All these patterns are perfect for holiday gift giving, either as the packaging or as the gift itself!