Woah, it certainly took me a while to swing back to the next review in my stretch woven pull-on pants comparison with this review of Laela Jeyne Scarlett Moto Skinnies.  To refresh your memory, I made shorts-length muslins of four different patterns, and have completed my review of Jalie Éléonore Pull-on Jeans.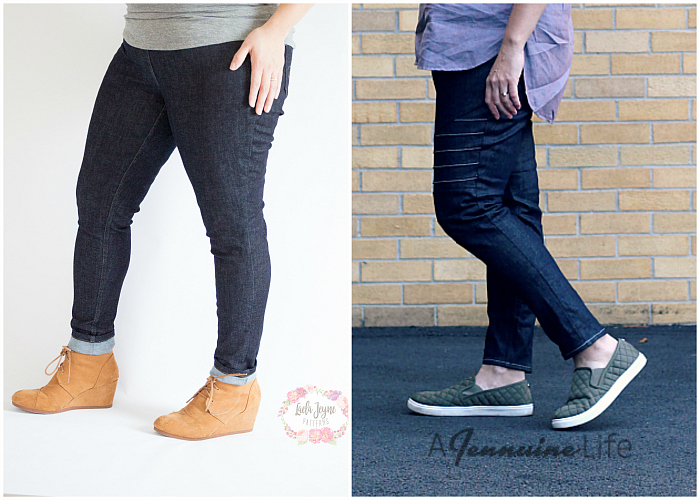 I missed the exact pose in my recreation of the pattern listing cover for Laela Jeyne Scarlett Moto Skinnies.  Oh, well…
Pattern Details: Scarlett Moto Skinnies is for women's sizes from 00 to 26, which covers 34″ to 54″ hip.  There are two views: plain and moto style, and two waistband options: knit or woven with a side zip.  I'm sewing the moto style pant with the woven waistband.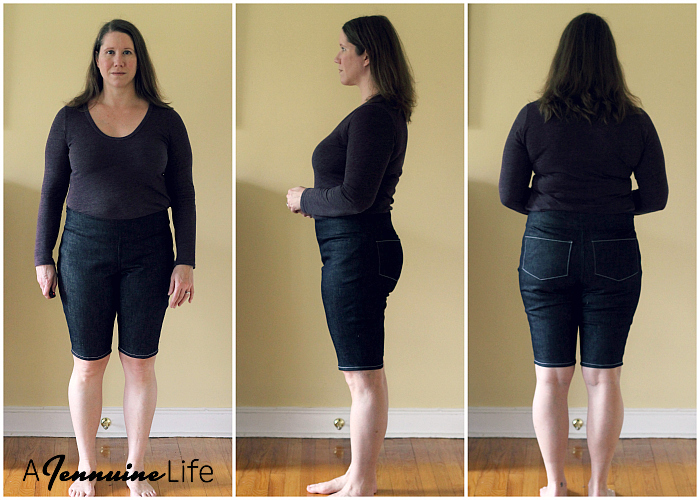 I muslined the Scarlett Moto Skinnies way back in April with a shorts length and without the moto details. My learnings from that test pair were that I needed to slim the hips by about 1/4″.  I also learned that the invisible zipper was not a good match with my heavier weight waxed denim so I used a regular metal zipper in my final pair; more on that later.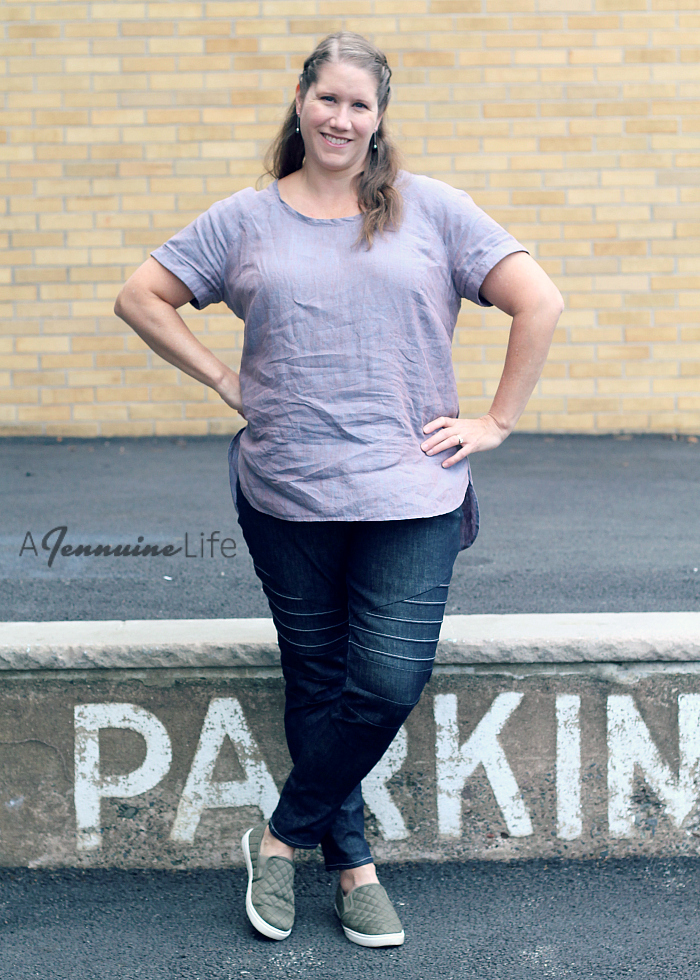 Drafting:  Drafting looks clean and mostly evenly graded.  There appears to be two size groupings for grading: 00 to 14 and 16 to 26.  Seam allowances are trued and grainlines are marked.  There are lengthen/shorten lines at the thigh, knee, and calf which is great to distribute any length adjustments needed.  There aren't any notches, but I have to say there aren't really any tricky spots for alignment in this pattern.  I appreciate the detailed work it must have been to work out the step-ladder shape to form the tucked moto panels.  Both waistbands are contoured – the woven is curved and the knit has a shaped side seam.
The pattern has layers, so you can print only the size(s) you need which I appreciate on the more intricately overlapped areas on the small moto pieces.  It is a no-trim pattern and has guidelines for both US letter and A4 paper sizes.  There is also an A0 copy shop file.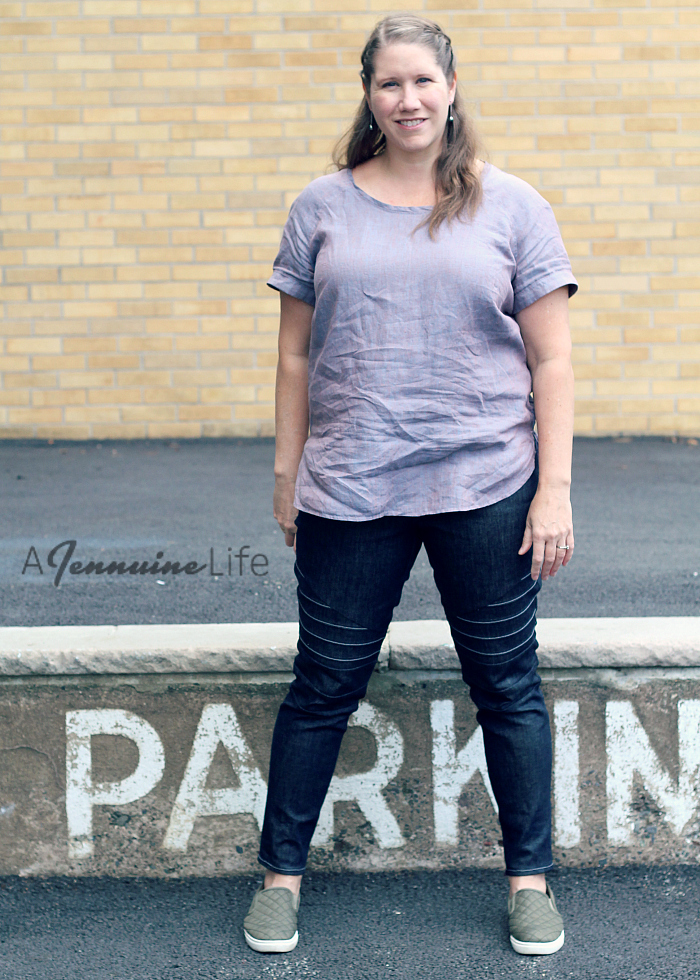 Sewing: This was pretty fun to sew – all the pressing and topstitching of the moto panels etc.  I made a somewhat successful heart shape detail on the pockets and then forgot to pull my shirt up during photos to show it off.  I used a light gray topstitching thread, which I quite like against the dark indigo of the fabric.
As I said in the muslin post, my fabric is too stiff for the invisible zipper called for in the pattern.  I made these with a regular metal zipper in a centered installation.  It works but I need to either install a guard inside to keep my side from getting pinched, or I'm considering just using the knit waistband instead.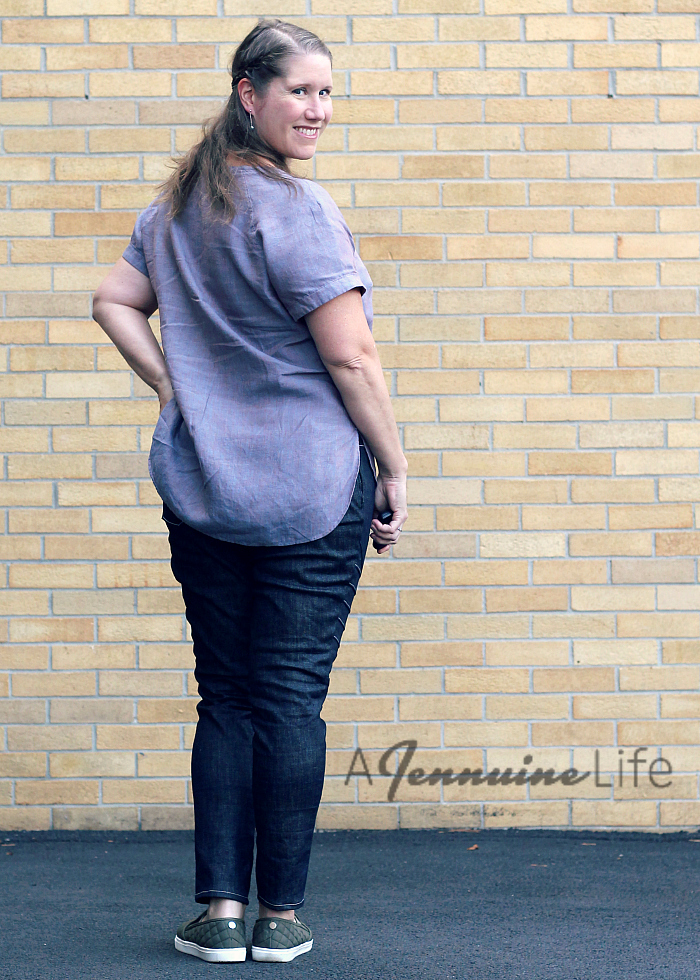 The tutorial uses technical drawings, which is my preference.  There is a page with ideas for pocket detailing and a separate pants fitting download.  All measurements are given in metric and imperial.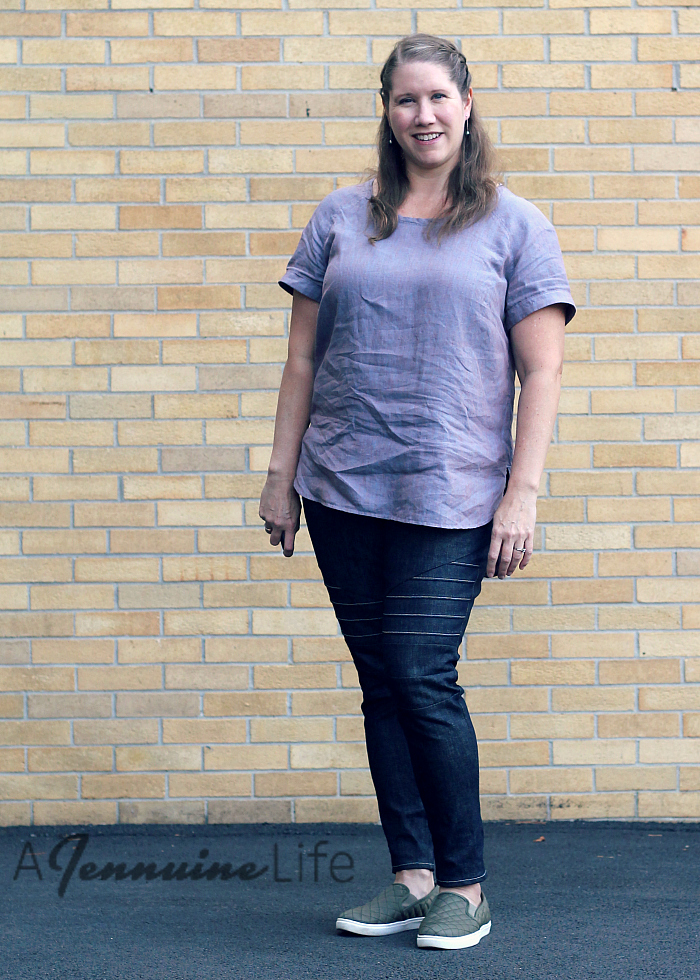 The pattern calls for stretch woven fabric with between 2 and 10% stretch.  This fabric is 10 oz. waxed denim with about 5% stretch.  It is still a little stiff so I think some of the wrinkling/folding will lessen with wear.
The top I'm wearing for this is the Coram Top by Allie Olson.  I tested this pattern and it's really fabulous – I love the darted shoulders on the raglan sleeve for shaping.  Check out all the great versions popping up on Instagram.  The fabric I made this with is 100% linen, so it wrinkles when I look at it.  I promise you I ironed this thoroughly before taking photos; the wrinkles are from getting into the car and driving 1/4 mile up the road to my daughters' school.  Regardless I love real linen, wrinkles and all!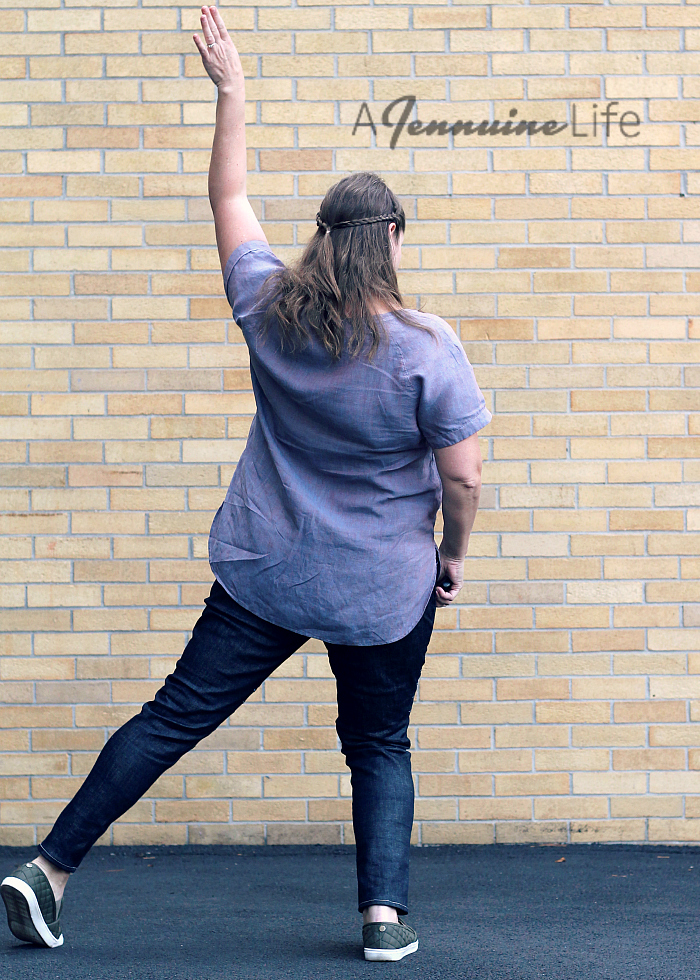 This is what happens when your six year old is the creative director for the shoot.  There were more interesting demands made, but those shall not be shared publicly…
I measured the total crotch length which is taken by measuring from front waist to back waist going between the legs.  For the size 16 that I made, Laela Jeyne Scarlett Moto Skinnies have a total crotch length of 27″.  When I do the final overview of all four patterns at the end I'll share the table that compares the details and key features of all the patterns.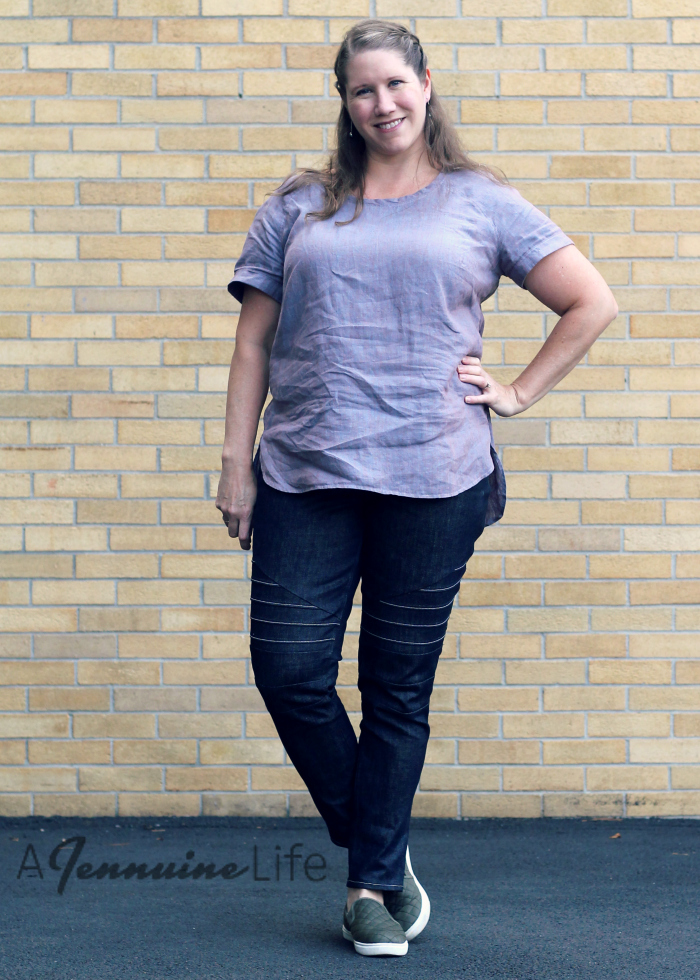 I'm sorry to report I have zero idea how long these took me to make.  If you count that I finally hemmed these over the weekend right before taking photos they took six months to sew;)  The moto detailing added a significant amount of time with the pressing and topstitching for each panel, but I enjoy that kind of sewing.  After that part was done nothing took too much time.  The nicely enclosed waistband and zipper installation are probably the most time-intensive part if you make the plain version with the woven waistband.
I'd definitely make these again, but I would try a fabric with a little lighter feel and use the knit waistband.
Next up in the review queue is Love Notions Sabrina Slims – hopefully a little more timely than this one!
Outfit Details:
Pants Pattern: Laela Jeyne Scarlett Moto Skinnies
Shirt Pattern: Allie Olson Coram Top
Fabric: Waxed Denim from Cali Fabrics