From time to time, I get the opportunity to share product reviews with you, my lovely readers.  Tom with Uncommon Goods contacted me recently with just such an offer.  Having been a customer of Uncommon Goods in the past, I enthusiastically agreed.
I was given free rein to select gifts for our family from their wide and varied selection.  I love the curated catalogue of whimsical, artistic, educational, ecological and beyond featured in Uncommon Goods.  Did you know Uncommon Goods is a B Corporation, meaning it has met rigorous standards on a wide range of issues, including wage levels, environmental impact, and community support?  They fund several nonprofit organizations:
I like my dollars spent go to corporations that support my ideals, and those are very much in line with mine.
So let's see what I found to share with Arden and Hadley as an early Christmas gift, shall we?
Loog Guitar

Hadley is a budding musician, taking great interest in anything musical she can get into her hands.  She's also only six so needs to keep things simple.  Additionally, neither my husband nor I are terribly musical so we need instruments that she can play without instruction or learn from someone (or something) besides us.
The Loog Guitar is perfect for Hadley and our family.  It's a simplified guitar, with only three strings.  It uses regular guitar strings and the chords are similar to a six-string guitar.  To my untrained mind it's a bit of a hybrid between a ukulele and a guitar.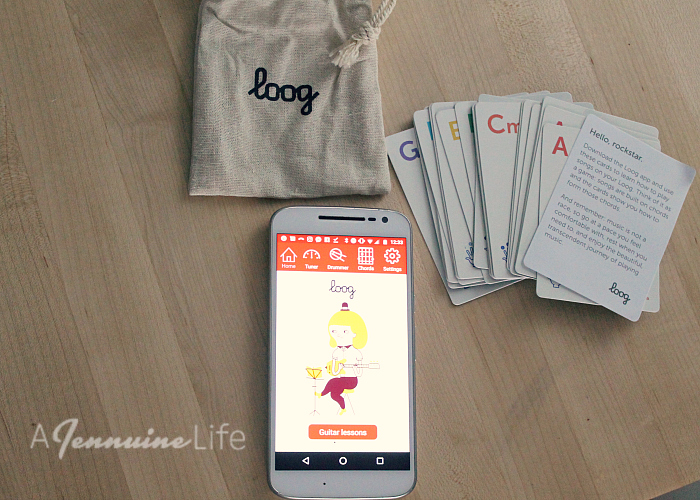 Here's what really sold me on the Loog Guitar – it has an app available from the Apple Store or Google Play.  The app has video lessons, a tuner and chord instructions.  Even a musical novice like me had the Loog tuned in no time.
In addition to the app, there is a deck of illustrated cards showing how to play all the chords.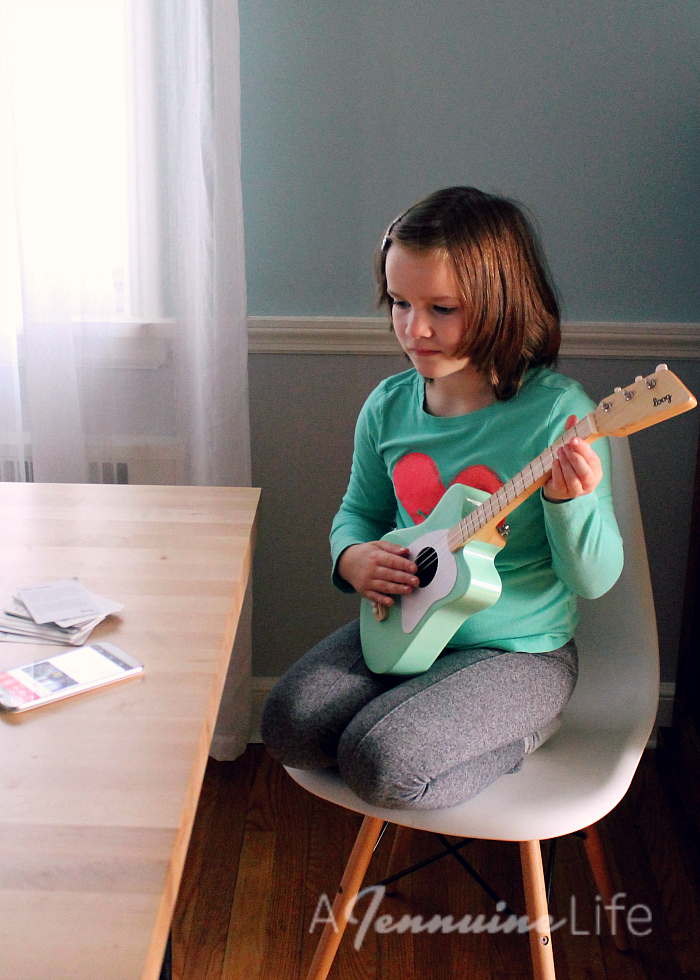 Hadley watched the video on strumming and she was rocking along right away.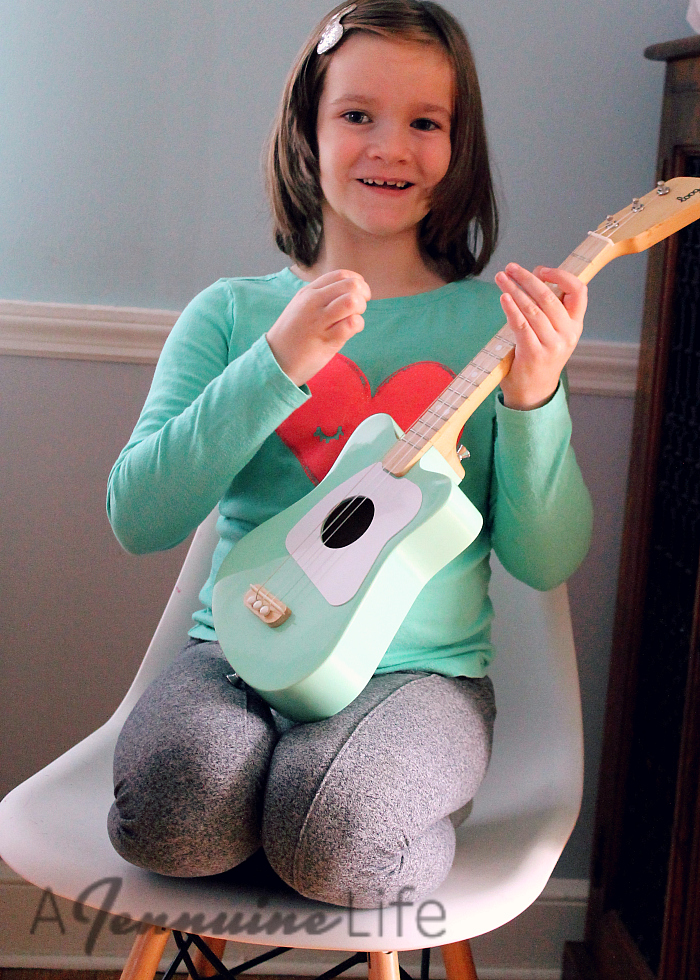 I noticed that her Loog even has pegs for a guitar strap – might have to get on a DIY version in time for Christmas!
OgoBild Pod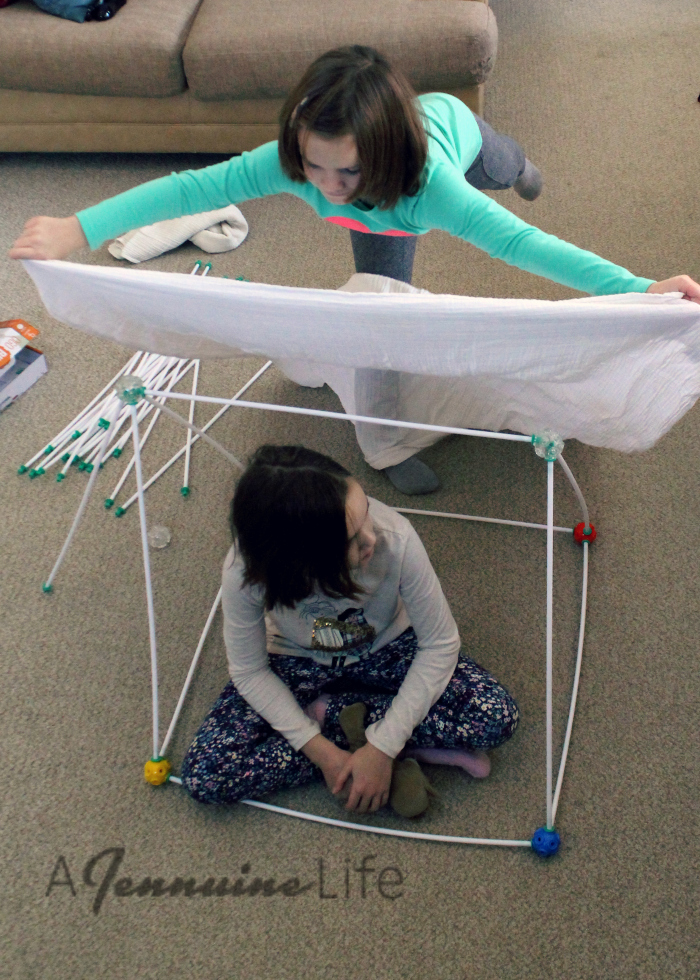 Next up was a gift more targeted towards Arden and her engineering proclivity.  This is the OgoBild Pod, a construction set made up of spheres and sticks that interlock neatly.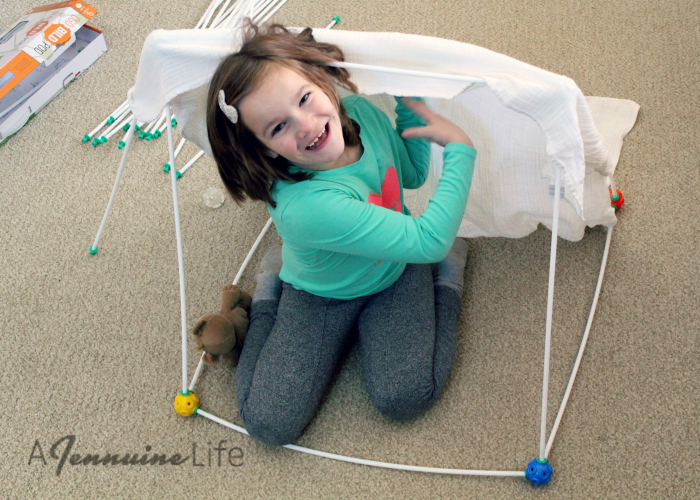 They started small, making a little tent structure and covering it with a muslin blanket.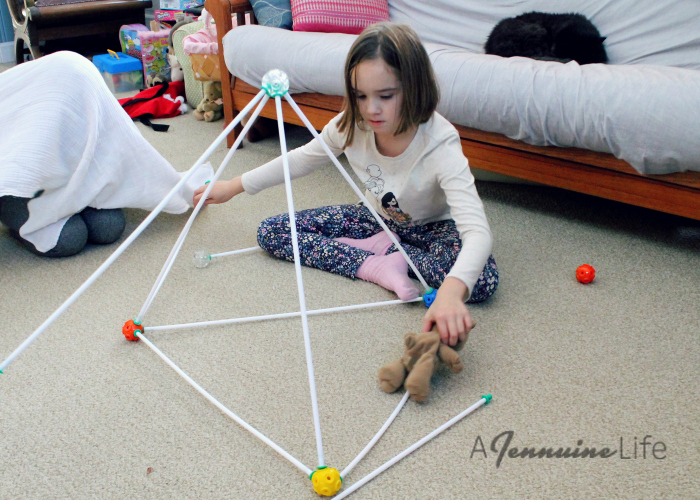 Then Arden let her imagination loose and set to work building a pyramid.  While Arden built her structure, Poe in the background was not impressed and Hadley entertained herself with the blanket.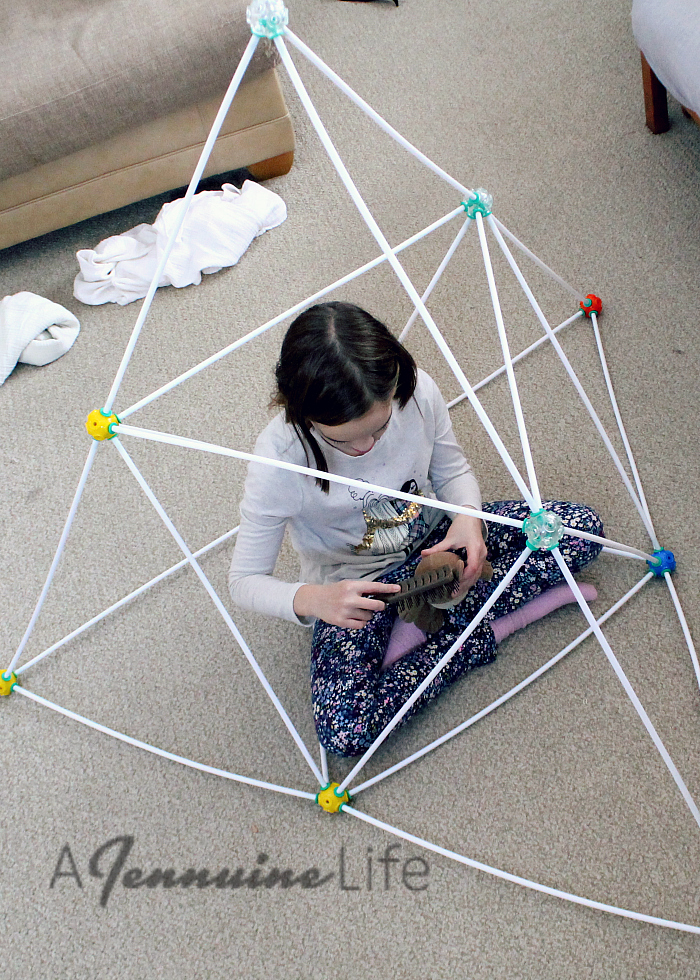 Pyramid complete, Arden used it as a little fort to comb her bear Charlie's hair.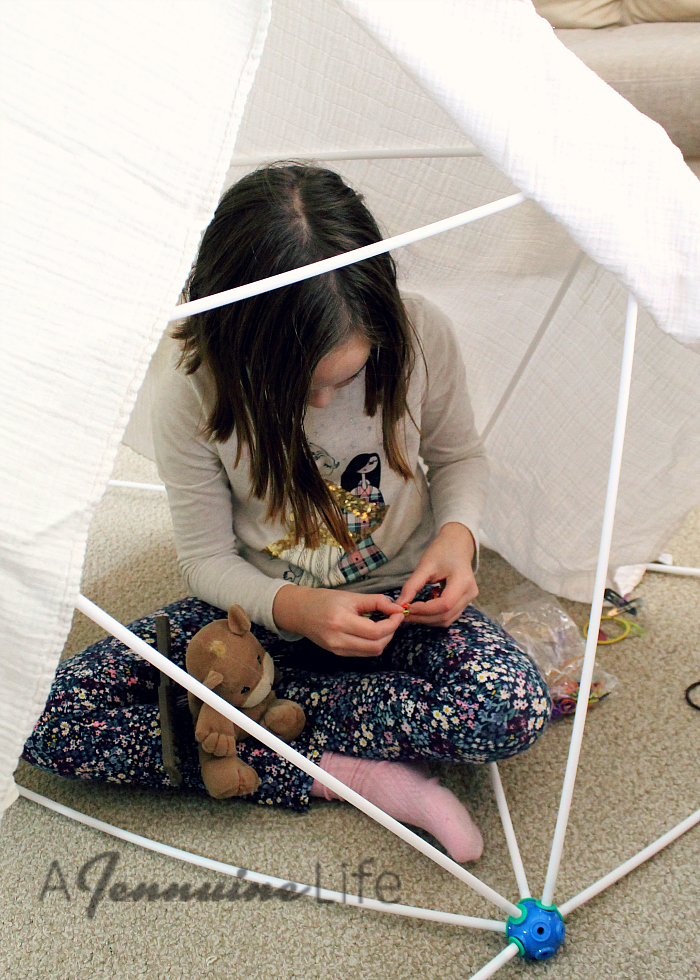 Several days later, her creation is still set up in the sunroom.  She adds pieces here; takes others away there.  Imagination is the only limitation!
Juxtabo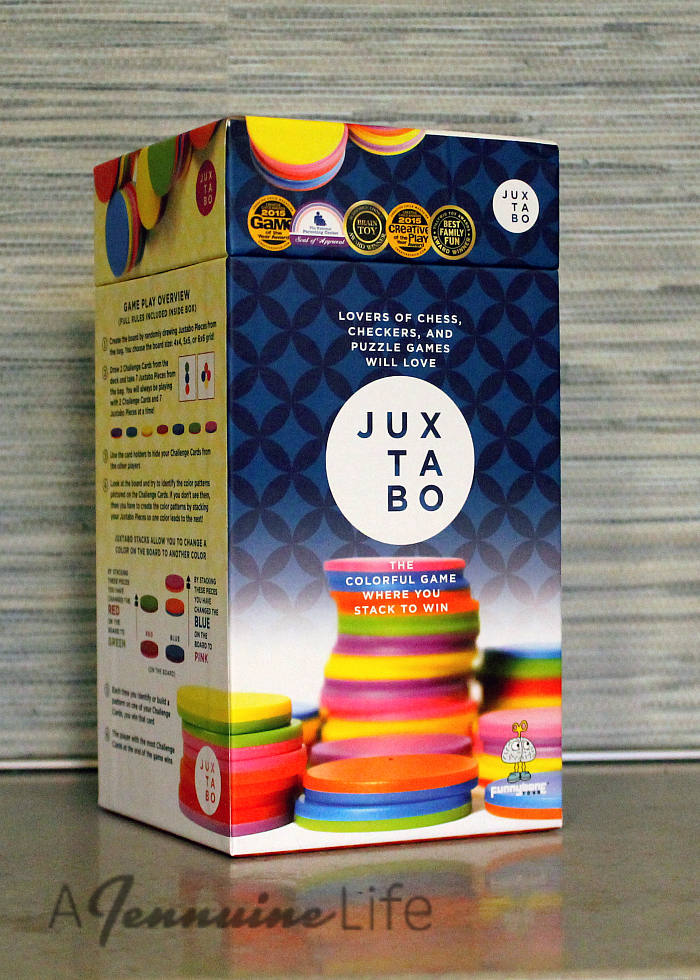 Last of my picks was a family game called Juxtabo.  Juxtabo is for ages 6-99 so we put it to the test with our resident six year old Hadley, and eight year old Arden.  I played a game by myself the night before to be sure I understood it, and found myself unable to put it away until I had completed several rounds.
We love playing games as a family, and this one would definitely be a great stocking stuffer or gift for your own or another family.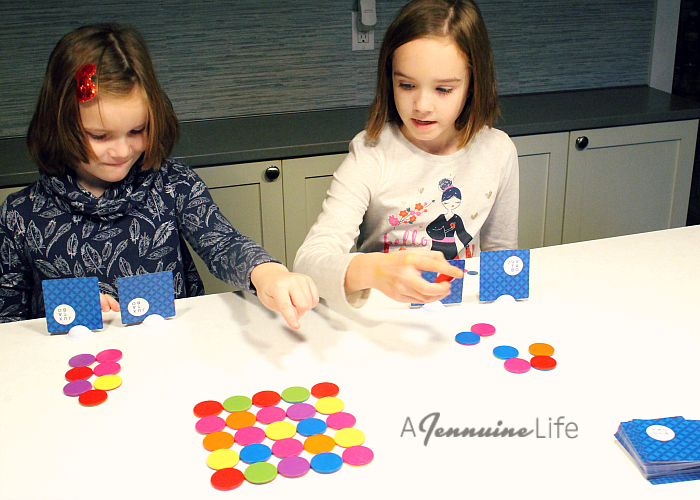 Both girls quickly caught on, and Hadley could keep up with Arden with a little help from me.  It's a great family game in that it can be customized to be very simple to very complex.  This is the 5×5 setup and we played three-color patterns and no timer.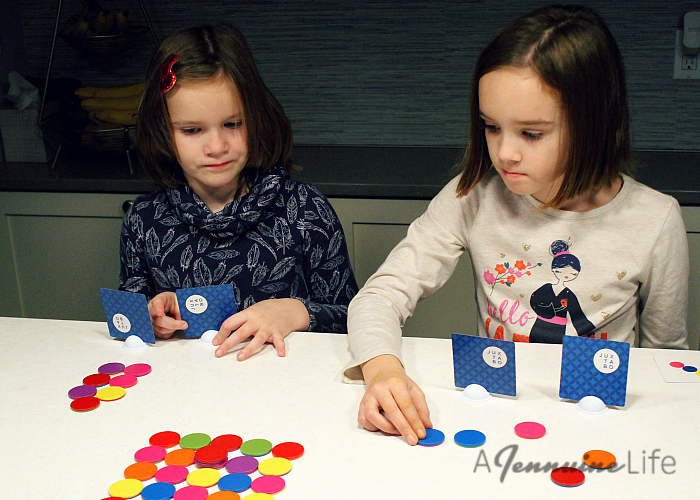 The objective of the game is to finding matches to the patterns on the cards.  The matches might be visible on the board without playing any of the colored tiles, or you can make your own pattern.  The colors just need to flow from one color to the next using the two-sided colored tiles.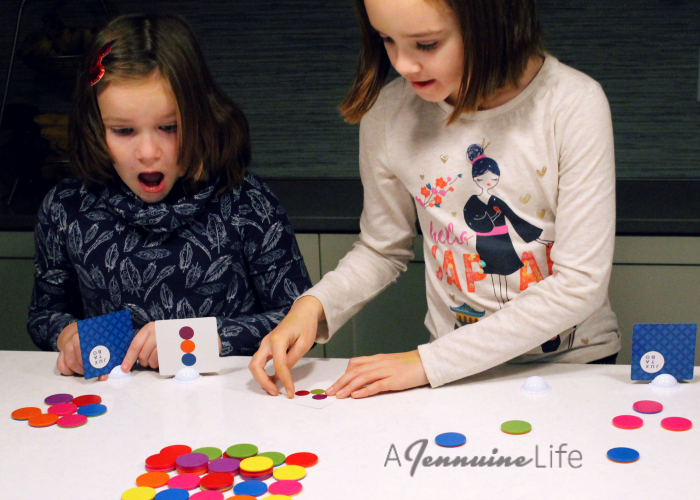 This photo shows the cards with the patterns and how the playing area grows as the girls added pieces to make pattern matches.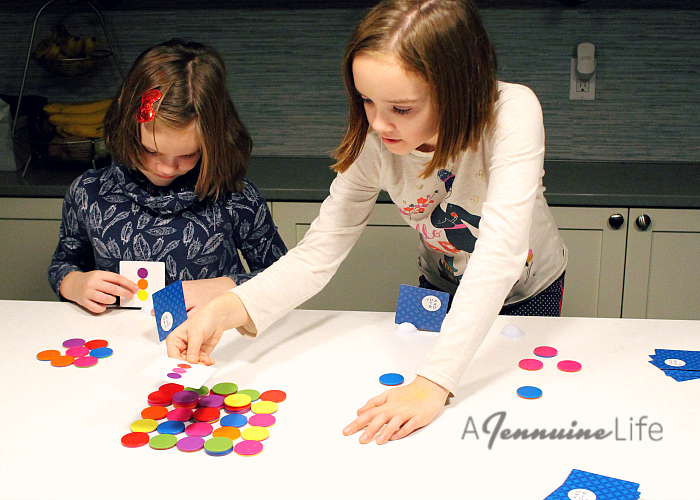 Arden makes a match and shouts "Juxtabo!" to claim her card.
Thank you Uncommon Goods for bringing family fun and learning to our holidays!  I'd love to hear about products you've purchased from Uncommon Goods and how you liked them in the comments.
* I received these products for free in exchange for my review and blog post.  I am selective about products I will review and the companies offering them – I only accept offers from companies in which I believe and Uncommon Goods is a company that I endorse.