For obvious reasons, I didn't take photos of the Christmas jammies I made the girls this year ahead of the holiday.  Frosty always gives the girls pajamas to open on Christmas Eve.  This year Frosty had trouble finding footed sleepers in their size so he asked me to make something instead.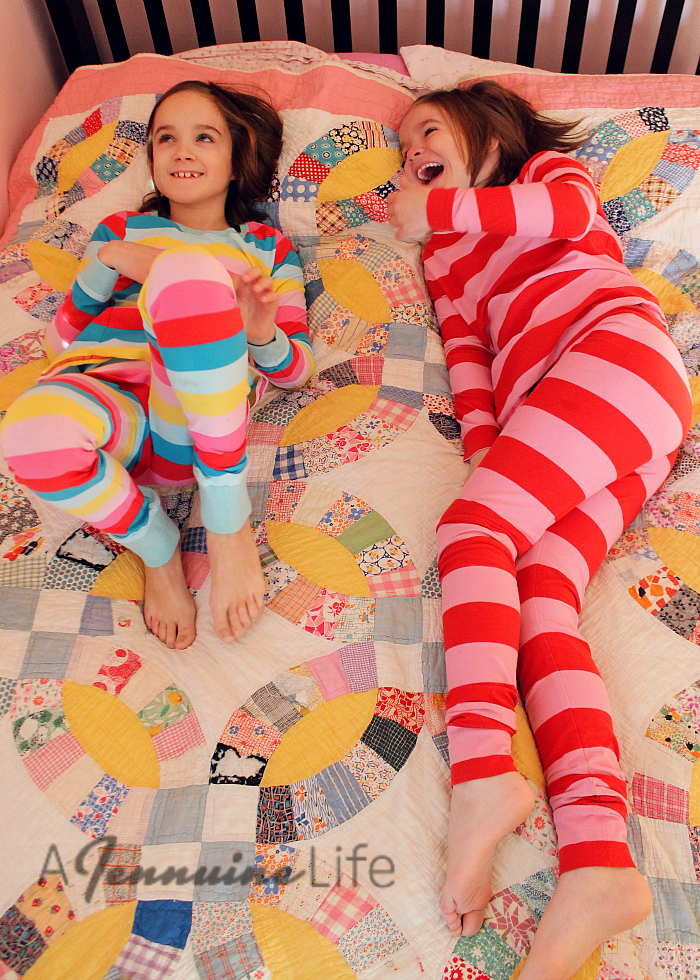 I used two patterns from my stash – the City Park Tee from Hey June and the leggings from All You Need Jammies by Heidi and Finn. I used the City Park Tee instead of one of the tees from the All You Need Jammies because I already had it printed in the correct size and I liked the slightly looser fit and curved hem of the City Park Tee.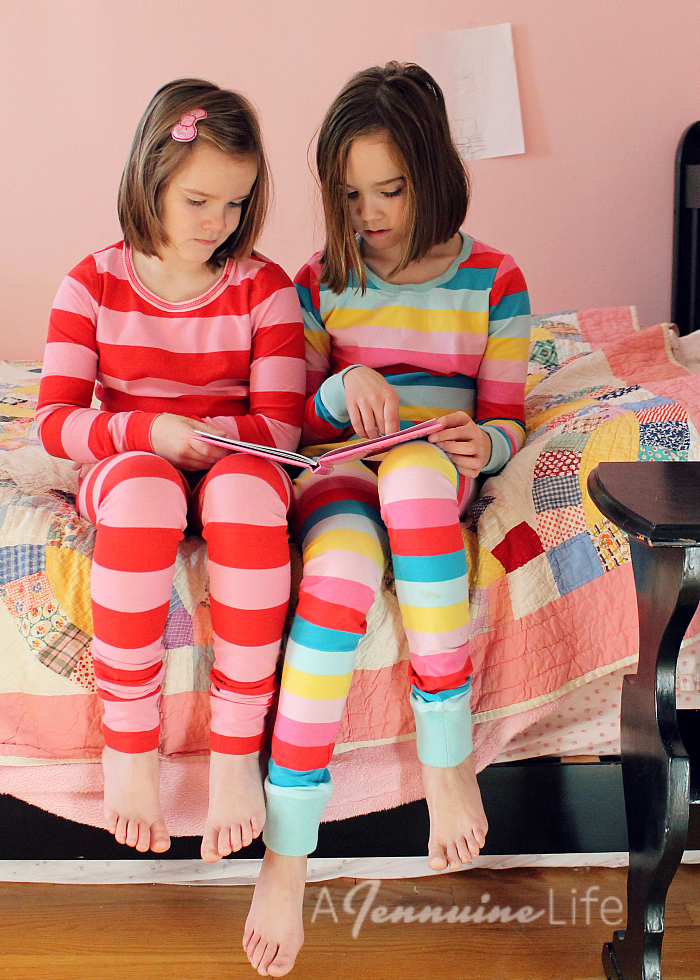 I used my new Coverstitch for the shirt hems and the neckline on Hadley's jammies.  This is a reverse coverstitch, meaning I sewed with the right side down so the looper threads are showing.  I used self fabric for the cuffs and neckbands of hers, and coordinated ribbing for Arden's.  All the fabrics are from Jumping June Textiles, the stripes from manufacturer Alles Fuer Selbermacher and the ribbing from Swafing.  I took advantage of the Black Friday sales and got these fabrics along with some others.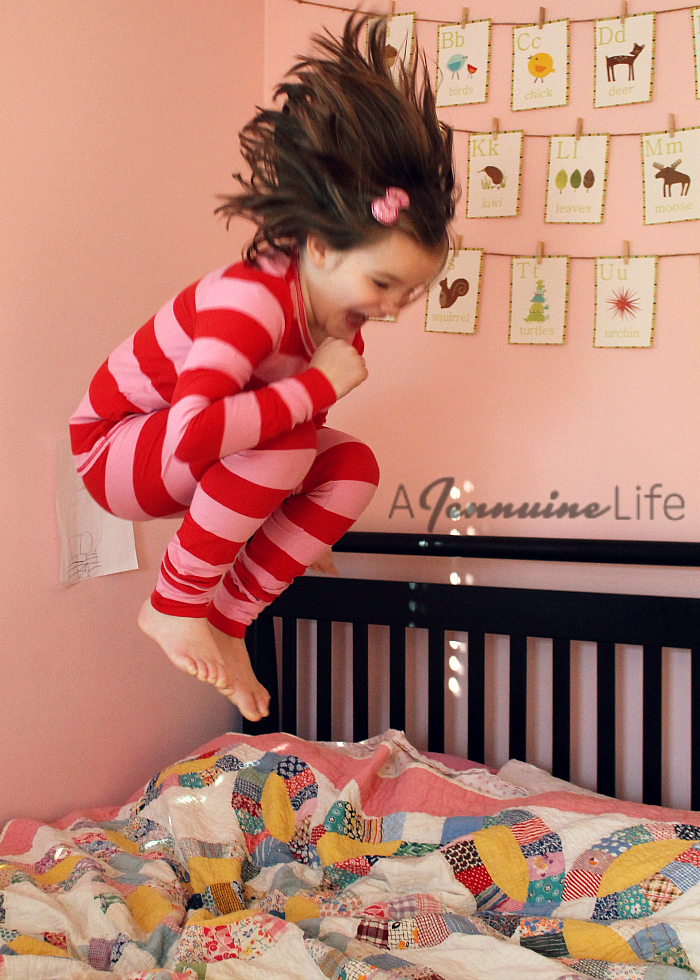 A photo shoot in Hadley's bedroom of course ended with some jumping shots.  The leggings are a little long on her because I used the same size for both pairs.  Hadley and Arden are nearly the same height, but Arden definitely has longer legs.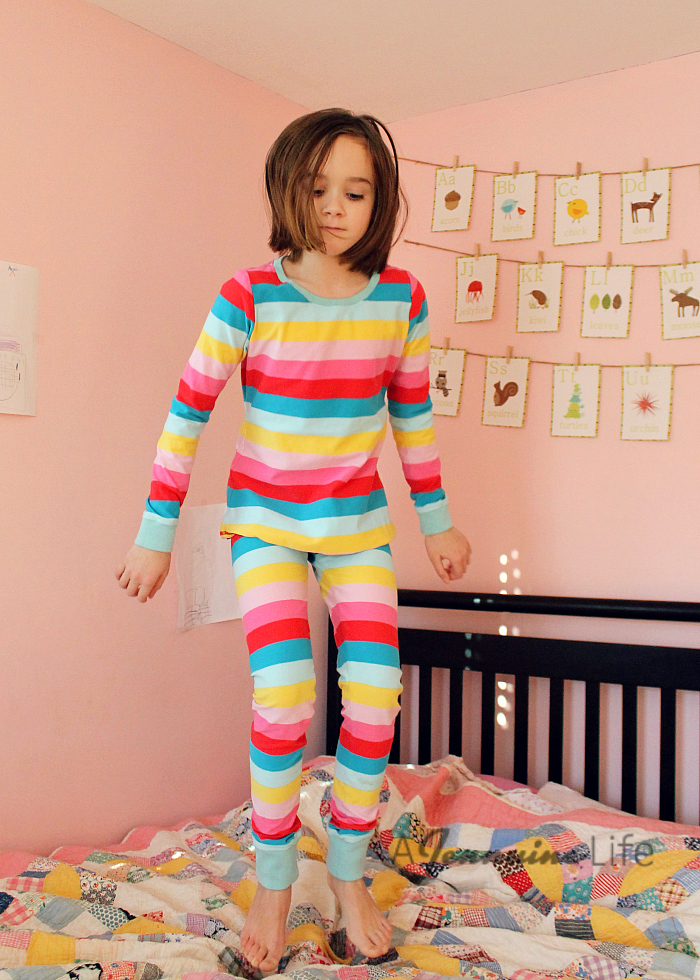 Miss long legs herself.  I did my best to match all these stripes without driving myself batty.  I cut with care and then just lined things up by sight as I sewed.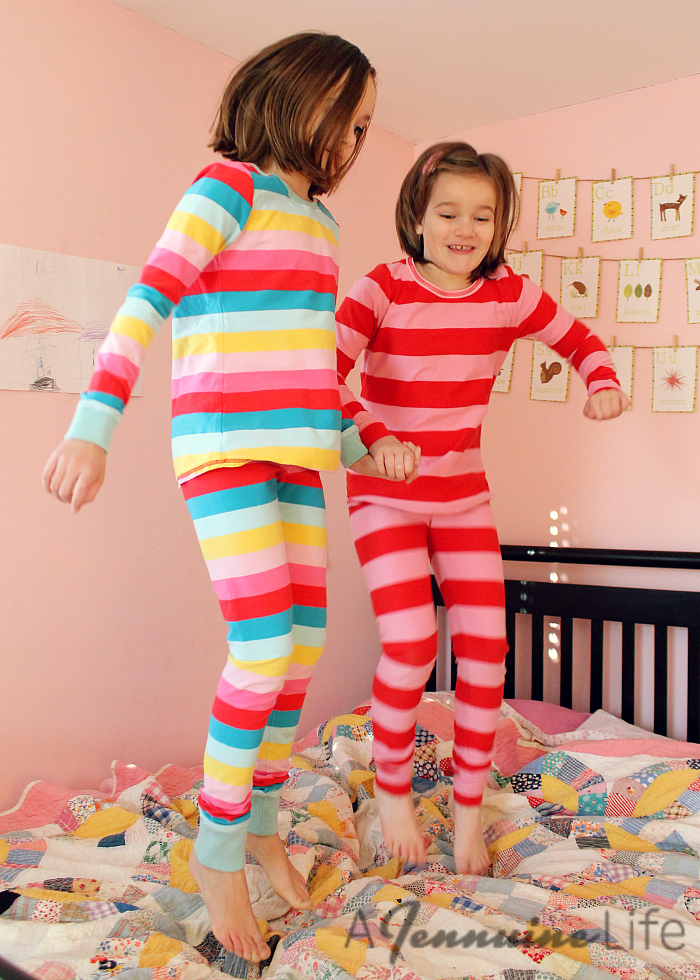 These jammies were the girls' daily uniform for the entire winter break.  I'm pretty sure Hadley went three or four days in a row without changing anything but her underwear.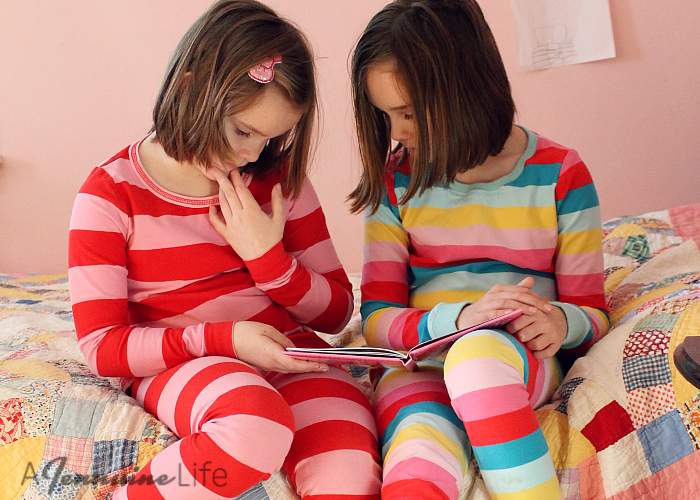 Hey June's City Park Tee is for sizes 6 to 16.  It has options for round or v-neck, sleeves of short, elbow, 3/4 and long sleeves and straight or curved hems.  I cut the sleeves 2″ shorter and added 2″ cuffs to keep the pajama styling.
Heidi and Finn's All You Need Jammies are for sizes 12 months to 12 years.  The pattern does have everything you need to make many styles of pajamas.  As I said earlier I just used a different top because it was more convenient in this instance.  The All You Need Jammies have leggings, lounge pants, full tee, gathered tee, and nightgown all in the same pattern.  I made an entire outfit for Arden last year using the gathered tee and leggings.

Hadley certainly loved the opportunity to jump in bed!  Do you make jammies at the holidays?  What is your tradition?
Outfit Details:
Tops – Hey June City Park Tee
Bottoms – Heidi and Finn All You Need Jammies
Fabric – Jumping June Textiles