Greetings!  I'm over the moon that Jessica from Craftiness Is Not Optional (CINO) and Kristin from Skirt As Top invited me to participate in Vintage May this season!  The precept for Vintage May is pretty open: sew something vintage inspired.  I've always been really drawn to 1940's style, so I went with that!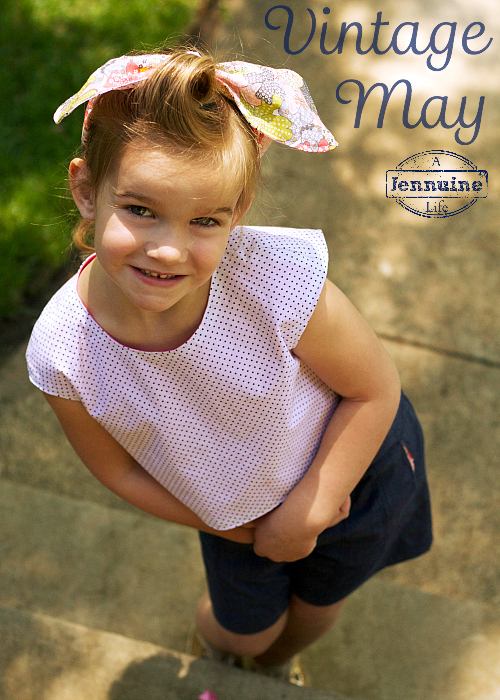 Specifically, I wanted to mimic the high-waisted shorts with a crop top.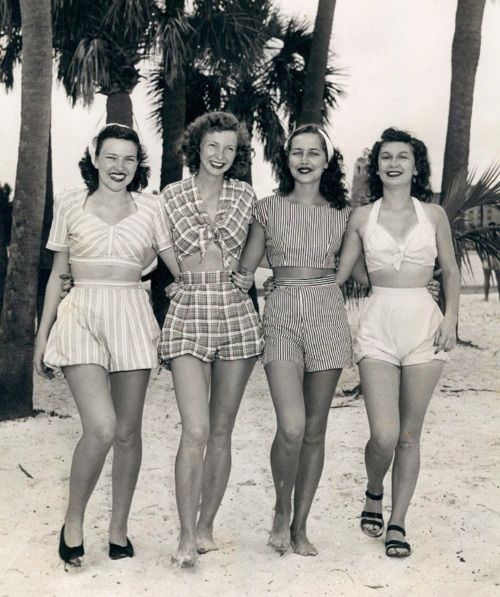 This photo served as my inspiration, particularly the striped shorts and crop top.  Simple, pretty, and oozing that 40's vibe I was after.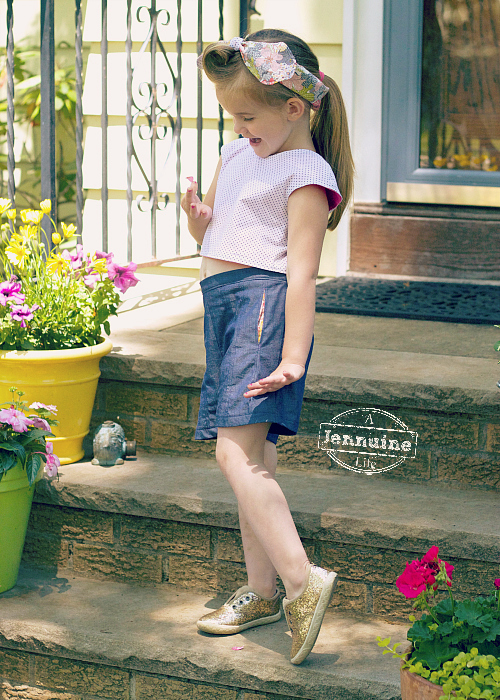 I went with just a sliver of tummy peeking out on my three year old Hadley.  For the shorts, I used the Cousu Trousers & Gauchos from Sew Straight & Gather as my base.
Let me pause here gush a bit about this pattern: if you are after a thoroughly satisfying experience and a little sewing geekery, this is the pattern for you!  There's pockets tucked into the outermost darts.  Do I really need to say more after that?  The pattern as written is for trousers or gauchos with or without cuffs.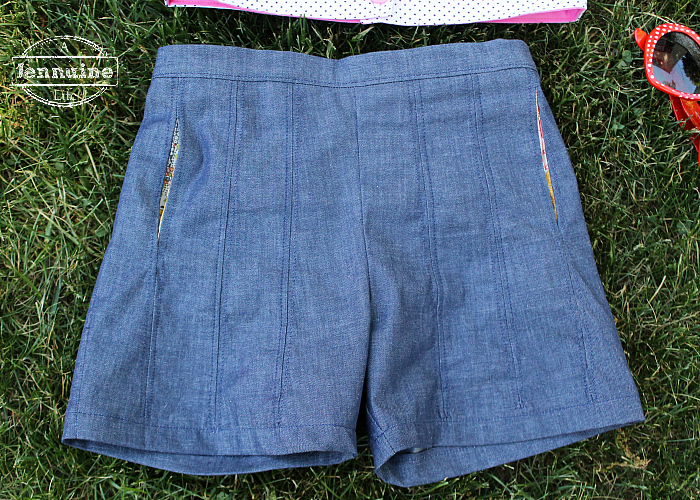 I shortened the gaucho length from the pattern to a longer shorts length, and added about an inch to the top to make the high-waisted shorts.  Aside from the length dimensions, the only change I made was to make the center dart the same length as the outer two so the dart didn't run off the bottom of the shorts.  The long, narrow darts with topstitching all the way around are such a sleek and clean detail.  I used some of my precious Liberty of London as the pocket bags so I get to see little peeks of loveliness when Hadley puts her little hands in the pockets.  The chambray is from Imagine Gnats, and is really soft with a rich indigo and a slight stretch – perfect for shorts.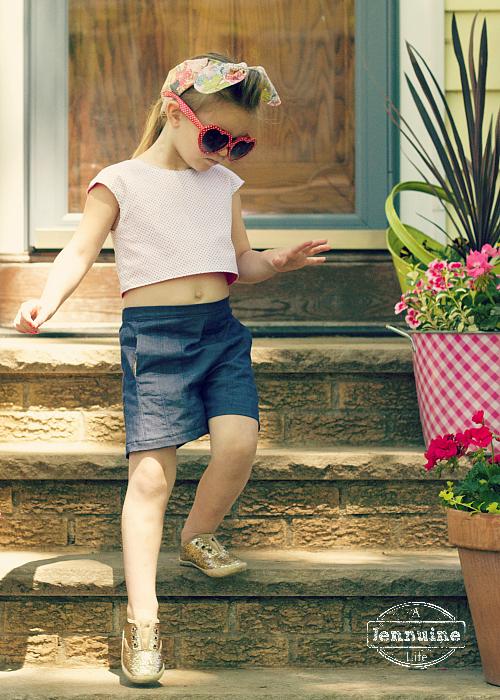 The top is the bodice of the Caroline Party Dress by Mouse House Creations. *affiliate link  The faux cap sleeve was exactly what I was looking for to mimic the top in my inspiration photo.  I lengthened the bodice a little over an inch, and made a subtle curve down to center front.  The back I extended about a half an inch and made it a button closure instead of a zip.  The pin dot fabric is from Jo-Ann's, but I can't find it online to link.  It has a slight dotted texture and has a really neat feel.  The solid pink lining is Cotton Couture by Michael Miller.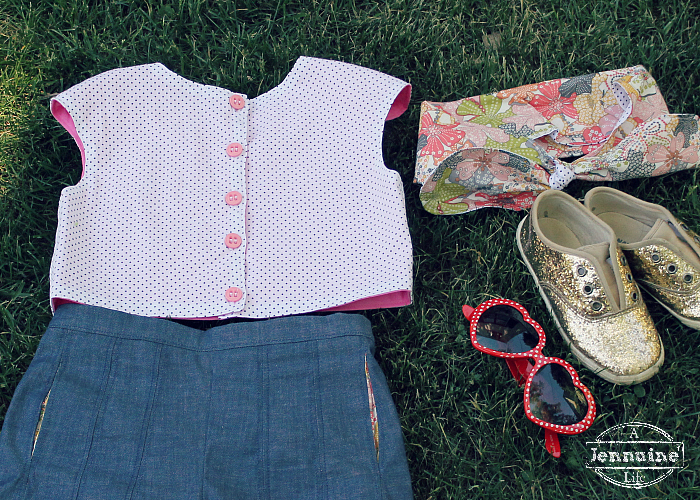 I used pink buttons from my button jar that are vintage, just not quite 1940's vintage.  More likely 70's, but it's all good.  The gold shoes even have a story – my grandma Willowbelle "Willie" has always been a fashion rebel, and she notoriously spray painted a pair of shoes gold to suit her style.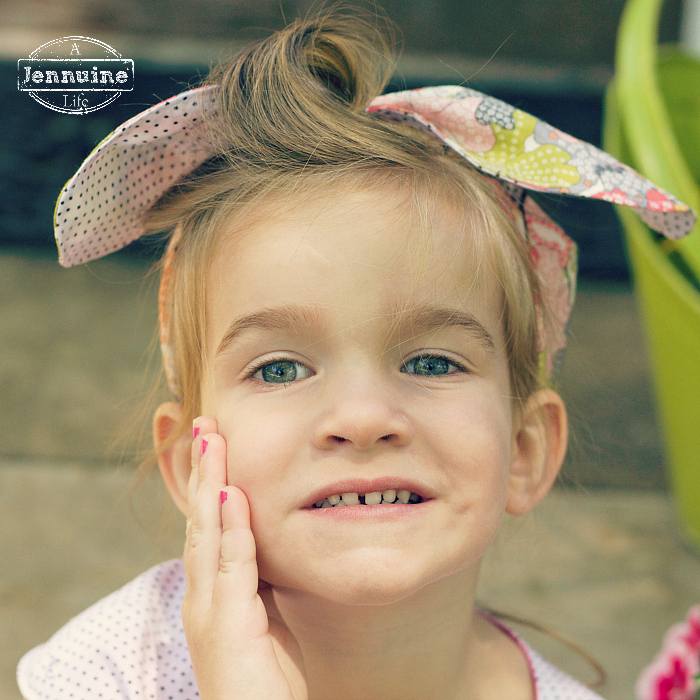 What 1940's style would be complete without a victory roll and a headscarf?  After a few attempts, I was able to put together a reasonable roll in Hadley's waist length hair.  The headscarf is reversible and uses more Liberty of London floral print and the pin dots.
I've created a PDF pattern and tutorial for the scarf titled the Victory Headscarf, available for free in my shop!  I narrowed the back piece and shortened the ties slightly in the pattern – this one was made to be exaggerated on purpose for the shoot.
Thanks so much Jessica and Kristin for inviting me to participate in this great event!