I took the opportunity to make up a Blue Ridge Top this week.  The Blue Ridge Dress is the debut pattern from Hello Holli, and let me tell you – this pattern is so amazing!  I first "met" Holli when she was a tester for my Haven Acres Mini Collection.  She was an invaluable tester and I'm not surprised at all that she's made the leap to pattern designer.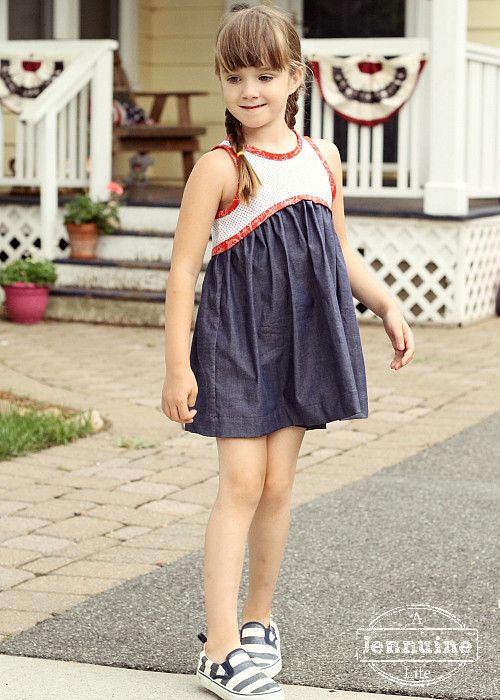 I've been thinking a lot lately about what it is that makes for a really enjoyable sewing experience.
For me, it means that I'm not questioning anything while sewing, that it includes something clever – like a great construction technique, or a really unique design element.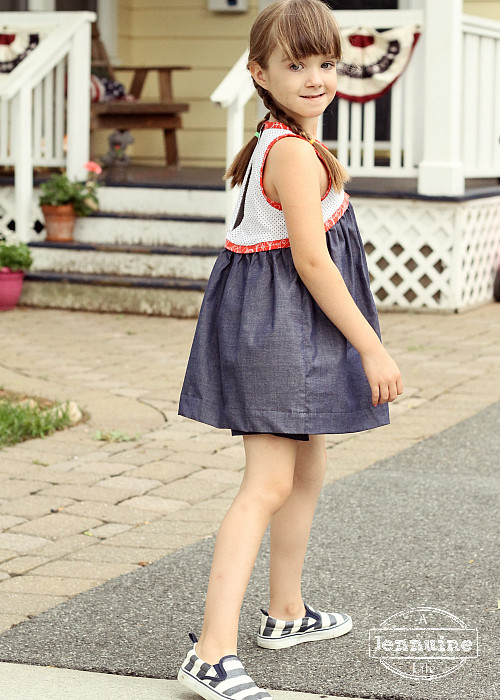 The Blue Ridge Dress pattern had both of those elements in spades.  The layout of the pattern was very crisp with all the information needed.  It has layers for printing only the size you need, so I just printed a size 6 for Arden.  It's sized for girls' 12M to 14 and includes cutting lines for both a top and dress version.
The way all the seams are enclosed is really slick and not at all what I expected when I first saw the design.  No worries if you don't have a serger; I didn't turn mine on at all to construct this!  French seams on the skirt and the bodice is so neatly enclosed.  I imagine this would be really appealing to kids with sensory issues as well.  Arden measures dead on for the size 6 chest and the fit on this is perfection.  I made the hem a little narrower so the length is 1/2″ longer than written, but I think Arden is on the cusp of a huge growth spurt so I'm trying to prepare myself.
The only change I made to the design was to use a sewn button loop instead of creating a loop from the bias at the neckline as instructed.  No reason other than I like making sewn button loops.  The navy and white button is from my button jar and worked perfectly with this subtle red, white, and blue themed dress.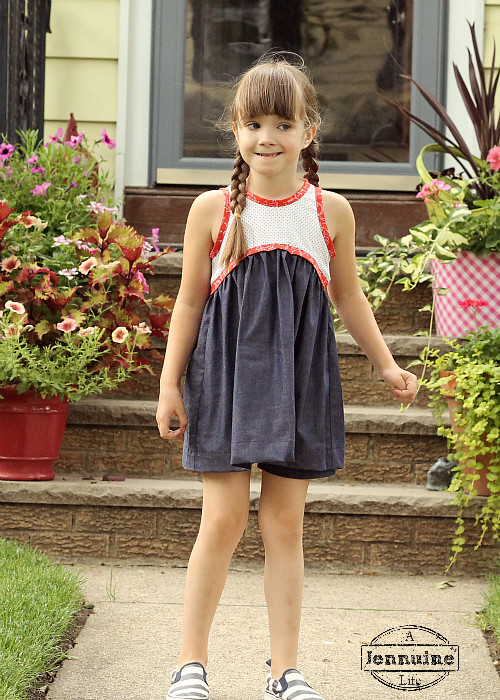 If it looks like she doesn't have anything on under the tunic-length top it's because she's wearing the Cousu shorts I made using the same fabric as the skirt part of the top.  It's a stretch chambray from Robert Kaufman that I bought from Imagine Gnats.  The bodice is a pin dot shirting I bought from Jo-Ann Fabrics and the same as I used in the cropped Caroline Party Dress top I made Hadley.  The bias is from a fat quarter of Mercury in Flame from the Sun Prints collection by Alison Glass for Andover Fabrics.  These fabrics worked so well together to create a great patriotic top that won't look out of place the rest of the summer.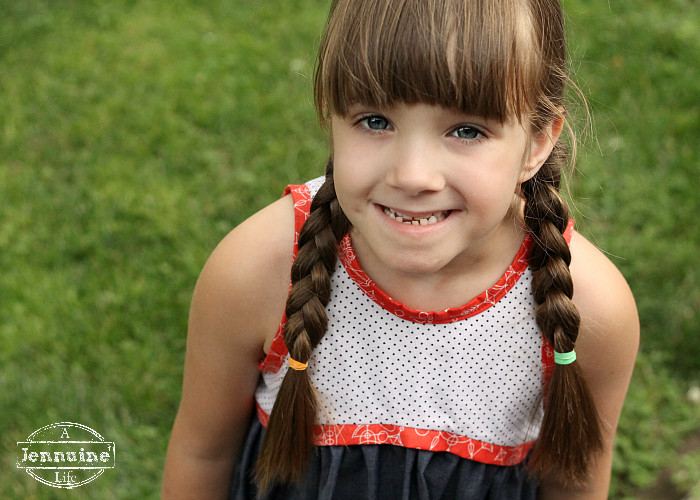 The Blue Ridge Dress is 20% off through Friday with the code BLUERIDGELAUNCH in Holli's Etsy shop: hellohollipatterns.  And be sure to leave a review after you buy this pattern so everyone can see how great it is!
Congratulations Holli – you knocked it out of the park your first time at bat!