Woohoo!  I'm participating in a fun event today!  Have you heard of Sew The Show?  If you haven't, you've been missing out!  To quote the website:
"This is not a costume series, but it IS a chance to re-watch your favorite shows, enthuse about them with a couple hundred of your closest friends, and honor the talents of each costume department with nods big & small to their unique, iconic styles."  – www.sewtheshow.com
Beyond the awesomeness of Sew The Show, they've put together this really fun event based on the classic party game where Kevin Bacon can be linked to anyone in Hollywood by six degrees.  A bunch of sewing bloggers sat with our fingers at the ready back in October to link from one show to the next by a 1-degree connection to the previous show – by actor, director, or personal relationship.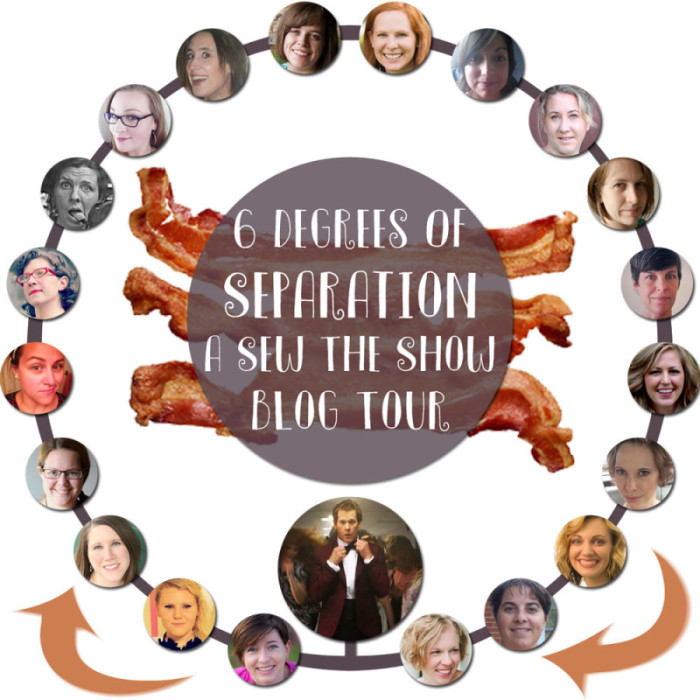 I won a spot in the tour by virtue of speedy typing and an unhealthy catalog of movie knowledge – see, that's me right by the left arrow going around the circle!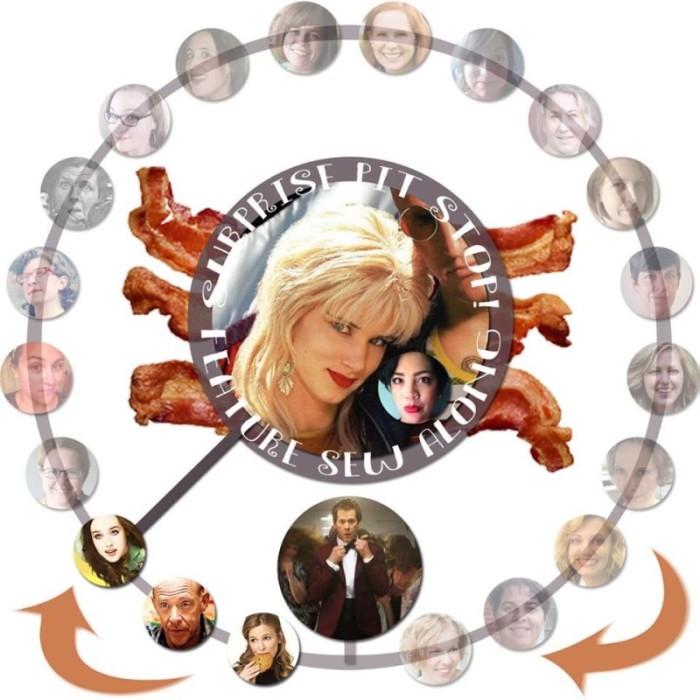 So how did we get to this point?  It all has to begin with Kevin Bacon (of course!), so yesterday Becca of Free Notion shared her post about The Closer starring Kyra Sedgwick, Kevin Bacon's wife.  Then Katie of Creative Counselor played off The Closer with Juno linked via JK Simmons who stars in both The Closer and Juno – see how it works?  So we're going to keep on going with those 1-connection links with…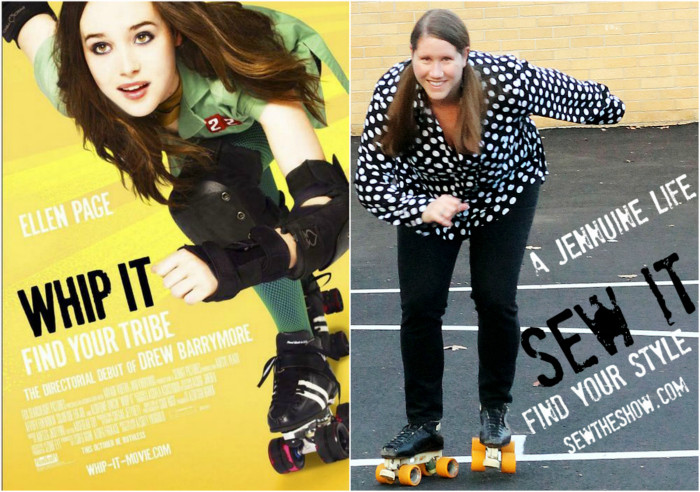 Whip It via Ellen Page who stars in both the previous movie Juno and Whip It!
"But Jenn, you're not wearing a Scout-inspired roller derby costume!"
Precisely!  The point of Sew The Show is to be inspired by the target show, not to create an exact replica or costume.  I took the collared button down dress in Bliss' derby attire and made a Grainline Archer shirt… and then put on my skates from my speed skating days to take photos!  I learned to skate when I was four and went regularly up through my tween and teen years, when I was also on the speed team.  I never played derby since a team didn't form at my rink until after I had kids and now my feet no longer cooperate for long after three surgeries.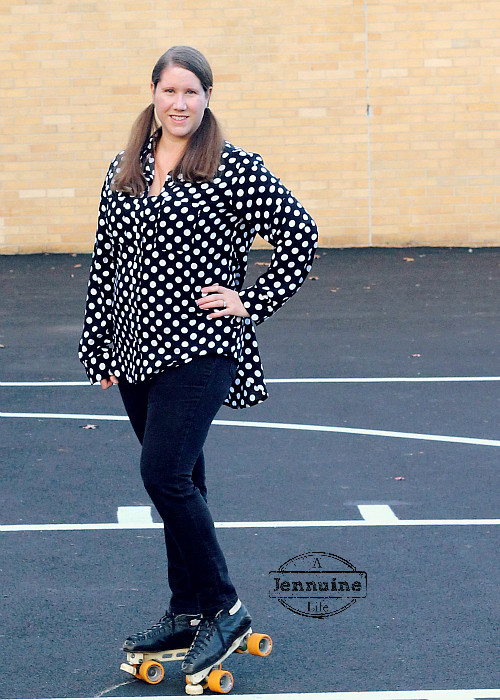 This was my first Archer, and my second button down shirt, the first being a Colette Negroni for my husband Dave.  The pattern is fabulous!  In addition to the clear instructions and illustrations, there are sew along posts and videos linked from the pattern.  I didn't muslin (sorry Becca and Katie – breaking all the rules to keep with the deadline!), but for a dartless shirt on my D+ bust it works really well.  This is a size 18 for my 44″ full bust.  The only alteration I made to the pattern was to add 3″ to the length.  This was for two reasons – to make it long enough to wear with leggings, and as a nod to the length of the Whip It costume.  This kind of makes the View B gathered back detail sit a little low on my rear, but I love the coverage!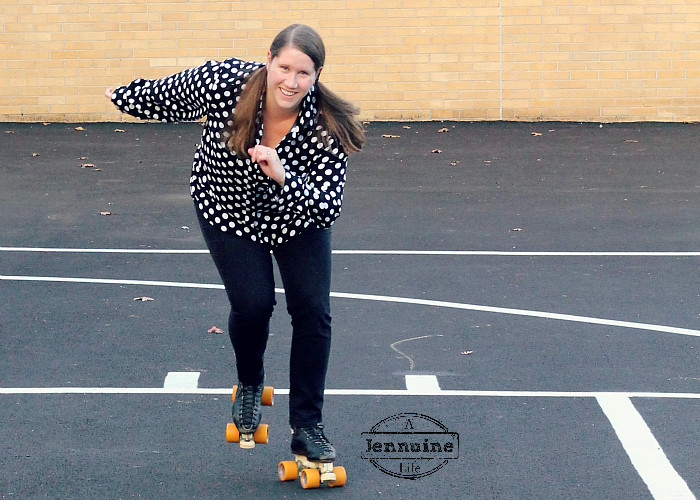 The fabric is rayon challis from Jo-Ann Fabrics that I bought without a clear project in mind this summer.  I love this fabric – so soft and beautiful drape, and any wrinkles just fall out with wear.  I wouldn't recommend it for your first go at a structured shirt with plackets etc. though, since it is seriously shifty.  Not slippery like satin, but you have to be really careful not to slide it off grain as you're cutting or pressing.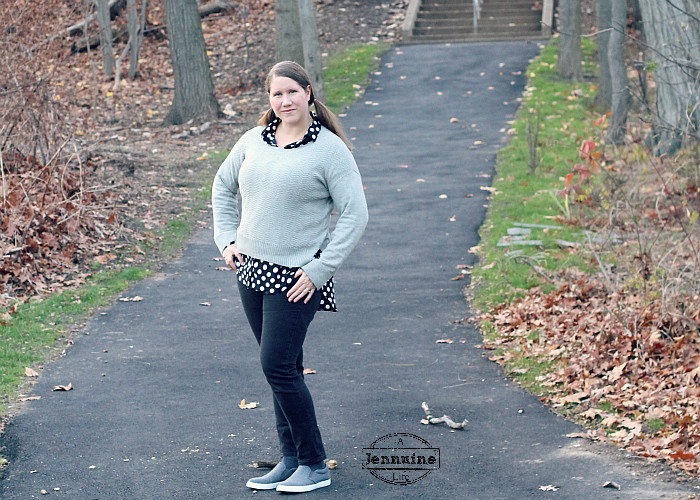 Skates off now for a layered look.  Sorry, the only handmade item here is the shirt.  Jeans for me may be coming at some point, but there was no extra time for this post.  By the way, my friend Lauren of Baste & Gather released her much-anticipated Birkin Flare Jeans pattern today.  Check it out here!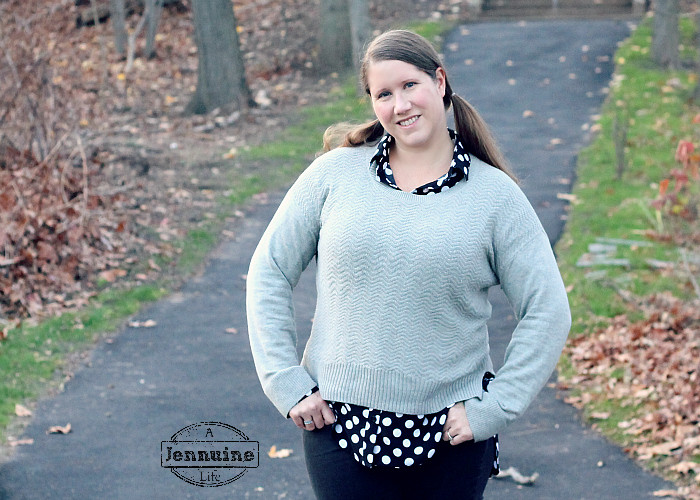 Playing off my movie is Teri of Climbing the Willow – check out her post to see how she linked from Whip It and how she interpreted her show!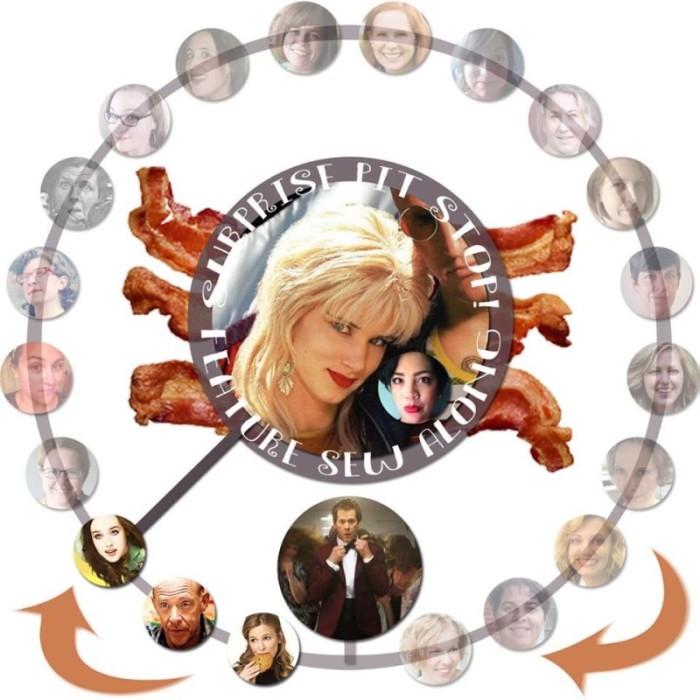 And if you noticed in the graphic linking in from Whip It, Melissa of Rebel and Malice is joining the fun!  She'll also be linking to Whip It as a Featured Sew Along spot.  So not only do we have the outer ring of 1-degree connections, there will be these bonus sew along posts!  I seriously cannot wait to see how this all unfolds!  Any guesses for the next few steps?
Now that you're thoroughly convinced that you have to join in on the fun of Sew The Show – follow along on the Sew The Show blog, or join the Sew The Show Facebook group, or go like the Sew the Show Facebook page.  Since the December theme is "cinema" instead of any single show, you can participate by sewing something inspired by any of the tour movies, or any other movie you'd like.  Come on – that means there's no way you can't be inspired by something worthy of your precious sewing time, or even just putting together an outfit from something you've already made.