It's been another busy year for A Jennuine Life and Jennuine Design! With 2016 underway, let's take a look back at what 2015 has brought: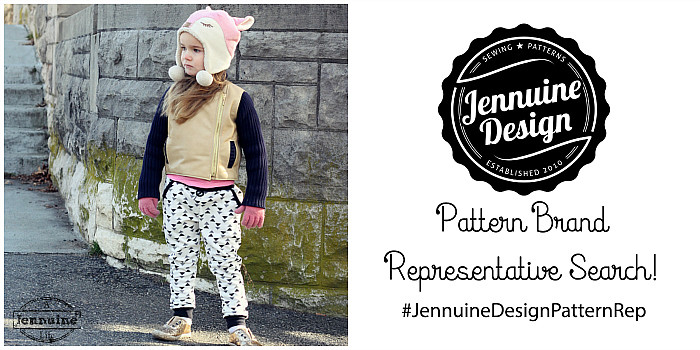 January: Mini Hudson Pants and Jennuine Design Pattern Brand Rep
January was pretty quiet on the blog front because I was crazy busy with not one, not two, but three patterns testing all at the same time!  I managed to beg my way onto the Mini Hudson Pants pattern tour, and I also put out a search to find three pattern brand reps who would receive all of my patterns released for the year.  I have plans to begin a search for new representatives for 2016 shortly, so watch for it!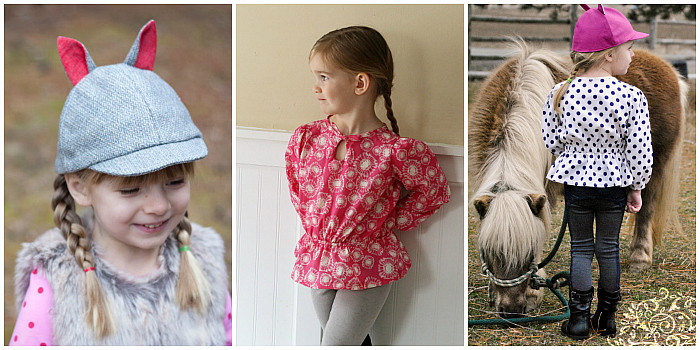 February: Haven Acres Mini Collection!
I released my first (and hopefully not last) pattern collection in February with the Sweet Pea Cap, Haven Acres Blouse, and Dressage Leggings.  This was such a labor of love, both from me and the amazing testers who went through and tested multiple rounds of three different patterns.  The leggings in particular took a lot of revision to make sure the rise was high enough and the overall length was great.  I loved seeing all the different incarnations of the pieces – everyone had fun with these!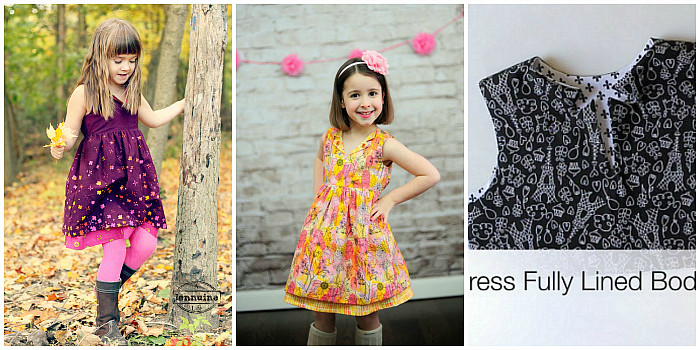 March: Verona Dress
Looking back, I'm not sure how I managed to keep momentum going to put out another pattern on the heels of the Haven Acres Mini Collection, but I did!  I took the dress I made for a sample for quilt market in 2014 and turned it into the Verona Dress!  I also made my first video tutorial to demonstrate the rolling technique I use for a fully lined bodice with no closures.  Arden turned six and we celebrated with a tea party themed celebration at our new house with her new classmates.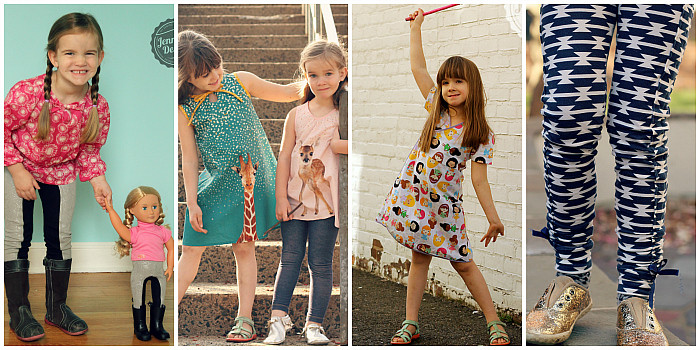 April: Variations on Dressage Leggings
April seemed to be mostly about the Dressage Leggings: I released the Doll Dressage Leggings pattern for 15″ or 18″ dolls, and I collaborated with Kim of Kimmy Sew Crazy to publish the free Ruched Leggings Tutorial which will take your leggings game to a whole different level.  I also got my hands on a couple of amazing animal panels from Bambiblau and made a modified Haven Acres Dress and LOL Swing Top.  A bunch of designers also got together to play a game of round-robin with our patterns formally called Designer Pattern Swap, and I had the pleasure to sew the Iridis Dress by Sofilantjes.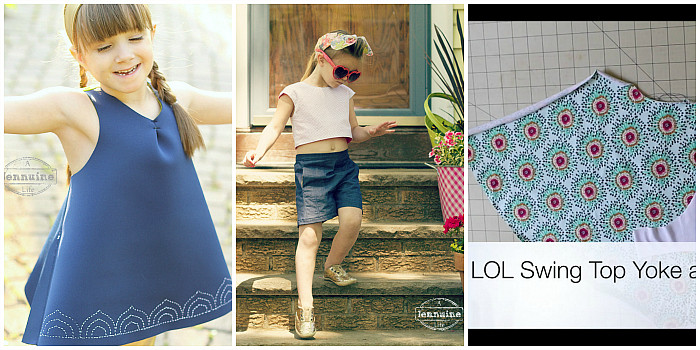 May: Creative Freedom
In May I participated in a couple of series where I was able to explore a bit.  In Top Stitchers, I was challenged to try new techniques while interpreting one of the Seven Wonders.  Then Vintage May had Hadley getting a little 40's style and I released a free pattern for the Victory Headscarf.  I also made a pattern tutorial video for part of the construction for the LOL Swing Top.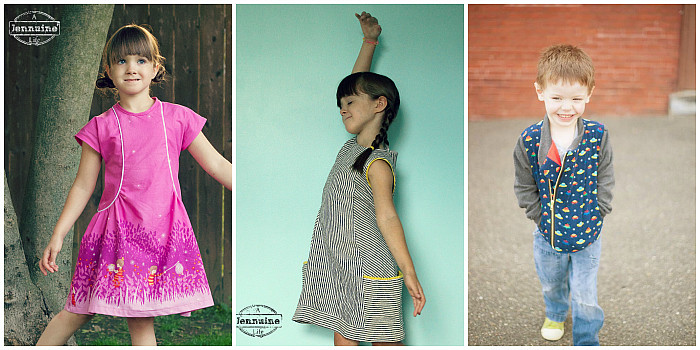 June: Moto Jacket
I started out the month with a couple of pattern tours – the Antalya Dress for Willow & Co., and the Ishi Dress for Straight Grain.  Then the Moto Jacket pattern was a fun pattern release with instructions for both boy and girl orientations.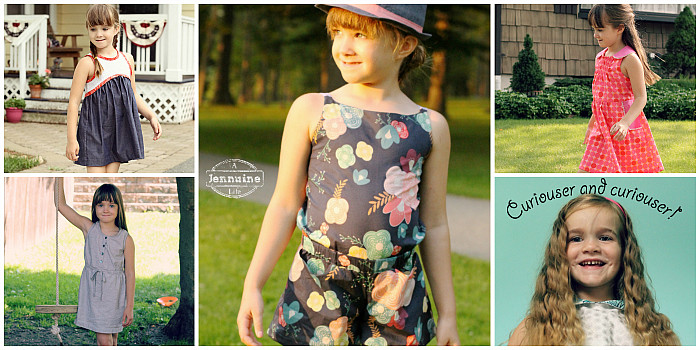 July: A Month of Many Patterns
I tried many new patterns in June – for fun (Blue Ridge Dress), for testing (Mini Southport Dress), for touring (Dear Prudence Dress) and for a series (Alice in Wonderland).  I drafted what would become the Satya Romper pattern to participate in Caroline Hulse's Happy Home fabric tour for Art Gallery Fabrics.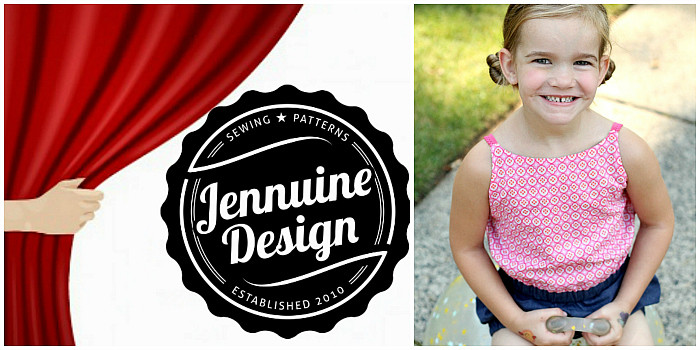 August: Satya Romper
In August I pulled back the curtain a bit and shared pattern sales figures for Jennuine Design.  I planned to share these figures quarterly, but I haven't held up to my promise.  I do intend to continue, though and perhaps share some other details like expenses.  I released the Satya Romper and also had a pattern tour for the Moto Jacket.
September: Quilt Market Samples
In September, I participated in Call Ajaire's first pattern tour for her Paneled Sunsuit.  Then I sewed three samples for Quilt Market – two variations of the Satya Romper for Andover Fabrics, and a Plié Bag for Hayley Crouse's Color Me line with Michael Miller Fabrics.  I was a guest on a podcast for the first time, and the girls started school – Arden in 1st grade and Hadley in Preschool.  I sewed myself a mini capsule wardrobe as part a Momiform MAKEover series.  I was also thick in the midst of a pretty big digitizing and grading job for a client's book project that hasn't yet been released.  I'll give more details about that when the book is published.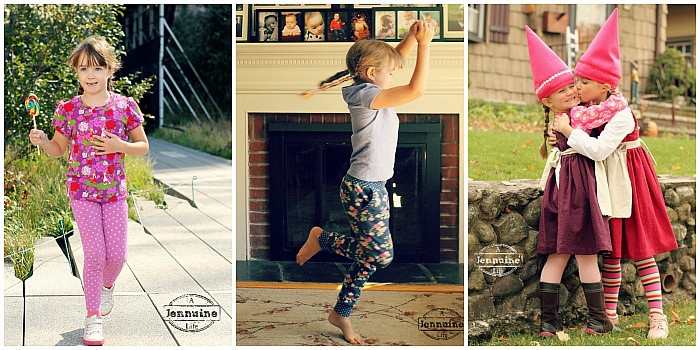 October: Happy Gnomes!
I sewed a couple of Fun Tees, another pair of Mini Hudson Pants, and then the rest of the focus was Halloween and a pair of Happy Gnomes.  We also began renovating our kitchen – taking it all the way to the studs and moving plumbing and electrical around.  Things got a little quieter on the blogging front once our house was in shambles.  You can check out the progress under the hashtag #djdkitchenreno on Instagram.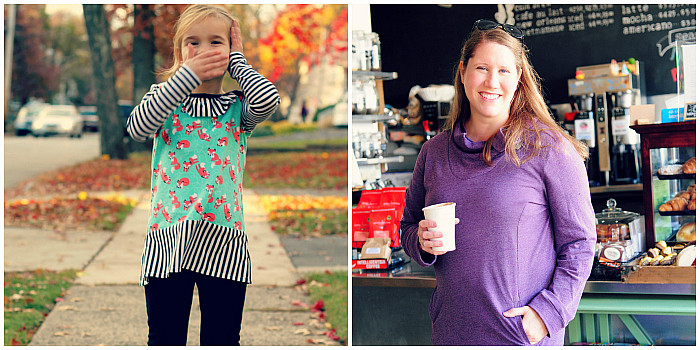 November: New to Me Designers
While in the thick of our kitchen renovation, I still managed to participate in a couple of series in November – and put a reasonable Thanksgiving dinner on the table with a temporary stove hookup.  I sewed Terra's Treasures Mainstreet Tee for another Designer Pattern Swap and made a Jasper Sweater/Dress by Paprika Patterns for Wear to Where hosted by Katy at Wild and Wanderful.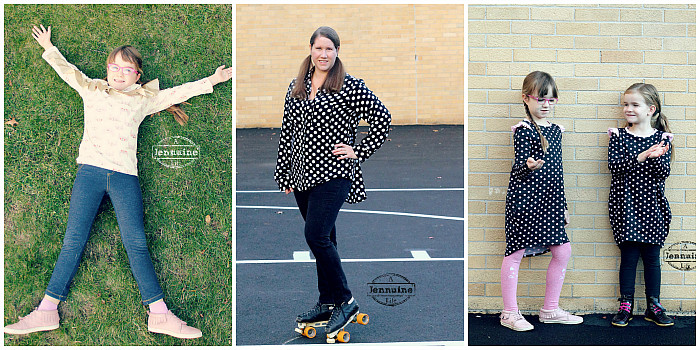 December: Kitties and Polka Dots
Even with the busyness of the holidays, I pulled out a few more projects in December.  I participated in the Petit Oiseau pattern tour, found my degree of separation from Kevin Bacon with Sew the Show, and discovered my love of Groovy Baby & Mama's Cocoon Dress pattern.
I can't wait to see what 2016 brings!  If you've made it all the way to the end and want to check out reviews for 2014, 2013, 2012, and 2011