This is a Sponsored post written by me on behalf of
LEGO
for
SocialSpark
. All opinions are 100% mine.
LEGOs have been a thread in the fiber of our family for as long as I can remember. My brother was a LEGO maniac (Did Zack, Zack, he's a LEGO maniac just run through your head, too?) and had giant boxes of bricks from which to build his designs. It has made gift giving easy to this day, as I always know a great gift I can get for him that he will appreciate.
LEGO Minifigure Family
Now LEGO has created an online experience where you can transform your family into a LEGO Minifigure holiday card. You get to select the members of the family and then choose options like skin tone, facial expressions, hair color and style, and outfits. Even the family pets can get in on the Minifig' fun! Once you're done playing with all the choices, you can select the scene to surround your family.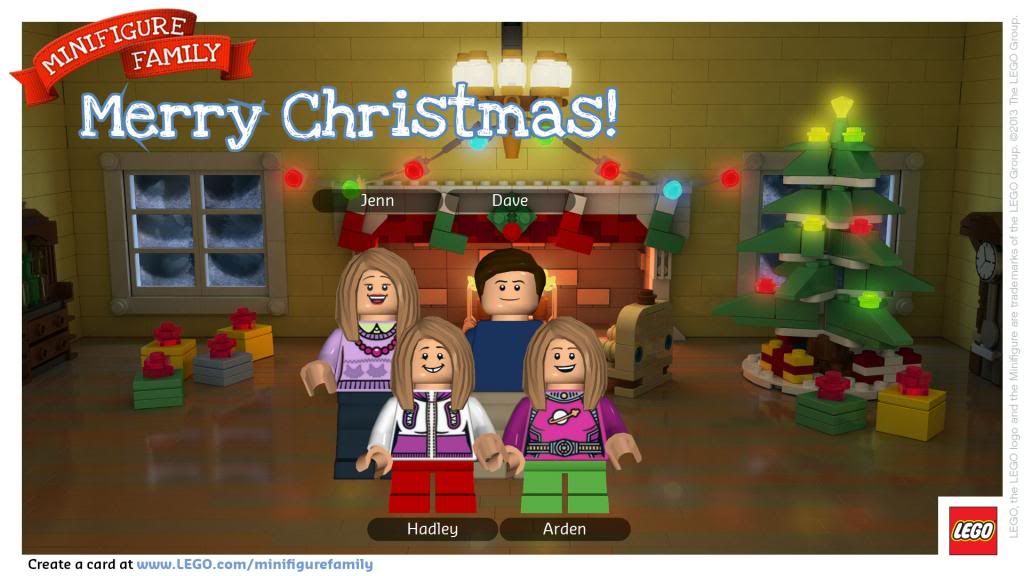 Here's our family as a LEGO Minifig'. I was even able to give Hadley her little gap-toothed smile! Notice Dave in his neutral attire while the rest of us are wild and crazy? My LEGO alter-ego is much more fashion adventurous than I, with the fox sweater and all!
Transform your family into LEGO Minifigures - after you're done, you can share it on social media like Facebook, Twitter, or Pinterest. I had fun playing around, now I'm headed back to the site to get really crazy with the selections - I can totally see Dave as a clown cowboy; he'll love that!